Giro d'Italia 2016 – Stage 10 Preview
By David Hunter
Campi Bisenzio – Sestola 219km
The 2nd week begins.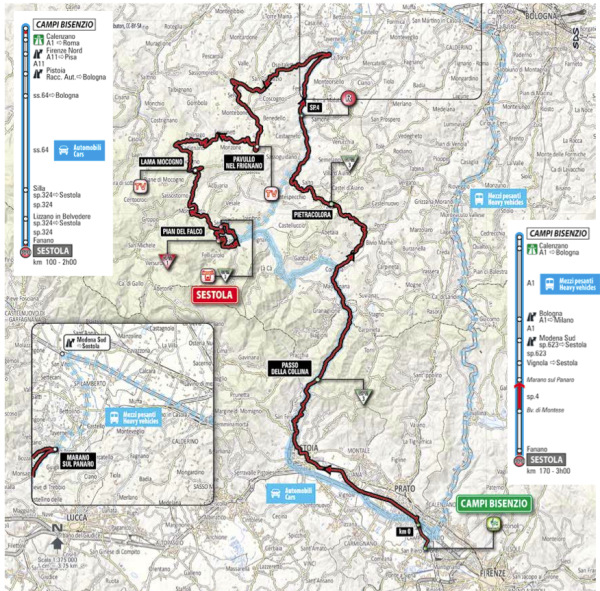 A tough day after a rest day is always difficult for the riders. No one is 100% sure how they'll react, so quite a lot of riders will feel nervous about this stage.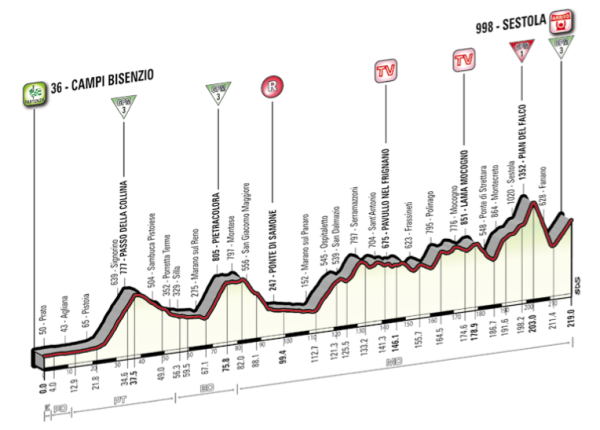 Again, the orgainsers have found a stage with very little flat kilometres. They constant climbing and descending means riders can never properly relax, making it a tiring day, physically and mentally.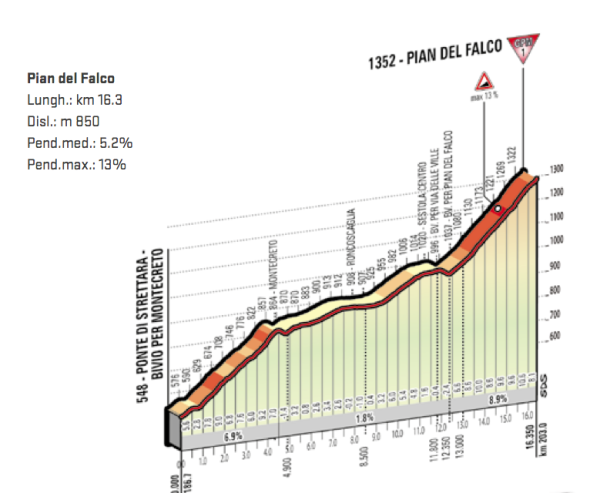 Pian del Falco is the first cat 1 climb of the whole race, it deserves that status. The climb is 16.3km at 5.2%, but just take a look at the final 4.5km, which rises at 8.9%. This section is where we'll find the maximum gradient of 13%, and plenty of other sections over 10%. The average gradient of 5.2%, is due to the 7km of false flat in the middle. The climb crests with 16km remaining.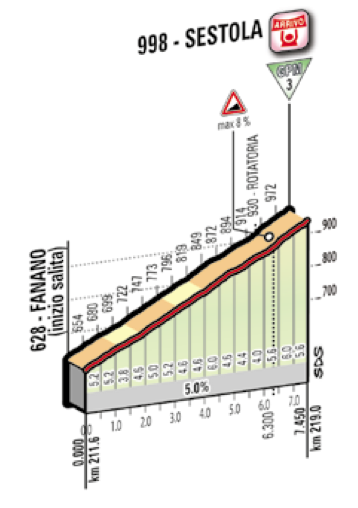 The final climb is not difficult, only 7.5km at 5%. Putting an easy climb after a harder climb, seems to be fashionable with the Giro organisers. We saw a few of these stages in 2015.
Peter Weening won in Sestola in 2014, but that year the riders continued all the way up the mountain, to 1538m.
Weather
Looks like being a nice day. Not too warm, but still comfortable for the riders.
Tactics
Judging by the previous stages, we'll get plenty of attacks on the cat 1 climb, meaning a small bunch approaching the final climb together. Don't forget about the descent into the final climb, as Valverde and Nibali will look to take advantage of their superior bike handling skills.  The last 4km of the cat 1 climb is very hard and suits the pure climbers.
It shouldn't be long enough to put any of the real contenders into difficulty, but it will be interesting to see how Brambilla does. He fought so well in the TT to hold onto his lead, which he did by just 1 second. He is just ahead of Jungels but has 32 seconds on Amador and the rest follow at 50 seconds. Brambilla should be strong enough to hold onto his lead in this stage.
Etixx have Carlos Verona and David de la Cruz to help pace the bunch up the cat 1 climb. Once near the top, they would hope to have Jungels and Brambilla left. If both men survive, it's hard to see the team lose the pink jersey.
Of the other teams, Astana look the team with the most attacking options. With Kangert, Scarponi and Fuglsang they have 3 riders capable of blowing the peloton apart. That should be their tactic, to see if anyone is on a bad day.
After all his crashes, Ilnur Zakarin will have some freedom. Sitting at 2:09 down on Brambilla, Etixx might not chase after him. However, Astana and Sky should be very careful with the young Russian, he was clearly flying in the TT.
Contenders
Vincenzo Nibali – the penultimate climb is good for him, and the descent, but the final climb is not ideal. He would have to drop most riders if he wants to win.
Mikel Landa – his TT was a massive surprise, especially as he had been distanced by Vaverde's attack the previous day. Was he just bluffing?
Ilnur Zakarin – this stage looks very good for him. He will attack, as he needs to make up some time. His crashes didn't look too bad, but we'll still have to wait and see how he responds.
Bob Jungels – super strong just now. I have my concerns about the penultimate climb, but it's not too long so he may hold on. Has a solid uphill sprint, if it comes down to that. Might also have to pull the peloton for Brambilla.
Steven Kruijswijk – the Dutchman continues to impress. His TT was up there with other GC riders and he has managed to negotiate the opening week without losing time. Now we'll begin to see if Kruijswijk is really a challenger for the pink jersey.
Alejandro Valverde – his sprint makes him the big favourite for the stage. With Betancur, Visconti and Amador he has the men to chase down the attacks, but Movistar need to commit to bring back the break. His TT was good, so clearly has good legs just now.
Diego Ulissi – not a great TT, but that was to be expected. He will have plenty of opportunities to take another stage win and this is one of them. Like all the other riders, he needs to distance Valverde. Ulissi will benefit from not being viewed as a serious contender for the GC, hopefully allowing him some freedom.
Domenico Pozzovivo – after a great opening week, he was put under pressure in Arezzo. Having initially been dropped by Valverde, he managed to pace himself back to the lead group. It was a worrying moment for him, but he did come through it. On paper, this is a great stage for him. He's never afraid of attacking and has a chance of taking the win. I remember him attacking on this climb back in 2014.
Sergey Firsanov – like Pozzovivo and Landa, he was distanced into Arezzo, but fought back. The Russian cannot be underestimated as he looks to climb up into the top 10.
Rafal Majka – looking good and Tinkoff seem happy to chase for him. He will have been disappointed with his TT, but he didn't want to take risks on the wet descents. He's still on track for a top 5 finish, as he has looked very comfortable in the opening week.
Esteban Chaves – had a bad day in the TT, dropping him down to 13th. Has been climbing extremely well and loves this type of stage. Another rider with a good chance of taking the stage, if he can get away from Valverde!
Breakaway Hopes
We've had three hill stages so far, each one has been claimed by a breakaway rider. None of the big teams look interested in chasing down the morning move, great news for all breakaway hopefuls. Will the same pattern continue?
The big teams and riders do want to win stages, but this one looks heavily in the favour of Alejandro Valverde. The final climb of 5% is perfect for the Spaniard, but Movistar have been reluctant to chase any breaks. The peloton will look towards Etixx and the Belgians will be happy if the move doesn't contain any threat on GC.
A favourite move by teams, is to place a rider high on GC in the break. That forces the leading team to chase it down and use up some of their riders. Sometimes that plan actually earns you the race lead, just like Brambilla into Arezzo.
The following riders could be used in this way:-
Kangert 4:40 down
Visconti 4:47
Montaguti 5:03
Formolo 5:22
The attitude of Movistar and Astana will determine the chances of a break. Astana would like a hard race, but bringing Valverde to the line is a foolish move. Movistar are the team that have it all to gain, it's up to them!
If the break survies, riders like Stefan Denifl, Przemyslaw Niemiec, Tim Wellens, Damiano Cunego, Georg Preidler, Alessandro De Marchi and Matteo Busato would be good choices. Wellens and Cunego seem destined to try and attack in most stages of the race.
Prediction Time
I think the break will make it again, thanks to Movistar not taking up the chase. In terms of breakaway options, I like Wellens and Niemiec. The Belgian seems to be on great form just now, so I'll take Tim Wellens to win his 2nd stage of the race.
David Hunter
Follow us on @CiclismoInter
Join us on facebook: Ciclismo Internacional
Copyright © 2016 Ciclismo Internacional. All Rights Reserved