Giro d'Italia 2016 – Stage 6 Preview
By David Hunter
Ponte – Roccaraso 157km
The first mountaintop finish of the race.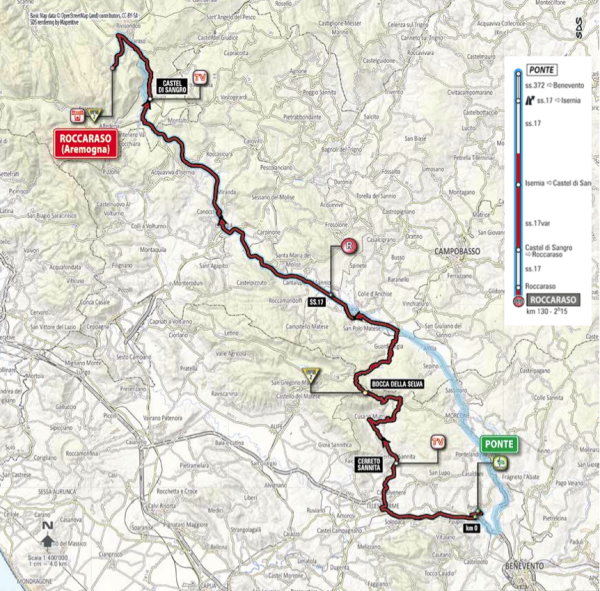 It's early in the race, which means it won't necessarily be a GC battle.
We begin the race with just 15km of flat, before hitting the first climb of the day. Most riders hate this type of opening to a day.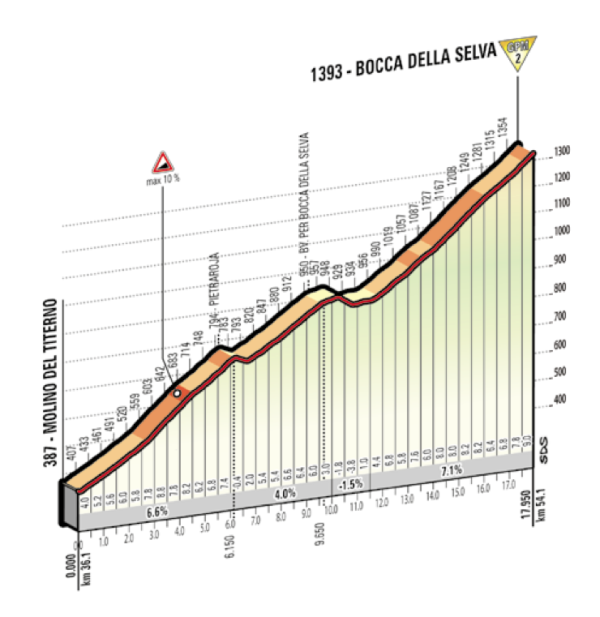 The climb to Bocca della Selva is 18km at 5.6%. Quite a horrible start to the day. With Pirazzi and Cunego already looking to battle for the blue jersey, we could see both of them attempting to make the morning break. The climb does make it harder for a lot of riders to escape. Whatever happens, we should have a big showdown on the final climb of the day.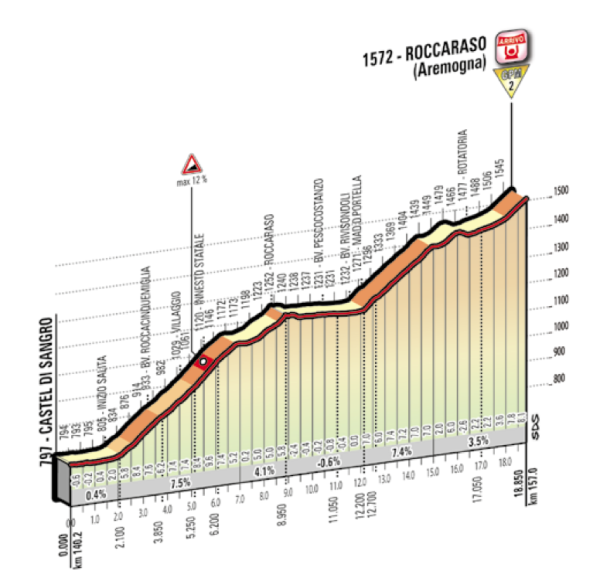 As you can see, it's not the hardest climb in the world. Yes, it's a mountaintop finish, but we should see a group of around 30-40 riders approach the final kilometres together. The climb goes up in two steps of around 7.5%. The flat sections are great news for riders who will look to surprise some of the proper climbers.
The stage finishes with 1km at 7.1%, with the final 500m at 8.4%. It promises to be a fascinating stage.
Weather
A nice sunny day. We do have a little wind from the west, meaning a headwind on the early slopes and a crosswind near the top. Shouldn't be a bother for the riders.
Tactics
The GC riders will not want to lose time to each other. The climb is nowhere near hard enough to see any gaps between the best climbers here. The big teams will be on their guard to stop any of the serious contenders sneaking away. That means it will be tough for Nibali, Landa, Zakarin and Uran to win. These riders don't really want a sprint either, as Valverde will take bonus seconds. It means that the teams will ride a tactical battle and look towards some of their "lesser" riders. Early mountain stages are rarely won by a rider who finishes on the podium. Take a look at some winners from the first mountaintop finish in previous grand tours:-
2015 Vuelta Stage 2 – Chaves won and was 5th overall.
2015 Tour de France Stage 2 – Rodriguez won and was 29th overall, but was a hill not a mountain.
2015 Giro stage 5 – Polanc won and was 53rd overall.
2014 Vuelta stage 6 – Valverde won and was 3rd overall.
2014 Tour de France stage 8 – Kadri won and was 84th overall.
2014 Giro stage 5 – Ulissi won and was a DNF overall.
As you can see, the history books tells us it's unlikely one of the major riders will win, but that man Valverde looms large! As we know, Movistar are never keen on a lot of chasing. They love to put a rider in the move and let the others work. That man should be Gio Visconti, a dangerous rider on a stage like this. Don't expect him to go in the morning break, he will be saved until the final kilometres.
Those final kilometres will be amazing to watch as riders attack and force teams to chase. Expect to see the team leading the bunch change a number of times. Movistar have the most to gain by keeping it altogether, but that won't be easy.
Contenders
Alejandro Valverde – will start the stage as the favourite, thanks to his sprint finish. Only Ulissi should really be able to compete with him, but being the overwhelming favourite is not great on a day like this. He will ride a defensive race and it will be a bonus if he gets to sprint for the win.
Ilnur Zakarin – has a fast kick, compared to the other GC riders. I think he'll try to get away, but it will be hard.
Diego Ulissi – this stage reminds me a lot of when Ulissi won stage 5 in 2014. Winning on Tuesday was a huge bonus, especially as this is the stage he's been targeting. Won't be allowed the same freedom as on Tuesday, he's now just 20 seconds behind Dumoulin. If he's going to win, he'll need to outsprint Valverde.
Nico Roche – 2nd to Chaves back on stage 2 of the 2015 Vuelta. Roche is exactly the type of rider who could be granted some freedom. He's 37 seconds behind Dumoulin, so no need to chase him in the final kilometre. With Landa being heavily marked, the Irishman should be allowed to try himself.
Jakub Fuglsang – similar to Roche. With Nibali marked by the other GC riders, Astana will look to join an attack. The Dane is in good form and will be one of their options, Scarponi and Kangert give them another two cards to play. Astana look strong.
Giovanni Visconti – read above! Should be Movistar's man to join a late attack and he loves this race.
Domenico Pozzovivo – could be viewed as less of a threat by some of the big boys, but then again, probably not.
Matteo Busato – the revelation of the season. Climbed with the big boys on Tuesday and was impressive in Trentino. Certainly fits the bill as a lesser ride who will not threaten the GC.
Sergey Firsanov – the other revelation of the season! So strong just now, especially as the slope starts to get steeper. In their first grand tour, Gazprom-RusVelo will be keen to take an early win. It would be no surprise to see Firsanov do it.
Tim Wellens – patience! Someone needs to put a leash on Wellens and let him off 3km from the finish. His love of attacking early, really is becoming a tactical flaw. He needs much better timing, as he has a great chance in this stage.
Moreno Moser – 3rd in GP Miguel Indurain, this climb will not bother him. He's in good current form and has a fast finish too. I like the look of Moser just now, a win is not far away.
Bob Jungels – great form but only 20 seconds behind Dumoulin. That will make it tough for Jungels, so Etixx could look to Brambilla.
Breakaway
With so many teams capable of winning this stage, I doubt the break has any chance of survival. In fact, I think it will be quite a small move.
Prediction Time
Has to be a "lesser" rider for me. I will go with a man on form, Sergey Firsanov will take a huge win for the Russians.
David Hunter
Follow us on @CiclismoInter
Join us on facebook: Ciclismo Internacional
Copyright © 2016 Ciclismo Internacional. All Rights Reserved