Giro d'Italia 2017 – Stage 13 Preview
By David Hunter
Reggio Emilia – Tortona 167km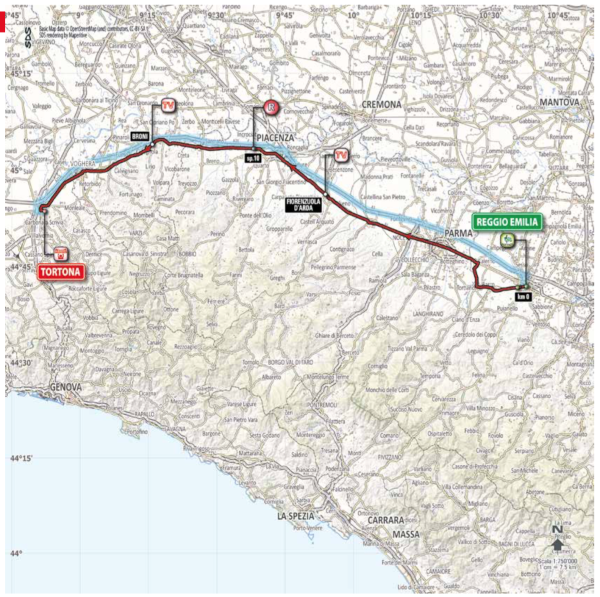 One last day for the sprinters.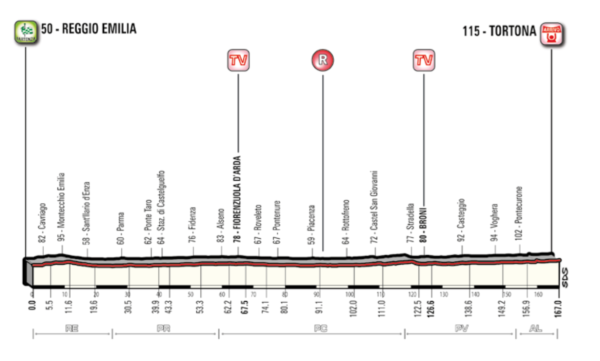 Short and flat. This is a nailed on sprint.
Finale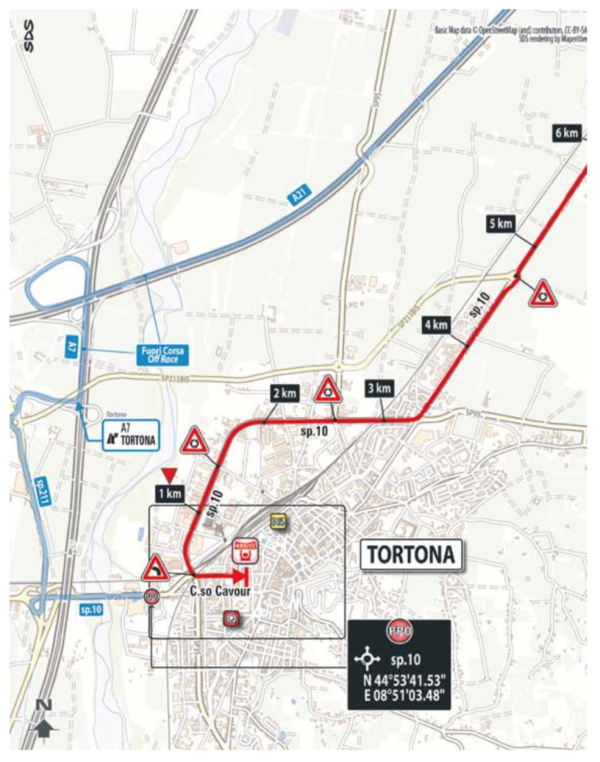 The run for home is nice and easy, apart from a very fast corner with 500m to go. This is a roundabout and won't slow the riders down, but the road will be narrow, making positioning very important. To win the stage, you must be in the first ten wheels at this point.
Weather
Thunderstorms are in the air. Wet roads would not be good news for the bunch.
Sprint Stages Review
Stage 1 – the day they all got it wrong. A technical finish removed lots of domestiques and once Edmondson was unable to close the gap, Postlberger was gone. UAE were the only team with numbers, but they failed to commit and the late attack was successful. In the sprint for second, Modolo launched too early, but Ewan was the best of the rest. Greipel was okay and Gaviria was poor.
Stage 2 – a really fast finish. Lotto Soudal did well, Greipel was positioned at the front, inside the final kilometre, with Ewan just behind him. Gaviria and Ewan bumped into each other, forcing Ewan to end his sprint. No one was a match for the power of Greipel.
Stage 3 – crosswind chaos, allows QuickStep to dominate and Richeze sets up Gaviria for the win.
Stage 5 – this time it was Bora dominating the final kilometre, but Bennett launched a little early into the headwind. That allowed Gaviria to power past him in the closing metres, with Mareczko finishing very fast too. A bad day for Ewan and Greipel.
Stage 7 – at last Orica got it right. Mezgec was amazing, putting Ewan into a wonderful position. The other team who shone were Bora, with Bennett finishing 3rd, just beaten by a fast finishing Gaviria. The stressful sprint was not to the liking of Greipel.
Stage 12 – Bora were brilliant, controlling the final 5km, but Richeze was just too good! He and Gaviria were on the wheel of Bennett and they breezed past him and Selig, inside the final 300m. Lotto and Orica were very poor.
Contenders
Fernando Gaviria – three stage wins is a brilliant return on his Giro debut. As good as he has been, a huge amount of his success goes to Max Richeze. The Argentine really is the best lead-out man in the world, he is miles better than his rivals here. If the two of them are near the front with 1km to go, it looks like they will win. Gaviria has a huge amount of confidence, a vital property for any sprinter.
Caleb Ewan – today was one to forget for the little Aussie. He will be a little concerned at losing his teammates, not for the first time in the Giro. He knows he can beat Gaviria, but the team must do better.
Andre Greipel – he must be very concerned with his recent performances. Still one of the fastest in the world, he looks like he is suffering from a crisis of confidence. As I've previously explained, the final men in his train are just not good enough.
Sam Bennett – Bora are doing everything right, they need to keep the faith and keep doing what they are doing. There is no disgrace in losing to these rivals, but Bennett is very close to a big win. They have the best train here, something that gives them a big chance of success.
Jakob Mareczko – he will always struggle to win against these sprinters, purely because he starts his sprint behind them. The young Italian needs a better team.
Prediction Time
Bora just need to belief.
Sam Bennett to take a well deserved win.
David Hunter
Follow us on @CiclismoInter
Join us on facebook: Ciclismo Internacional
Copyright © 2012-2017 Ciclismo Internacional. All Rights Reserved