Giro d'Italia 2017 – Stage 20 Preview
By David Hunter
Pordenone – Asiago 190km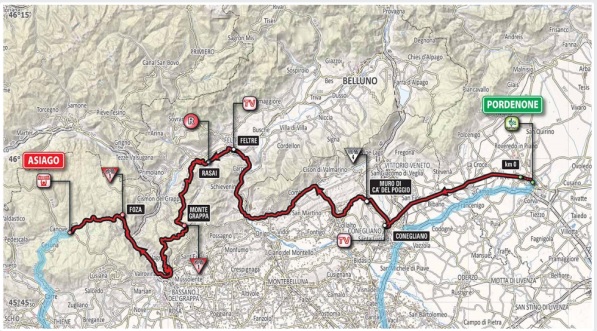 The end is nigh.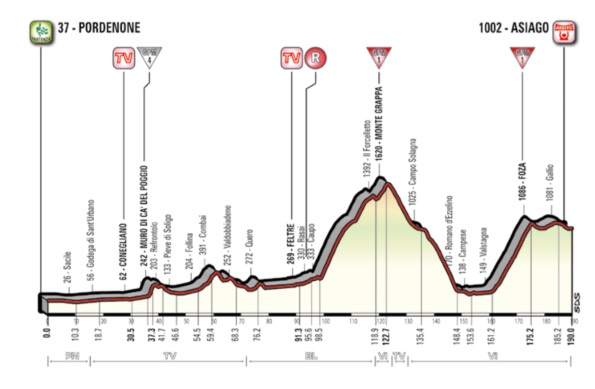 We are all set for a huge day of cycling. With two cat 1 climbs, the pink jersey is still all to play for.
The Climbs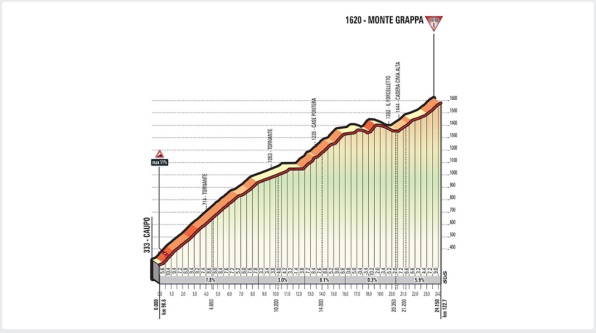 First up is the monster climb of Monte Grappa. It is 24.15km at 5.3%. The climb starts with 10km at nearly 8%, before a section that will allow some to catch their breath. We then have another difficult section, 3.5km at 8%, before another easier rest period. The climb then kicks up again at the very top. This is a proper climb!
A 25km descent follows, before 13km in the valley. As this section of flat is very short, it encourages riders to attack on Monte Grappa. With the flat section complete, the riders face the last categorised climb of the 100th Giro.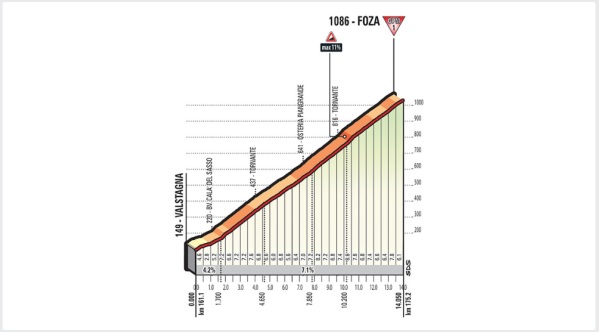 The climb to Foza is 14.05km at 6.7%, which includes a very easy opening 2km. Most of the climb is around the 7% mark and features many hairpins. Once the climb has been crested, we still have 15km remaining.
Finale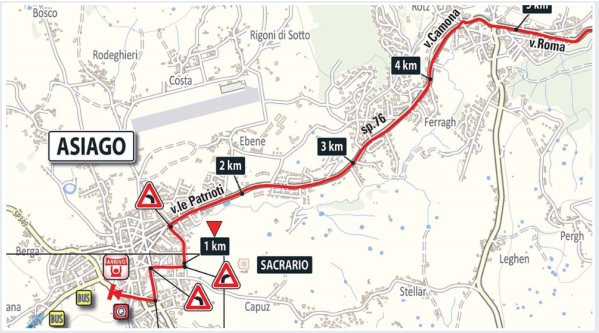 Just as well this isn't a big sprint, there are a number of corners in the last kilometre.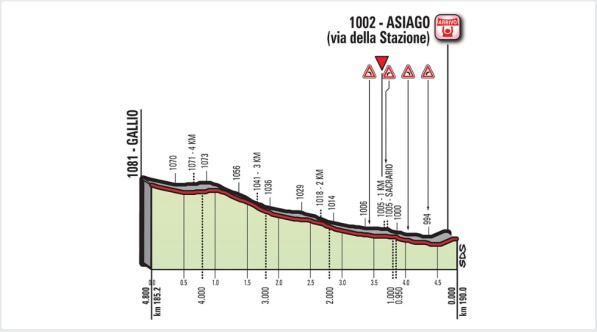 A downhill run towards the finish is great news for any little climber that manages to solo away on the final climb. It will be hard for any group to bring them back.
Tactics
Anyone who claims to know what will happen is a liar! After today's events, we are again left wondering what might happen. Here is my interpretation…
After a very fast start, an initial move will go around the cat 4 climb, probably containing a few riders from Movistar and Bahrain. The peloton will continue to fly towards Monte Grappa.
Movistar will set a fierce pace on the climb and see if they can drop Dumoulin. If they can, there is no need for Quintana to launch a long range attack. Nairo is still not looking 100%, either he is a little off his best or he has his eyes on the Tour de France. As we all know, it is nearly impossible to win the double, but Quintana seems to riding a clever race. If he can win the pink jersey, and save as much energy as possible, he has a chance of making history.
A 29.3km ITT awaits the riders on Sunday. It is probably that Quintana will lose 1:30 to Dumoulin, I think the Colombian would love a 2 minute advantage going into Sunday. He needs to take another 90 seconds out of Dumoulin in this stage. If he blows on Monte Grappa, it's all over. If Dumoulin survives, Quintana still has a chance on the final climb, he'll love all the hairpin bends.
Always lurking are Nibali(43s) and Pinot(53s), two riders that will be confident of taking time in the TT. Neither are as skilled as Dumoulin, but Quintana would still like around 1 minute of an advantage on both. The tactics of Bahrain and FDJ will also be fascinating, if they can eliminate Dumoulin, the podium is in sight. Can they put Nairo under pressure?
In summary, I don't think we'll see a big attack from Nairo on Monte Grappa, instead, Movistar will try and grind Dumoulin into the ground. The main action will be on the final climb.
Breakaway Hopes
It all depends on the chaos behind. The top 3 on GC all have a stage win, it will be up to FDJ and Katusha to chase for a stage. Again, I think it's a good day for the morning move.
Weather
Yet another nice day with very little wind.
Contenders
Nairo Quintana – I'm unsure about his tactics today. Dumoulin was there to be killed off, but Nairo decided to follow wheels instead of attacking. Is he not 100%? Is he saving himself for the Tour? Is it a carefully thought out plan? I really don't know the answers to these questions. Despite not looking great, Quintana is in the pink jersey and his rivals are chasing him. He needs one big performance to seal pink, that is well within his grasp. I don't think he has the form to attack early, he'll wait until the hairpins of Foza. Not being a mountaintop finish is bad news for Nairo, he'll be worried about the final 15km, but if he gets a big enough gap on the climb, he should be able to hold on until the finishing line.
Vincenzo Nibali – he hasn't been able to shift Quintana. He has tried a couple of times in the last few stages, but it doesn't seem that he has enough to gap the Colombian. His current gap to Quintana is 43 seconds, I think the Shark would be confident of taking that against the clock, maybe it's up to Quintana to try and distance Nibali? He will set his team to work in the hope of dropping Dumoulin, similar to what happened today. They could well achieve that goal, but I can't see him beating Nairo.
Tom Dumoulin – no chance of winning the stage. It's all about survival for Dumoulin, something that he's going to find very difficult.
Thibaut Pinot – he's benefited from his usual attacking style. Now a genuine threat for the pink jersey, there will be no more freedom. He has the fastest sprint of the GC men, he wins if the top 3 or 4 arrive together.
Mikel Landa – usual suspect number 1.
Pierre Rolland – usual suspect number 2.
Rui Costa – usual suspect number 3.
LL Sanchez – usual suspect number 4.
Jan Hirt – I've been hugely impressed by the Czech rider in the last week. He has put in three huge performances and now sits in 14th place overall. He's still not a threat to the top 10, that should free him up for another day in the break. It would be some story if the CCC rider can claim a grand tour victory.
Prediction Time
I haven't been looking forward to stage, as much as this, for a very long time.
The writing is on the wall for Dumoulin, no way he can recover after a poor performance today. Expect to see him lose more than 1 minute to the main GC riders.
This should all be about Quintana v Nibali v Pinot. I think that the little Colombian has been playing a clever game and will explode in this stage. He will attack on the final climb and distance his rivals. He knows he doesn't need to beat Nibali and Pinot by a huge margin, he will carefully plan his move.
All of this action will take place behind a breakaway, which I think goes on to fight out the stage win. You might think he'd be tired, but I don't! It's an overdue stage for Rui Costa, on the day that Nairo Quintana seals his second pink jersey.
David Hunter
Follow us on @CiclismoInter
Join us on facebook: Ciclismo Internacional
Copyright © 2012-2017 Ciclismo Internacional. All Rights Reserved