Giro d'Italia 2017 – Stage 7 Preview
By David Hunter
Castrovillari – Alberobello 224km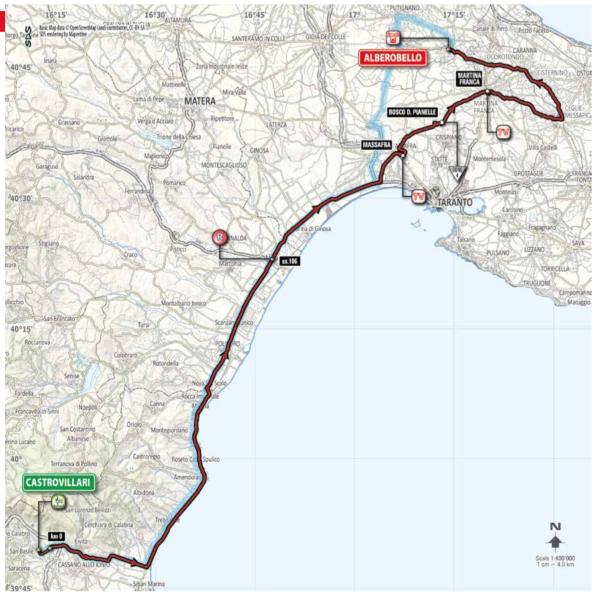 Yet another day of cycling along a beautiful coastline!
A  relatively easy day in the saddle, as the GC riders try to save as much energy as they can for a big mountain stage on Sunday. Like in other stages, we have a very long climb. It is 15.4km at 2.6%, but that does include a flat section in the middle. It should not be hard enough to drop any of the sprinters. One thing to note is the distance, at 224km, this is the second longest stage of the race.
Finale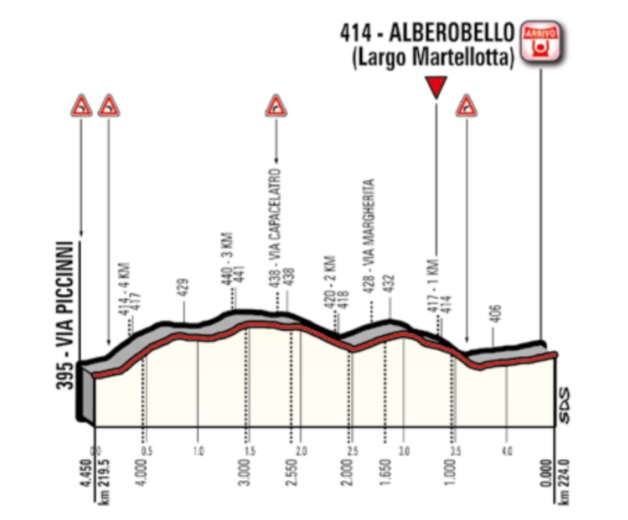 We have a few lumps in the last 4.5km, making the finish the hardest part of the day. The gradient of these little kickers don't get over 3% and they don't last for long, this should be a big sprint. The last kilometre is one of those horrible false flats, making the timing of your jump very important. Do not start sprinting until 200m to go!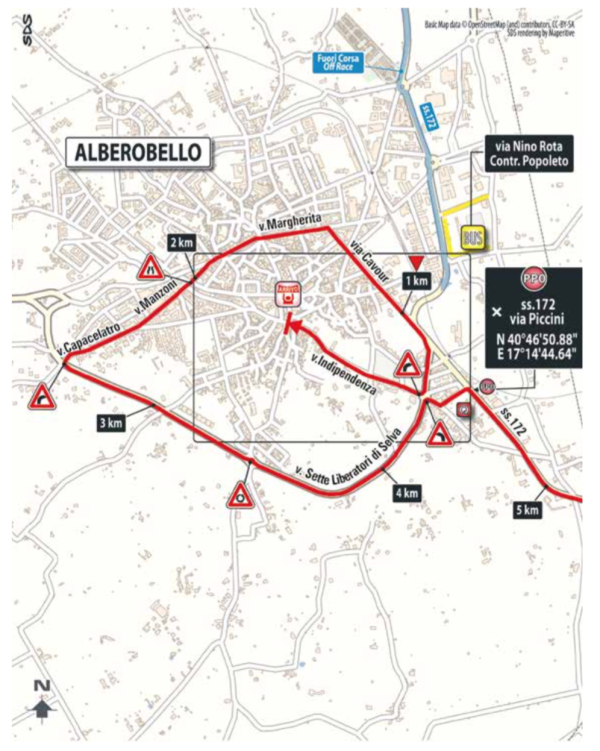 There is a nice big loop for the peloton to finish the stage, with pinch points at 3km and 600m to go. Nothing to cause any huge alarm, but positioning will obviously be very important for the final turn. To win the stage, you need to be in the first ten wheels when the road turns right.
Breakaway Hopes
Not very good. The stage is easy to control and lots of teams will want to work to set up the sprinters.
Weather
Another sunny day with some wind. Yet again, it will be a tailwind for the majority of the stage.
Contenders
Fernando Gaviria – with two stage wins, the Colombian has no pressure on his shoulders. His win on Wednesday was very impressive and he is riding with a huge amount of confidence. With a strong lead out, he has every chance of making it three wins. Max Richeze is worth his weight in gold!
Andre Greipel – the German would have been disappointed with his sprint in Messina, he had hoped for a second stage win. As I have previously said, Greipel is working with a lot of new faces at the end of his sprint train. It is surprising that Lotto didn't test this out in previous races as these things take time. If they get it right, and deliver him in a perfect position, he'll be very difficult to beat.
Caleb Ewan – he was badly out of position in Messina, something that doesn't usually happen to him. In cycling, these things happen, I'm sure that Orica will have learned from that experience. He is still waiting for his first win of the race, that is a real shame considering he has looked the fastest sprinter. Will his luck change?
Giacomo Nizzolo – suffering from allergies, we'll have to wait and see if the Italian champion can sprint or not. If not, Stuyven will replace him, but he doesn't have the speed needed to win this stage. If Nizzolo can get it right, he can threaten the podium.
Sacha Modolo – it's been a strange race for Modolo. His team are looking great, but he hasn't managed to sprint in the last two sprint stages. Instead, they have turned to Roberto Ferrari. They will be hoping that Modolo will return to sprinting in this stage, as their sprint train is one of the best here.
Jakub Mareczko – the little Italian is a clever sprinter. He doesn't have a train capable of putting him at the front of the race, he needs to come from deeper in the last 200m. Knowing this, he likes to latch onto the wheel of a big sprinter and get pulled along in his slipstream. I like this tactic, but it is also risky. On a good day, he could challenge for another podium.
Sam Bennett – after recovering from his illness, it was great to see the Bora sprinter finishing 3rd on Wednesday. I was beginning to worry that it would be another grand tour ruined by bad luck, but he seems to have turned a corner. His lead out train are working well and look as good as the other squads here. Given his turn of speed, Bennett will not fear any of these sprinters and he'll be confident of winning a stage in this race.
Prediction Time
Greipel v Ewan v Gaviria v Bennett. This is hard to call.
Greipel has the speed, but his final men are not great.
Ewan has the speed and the train, but is carrying bad luck.
Gaviria has the speed, train and confidence.
Bennett has the speed and train.
I think it has to be another win for Fernando Gaviria.
David Hunter
Follow us on @CiclismoInter
Join us on facebook: Ciclismo Internacional
Copyright © 2012-2017 Ciclismo Internacional. All Rights Reserved