Giro d'Italia 2018 – Stage 7 Preview
By David Hunter
Pizzo – Praia a Mare 159km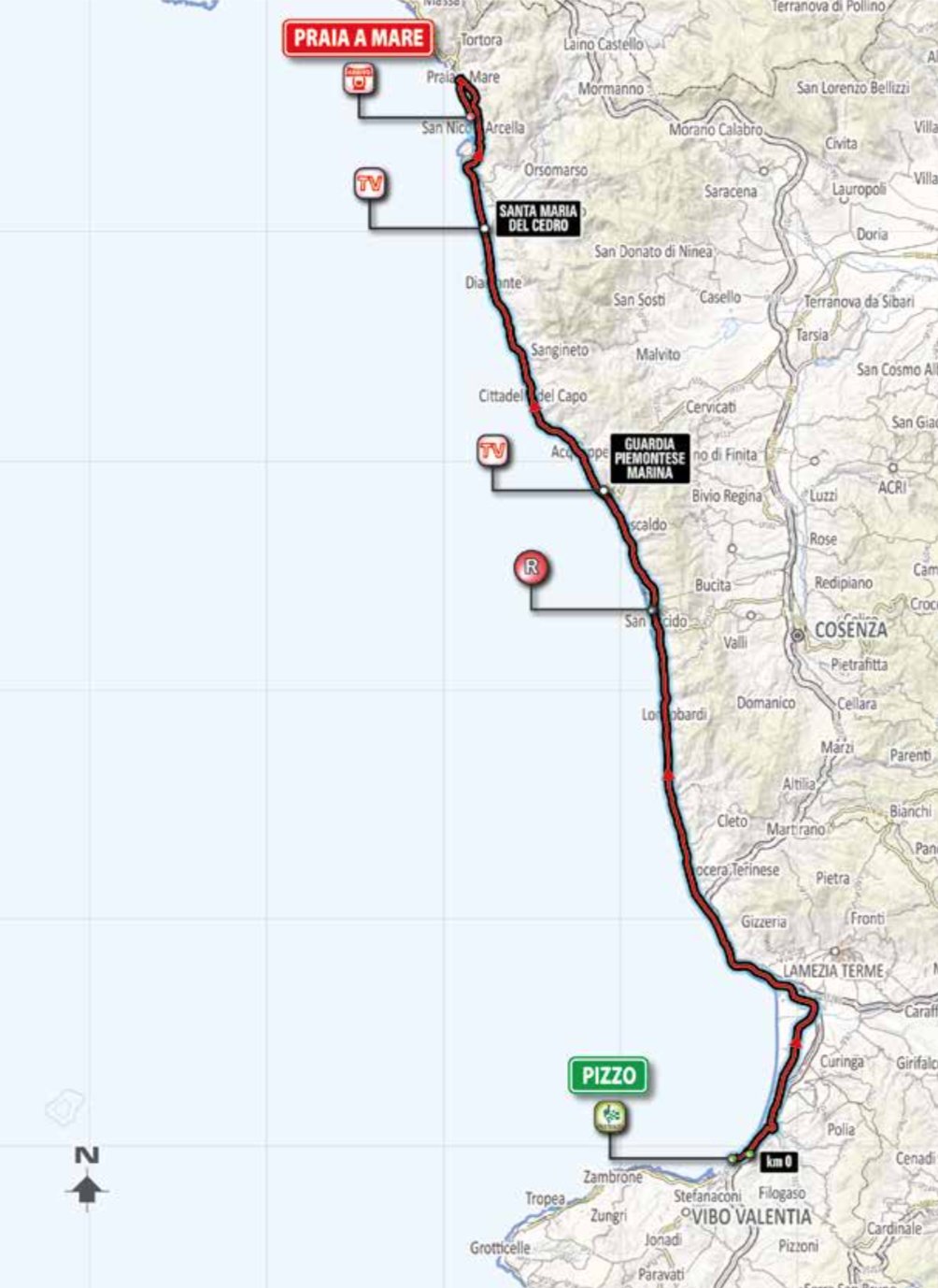 As the race hits mainland Italy, we get a rather boring sprint stage.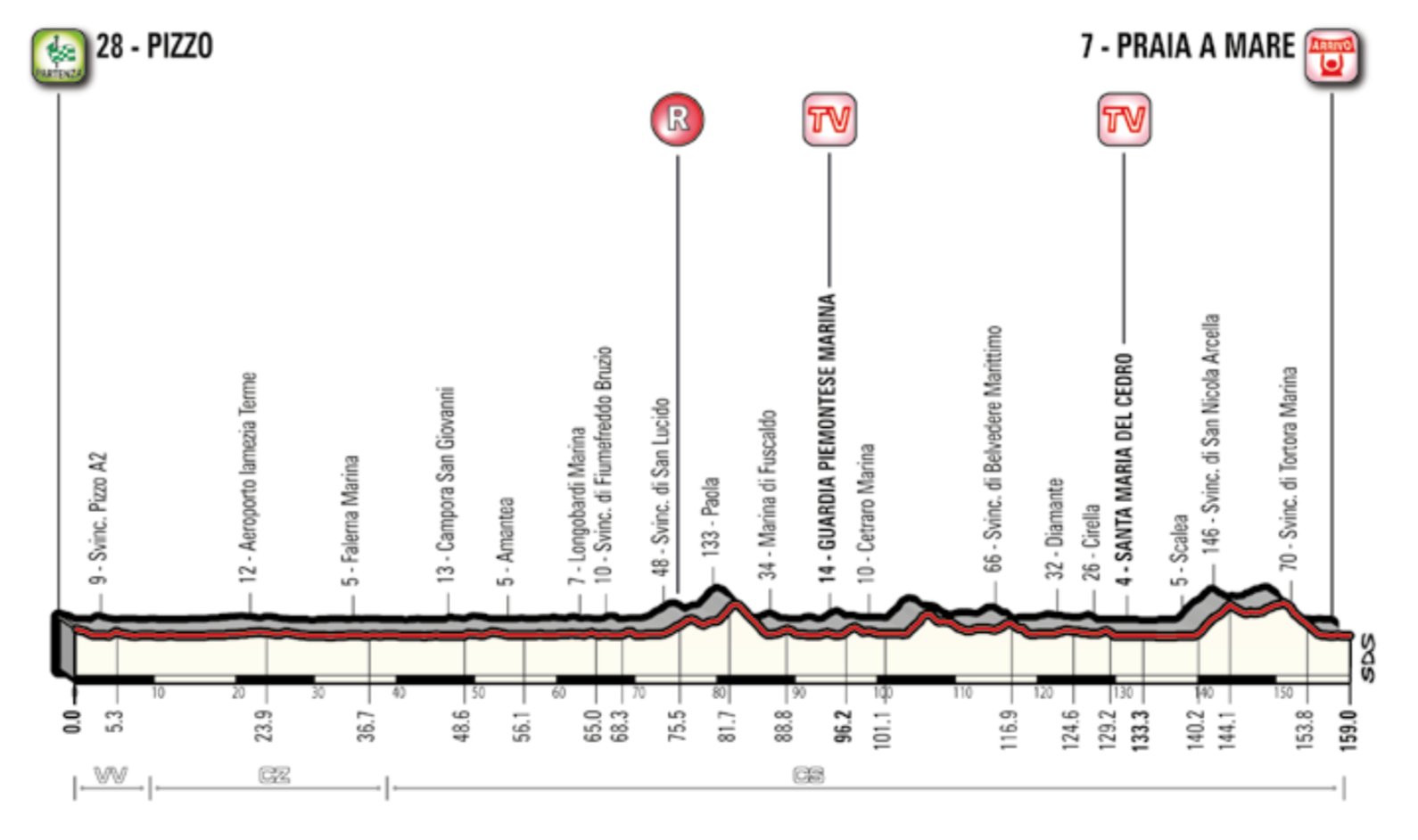 No categorised climbs and just a little bump with 19km remaining, this won't be a fun stage to watch. The bump is 3.9km at 3.6%, nothing that will cause difficulties for any of the sprinters, even Mareczko!
Weather
A real chance of some rain in the afternoon. The wind is coming from the south-west, making it perfect for crosswinds, but it doesn't seem strong enough to do any damage.
Finale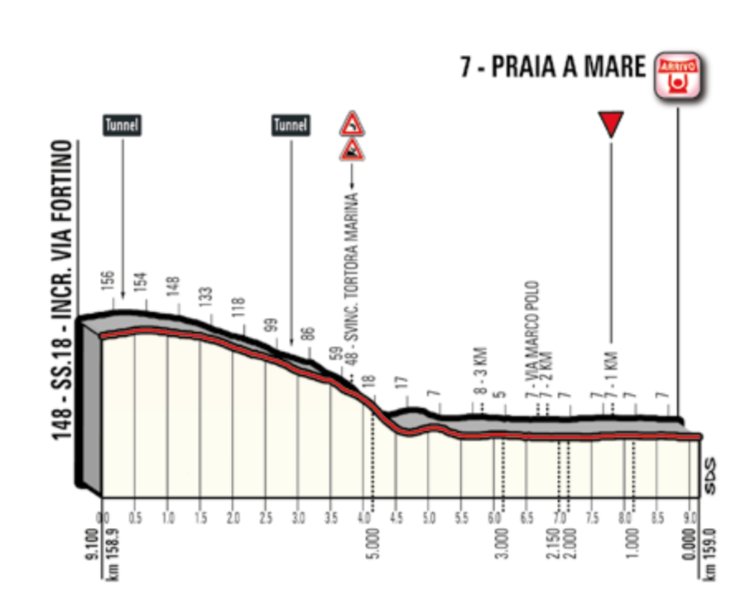 The last 9km features a fast downhill, with two tunnels, and a flat run for home.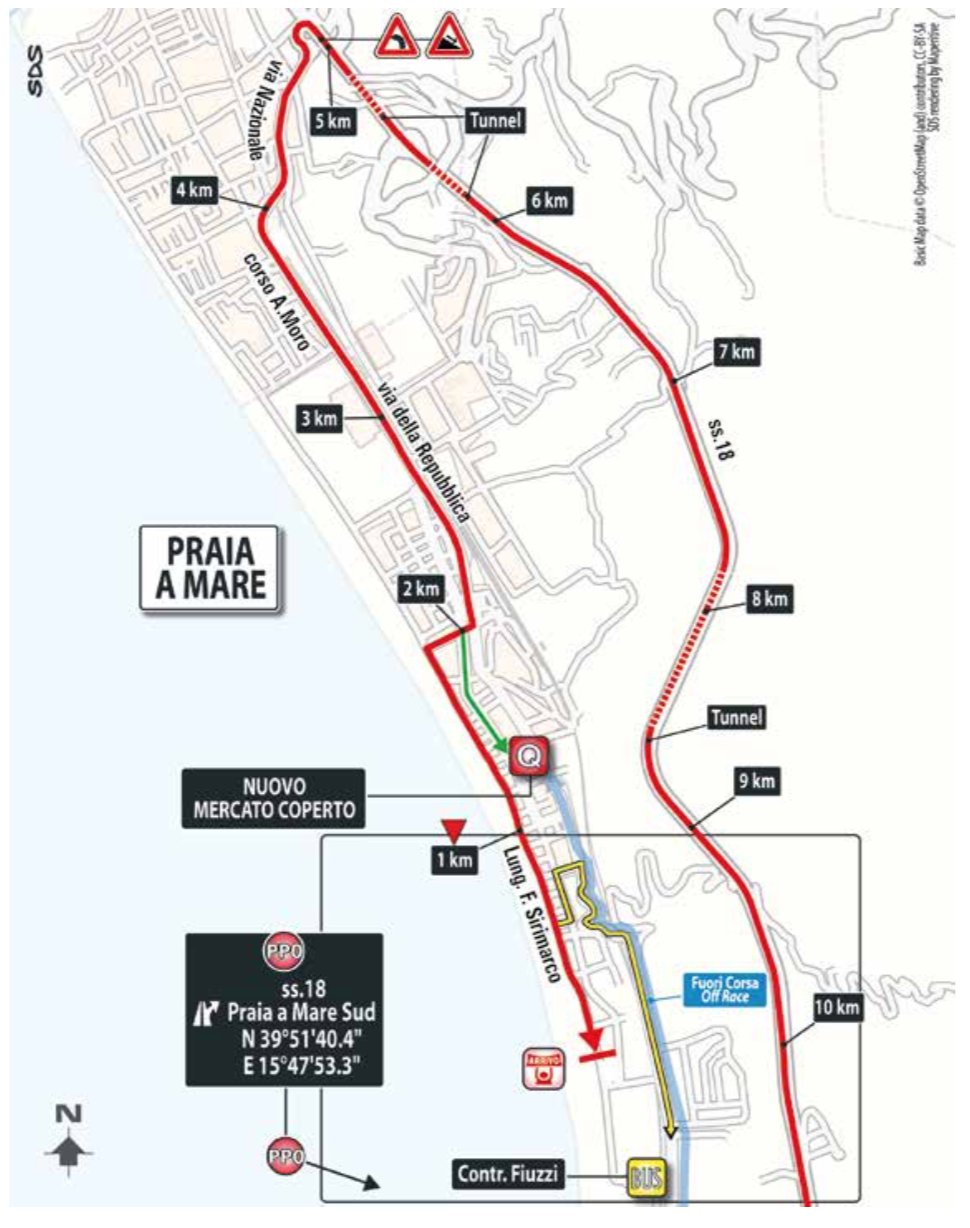 This is the easiest of the sprints we've had this week. A double turn with 2km remaining is the only issue.
Breakaway Hopes
It's one of those nothing days where mistakes can be made. QuickStep will get little help from the other teams and if the break gets a friendly moto driver, you just never know!
How Do You Beat Viviani?
This is what most teams will be wondering. Here are the issues:-
QuickStep are the only team will a long sprint train. This means they will control the final 3km.
Viviani is the fastest sprinter.
Viviani is confident, a valuable commodity in the world of sprinting.
What To Do
Given the sprint trains of the other teams, I only see a couple of options:-
Hang just behind QuickStep and then blast to the front in the final 400m. The trouble is that only Bora had a rider capable of getting in front of Mørkøv and Sabatini, he abandoned today.
Get on Viviani's wheel and hope he launches too early. A negative tactic, but it looks like the one with the greatest chance of success.
Contenders
Elia Viviani – strongest train and fastest sprinter, this is a stage for him to lose. As I have detailed above, it will be very hard for the others to stop him taking his third win.
Sam Bennett – no Rudi Selig is a massive low to the hopes of Bennett. Bora started with a short train and now they have no one fast enough to help Bennett get in front of Viviani. The Irishman will now have to fight for the wheel of Viviani and hope to sprint past him.
Jakob Mareczko – has to stick on Viviani's wheel. His team aren't strong enough to put him at the front of the race, he'll have to go for option 2.
Sacha Modolo – his sprint train is good, but not good enough to match QuickStep. They lack a little speed early in the train and Van Asbroeck isn't fast enough to hit the front in the finale. Modolo will have to start from behind other riders, which makes it hard to beat Viviani.
Danny Van Poppel – another contender for the podium. To win the stage, he needs to complete the perfect sprint.
Prediction Time
Sorry to be boring, but it looks like another win for Elia Viviani, only a mistake will allow the others a chance.
David Hunter
Follow us on @CiclismoInter
Join us on facebook: Ciclismo Internacional
Copyright © 2012-2018 Ciclismo Internacional. All Rights Reserved