Giro d'Italia 2019 – Stage 20 Preview
By David Hunter
Feltre – Croce d'Aune 194.5km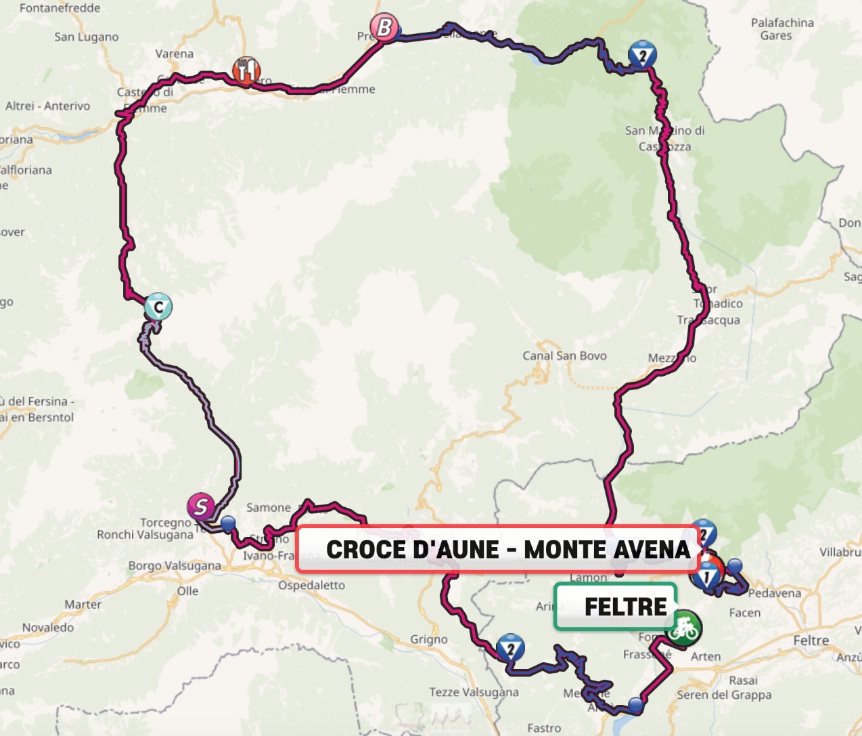 D-Day in the battle for the pink jersey.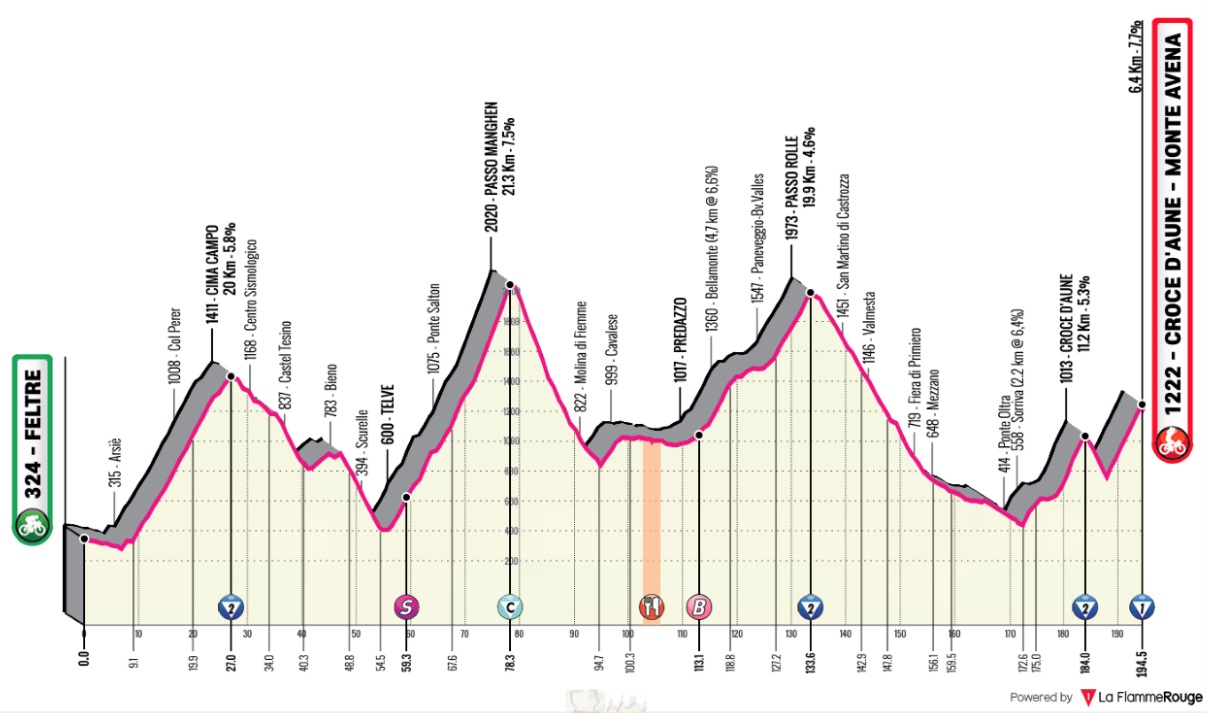 A monumental day awaits the peloton, with close to 6000m of climbing. As far as I can see, it looks like we have zero kilometres of flat, which is quite an achievement considering the stage is 194km long.
The Climbs
The day begins with Cima Campo, which is 20.2km at 5.6%. This is a very long climb and it allows teams to begin at a fast pace and immediately put riders into difficulty. Will a break be allowed to get up the road? Will it immediately turn into a GC day? Once over the top, there is around 20km of descending before the next mountain.
Passo Manghen is a brut of a climb, 19.1km at 7.4%. The hardest section of the climb is the final 6km which rises at 9.4%. This is the toughest climb of the day, but comes early in the stage, will that stop GC teams from attacking?
Passo Rolle is another long climb, 19.8km at 4.6%, but that includes almost 4km of flat. It's not particularly difficult and almost impossible for the big riders to distance their rivals.
The descent is very technical at the start, but then becomes easy. It bounces straight into the final climbs of the day.
Croce d'Aune is 10.9km at 5.3%, but the final 3km is around the 9% mark, which will be a big test at this point of the stage. A short descent follows before the final climb of the day.
6.4km at 7.3%, which will seem a lot harder than the numbers suggest.
Weather
Hot and sunny.
Tactics
All eyes are on Bahrain-Merida. They have to start the stage with a crazy pace and try to distance as many Movistar riders as they can. They might try to place riders in the break, or just go full gas from the bottom of the first climb. Despite being early in the day, the GC action should start on Passo Manghen, as it's the hardest climb. Nibali has to attack and test the legs of Carapaz, just to see what might be possible.
Movistar are the team in control. Having both Carapaz and Landa gives them confidence and options. Will Landa be used to cover the attacks of Nibali? Will he wait with Carapaz and help limit the gaps? Will he be allowed to attack and let Carapaz sit on wheels? Landa's role will be dictated by the legs of Carapaz. If the Ecuadorian is feeling strong, Landa will have freedom to chase the stage win and a spot on the podium. If Carapaz is a little worried, they will work together, just like on the Mortirolo.
Then we have the likes of Carthy and López, who are both looking to take a stage win. Carthy has the fight and desire, but the Colombian has the experience. Both men are far down on GC, they'll hope to get some freedom to attack without the others chasing.
What about the morning break? After watching the break take so many wins, I wouldn't discount it from happening again. If we get GC attacks early in the stage, it will be very difficult for the attackers to stay away, but the way things have been going recently, you just never know.
Looking at the route, the winning move will likely go in the final 3km of Croce d'Aune, it is a very challenging climb. This is where I would plan my big move!
Contenders
Mikel Landa – my heart says he'll attack; my brain says he'll stay with Carapaz. Giving what's at stake, I think he has to stay with the pink jersey and help chase down any attacks, forfeiting any chance of personal glory.
Richard Carapaz – same as today, he just needs to follow wheels, that makes it sound easy! He's been in outstanding form and fully deserves to be in pink, but can he convert it? There's been no sign of any cracks, which will give him a lot of confidence, especially with Landa to help. Winning the stage isn't important, he'll be happy to see a rider further down the GC take the glory, as long as he stays in pink.
Vincenzo Nibali – okay, time to see what he's got. He is 1:54 behind Carapaz, with the TT to come on Sunday. I think Nibali will hope to take 30s back against the clock, but that still leaves a huge amount of time he needs to make up in this stage. When will he attack? Surely he goes long and moves on Passo Manghen, he certainly has the team to help. He'll need a huge ride from Caruso and Pozzovivo, but he'll also need to ride the best stage of his life, if he wants to threaten Carapaz. Can he do it? It wouldn't surprise me.
Hugh Carthy – his tactics will be interesting. Given the form of some of the GC riders, his best chance of taking a stage would be from the break. The problem with making the break, is nobody will know if/when it forms. Carthy is a very attacking rider, if we see big moves on Passo Manghen, he will be there looking to move with the very best. He's enjoyed a brilliant race; can he take a massive win?
Miguel Ángel López – looks to be hitting form at the right point. The Colombian took 44 seconds back today, and he now sits just outside the top 5. Astana have a very strong team and this stage will be a massive target for them. I see them looking to dictate the early stages and going for a long-range attack. If the top 5 riders arrive at the final climb together, López would be the massive favourite to take the stage.
Primož Roglič – was that a sign of form today? Given the difficulty of this stage, I still can't see him turning things around.
Giulio Ciccone – breakaway hopeful number 1.
Mikel Nieve – breakaway hopeful number 2.
Mattia Cattaneo – breakaway hopeful number 3.
Chris Hamilton – breakaway hopeful number 4.
Prediction Time
With Landa looking to be on domestique duties, I think the door opens for Miguel Ángel López to take the stage. In the GC battle, I don't see Nibali making Carapaz crack. This is a day where we could see massive gaps, with Majka, Yates, Sivakov, Formolo and Polanc the likely candidates to end up way down on the stage. Fingers crossed it means Hugh Carthy squeezes into the top 10, he deserves it.
Remember I've now got a podcast too. Go and give it a listen
David Hunter
Follow us on @CiclismoInter
Join us on facebook: Ciclismo Internacional
Copyright © 2012-2019 Ciclismo Internacional. All Rights Reserved