Giro d'Italia 2019 – Stage 5 Preview
By David Hunter
Frascati – Terracina 140.4km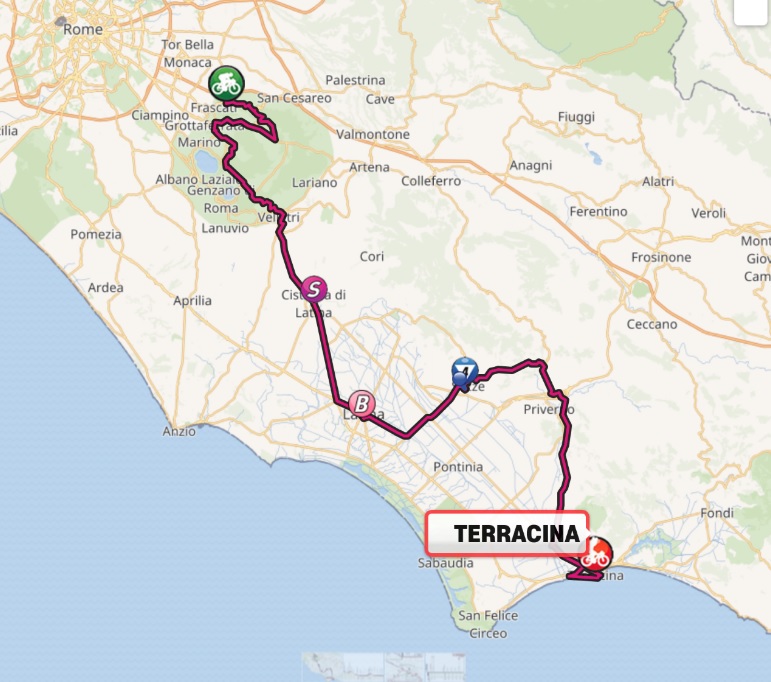 The last big sprint stage for a little while.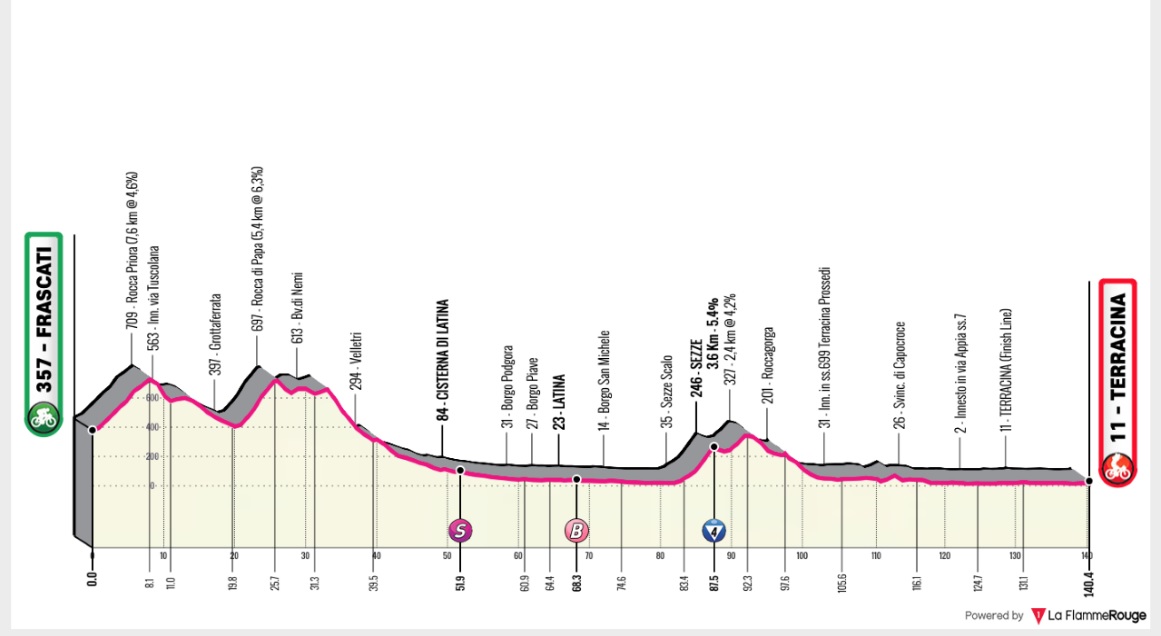 We do have a couple of lumps to begin with, which could see a fast start to the day. After the first two climbs, both unclassified, life will settle down for the bunch and the sprint teams can start to think about catching the break.
We only have one categorised climb in the stage, and that crests with over 50km to go. This stage will inevitably end in a sprint, I'm not wasting time considering anything else.
Weather
A day with lots of rain, just what the GC riders didn't want to hear. The wind is relatively strong too, starting from the east but changing to a headwind as the riders head for the finishing town.
Finale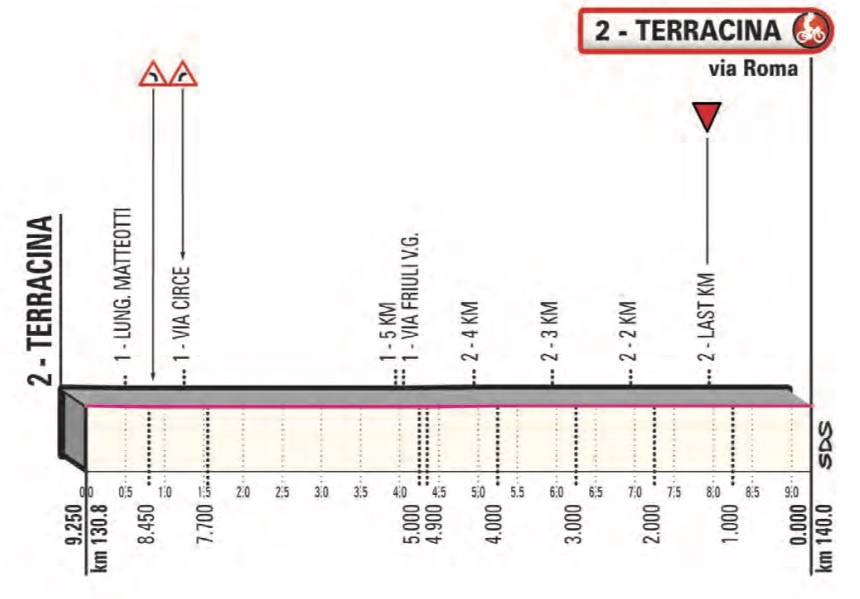 The finish that I'm looking at actually rises at 3% for the final 300m. The riders will hit it at pace, so it won't have much of an impact.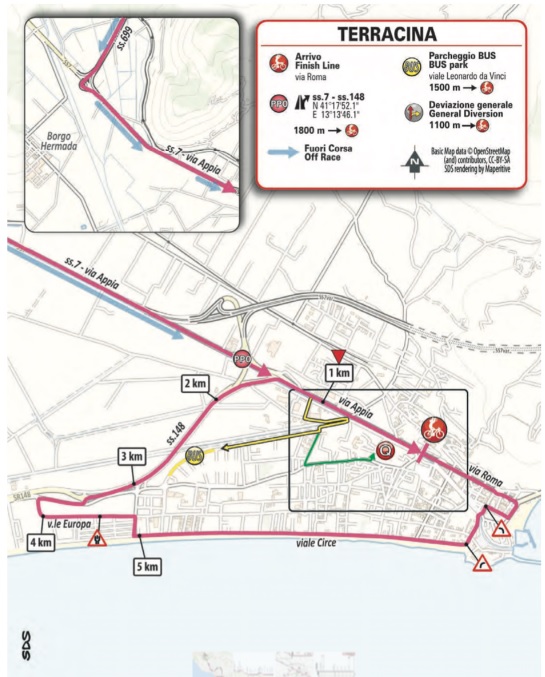 The race ends with a 9.2km circuit. When the bunch turn right and head along the beach, it gets very narrow. The peloton will be forced onto a one land road and it stays that way until the 5km point. GC teams will push to the front for this section, especially with the wind blowing off the sea; it would be a nightmare to get caught behind a crash at this point
The roads then get much wider, but we do have massive pinch point at 2km to go. The riders come off a highway, using the slip road. That means they go from 10 riders wide, down to 2. This is the crucial point for the sprint teams, and we'll see a mini-sprint to get into the turn first. Once through the turn, the finishing straight is relatively wide and without issue.
Contenders
Elia Viviani – beware the man scorned. After being relegated in Monday's sprint, you can bet the Italian will be riding with some extra fire in his belly. I think the decision was correct, he made too much of a deviation from his line, but I can understand his frustration. Heading into this stage, there is quite a lot of pressure on his shoulders. Controlling the stage will be easy enough, but the finish will certainly be difficult for any sprint train to dominate. With rain expected, this could well end up being a messy sprint. The crucial point for the QuickStep train will be the turn with 2km to go, they need good position.
Pascal Ackermann – the young German continues to impress on his grand tour debut. Okay, he launched his sprint too early on Monday, but that's what too much confidence can do to you. He survived well today, but just didn't have enough gas left in the tough finish. The Bora sprint train have done a great job in delivering their sprinter into race winning positions, I don't expect this to change. At some point, he'll start to feel the fatigue from all this hard racing, but probably not yet.
Caleb Ewan – the little Aussie was hugely impressive today, falling just short of an enormous win. That's now two occasions where he's just missed the win and he's starting to run out of chances. It is expected that he'll be leaving the race after stage 11, which means the pressure is on for him to deliver in the near future. His sprint train got it wrong on Monday, but they'll learn from that and come back stronger in this stage. As his form seems to be growing, he has to start as one of the men to beat.
Arnaud Démare – another rider who seems to be growing into the race. The Frenchman has lots of experience, a quality which you cannot underestimate in a grand tour. He seems like the only sprinter interested in collecting points for the sprint jersey, which gives a clear indication about how long some are intending to hang about for. With a quality sprint train, Démare will be put into a strong position, but his top speed is just a little less than some his rivals. Winning is tough, but a podium the minimum he should be shooting for.
Fernando Gaviria – has a stage win, even if he didn't really want it. I still think he seems to be a little short of top form, and now that his sprint train is missing Molano, UAE will have to rethink their plans. Having a short train means they should be hanging back until the final kilometre, which actually suits Consonni, his lead out man.
Prediction Time
The rain will turn this easy sprint stage into another stressful day, I hope everyone stays safe. Looking at the closing kilometres, it's a day where a long sprint train will hope to dominate the closing stages, particularly FDJ. The problem is the teams who'll simply hang back and hit the front just before the final corner, QuickStep being one of them. Given the fire he'll be riding with, I cannot see anything other than an Elia Viviani victory.
Remember I've now got a podcast too. Go and give it a listen
David Hunter
Follow us on @CiclismoInter
Join us on facebook: Ciclismo Internacional
Copyright © 2012-2019 Ciclismo Internacional. All Rights Reserved