Giro d'Italia 2019 – Stage 6 Preview
By David Hunter
Cassino – San Giovanni Rotondo 238.4km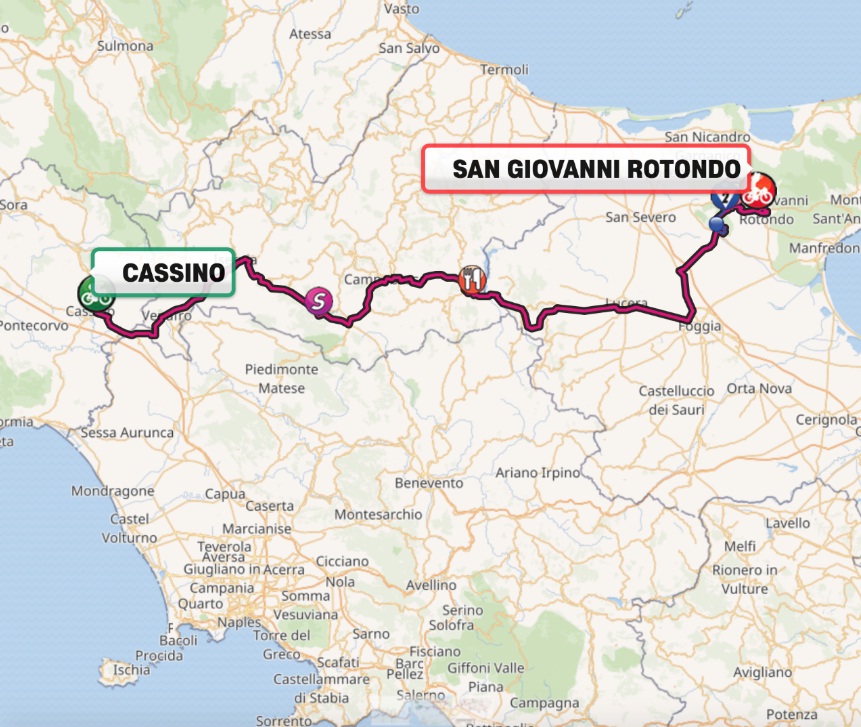 Not a day for the sprinters.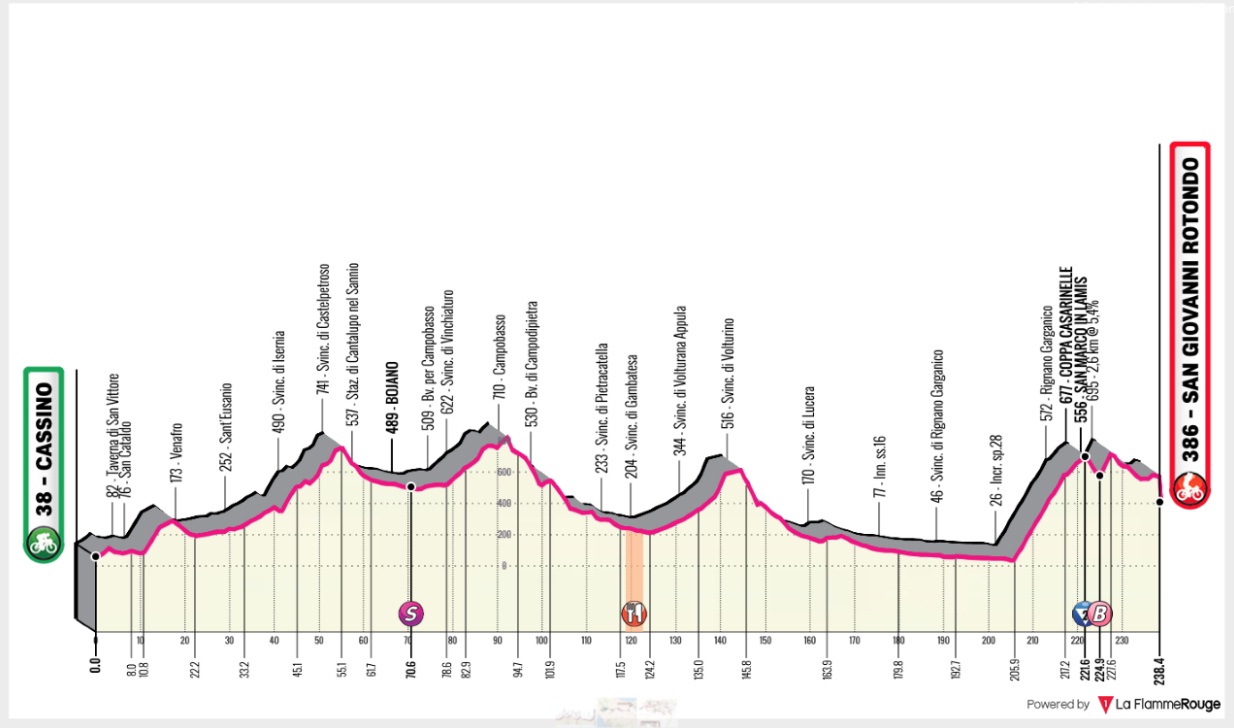 This is a long one for the bunch, with plenty of climbing too. The main focus will be on the cat 2 climb which crests with 17km remaining in the stage. It will be fascinating to see which teams commit to chasing the morning move, as this finish looks too hard for most riders in the bunch. Will Katusha chase all day for Battaglin?
Climbs
The cat 2 climb is 15.3km at 4.1%, with a maximum of 7.7%. This can be broken down a bit further, with the opening 10km at 5%, before the climb gets much easier towards the crest. A short descent follows, before the road kicks up again.
This uncategorised climb is 2.7km at 5%, with a maximum of 8.8%. It's not overly difficult, but will present a chance for an attacking ride to escape and solo to victory.
Finale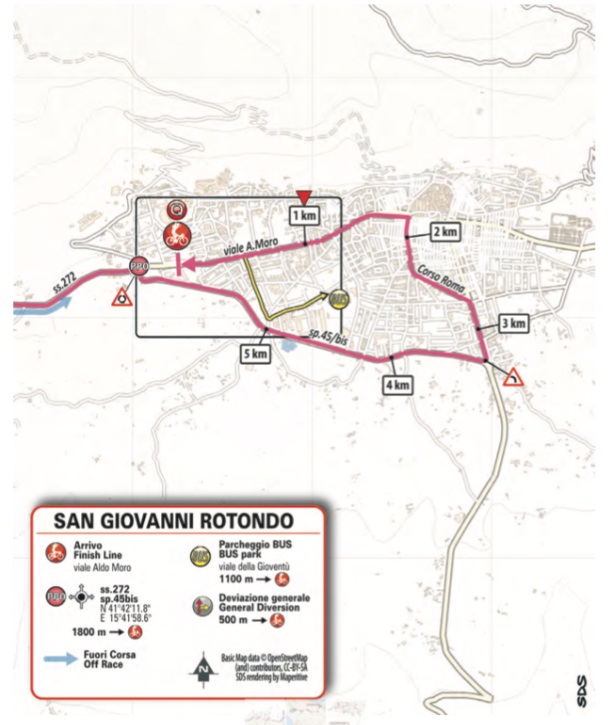 Relatively straightforward, especially as the front group won't be very big.
As you can see, the final 700m actually kicks up at 3.8%, which will interest a number of riders with a strong punchy finish. An interesting day, right up until the finishing line.
Weather
There is a chance of rain, but nothing like today. It looks like a mix of sunshine and showers, but the peloton could get lucky and dodge most of the wet stuff.
Breakaway Chances
Which team will chase? With a 15km climb coming so close to the end of the stage, I can't see any team willing to burn their men in order to bring it all back together, especially given the length of the stage. This looks like a brilliant day to be in the break, which means it will be a fierce battle to make the move.
After just 10km, the riders face a climb of around 5km at 5%, which will be used by some to form the morning move. If it fails to materialise, then the next climb doesn't come for another 30km and the move will probably go on the flat. You might not think this matters, but where the move goes will dictate the type of rider who makes it. Given the stage ends with some climbs, the winner will have to be someone who can handle the hills.
We also need to remember this is a grand tour. Teams can be ordered to chase down the morning move, purely because they missed it, despite not having a realistic chance of winning. You never can be sure the morning break will survive; it just takes an angry DS to change everything!
Contenders
Thomas De Gendt – the obvious pick, but making the break won't be simple for the Belgian. Everyone knows that if he makes the break, it has a good chance of success, that is why riders will try and follow his every move. This makes it a challenge to make the move, but De Gendt will still try. His usual tactic is to ride 500 watts for 5 minutes and then see if a split has occurred. This is a high-risk strategy, but it's clearly worked well for him in the past. An amazing climber, he'll love the look of the final 40km, it gives him many opportunities to drop his rivals.
Eddie Dunbar – a late call up to the Giro squad, after Bernal pulled out through injury. The Irishman was in fine form during the Tour of Yorkshire, eventually finishing in 3rd place, but he was close to winning. This is his first grand tour, which means winning a stage will take a colossal effort, but he does have the talent to do so. Without a clear GC rider, the rest of Team Ineos will have freedom to attack breakaway stages.
Giulio Ciccone – seems to have been in every break this week! The Italian sits with a sizeable advantage in the KOM competition, but he wants a stage win. He fell just short last year; you can bet that will fuel his desire to do better this year. He has the climbing skills required to do well in this stage, particularly the last little kick for the line.
Gianluca Brambilla – a solid second option for Trek–Segafredo. 2016 was a glory year for the Italian, taking stage wins in the Giro and Vuelta, plus a stint in the pink jersey. Since that point, we've not seen much. Remember what I've said about riders who leave QuickStep?
Fausto Masnada – the Androni rider entered the race in tremendous form, after taking two wins in the Tour of the Alps and second place in Appennino. He's not really shown himself this week, which is actually a good sign, he's been saving up his energy. He sits 5:21 down on GC, it's clear he won't be challenging for the top 10, so he must start looking for stage success. Androni have to be in the break, but will it be Fausto?
Enrico Gasparotto – he'll love the length of the stage and the demanding parcour. The Italian is a proper diesel of a rider and he seemed to have okay legs in the Ardennes, but didn't enjoy a huge amount of success. Dimension Data have endured an awful season, but a Giro win will turn all of that around.
Valerio Conti – he's only sitting 1:59 behind Roglič, but Jumbo-Visma won't mind giving up the pink jersey. The little Italian isn't a genuine GC contender, it won't overly concern anyone to see him move into the race lead and stay there for a few days. He's a rider who always shines in his home race, but just falls short of winning. His recent 2nd place in the Tour of Turkey indicates he's currently enjoying fine form and he should be targeting a stage win.
Pello Bilbao – time to start thinking about the break getting caught. As I've mentioned, this can certainly happen, it just depends on the mood of the bunch. All it takes is for a GC rider to look like they're on a bad day and the shit will hit the fan. If it comes back together, the Astana man certainly has the sprint required to win from a reduced group, as long as he isn't working for López.
Simon Yates – I wouldn't put it past him. Clearly on form, and now looking to gain some time back on Roglič. The Brit has a fine uphill sprint, but he would like the final hill to be a little longer.
Primož Roglič – the Slovenian can do no wrong just now. I'm not sure an uphill sprint is his cup of tea, but his current form is so strong I reckon he could win a bunch sprint! Don't expect Jumbo-Visma to chase the stage, but Roglič won't turn down a chance if it appears.
Diego Ulissi – made a mess of Monday's finish, if it comes back together he owes his team a win.
Prediction Time
It has to be a day for the break, I just can't see any team with the will and strength to chase it down. Making the break certainly won't be easy, predicting it is even harder! The distance will make it hard for a "smaller" rider to win the stage, this should be a day for experience. Come on folks, you know where I'm going with this… Thomas De Gendt.
Remember I've now got a podcast too. Go and give it a listen
David Hunter
Follow us on @CiclismoInter
Join us on facebook: Ciclismo Internacional
Copyright © 2012-2019 Ciclismo Internacional. All Rights Reserved