Giro d´Italia 2020 – Stage 10 preview
By David Hunter
Lanciano > Tortoreto 177km
Anyone fancy controlling this stage?

This is like a classic stage of Tirreno, no big mountains, but lots of little leg breakers to test the bunch. The final 50km is too hard for the sprinters, even Démare, but is it hard enough for the GC riders to set their teams to work all day? That's right, it's another brilliant day for the breakaway. One side note, lots of the stage includes narrow roads and steep gradients, there is a chance of a GC ambush.
Weather
Sunny, with not much wind. It should start as a headwind, but work its way round from the north to the south as the day goes on.
Climbs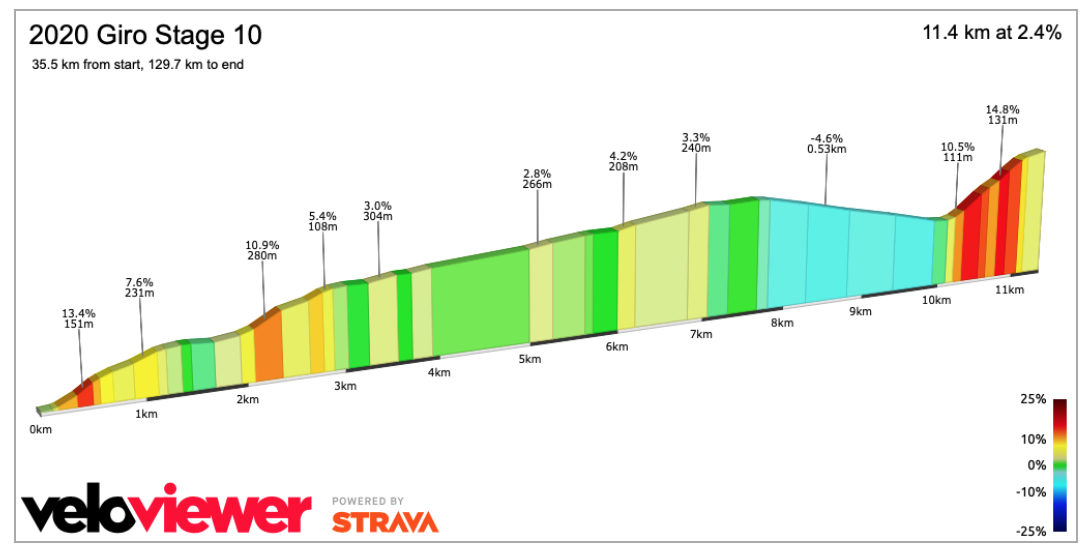 As the break will take some time to form, it is likely that it takes shape on this piece of road, which starts after around 35km of racing. This is music to the ears of climbers looking to make the move, some of the gradients are very steep, and the roads are incredibly narrow. Given the way this race is going, it wouldn't surprise me to see a few GC riders try to jump in the move and put pressure on QuickStep. If the move goes on the steep slopes, expect a quality break.
The finale of the race begins with around 50km to go, with this beautiful Tortoreto climb. It really is very steep and incredibly difficult. Once off the descent we have 10km of flat roads before things get challenging.
Next up is the Colonnella climb, which is 2.9km at 9.1%. Narrow and steep, the story of the day. A short descent follows before a little muro.
800m at 10%, but the opening 350m is close to 20%. The nagging false flat over the top of this is perfect for the strongest riders to launch an attack when everyone else is in the red.
After around 14km of downtime, we hit the next steep climb, which is 1.7km at 8.1%. Steep and narrow? Yes, you guessed it! Then we have just 3.5km of descending before final climb of the day, which is the second ascent of the Tortoreto climb. With 11km to go from the crest, I fully expect to see the GC riders come out to play. This is an opportunity which cannot be wasted.
Breakaway Hopes
This really should be a day for the break, as long as a GC team doesn't light it up behind. Sunweb look the only option, as Astana are down two men, but they don't look interested in taking up the race early in the stage.
GC Fight
Sunday's finish showed who the strongest are on steep slopes, Kelderman and Fuglsang. This is a big chance to put time into riders like Nibali, before we get to the big mountains. The stage reminds me of the one Fuglsang won in last year's Tirreno, he really is brilliant on this type of terrain. A nervous day lies in wait for many of the GC boys.
Contenders
Matteo Fabbro – free Fabbro! He looks mighty strong just now, but Bora will want riders to stay with Konrad and Majka. Fingers crossed they decide to allow the Italian a day off protecting his leaders, the route is similar to the Tirreno stage he finished third on.
Andrea Vendrame – AG2R have not enjoyed this race, but Vendrame looks a good option for a stage like this.
Simon Clarke – EF are on fire. This stage is good for many of their riders, but I would like to see Clarke in the break. The Aussie is a brilliant rider, and this stage suits him. With the team full of confidence, don't be surprised to see them take another win, Guerreiro is also a great option.
Matt Holmes – now, this is a great stage for the Englishman. He's been very active in this race; he seems to have good legs compared to most others. The north of England is very similar to these roads, he excels on short, steep punches.
Jhonatan Narváez – I'll keep putting him in this section until he wins. Like many, this is a perfect stage for him.
Diego Ulissi – message to Diego, make the break! He's another rider the stage suits, but he hasn't managed to make breaks in this race. If the move goes on a steep climb, he will be there. Once there, he'll have to think carefully about his tactics, sometimes he shoots himself in the foot by not working enough.
Jakob Fuglsang – with his eyes firmly on taking time on his rivals, mainly Nibali, this is a great opportunity for the Dane. As I've already mentioned, he's won on roads like this in the past, in fact his Tirreno win was just up the coast from here. Fuglsang is one of the very best on steep slopes, but he would dearly love a stronger team to help make the race hard. I think we'll see him take time in this stage.
Wilco Kelderman – Sunweb do have the numbers to dominate the stage, but they don't look interested in this approach. Given the way he climbed on Sunday, Sunweb need to throw everything behind Wilco and make this a hard day in the saddle. Kelderman is in a brilliant position on GC, especially with the TT later this week. If he can nick some more seconds, the team will be in a strong position for the remainder of week 2.
Prediction Time
Another day for the break, once it eventually gets away. So many riders are well suited to this, but only one will win, Diego Ulissi. In the GC battle, Fuglsang will take time on the others.
David Hunter
Follow us on Twitter and Instagram
Join us on facebook: Ciclismo Internacional
Copyright © 2012-2020 Ciclismo Internacional. All Rights Reserved