Giro d´Italia 2020 – Stage 11 preview
By David Hunter
Porto Sant'Elpidio > Rimini 182km
A flat stage for the sprinters to get their teeth into.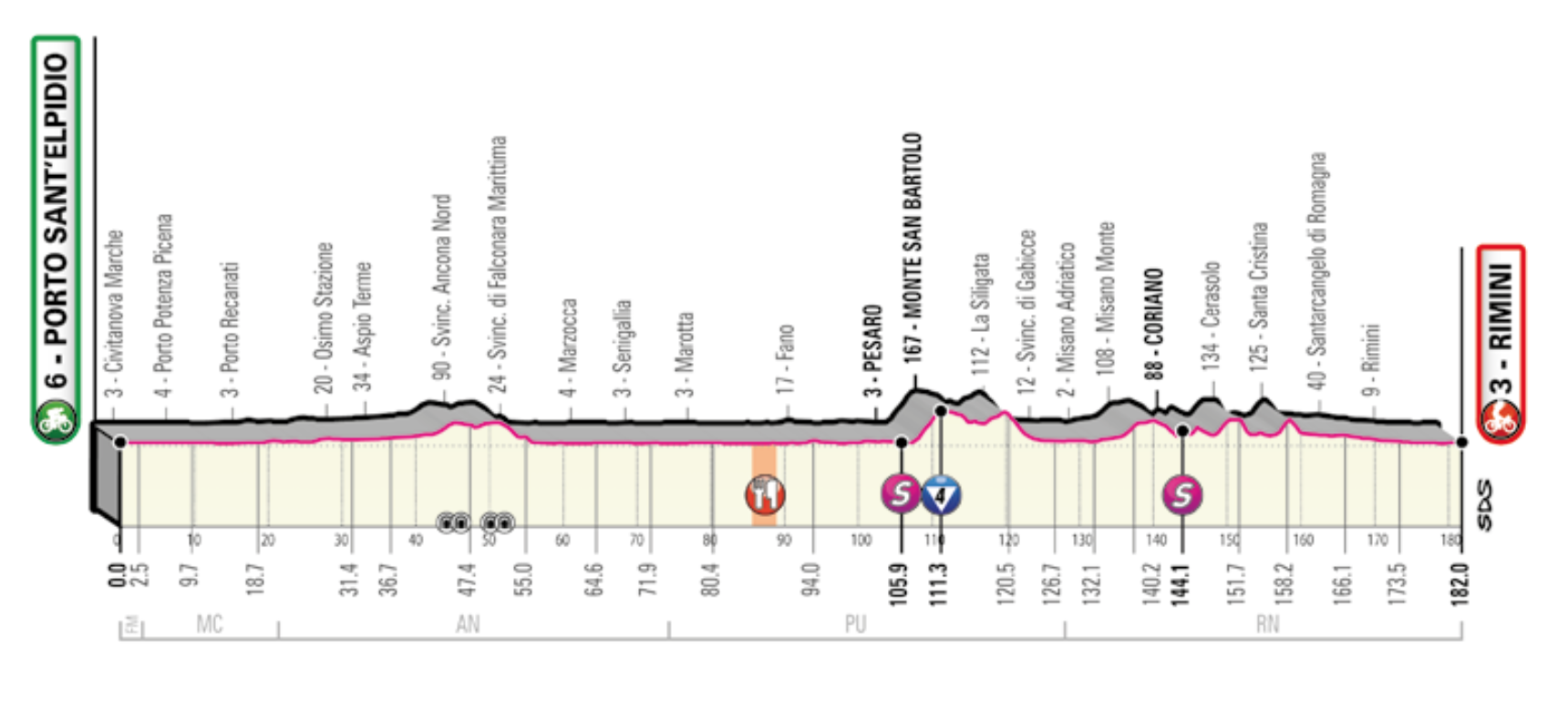 There are some little lumps from km 135 until km 158, but nothing that should put any of the quick men into difficulty.
Weather
Nice and sunny.
Finale
This finish looks bonkers. We have eight ninety degree corners in the final 5km. Also, the section just after the 4km to go sign is incredibly narrow, thankfully it doesn't last for long. I probably don't have to tell you, but I will anyway. The long straight until the corner with 500m to go is going to be incredibly fast, as the race will be on for turn. To win the stage, you need to be right at the front for this turn.
Contenders
Arnaud Démare – three wins and a great opportunity for number four. There is a lot of grumping in the peloton, most teams believe that FDJ have done no work in this race, but still have three wins. They will have to do the lion's share of the work to bring back the morning break, they won't get much help from the others. Into the closing stages, FDJ have a great sprint train. They'll go Scotson, Guarnieri and then Démare, which is incredibly strong. The final two have worked together since 2018, they know each other inside out. Not only that, but they also have a huge amount of experience, Sinkeldam never seems to panic. The Frenchman will start as the big favourite.
Fernando Gaviria – his sprint train is relatively short, due to UAE having other ambitions at this race. He still has Molano and Richeze for the closing stages, but he would like some more help. Nando is arguably the fastest rider in the race, but that doesn't guarantee stage wins. This is a big opportunity for him, he cannot miss out.
Elia Viviani – no.
Álvaro Hodeg – QuickStep didn't get it right in the last sprint, but I think they'll continue to support their young Colombian, instead of switching to Ballerini. After a promising start to his QuickStep career, Hodeg has struggled of late. Without a win since last October, you would say he was due one, especially as he is a very fast sprinter. QuickStep are still protecting pink, which means less men to help in the sprint, which isn't ideal.
Peter Sagan – he'll follow wheels and hope to get lucky.
Prediction Time
Démare's great run has to come to an end at some point, but not today. I'll take win number four for Arnaud Démare.
David Hunter
Follow us on Twitter and Instagram
Join us on facebook: Ciclismo Internacional
Copyright © 2012-2020 Ciclismo Internacional. All Rights Reserved