Giro d´Italia 2020 – Stage 12 preview
By David Hunter
Cesenatico – Cesenatico 204km
Yet another day for the breakaway.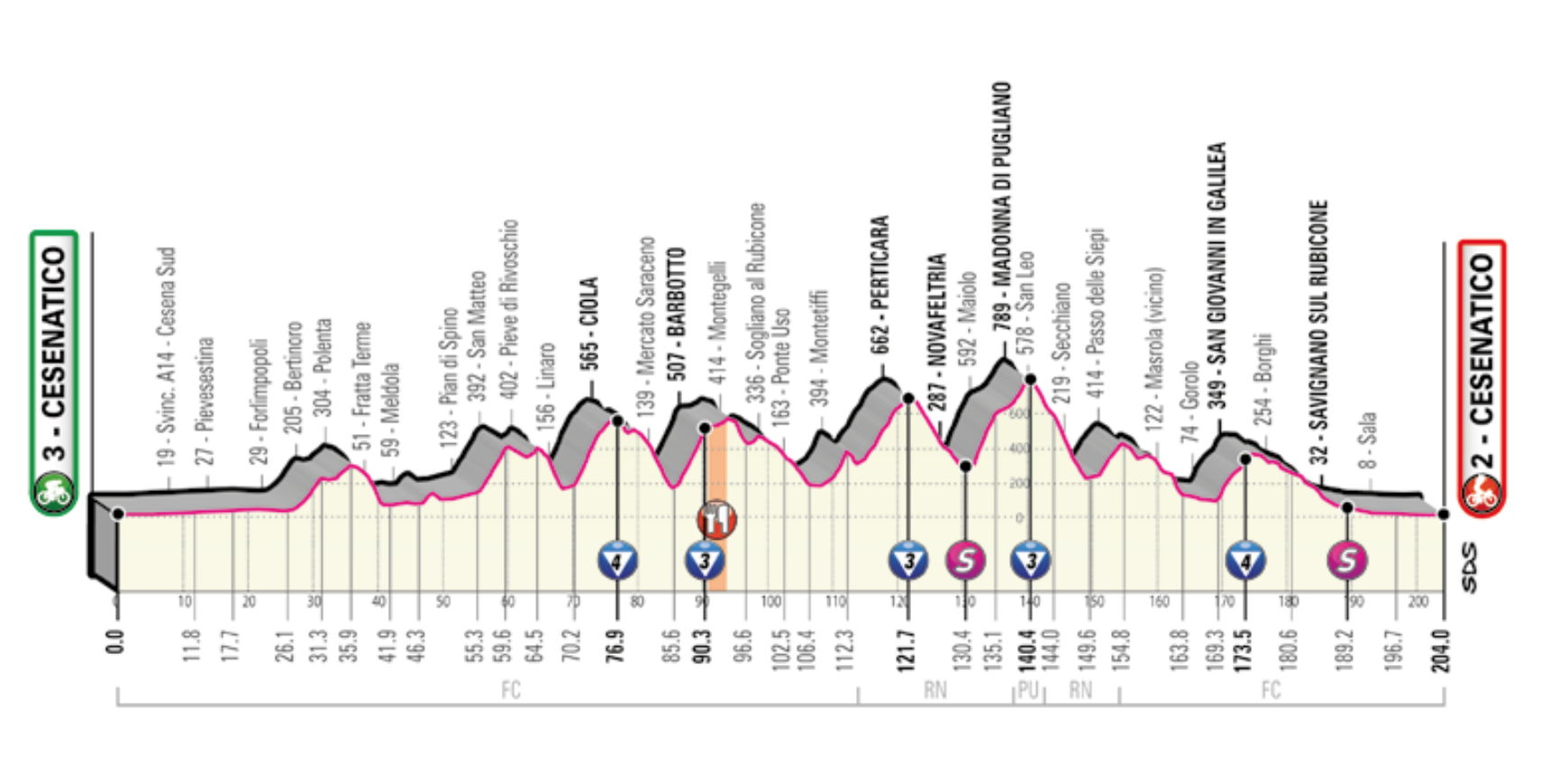 Nothing harder than a cat 3, but some steep slopes lie within. Too hard for the sprinters, not hard enough for the GC riders, here we go again.
The Climbs
The first proper challenge is the Barbotto climb, which is 4.6km at 8.1%.
Next up is another cat 3 climb, but the opening 2km is the hardest and that section isn't even categorised! After a short descent, we have the hardest climb of the day.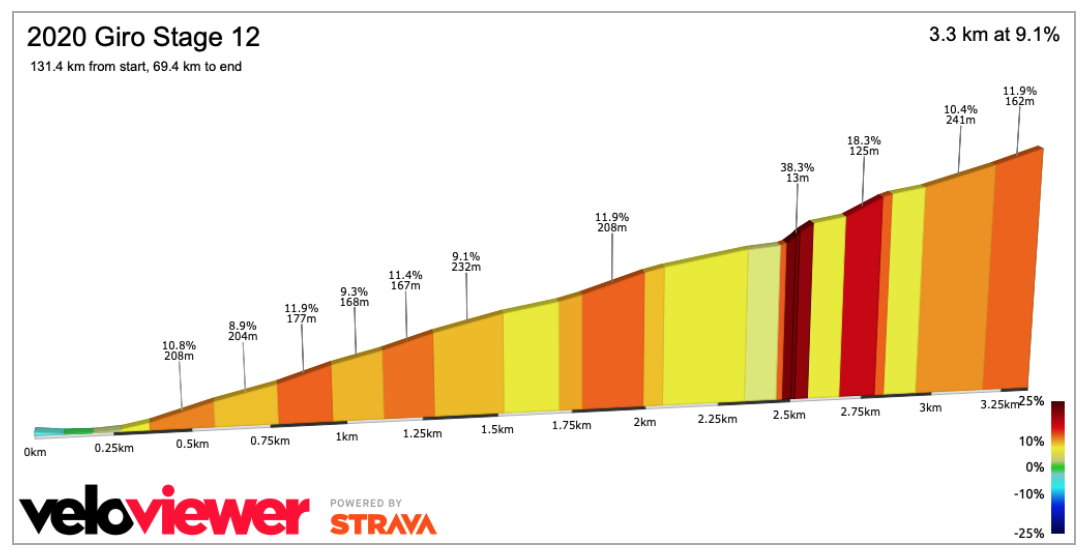 Another cat 3 effort, this time it's Madonna di Pugliano, which is 3km at 10%, you heard me! After this is done, the worst of the day's climbing is over, but we still have 70km remaining. The rest of the route can be described as rolling, then we reach the final climb of the day.
This one is only a cat 4, but look at all the red. This is a horrible little kicker, it's very inconsistent. The crest comes with 30km to go, that's a long way to go solo.
Weather
There is a big chance of a huge storm, some forecasts suggest a huge amount of rain.
Tactics
The hardest of the climbing is all over with 70km to go, which makes life very difficult for any GC rider who wants to take on the steep slopes. This means we'll see some teams try to get a satellite rider in the morning move. The morning break could take a very long time to establish, put it this way, I wouldn't even try in the opening 40km! There is a climb of 4.2km at 6.2% after 55km, the break could go there, at least that's what the climbers hope!
Once the break does get away, I just don't see anyone chasing. Even if some GC riders did want to attack, the final two climbs aren't really hard enough to do so, and the Madonna di Pugliano is far too far from home. I don't see any real GC action in this stage, but some of the guys lower down in the top 20 could well try a move or two.
Contenders
Ineos – Swift, Castroviejo, Puccio, Ganna, Narváez or Dennis. These boys have free reign to do what they want. As this break could form at any time, anyone of them could well make it. The fact the final climb crests with 30km to go means that having a sprint is a massive help. I've loved watching them race without GC ambition, maybe they should do it in every race! As the ITT is just a couple of days away, this might not be a day for Dennis and Ganna, but you just never know.
EF – Clarke or Guerreiro, but in reality, only the Portuguese rider has the form to win this one.
UAE – here's a message to Diego Ulissi, stop being a cry baby. Instead of moaning when riders cover your move, earn your right to be in the bloody break. Getting away from the bunch won't be gifted to you, you need to ride! If Ulissi continues to have issues, they'll look towards Conti or Bjerg.
Bora – Sagan or Fabbro are their best options. Sagan was magnificent on Tuesday, but doing something similar will be incredibly difficult. I've now developed a massive soft spot for Fabbro, I'm hoping he can get a win before the end of this race.
Lotto Soudal – Thomas De Gendt, with a side plate of Matt Holmes.
Movistar – Samitier, Carretero, Villella or Cataldo.
AG2R – Paret-Peintre or Vendrame.
GC teams – it's very hard to know what the big teams will do. In a normal race they'll look to protect their leader and not allow domestiques to chase personal glory, but this isn't a normal race!
Prediction Time
The break will win, naturally, but as we've seen in previous stages, picking the winner isn't very easy. I'll go with a rider who has a good sprint, another Ineos win, this time with Ben Swift.
David Hunter
Follow us on Twitter and Instagram
Join us on facebook: Ciclismo Internacional
Copyright © 2012-2020 Ciclismo Internacional. All Rights Reserved