Giro d´Italia 2020 – Stage 15 preview
By David Hunter
Base Aerea Rivolto > Piancavallo 185km
A mountaintop finish.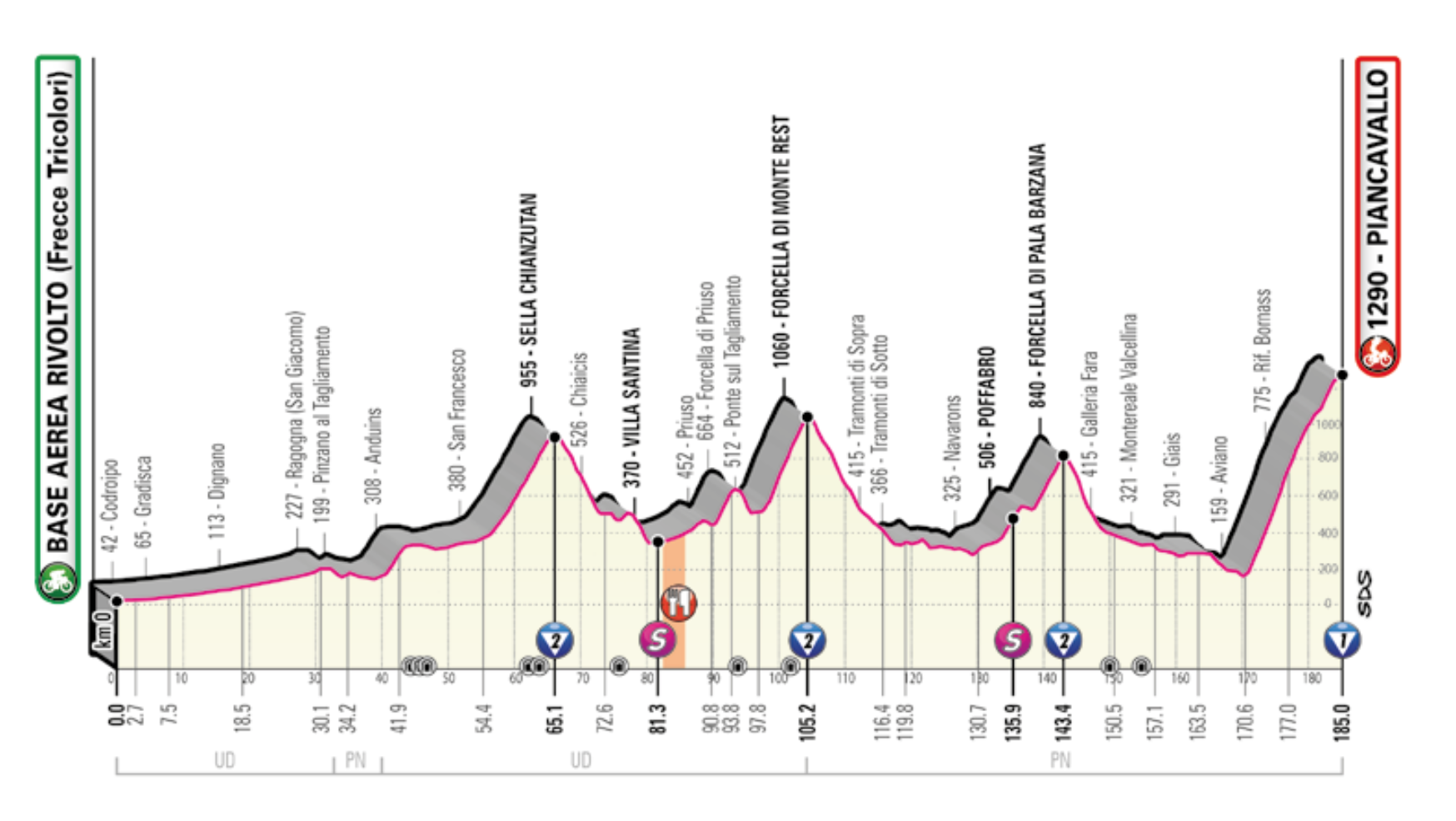 We have three cat 2 climbs and one cat 1. This is quite a lot of climbing, but not a brutal day.  The cat 2 climbs are all relatively easy, but the final climb is a tough one.
The climb to Piancavallo is around 13km at 8%, but it's the beginning of the climb that's the hardest. With 8km at 9.2%, the start of this mountain is very challenging. It begs to be attacked early, but who will dare strike out so far from home. Please note the above profile doesn't feature the very end of the climb, which is relatively flat.
Weather
Sunny with hardly any wind, perfect conditions for the riders.
Breakaway Hopes
It comes down to the same old question, who wants to chase the break? QuickStep will have no interest in working all day long, there is no need. Astana don't have the numbers to chase, the responsibility will lie on the shoulders of Trek, NTT, Sunweb and Bora. In recent stages it's been the squad of NTT who have looked the most interested in chasing breaks, this is a team riding to try and attract new sponsorship for 2021. With Pozzovivo looking in fine form, I expect his team to try and control the break, with help from Trek-Segafredo. As we have a mountaintop finish, it swings the odds in favour of the GC riders, but you just never know in this race.
Tactics
This stage is all about the final climb. The best climbers would always like to attack on the hardest sections, but these come early on the mountain. At this point teams will still have domestiques to chase down moves, which will put most riders off attacking. If you really want to move on the steepest slopes of this climb you need your team to smash the opening 4km, that still leaves you another 4km at 9% to make a big move. If you want to make up big time, this has to be the plan.
After today's TT, the general classification certainly makes for interesting reading, and will also have a big impact on the tactics in the mountains. Who will Almeida look to chase down? With Nibali sitting at 2:30, QuickStep will look to chase him when he moves, but a rider like Fuglsang will get freedom sitting at over 4 minutes. Similar to the Etna stage, we could see a very unstructured finish, which increases the chances of a surprise winner.
How will Sunweb approach the stage? Kelderman sits 56 seconds down on Almeida, he put 24 seconds into him on Mount Etna. Will Sunweb use the numbers that they have to force the pace and try to put Almeida into difficulty? Will they be happy to let QuickStep set pace and allow Kelderman to follow wheels? Remember, the final week has three big mountain stages, we still have lots of time for riders to gain time. I'll be honest, I have no idea how this stage will play out, you got to love the Giro!
Contenders
Vincenzo Nibali – after many stages that didn't really suit him, the Shark can eventually get his teeth into something that fits him very well. His TT was okay today, but now he needs to make time. He is now a man light, as Ciccone abandoned the race, which is a big blow to the mountain train. Nibali has to attack, and he has to do this early. He might need to make an alliance with some of the pure climbers, in order to try and put riders like Almeida, Kelderman and McNulty into difficulty.
Jakob Fuglsang – now over 4 minutes down, he really needs to gain some big time if he wants to get back into the fight for pink. Fuglsang has looked good in the race, but hasn't carried much luck. He knows that he'll have freedom in the closing stages, which makes him a very dangerous rider.
Rafa Majka – another dangerous rider who could benefit from a tactical finale.
João Almeida – the youngster has a firm grip of this race. His powerful TT performance has now bought him some time, but he knows he's going to come under attack in this stage. With Knox and Masnada by his side, he'll have riders capable of lasting a long way up this climb, which is very important. He must try and approach the finish with calmness, there is no need getting excited and chasing down every move. With small gaps between most riders from third to tenth, he can play the game and let others chase to protect their own position. The goal isn't to win the stage, it's about maintaining his lead.
Domenico Pozzovivo – what form the little man is showing. He's 37 years old, 38 next month, and he hasn't won a race for three years, but he's not riding like it. A lack of a sprint always costs him wins, but he will be one of the riders looking to animate the race and force an elite group of climbers clear.
Wilco Kelderman – he's right in the game. He's another who we haven't seen winning for a long time, it's five years and counting. In fact, if you remove TTs, Kelderman has never won a stage of any race in his pro career, what a stat that is! I don't see him winning this one, but can he take time on Almeida?
Nicolas Edet – breakaway option number 1.
Ruben Guerreiro – breakaway option number 2.
Sergio Samitier – breakaway option number 3.
Thomas De Gendt – breakaway option number 4.
Prediction Time
Will any team take up the chase early enough to catch the break? I think NTT are the best option, combined with Trek. The pure climbers know that they must make the whole stage hard, in order to create big gaps on the final climb. Once on the mountain I think an elite group of climbers will go clear and fight out the stage victory, I don't think Kelderman and Almeida will be there. I see a win for Jakob Fuglsang, with Almeida doing enough to hold onto pink.
David Hunter
Follow us on Twitter and Instagram
Join us on facebook: Ciclismo Internacional
Copyright © 2012-2020 Ciclismo Internacional. All Rights Reserved