Giro d´Italia 2020 – Stage 16 preview
By David Hunter
Udine > San Daniele Del Friuli 229km
Don't let the profile fool you, this is a GC day.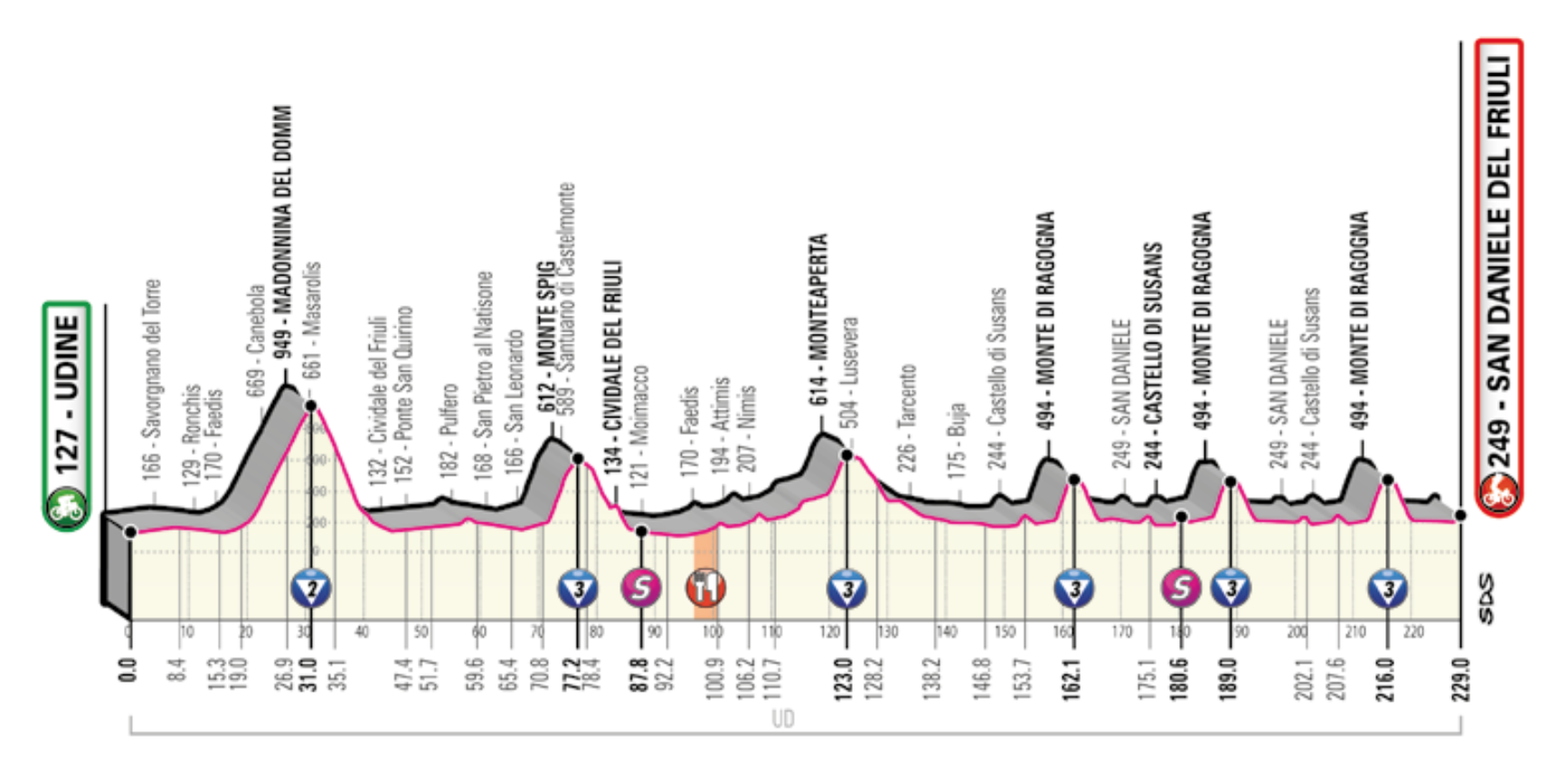 Narrow climbs, narrow descents, and a long day in the saddle. This has all the ingredients for a big day in the battle for pink. Throw in the fact that this comes after a rest day and you just know that someone in the top 10 is going to go pop.
The Climbs
The cat 2 climb of Madonnina del Domm starts after just 20km of the stage. It might say its cat 2, but it's 10.1km at 7.5%, this should really be a cat 1. The other issue is the narrowness of the road, it's about one car wide. I think we'll either see a large group escape, never to be seen again, or GC attacks. The climb is hard enough, and some riders will want to see who is suffering after the rest day. The descent is also tight and nasty.
The next climb is another which seems to be classified incorrectly. Monte Spig is a cat 3 climb, despite it being 5.5km at 7.6%.
Monteaperta is 2.4km at 9.5%, and it looks nasty to me. Once over this, the bunch head towards the lap circuit.
Monte di Ragogna is 2.6km at 10.1%. Those figures don't actually do it just, it is a horrible little climb. The bunch will climb it three times, which will blow the peloton to pieces. The final ascent comes with just 13km remaining. This isn't the only difficulty in the lap circuit, there a couple of little walls that the riders also have to negotiate.
Finale
With 600m to go, the riders have a tight left turn, which leads into this little beauty. 200m at 15.1% is tough, especially when you consider the riders will start it after slowing down for the tight corner. The final turn comes with around 200m to go, and the finishing straight kicks up to 8%. This is a tough finish.
Weather
It should stay dry, and the wind will be light.
Tactics
Does any team have the balls to blow the race apart on the opening climb? I really hope so. It's unfortunate that there isn't another climb straight after it, this will probably mean the GC riders don't bother with an attack, but I hope I'm wrong.
This means an ultra-strong break should form on the opening climb, featuring all the best climbers who are out of GC contention. This break will take a big gap, only Sunweb have the power to bring it back, but I think we'll be waiting for the lap circuit.
Back in the GC group, the circuit should be carnage. This is a great chance for Sunweb to hammer more nails in the coffins of riders like Nibali, Fuglsang and Pozzovivo. They will also sense a chance of taking pink, Almeida will be slightly concerned after his showing on Sunday. He did very well to limit his losses, but by going very deep, he has increased his chances of blowing in this stage. It all depends on how he's recovered during the rest day.
Ineos will also sense a chance to strike. After spending the race successfully chasing stages, they'll be back in their usual role, dictating the pace in the peloton. This is good news for some, but it is a shame as I was enjoying watching Ineos ride such an attacking race. The GC group will go really hard on Monte di Ragogna, in order to drop the weaker domestiques. The final ascent will be a bloodbath, this is big chance to strike and take time. Can Kelderman drop Almeida and move into the pink jersey?
Contenders
Diego Ulissi – with two stages wins, he can approach this stage with calmness. His win on Friday was a proper one, he fought hard and deserved his success. Ulissi has taken some stick from me, but I try to be honest when writing these previews. He won't get a free pass to make this move, he'll need to earn his spot. Ulissi knows he is a marked man, but given his pedigree, so he should be. If he gets into the break, the others will try and out pressure on him, as this is a stage that suits him down to the ground.
Ruben Guerreiro – he's lost the blue jersey to Visconti, now we'll see what his real goal is. This is a brilliant looking stage for him, but he only has so many matches left to burn, and other stages this week contain lots of KOM points. Does Guerreiro want to go for a second stage or the KOM jersey? If he goes for the stage, he'll have a great chance of success.
Mark Padun – the Bahrain man is climbing very well, he was very unlucky on Thursday, but Narváez would have beaten him in a sprint anyway. With his form growing, this is a good opportunity for him to take a win.
Matteo Fabbro – free Fabbro! Spent the first two weeks looking after Sagan, I really hope he now gets to ride for himself, not support Majka and Konrad. Free Fabbro!
Matt Holmes – another rider who'll like the steep slopes in this stage. The Lotto Soudal rider is enjoying a fine grand tour debut, winning a stage would be an incredible feat, but it won't be easy. He's made a number of breaks in this race, how much energy does he have left?
Sergio Samitier – where did he get these legs from? The man is on fire and has to take advantage of his current condition. He's another who'll love the look of the stage, he climbs well and packs a fine sprint.
Mikkel Bjerg – not the typical pick for a stage like this, but he looks in great current condition. If UAE get multiple riders in the move, they can put pressure on the other riders. Bjerg will find the climbs hard, but this stage has a lot of flat roads that he can use to his advantage.
Thomas De Gendt – he'll win a stage before Sunday; you choose which one! His form seems to be growing, but he normally doesn't enjoy such steep slopes. However, when you have good legs, the profile doesn't really matter.
Wilco Kelderman – if it turns into a GC day, Kelderman will be one of the favourites. He is very good on steep slopes, and packs a good sprint too.
João Almeida – it all depends on how he's recovered. This type of stage is one he'd normally do very well in. QuickStep have a strong team to support him, this is a stage that suits their characteristics. If they can control the attacks from the GC group, and set up a sprint, Almeida has the speed to beat all other GC riders.
Prediction Time
The break to win, but which of the many opportunists will be first across the line? I'll go with Ruben Guerreiro for the win. Back in GC group, QuickStep will successfully defend the pink jersey.
David Hunter
Follow us on Twitter and Instagram
Join us on facebook: Ciclismo Internacional
Copyright © 2012-2020 Ciclismo Internacional. All Rights Reserved