Giro d´Italia 2020 – Stage 20 preview
By David Hunter
Alba > Sestriere 190km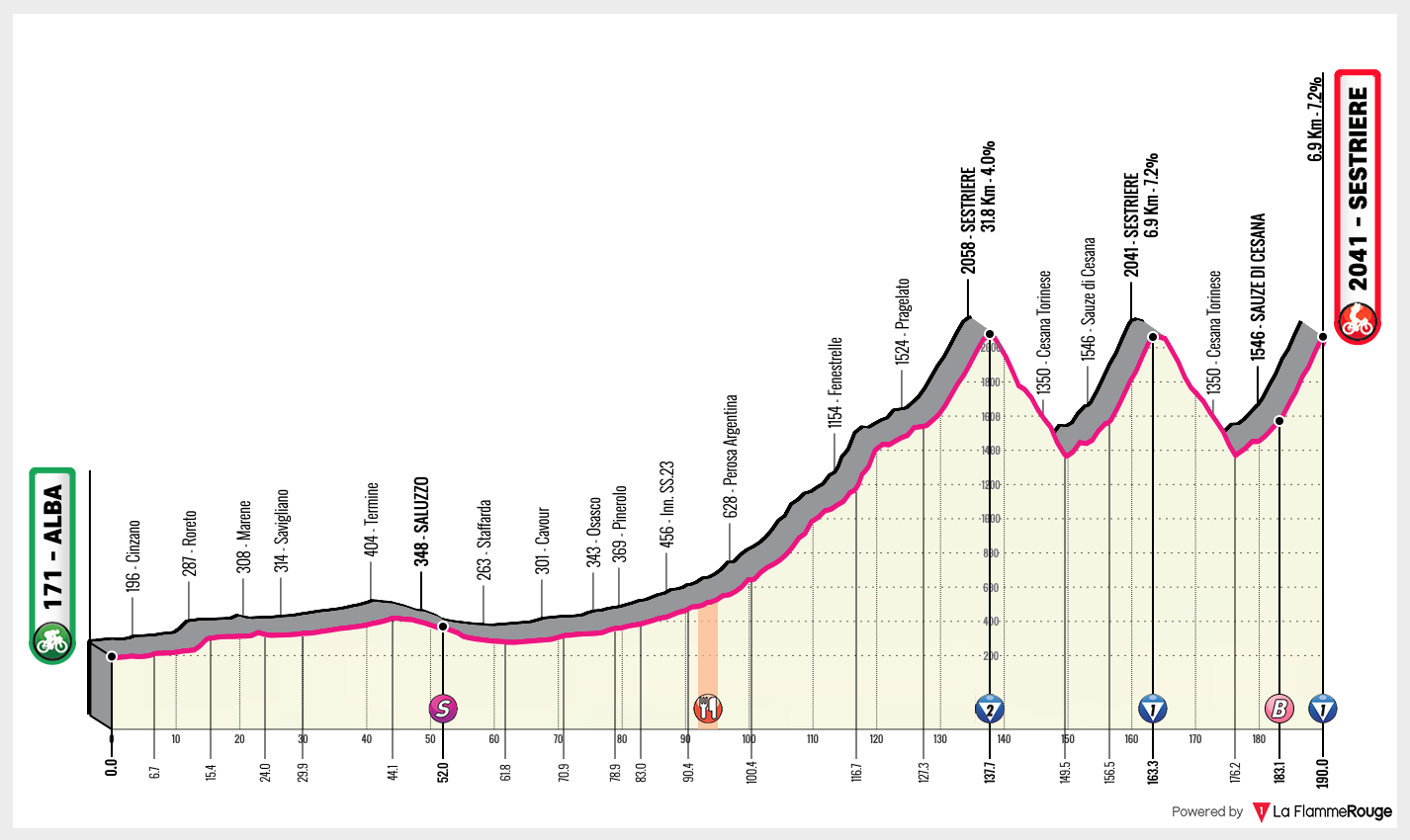 It's a real shame that the original route couldn't go ahead as planned, France have pulled down the shutters and refused access, so the Agnello and Izoard have been cut, and we end up with a much easier stage. Quite convenient for the French to get their own race done, but not let the Giro and Vuelta visit! Enough moaning from me, time to look at the new route.
The Climbs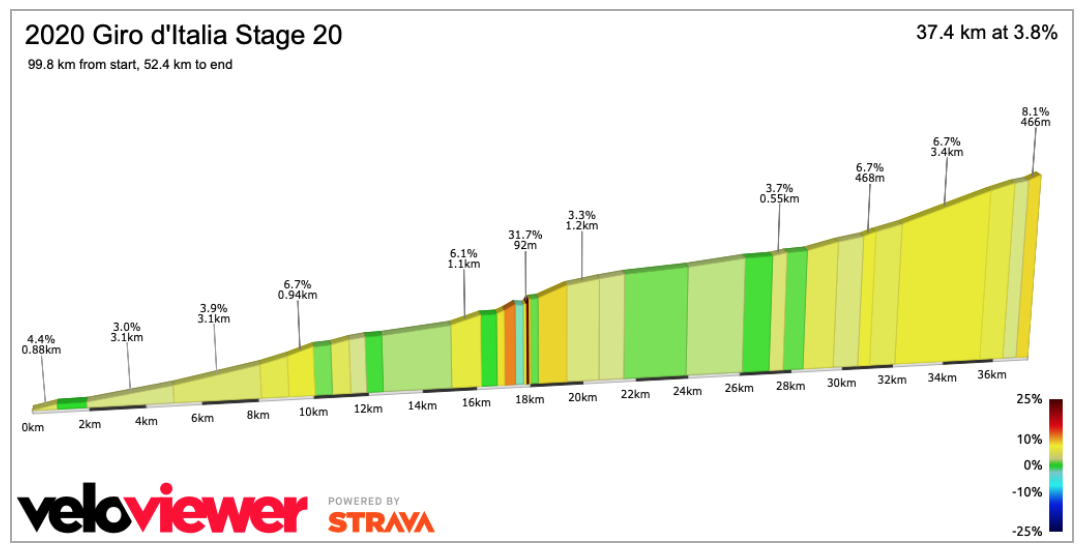 The first climb is a long drag, around 37.4km at 3.8%. This won't do a huge amount of damage, but expect it to be taken at a ridiculous speed. Every climb in this stage must be used to its full potential.
The climb up to Sestriere is 6.4km at 7.2%. The riders do it twice, with only a short descent in-between. Is it hard enough for Ineos to drop Kelderman?
How Much Time?
Kelderman currently leads the race by 12 seconds to Jai Hindley, and a further 3 seconds to Geoghegan Hart. The Aussie isn't very good on a TT bike, and with Sunday's 15km ITT to come, the focus will be on Geoghegan Hart. In a normal TT, I would expect him to lose around 20-30 seconds to Kelderman, which means he would like to take 35-45 seconds. Without the high-altitude climbs, it won't be easy putting Kelderman into difficulty. He obviously went very deep on Thursday, it is possible to drop him, but Tao will need to be flying.
Breakaway Hopes
It looks like an okay day for the breakaway. Ineos will want to make the climbs as hard as possible, but that doesn't mean they'll be chasing the break in the opening 100km. Once the move goes, it will be up to them to build a lead big enough to hold off the pack. As the climbs will be taken very fast, the break will need lots of time. To do this, the break will need to establish early, then for the peloton to sit up. For me, it's 50/50.
Tactics
Ineos only have six men left in the race, one of them is their leader. That leaves just five men to work on the front. Ganna and Puccio will likely be used on the first climb, leaving Swift, Castroviejo and Dennis for the final two climbs. In an ideal world, Dennis would be able to pull for a long time, blowing the front group to pieces and putting Kelderman into difficulty. This would allow Tao to sit in the wheels, saving himself for a big attack with around 3km to go.
Sitting waiting for the move will be Jai Hindley. If he can follow the attack, he can again refuse to work with the Englishman, something that would give him an advantage in the finale. Following the attack won't be easy, but Hindley hasn't put a foot out of place in the race so far. We all know what's coming, but that doesn't make it any less exciting.
Contenders
Tao Geoghegan Hart – what pressure he must feel. This is an enormous opportunity to win the pink jersey, something that would change his life. He's long been touted as a future grand tour star, and we started to see that in last year's Vuelta, where he finished second and third in consecutive stages. He seems to be climbing better than ever, and if Rohan Dennis can perform as well as he did on the Stelvio, this is a wonderful opportunity to land a big one. Putting the required time into Kelderman won't be easy, but he did go pop on Thursday. It's all about making the climbs as hard as possible, before launching the big one.
Jai Hindley – this performance hasn't come out of nowhere, but it is a big surprise. Sunweb have been carefully building the Aussie youngster, last year we saw him finish second in the Tour of Poland. His performance in Tirreno was a little nod to what was maybe to come, but to be sitting in such a position must be beyond his wildest dreams. Make no mistake, Hindley is climbing as well as anyone at this race. He has the tactical advantage too, if he can follow Tao, he can sit on his wheel. He currently has a 3 second lead over the Brit, heading into the TT I think he would need more than 20 seconds to claim pink. This means if Kelderman does get dropped, Hindley will need to attack in the closing kilometres, which is something Tao will be waiting for. This is going to be an amazing finish to watch.
Pello Bilbao – the Basque climber now seems to be the best of the rest. He seems secure in fourth place, which is a sensational result for him. It is highly unlikely he can move onto the podium, but a stage win could be in his grasp. Bilbao has a faster sprint than Tao and Hindley, but he'll need to hang tough when the attacks are launched.
Wilco Kelderman – all about survival. If he can stay within 30 seconds of Geoghegan Hart, he'll win the pink jersey on Sunday. I do worry about how much energy he used up on Thursday, this will be a very tough day for him.
Ben O'Connor – breakaway option number 1. My God, what legs he has just now.
Domen Novak – breakaway option number 2. Amazing performance on Thursday.
Ilnur Zakarin – breakaway option number 3. The descent isn't hard.
Thomas De Gendt – breakaway option number 4. The King!
Prediction Time
I'll take a breakaway win for Ben O'Connor; his current level is very impressive. Back in the GC group, Ineos will crack Kelderman, and we'll be left with Tao and Hindley in the closing kilometres. I can't see a difference between these two, I think Hindley will move into pink at the end of the stage, but he'll be worried about the TT on Sunday.
David Hunter
Follow us on Twitter and Instagram
Join us on facebook: Ciclismo Internacional
Copyright © 2012-2020 Ciclismo Internacional. All Rights Reserved