Giro d´Italia 2020 – Stage 4 preview
By David Hunter
Catania – Villafranca Tirrena 140km
This is a stage that falls into the weird category.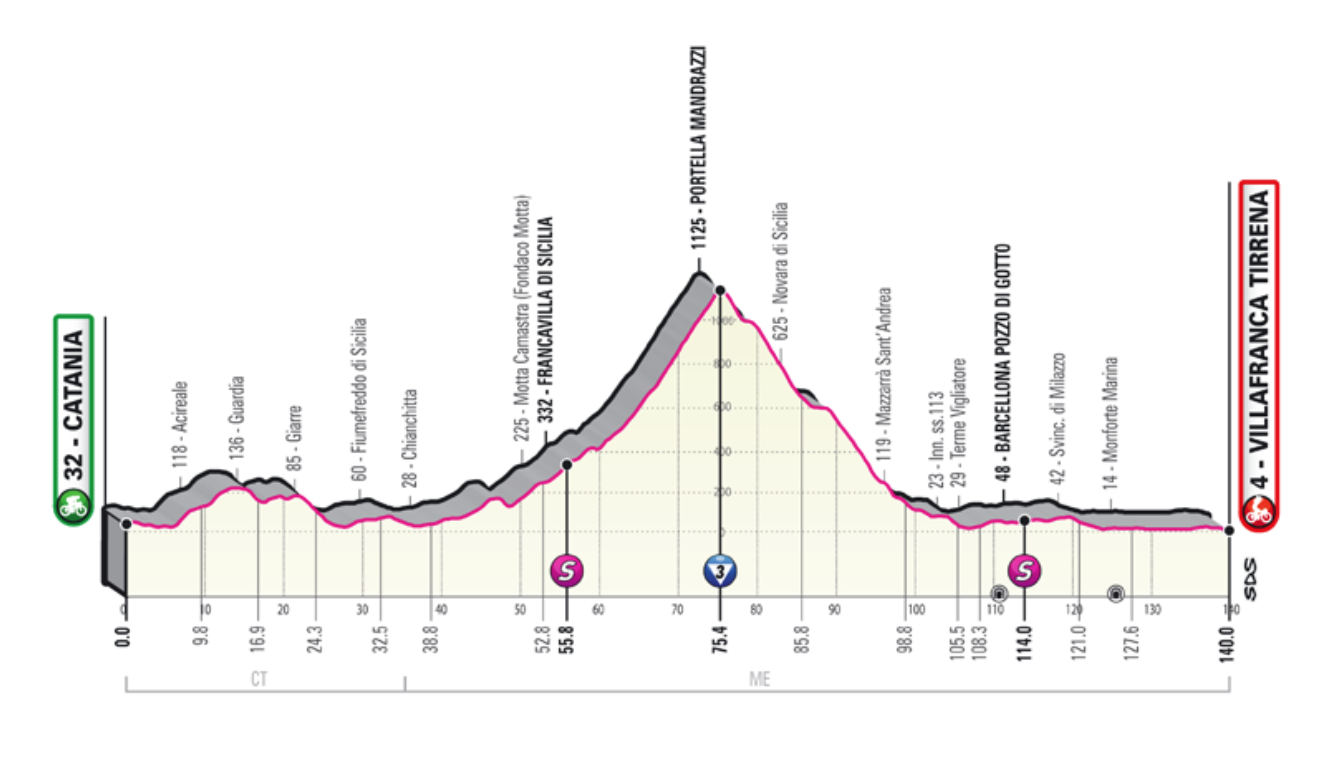 It's quite short, at just 140km, and it features a big old climb in the middle of the stage.
Only classified as cat 2(despite the 3 in the profile picture!), but it is 12.5km at 5.1%, which sounds fairly tough to me. In fact, if you measure the lower slopes it's more like 26km at 4%. This means it should be too hard for the pure sprinters, not that we have many of them at this race.
The descent has some technical sections, but the road surface is very good which will make life easy for the peloton. We then have a long section of flat which leads to the finishing line, but what type of race will we get?
Tactics
This is a perfect stage for Sunweb and Bora to control. Yes, the climb is long, but it should be well within their capabilities, particularly as it crests so far from home. UAE might be tempted into making it really hard, in the hope of dropping the big two, but I doubt it. I expect Sunweb and Bora to ensure the morning break is easy to control, then set a good pace on the climb to drop the pure sprinters, but not that hard so that Matthews and Sagan are put into any difficulty. This stage should end in a sprint finish, but some will sense an opportunity to try a late move.
Finale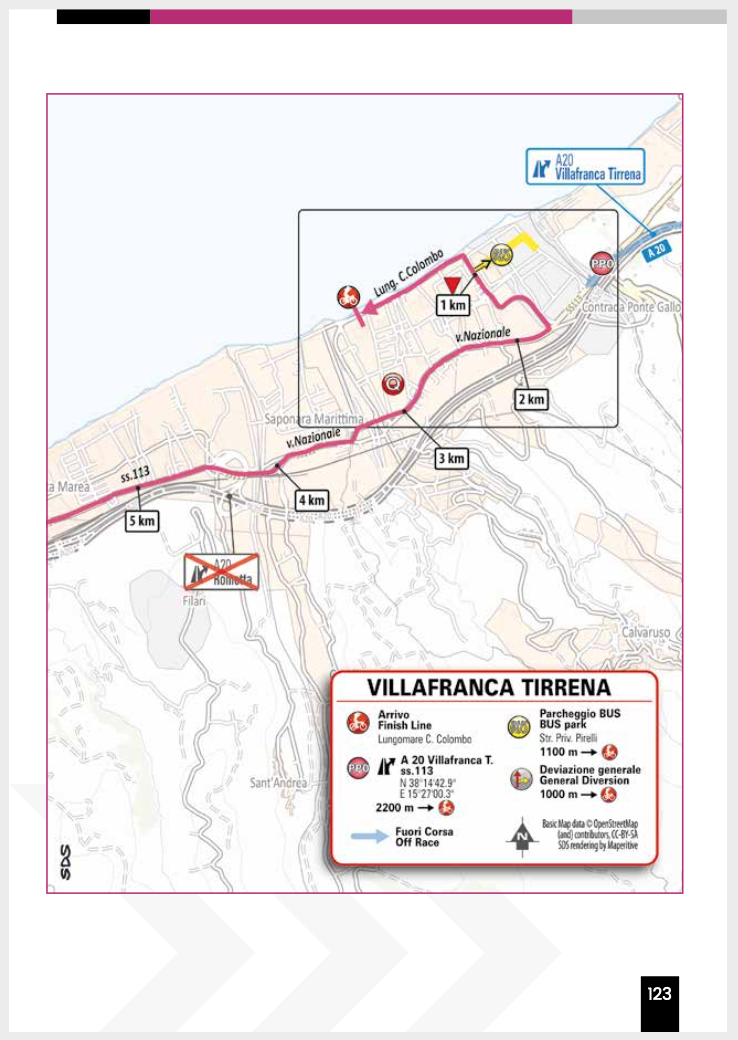 Even with a few twists and turns in the final 2km, this is an easy finish. The last corner is just after the flamme rouge, with a pretty finish beside the sea.
Weather
A nice day for the bunch, with a gentle breeze from the north. This means a headwind for most of the day, not great for the breakaway riders.
Breakaway Hopes
I don't think today is the day for the break, not with Sunweb and Bora interested in the stage. If both teams think that their fast men won't survive, it will obviously be a day for the break.
Contenders
Peter Sagan – is it too hard for him? The climb is very long, but Sagan should be able to survive this one. After racing in France, his current level should be high, that includes climbing. He was very close on Sunday; he'll see this as a big opportunity to take his first win in over a year. If it ends in a sprint between him and Matthews, Sagan will be the fastest.
Michael Matthews – cast your mind back to Tirreno, he was in the break on stage 4, which featured an HC climb. That climb was 10.1km at 7.5%, and Matthews stayed in the front group on the climb, matching Mathias Frank. Now, doing a climb like that in the break is different from the bunch, but it gives a good indication of his climbing ability. Matthews is so good on the hills he cannot be classified as a sprinter. Sunweb will see this is a big chance of taking a win, but they'll need to drop Sagan on the climb, and ensure he doesn't make it back on. This won't be easy, but they will try.
Diego Ulissi – took an impressive win on Sunday, and he'll sense a chance of winning again. UAE will carefully watch the situation on the climb, if Sagan and Matthews look in difficulty, they'll hit it hard. Dropping both is unlikely, but it could happen.
Arnaud Démare – if Bora and Sunweb up the pace on the climb, it will be too hard for the Frenchman.
Davide Ballerini – the climb is right on his limit. Bora and Sunweb don't want him sprinting, they need to drop him. If the pace is high, I don't see him surviving.
Andrea Vendrame – the Italian rides for AG2R, and he's perfect for this type of stage. His climbing ability is good, and he packs a fast sprint from a reduced bunch. Winning will be hard, but a top 5 spot is a possibility.
Ben Swift – will Ineos allow a domestique to ride for personal glory? Given the easy nature of this stage, they really should allow Swift the chance to go for the sprint, but they don't often do what us fans want!
Thomas De Gendt – breakaway option 1, 2, 3 and 4.
Prediction Time
I've changed my mind a few times in the time it's taken to write this preview! I'll go with the safe option, which is Michael Matthews. Sunweb know that they must drop Sagan on the climb, which will make the pace very high. If the great man hangs on, he'll win.
David Hunter
Follow us on Twitter and Instagram
Join us on facebook: Ciclismo Internacional
Copyright © 2012-2020 Ciclismo Internacional. All Rights Reserved