Giro d´Italia 2020 – Stage 6 preview
By David Hunter
Castrovillari > Matera 188km
Another strange looking stage.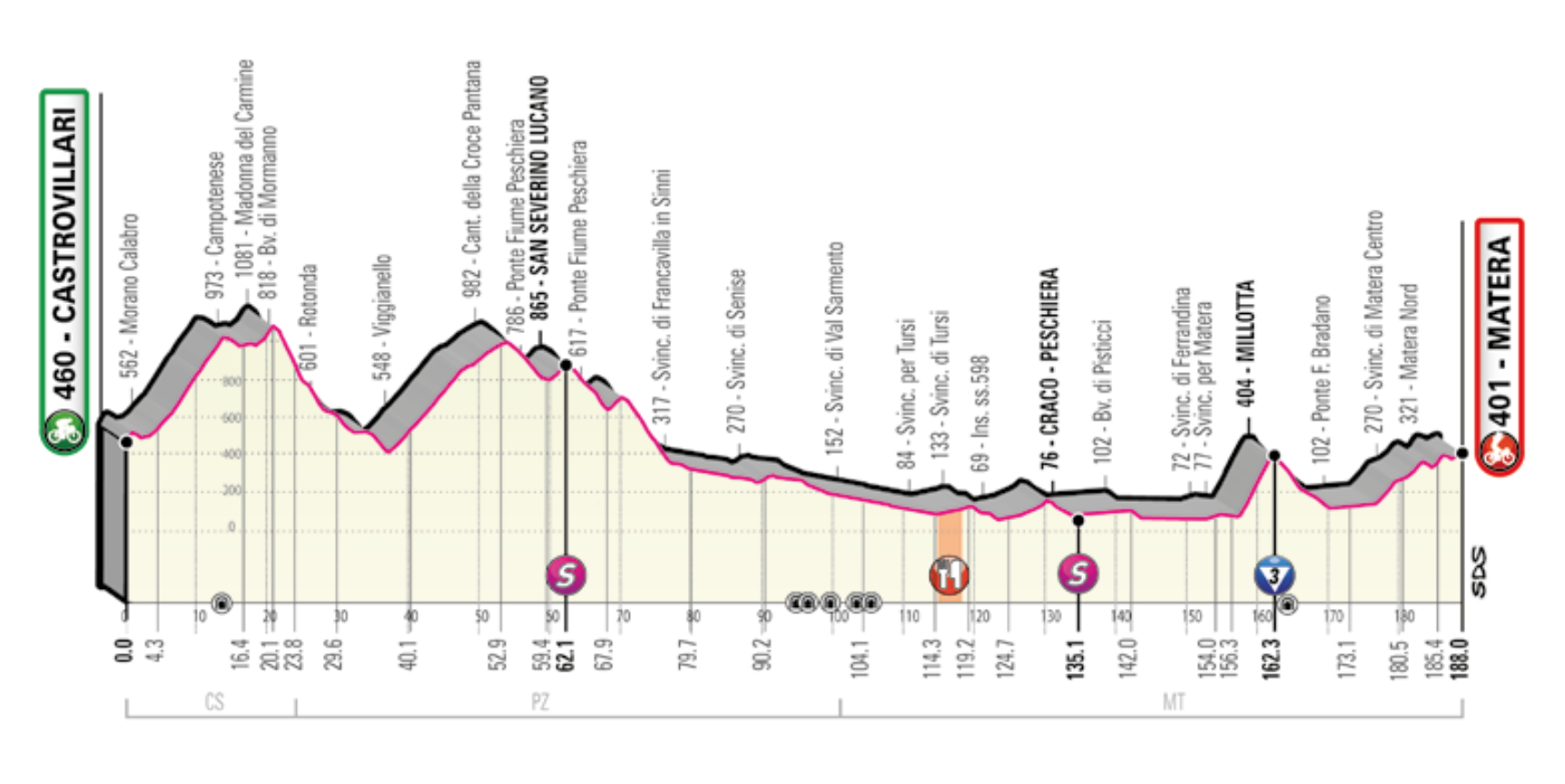 The Giro are throwing up profiles which you don't usually see. This stage begins with a climb of 11km at 4.8%. At the 38km point, the road bounces up again, this time it's 13.7km at 4.1%. This means the opening 50km has a considerable amount of climbing, something that usually means we get a good group escaping up the road.
The next 100km is nice and easy, before we get to the most important climb of the day.
4.5km at 6.5% is a tough little hill. However, it takes place on a nice straight road, which is quite wide. It reminds me of something you would see in the Tour of Turkey. Will this climb put the sprinter teams off chasing the morning break?
The final 10km is nearly all uphill, but the gradients aren't too steep, apart from this little section.
800m at 8.7%, and it crests with just 1.7km to go. This is perfect for a late attack to stick, first to the top of the climb could well take the stage.
Weather
Nice and sunny, with a relatively strong northerly wind. This means headwind all day long, which is bad news for the break.
Tactics
Compared to Sunday, this finish is much better for Sagan and Matthews. The type of stage we get will really depend on the attitude of Bora and Sunweb, but the start of the stage is tough to police. Uphill starts are usually good news for breakaways, it normally allows a big group to gain some time. Will Bora and Sunweb try to get in the move? If they do, the break will win. If they somehow manage to get a hold on things, the rest of the day is easy to control.
The final categorised climb is tough, but not tough enough to put Sagan and Matthews into difficulty. It should be the end of the road for most of the other sprinters, even Démare.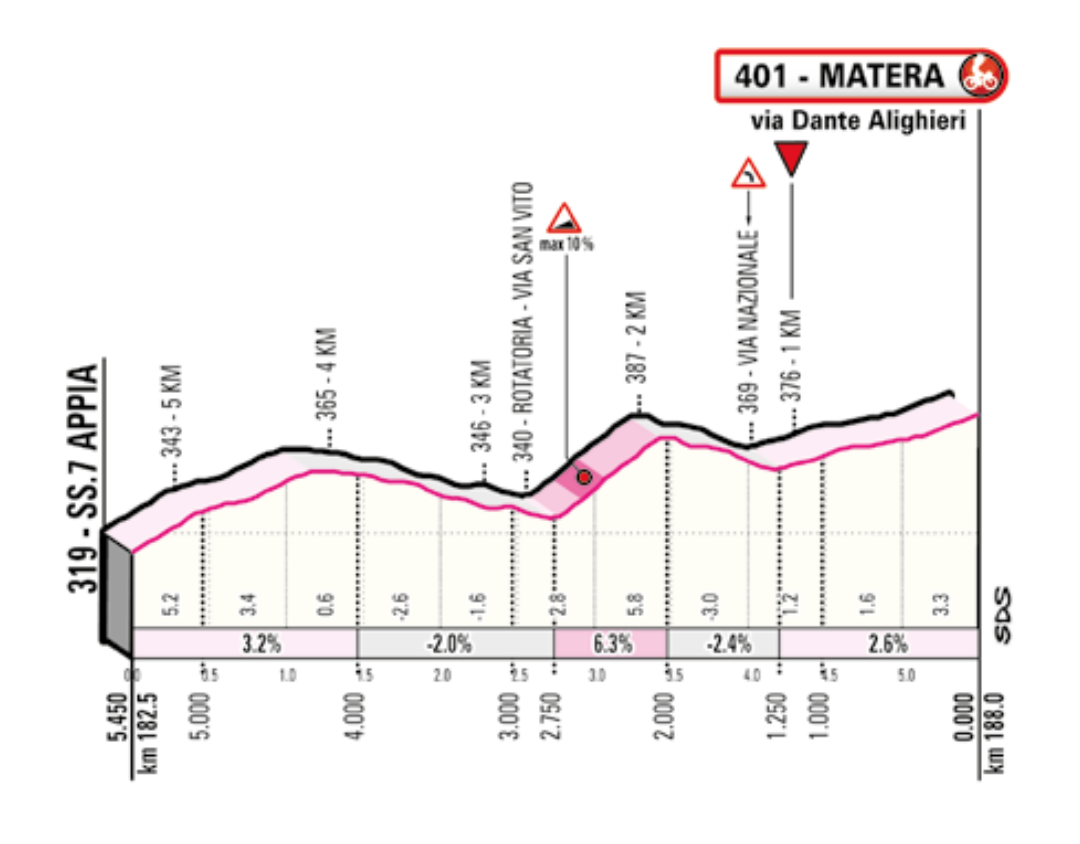 Once into the final 3km, it will be up to the team leaders to follow the moves and try to win the stage. All will be wary of a late attack from a rider like Ulissi, it is possible for him to get a gap on the steep slope. I do like this finish.
Finale
Once over the last little climb there are a number of twists and turns. Out of sight, out of mind.
Contenders
Peter Sagan – he's getting very close to getting that monkey off his back. The finish is good for him, we saw on Sunday that he's coping well with steep slopes. He would hope to be able to follow any late moves we get, before winning the sprint. It's not going to be easy, but he's due a win.
Michael Matthews – to win the stage he needs to arrive without Sagan, which will be very hard. I hope we see Matthews attack on the final little climb, he might as well as Sagan will beat him in the sprint. His current form is good, but he wasn't as strong as expected on Sunday.
Davide Ballerini – possibly the only other fast man who could make this finish. The Italian copes will with little lumps, there is every chance he can follow the wheels and take his chances in the sprint. One slight problem is that QuickStep won't have many men to help him, they need to make sure that Almeida is safe, that will be their number one priority. He did have to do some work on the front today, which puts him at a disadvantage to Sagan and Matthews.
Arnaud Démare – too hard for him.
Diego Ulissi – he'll attack on the climb in the final 3km and see if he can get a gap. His win on Sunday was a perfect display of what he's all about, this is another great chance to add to his growing tally of Giro wins.
Jhonatan Narváez – this is a perfect finish for him. After some very strong recent performances, he will approach this stage with confidence. If Thomas had been here, he wouldn't have been able to go for this one, but every cloud…
Thomas De Gendt – breakaway option number 1.
Simon Clarke – breakaway option number 2.
Davide Villella – breakaway option number 3.
Lucas Hamilton – breakaway option number 4.
Prediction Time
Come on, he has to win some day. Today is the day for Peter Sagan.
David Hunter
Follow us on Twitter and Instagram
Join us on facebook: Ciclismo Internacional
Copyright © 2012-2020 Ciclismo Internacional. All Rights Reserved