Giro d´Italia 2020 – Stage 7 preview
By David Hunter
Matera > Brindisi 143km
At last, a conventional looking stage.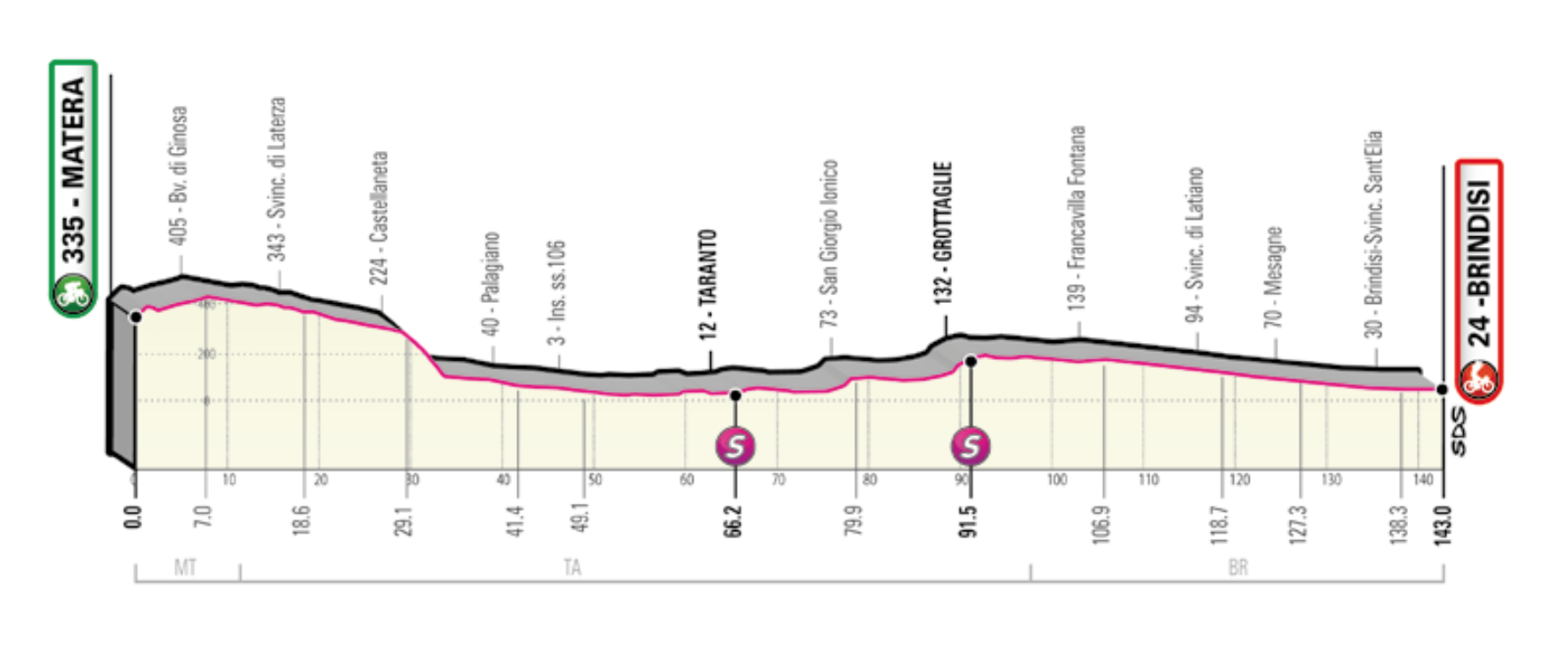 No doubts about this one, it's going to be a big sprint, or is it?
Weather
The only issue in this stage is the wind. We are talking about a constant wind of around 30km/h coming from the north.
Echelons
The start of this stage is very reminiscent of that crazy day in the 2019 Vuelta. For the opening 25km, it will be a crosswind, but slightly cross/tail, and very exposed. If teams want to split the bunch, they can. Then from km 35 until 80, the vast majority of the road is still really exposed. The wonderful conditions for echelons continue until almost km 105. This is a huge number of exposed roads, and I do fear for the small climbers. This could be an awful day for some GC riders.
Echelon Experts
This is not your usual grand tour, we are missing teams with strong rouleurs, who are usually needed for echelon fun. In any normal race, the best teams would be QuickStep, Lotto, Trek, Ineos and Jumbo-Visma, but this isn't a normal race. Judging the teams on the riders who are actually at this race leads me to believe that QuickStep, FDJ, Ineos and Jumbo should be teams splitting the bunch. Trek and Astana would love to get involved, but I'm not sure they have the right riders to do so. This doesn't mean we won't see Nibali and Fuglsang in the front group, they are good enough to look after themselves.
You should also remember that most sprinters are usually excellent in windy conditions. It would not be a surprise to see quite a few fast men make the front split, but having teams with domestiques is crucial for any move to succeed. There is no point splitting the race for the sake of it, you must continue on after making the initial gap.
Please remember, when everyone talks about echelons in advance, it usually doesn't happen! Keep it a secret.
Personal Sacrifice
If we get echelons, it's bad news for sprinters who ride on the same team as a GC rider. We've seen this time after time in grand tours, sprinters will have to work in the wind, burning their own chances of success. This is great news for a rider like Arnaud Démare, his FDJ squad is built around him.
Finale
You won't have seen many finishes like this. With 14km to bunch head onto a dual carriageway. It is arrow straight and lasts until 4km to go. At this point, the road narrows down as the peloton head through a roundabout and onto town centre roads. Think Tirreno, fast and dangerous.
The right turn inside the final 2km is fast and narrow, this is a very important marker for the sprint trains. Just after this, with 1.3km to go, the riders take another fast turn, this time they head left and hit a very narrow street. Next up is a roundabout, but this can be taken without touching the brakes, but it will force the peloton into single file. There is one more turn to deal with, just before the flamme rouge, which leads onto a standard finishing straight.
The big fight will be for control when the road turns right, just before 2km to go. A poor position here and it's game over. The long finishing straight means you don't have to be right at the front for the final corner, it is possible to make up some positions.
Contenders
Arnaud Démare – FDJ are usually very strong in windy conditions. They also don't need to worry about helping a GC rider, they can go all in for Démare. On closer inspection, the squad at this race isn't the best in tough conditions, but they should have Guarnieri and Sinkeldam to support their sprinter. After taking a wins on Tuesday and Thursday, confidence will be high, and he'll expect another bottle of champagne.
Fernando Gaviria – if it gets wild, I'm not too sure if he survives. If the wind doesn't blow, he'll arguably be the fastest in the bunch. The Colombian will hope for a quiet day, and a big sprint. If that happens, he should be winning, as long as he doesn't launch from 500m!
Elia Viviani – I've lost all faith in the Italian.
Alvaro Hodeg – the Scottish/Colombian! QuickStep are normally the masters in windy conditions, but their team lacks most of the usual suspects. With just two Belgians, there will be a lot of pressure on Serry and Keisse to help guide the youngsters through the potential echelons. Hodeg might find he has to sacrifice his own chances for that of Almeida, but Ballerini would also be a good shout in tough conditions.
Rudy Barbier – he's fast, but hasn't featured yet this week. If the race is selective, I don't think he can survive.
Peter Sagan – the best echelon rider in this peloton. The former world champion is brilliant at positioning, I would be shocked if he didn't make the splits. One problem for him is the presence of Konrad and Majka in his team, both will need looking after. That would be a worry to most sprinters, but Sagan is Sagan!
Prediction Time
The wind isn't the strongest I've seen, but the direction and exposed roads are wonderful for echelon action. The lack of big rouleurs does make me wonder what will happen, it's another day where the Giro is very hard to predict. I think we will see splits and some GC riders will have an awful day; I'm looking at you Pozzovivo! Given he is an undisputed team leader, and his current form is insane, I'll take another win for Arnaud Démare.
David Hunter
Follow us on Twitter and Instagram
Join us on facebook: Ciclismo Internacional
Copyright © 2012-2020 Ciclismo Internacional. All Rights Reserved