Giro d´Italia 2021 – Stage 10 Preview
By David Hunter
L'Aquila > Foligno 140.1km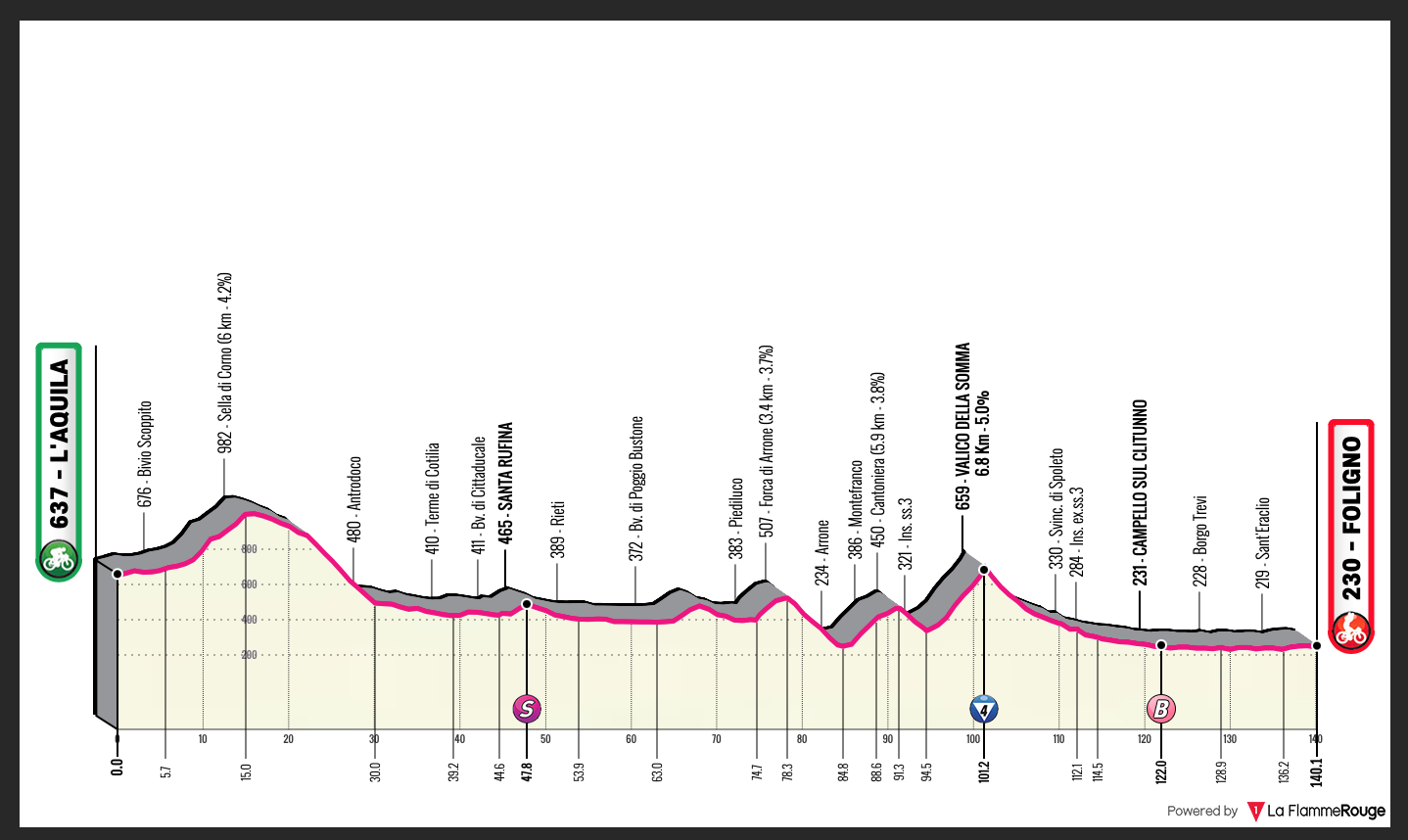 Monday is no longer a rest day; it'll take me a while to get used to this. This is a day where we should see another sprint. It's also the shortest stage in the race.
Key Points
After just 8km of the stage the riders face this little lump. The sprint teams will hope the break gets away from the gun, they really don't want strong riders in there, which is a possibility if it goes here.
Cresting with under 40km to go comes this interesting looking climb. 6.6km at 4.9% isn't easy, but it's a straight road and takes place on a wide highway, it will be easier than the numbers suggest. Will we see a team set a fast pace to try and distance some of the pure sprinters? I doubt it.
Weather
Cloudy sun, much nicer than previous days. We have a cross/tailwind for most of the stage, but don't get excited as the route is well protected from the wind. The sprint will be a strong headwind.
Finale
7km – The bunch is funnelled into a single lane for the roundabout. The left turn is immediately followed by a right turn.
3.2km – straight on through the roundabout, but it will get quite narrow. It looks like only the right-hand side will be open, which means teams will be charging into this point.
1.5km – fast right turn.
1.2km – fast left turn.
1km – tight left turn. This is the most important point in the finale.
800m – straight through this roundabout.
300m – right hand bend. Riders won't see the finishing line until 200m to go.
Teams need to be near the front for the final 5km, then look to take control with 3km to go. As the final 2km has lots of twists and turns, a good position before this section will be very important.
DS Cycling Mole
Right boys today didn't go exactly to plan, but I'm still happy. We've got The Teacher's Pet sitting just 15 seconds behind that Colombian lad, that's doable. This is another stage you can use as recovery; I don't want any of you going for the break. In the closing kilometres, get the wee man a good position and guide him safely home. No crashes, no dramas, just an easy day.
Contenders
Tim Merlier – this is the 10th stage of the race, the longest race he's done before is just 8 days, when will the fatigue set in? This must be a real worry for the Belgian, I don't think even he will know how his body is going to react. Now that Ewan is no longer in the race, he is the fastest sprinter in the race and leads the points classification. His team have done a good job at positioning him in the sprint stages, but those riders are like him in terms of never having done a grand tour before. He'll start the stage as the favourite, but this isn't a done deal.
Giacomo Nizzolo – the nearly man. He continues to add to his impressive haul of 2nd places in this race, but he would love to finally take the win. He'll be happy that Ewan isn't here, it significantly increases everyone's chances of winning. I think we'd all be happy to see him taking the win, he'll need a great lead out to do so.
Elia Viviani – I've been very impressed by his lead out during this race, but the Italian has hesitated in the crucial moments. Such indecision is very unlike him, I hope he starts riding on instinct like he used to. Viviani does have the speed to win the race, and having the best lead out will likely ensure he starts the sprint in the best position.
Dylan Groenewegen – how will his body react to the previous stages? He isn't a grand tour rookie, but this is his first race of the season, and it must be very difficult for him. I think he would have preferred this stage to be after the rest day, not before. Saying that, now that Ewan is gone, he'll sense a chance of adding to his four grand tour stage wins.
Fernando Gaviria – we'll have to see how he's recovered from his crash on Saturday. He rolled the dice on Friday, I liked that he went long, even if it didn't work out. Molano is currently looking very strong, but they seem to have an awful relationship. It would be a big surprise if he took the win.
Peter Sagan – I still don't think he'll win a bunch sprint.
Matteo Moschetti – 6th, 6th and 4th has been a decent return for the Italian sprinter in the first week of this race. The problem he has is that despite having a couple of strong riders to help guide him into place, he'll always find himself starting his sprint from behind the main contenders. This means the best he can hope for is a spot on the podium.
Prediction Time
Having a good lead out is vital in this stage. I'll take a win for Elia Viviani.
David Hunter
Follow us on Twitter and Instagram
Join us on facebook: Ciclismo Internacional
Copyright © 2012-2021 Ciclismo Internacional. All Rights Reserved