Giro d´Italia 2021 – Stage 2 Preview
By David Hunter
Stupinigi > Novara 179.4km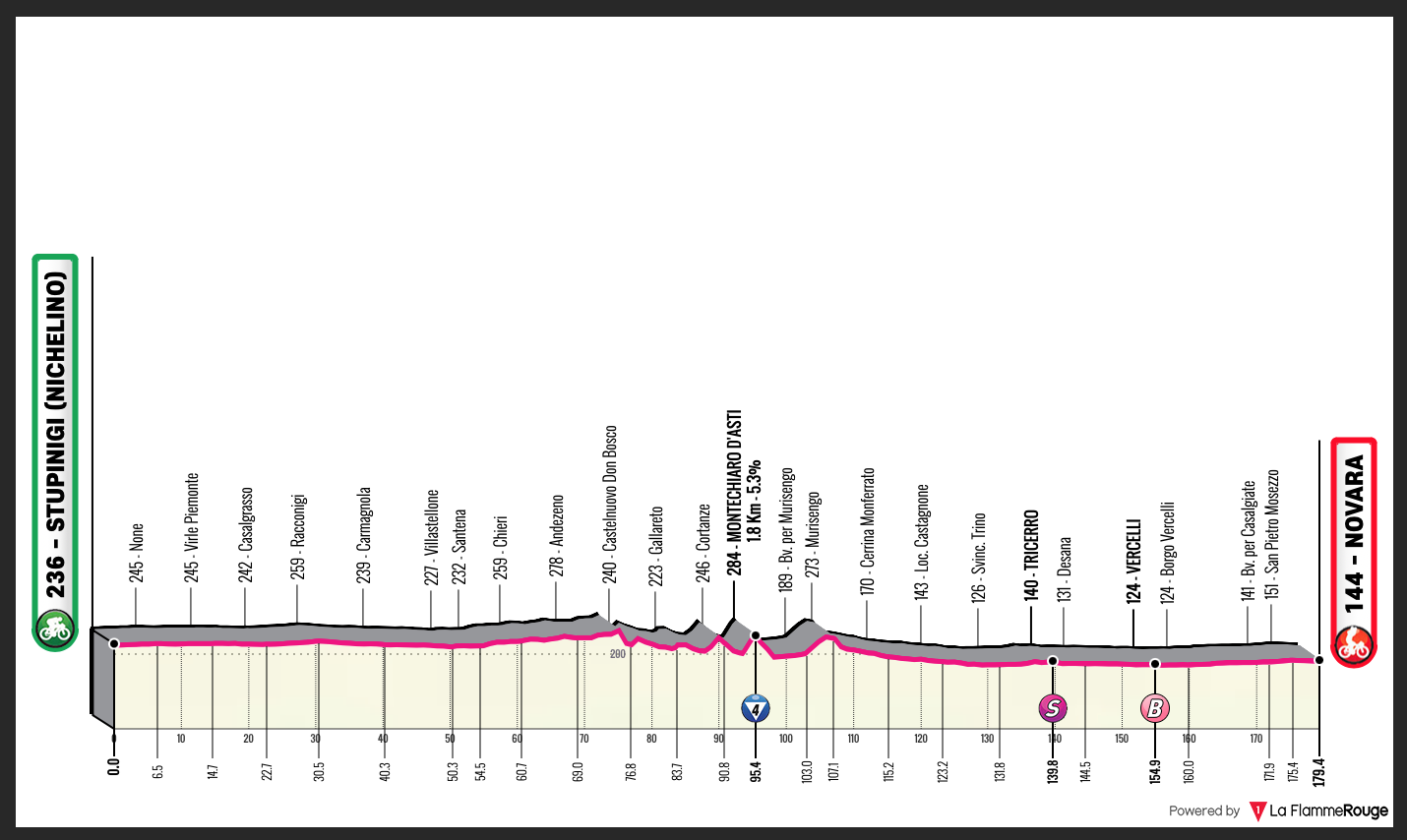 Nailed on sprint, nothing else to note about the stage.
Weather
Cloudy, dry and a light headwind for much of the stage. For the sprint we'll have a cross/headwind of 7km/h, that's not much.
Finale
As we are in a grand tour, the normal way teams approach a finish like this must change. Instead of looking for a good position with 5km to go, teams need to get organised with 10km to go. The road that brings the bunch into this section is long and straight, teams will look to get a good position and then ride tempo. As the road is only two lanes wide, once teams get to the front and settled there won't be any moving up. Sprint teams who aren't organised will find themselves stuck in the middle of the pack, and it will be very hard to move up. Get yourself to the front of the bunch with 10km to go must be the approach most will try and take.
With 8km to go the riders approach this roundabout and go up to the left. I expect only the left-hand side to be open, the right-hand side is much longer.
With 6.5km to go the peloton goes through a little village and the road gets quite narrow.
At 4km to go the bunch are faced with another roundabout. Again, they'll be funnelled into a single lane. The turn out of the roundabout is quite narrow, I hope we don't see any crashes. We then have 2.5km of a slightly wider road, which means teams who are poorly positioned can make a move up the bunch. This part is bound to be very fast; it also leads into the final turn of the day.
With 1.5km to go the bunch take a right turn at this roundabout, the exit is narrow. We then have 800m of straight before the final obstacle of the day.
Another roundabout, this time only the right-hand side will be open. Obviously, this means the bunch will be lined out and as we only have 700m to go, anyone who is too far back is out of the game.
The finishing straight has a gentle curve to the right, being on the inside gives the shorter line. It also means when the final lead out man moves over to the left, it will force everyone else to go even further out.
Sprint Trains 
Nobody arrives with a long sprint train; such is modern times. The good news for the sprint teams is they can allow the GC teams to boss the pace until the final 3km, they just need to make sure they follow the right train.
Lotto Soudal – Oldani, Kluge De Buyst, Ewan. The Italian has been drafted into position 4, he's fast and should do well there. Kluge and De Buyst bring a lot of experience, but things didn't go well for them earlier in the season. Hopefully De Buyst is okay after recent back problems and Kluge can get back to his normal level ***
Jumbo-Visma – Van Emden, Affini, Dekker, Groenewegen. A whole new train for Dylan. They are untried as a unit; we'll have to see how well the gel together ***
Cofidis – Attilio Viviani, Sabatini, Consonni, Elia Viviani. These boys know each other well, but don't always get it right ***
Qhubeka ASSOS – Lindeman, Wiśniowski, Walscheid, Nizzolo. Not too good to me **
Alpecin-Fenix – De Bondt, Vermeersch, Krieger, Merlier. Another relatively untried sprint train, as they don't have van der Poel or Rickaert **
UAE – Molano, Richeze, Gaviria. It's been a while since they got it right **
Bora – hansgrohe – Bodnar, Oss, Sagan. The great man doesn't need a train **
DS Cycling Mole
Guys, round you come. As we don't have a sprinter, this stage is nice and easy for us. We all know there will be crashes in this one, we need to stay near the front of the peloton for most of the day. With 10km to go, we need to pretend we have a sprinter here. Der Kaiser and Serminator, you need to get us a good spot at the head of the peloton, we need to make sure that Smokin Jo and The Teacher's Pet are well protected. TGV, nothing silly, don't attack, just help guide the boys in the closing kilometres. We just need to get through this one safely.
Contenders
Caleb Ewan – he'll start as the favourite and rightly so. The Aussie has the speed, experience and sprint train required to win this stage. However, he rarely wins the first sprint of a stage race. Since joining Lotto Soudal in 2018, Caleb was ridden in 23 stage races, take a guess at how many times he's won the first sprint… once! That is a shocking record and I have no idea why. Can he holt this worrying trend in this stage? We'll have to wait and see.
Dylan Groenewegen – how much will he be lacking? It's very hard to predict, but I don't think he'll be far from his best considering the stage is very easy. I don't think the physical side is the worry for the Dutchman, it's the psychological side that he's bound to struggle with. After causing the terrible crash for Jakobsen, it could take him a while to get back in the grove in chaotic sprints.
Tim Merlier – I'm not impressed by his sprint train, or his record in world tour races. In his defence, he's only been at this level for just over a year, and he is fast when given the opportunity. Winning in your first grand tour sprint stage is a big ask.
Elia Viviani – has the speed, experience and sprint train to take the win. He took his first win for Cofidis in Cholet, and he looked very fast that day. His all-Italian sprint train will be super motivated to deliver their fast man into the ideal position for the sprint, he's one who shouldn't be underestimated.
Giacomo Nizzolo – just three world tour wins in his whole career and never in a grand tour, his record doesn't scream winner to me. He's fast, but not usually fast enough in a flat sprint.
Fernando Gaviria – the Colombian looks like a rider on the slide, which is sad to see. This is contract year; he really needs to get back to his best if he wants another big contract with UAE. His sprint train isn't looking great, but he can handle himself in the closing stages. He does have the speed required to win, but he needs to believe in himself.
Peter Sagan – can he win a full sprint? Probably not.
Prediction Time
Both Ewan and Groenewegen have many questions surrounding them, I sense a big chance for someone to upset the big names. Given the sprint train at his disposal, I'll take a surprise win for Elia Viviani.
David Hunter
Follow us on Twitter and Instagram
Join us on facebook: Ciclismo Internacional
Copyright © 2012-2021 Ciclismo Internacional. All Rights Reserved