Giro d´Italia 2021 – Stage 3 Preview
By David Hunter
Biella > Canale 191km
The first stage where we get to debate the type of finish we get.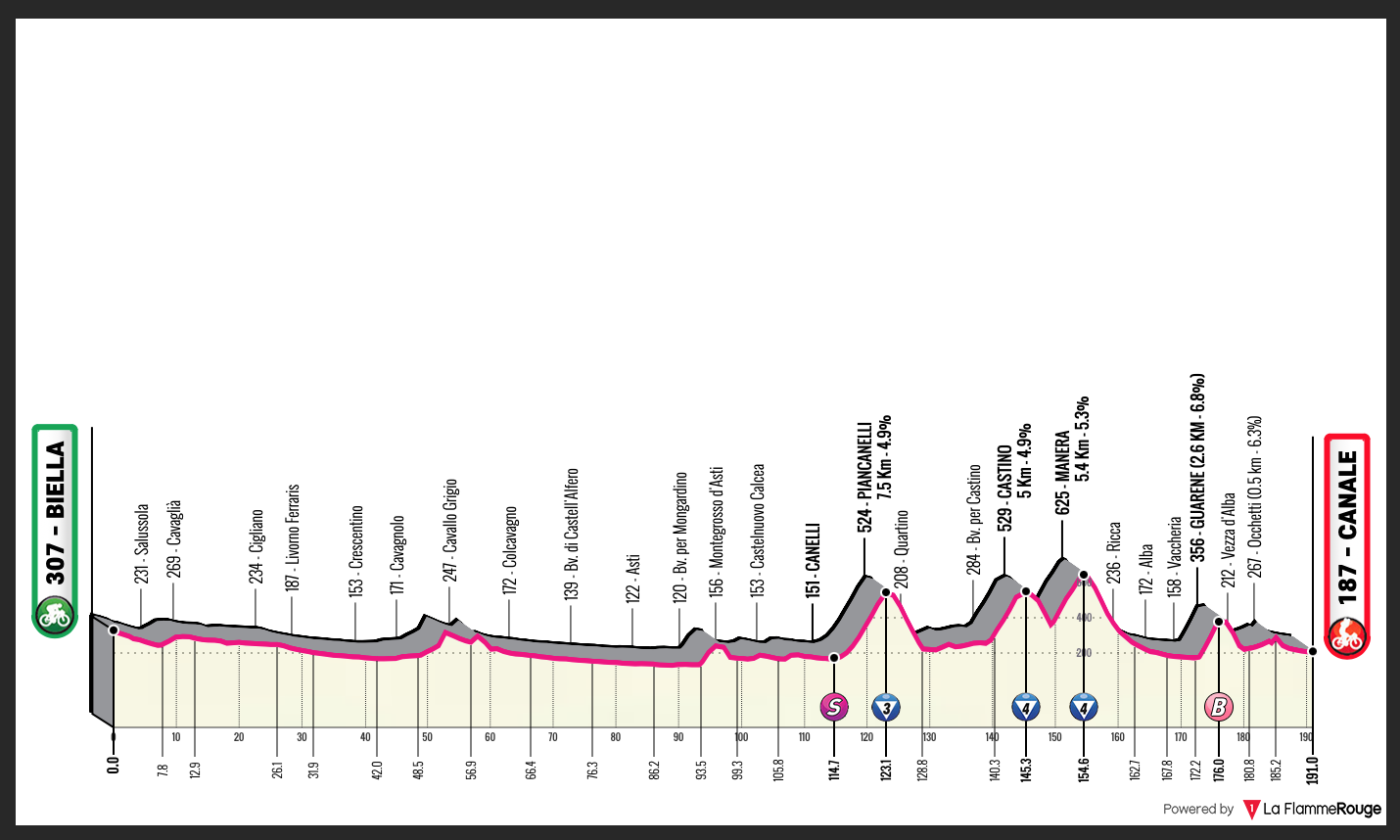 1894m of climbing normally means we get a full bunch sprint, but I'm not convinced. The first half of the stage is very flat, but the riders must climb 1237m in just 60km starting from the first of the categorised climbs. This is right on the limit for the pure sprinters, especially if someone decides to lift the pace on the climbs, and I've not even mentioned the weather.
Weather
The current forecast is for an awful lot of rain, which is a disaster at the start of a grand tour. When we get wet days in grand tours it normally significantly increases the difficulty of the stage as the big GC teams want a fast pace to string things out and keep everyone safe. We'll also see lots of nerves, no one wants their GC chances ruined because of a crash. I'm hoping the forecast is wrong.
Key Points
The first climb of the day is the hardest. It's a cat 3 effort, 7.2km at 5.1%. Not only that but the road is narrow, which always makes it seem harder than the numbers suggest.
The descent is narrow and fast, this will be dangerous if the roads are wet.
3.9k at 5.9% is a tough cat 4 climb. This will be raced by the GC teams; they'll want a good position for the descent which bounces straight into the next climb.
5.3km at 5.4%, which doesn't sound much, but it comes so soon after the last climb we have around 9km at 5.6%. Again, the climb is followed by another fast descent, which the GC teams will need to control if the roads are wet.
Inside 20km to go we have an unclassified climb of 2.8km 7.1%. As the riders get near the top they pass through a little village and the road gets narrow and very steep, the organisers have placed a bonus sprint at the top of this little climb, which will be chased by the GC riders. Another fast and narrow descent follows.
600m at 5.2% and crests with under 6km to go. Attackers will sense a chance of upsetting the fast men.
Finale
Not only do we have lots of climbing, but we also have a very technical looking finish. It would be hard in dry conditions, treacherous in the wet.
This is what the road looks like just after the final little kicker. As you can see the road is relatively narrow and the final 6km is downhill.
We have a very tight corner with 4.4km to go.
This little roundabout is with 2.3km to go, the left-hand side looks the best way round.
Another roundabout with 1.5km to go. I would imagine that only the left-hand side will be open. This will funnel the riders into single file.
We have a tight right-hand corner with 800m to go. You can see the road is narrow at this point.
The roadbook isn't clear about what happens next. There is every chance they barrier the road, so the riders go straight across where the cars are parked.
This opens into another section where I think they might cut straight across the wide street.
500m to go and another right turn.
Immediately followed by a left turn. Once through the corner there is just 400m to go. As I've already said, this finish would be tough in dry conditions, it will be a nightmare if it's wet.
DS Cycling Mole
Boys, this stage is a bloody nightmare. We need to make sure that The Teacher's Pet and Smokin Jo are well protected. Despite an easy looking profile, it's going to be all hands-on deck once we get to the climbs. For every climb I want us to be near the front but get control for the descents. This stage is a big day for Der Kaiser, The Serminator, The Prof and Stilknox. I need you boys to ride your hearts out and protect our leaders. Smokin Jo, you go for the bonus seconds at the top of that little climb.
Once we see how many riders are left in the bunch, we'll decide what we do at the finish. If it's a reduced sprint, we'll decide between The Prof and Smokin Jo.
Contenders
Peter Sagan – this stage screams his name, and that was before I saw the weather forecast. The climbs will likely make it too hard for the pure sprinters and Sagan was in good climbing form in Romandie. Bora have a couple of GC riders at the race, but they'll still have enough riders to help Sagan as he looks to win this stage. He can cope with poor conditions too; remember he was 3rd when Soler won in Romandie, and the peloton was down to only 23 riders. Even if we see a selective day, due to the weather, I will still expect Sagan to be present at the end. This looks like a great day for him.
The Pure Sprinters – is it going to be too hard for Ewan, Merlier, Groenewegen, Viviani and Gaviria? Probably so. If it rains, definitely so.
Giacomo Nizzolo – in 2020 he was in brilliant climbing form, but he's not really been able to show that in 2021, due to the races he's been competing in. Normally I would expect him to survive the climbs, but if the rain falls and the stage is harder than it looks, he might not be able to hang on. Looking at his team, I don't see many riders who'll be able to help him in the closing stages, he'll likely have to look after himself. Can he win his first grand tour stage?
Fabio Felline – it really depends on how hard the stage is. Last year he was 3rd in stage 6, sprinting from a group of 60 riders. Astana won't be looking to ride for their Italian, they will be focused on keeping Vlasov safe and if it ends in a reduced sprint, then Felline will get his chance. He's unlikely to win, but he could make the podium.
Andrea Vendrame – he's fast, but rarely wins.
Diego Ulissi – given his record in the Giro he's always got to be considered in stages like this. He might look to attack on the little kicker with 6km to go, or he might wait and try his luck in the sprint. To win he'll need riders like Sagan to be dropped.
Paddy Bevin – was going great in Romandie, but he had to abandon the race due to illness. His very poor performance in the prologue suggests he hasn't fully recovered yet.
Matteo Jorgenson – he might be making his grand tour debut, but the young American loves wet weather conditions. I'll throw his hat into the ring.
Gianni Moscon – Ineos domestiques don't often get freedom, but this could be the exception. Moscon is currently in wonderful form, and as long as Bernal and Sivakov are safe, he should have a chance to chase personal glory. The final kicker is perfect for him to launch a big move.
Prediction Time
The latest forecast I've looked at suggests a lot of rain throughout the whole stage. This means we'll see a selective stage with Peter Sagan taking the win.
David Hunter
Follow us on Twitter and Instagram
Join us on facebook: Ciclismo Internacional
Copyright © 2012-2021 Ciclismo Internacional. All Rights Reserved