Giro d´Italia 2021 – Stage 5 Preview
By David Hunter
Modena > Cattolica 176.9km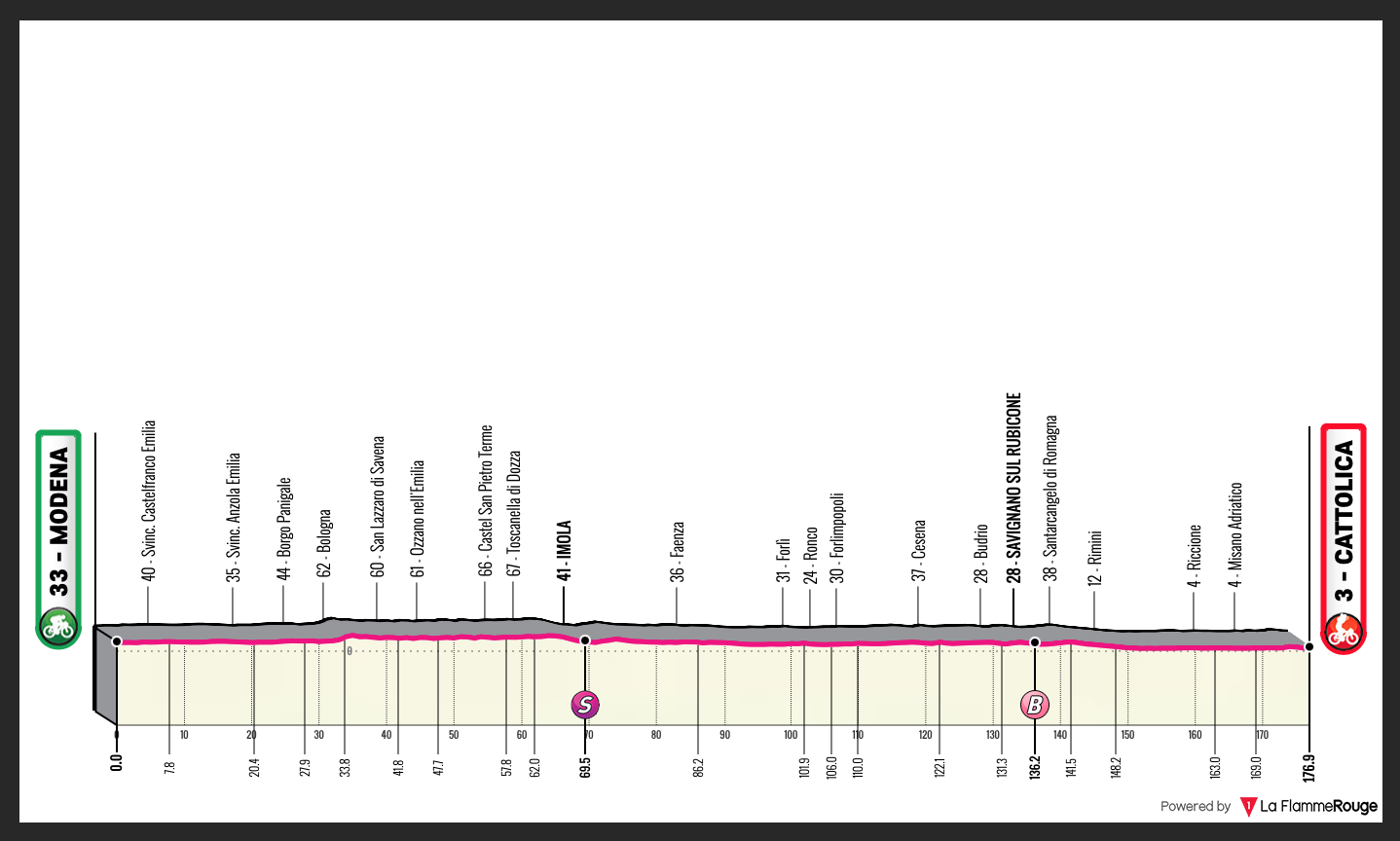 Time for our second sprint finish. The route is arrow straight, don't think I've ever seen anything like this before.
Weather
A little grey and there is a chance of some rain, but it will hopefully just be a shower or two. The wind is light and shouldn't cause a problem, and there should be a tailwind for the sprint.
Finale
Sprint teams time to listen up. The lesson has started. With 23km to go the bunch head onto the coast road. Much of the next 14km stays on this road, with nothing much to say. At 9km to go we have a series of corners which moves the bunch into the real finale. I wouldn't be wasting energy moving to the front until this section, there is a lot of space to move up the bunch at this point, which is different compared to stage 2. Time to look at the obstacles, there are lots.
With 7km we have the first of the roundabouts, the left hand side looks the best way round.
With 6.4km to go the bunch move off the main road and go down the slip road on the left. At this point the bunch will start to stretch out and a good position is important.
6km to go. Be on the left.
4.6km to go. I would go right.
3.8km to go. I would imagine the organisers will only open the left hand side, which means a massive fight for this point as the bunch will be forced into single file.
3.4km to go. Again, only the right hand side will be open.
3.2km to go. Not really a roundabout.
3km to go. Be on the right.
2.7km to go. Big left hand turn.
This leads onto a narrow road for 500m.
2.2km to go. Tight left hand turn.
1.2km to go. Big left turn.
You aren't moving up here!
1km to go. Tight right hand turn.
The finishing straight is narrow and well covered by trees until 200m to go. This makes it hard to judge when to launch.
I would hang back and sit on the Ineos train until 5km to go. At this point it is vital to then move to the front of the peloton, all the roundabouts make it very hard to move up the bunch. It doesn't matter if you burn through most of your men, a good position for the final 3km is vital, even if it means your sprinter has to surf a few wheels. Those trying to leave it late will likely be disappointed.
DS Cycling Mole
Another boring sprint stage boys. This one should be less stressful than Sunday, but we need to be careful in the closing kilometres. Der Kaiser, I want you to take the boys to the front with 5km to go. There are lots of roundabouts in the closing kilometres, the big goal is to keep The Teacher's Pet safe. Stay near the front as close as we can to the finish, then we can ease up and dream about our dinner. Smokin Jo, after today's performance you're on bottle duty.
Contenders
Caleb Ewan – cards on the table, Lotto Soudal made a right mess on Sunday. When you make a mess of things you need to reflect on why it happened and learn. They need to have a much better position heading into the final 5km. They don't have a long train, it's all about being clever and using the GC teams until the final 3km, then getting near the front and allowing Kluge and De Buyst do their thing. Caleb is the fastest in the race, but that doesn't buy you wins. We also need to remember that he's doing the Giro, Tour and Vuelta, he's clearly not going to be at 100% right at this point, especially compared to some of his rivals who have this race as their big goal. Can he win? Of course he can, but his train need to get it right.
Dylan Groenewegen – to finish 4th on Sunday was a hugely impressive result, but I love that Dylan was clearly disappointed not to win. With no racing in his legs, you know that he'll only get stronger as the race develops. His sprint train is new, but riders like van Emden and Affini are very powerful, they can afford to sit a little deeper before smashing to the front in the final 3km. It might still be a little earlier to expect him to win, but this is what he'll expect of himself.
Tim Merlier – I really didn't think he would win on Sunday, both he and his team surprised me. Of course Merlier is very fast and he's already won a lot of races this season, but Sunday was pretty special. He's not scared of going long, but that could get him into trouble in this stage, the headwind for the sprint looks quite strong. Two from two, would be sensational.
Elia Viviani – Cofidis did a great job on Sunday, but Viviani looked like he forget to sprint! The lack of confidence to launch his sprint isn't a great sign. I also don't think Cofidis can do any better in terms of preparing the sprint, can he win from a poorer position?
Giacomo Nizzolo – another 2nd place, he really must be getting sick of this. No one would begrudge him the win, but I don't think he's quick enough to beat all the sprinters at this race.
Fernando Gaviria – what the hell was he playing at? He was in the ideal position, sitting on Merlier's wheel, but then made the wrong decision. On the plus side, he looked fast, and his sprint train did a good job. I sense he has a win in him.
Peter Sagan – he's not winning.
Prediction Time
With most of the sprint trains only having four riders in them, every sprint is going to be chaotic. They made a mess on Sunday, but they'll learn and deliver their man into a good position for this sprint. It'll be a win for Caleb Ewan.
David Hunter
Follow us on Twitter and Instagram
Join us on facebook: Ciclismo Internacional
Copyright © 2012-2021 Ciclismo Internacional. All Rights Reserved