Giro d´Italia 2021 – Stage 6 Preview
By David Hunter
Grotte Di Frasassi > Ascoli Piceno 160.8km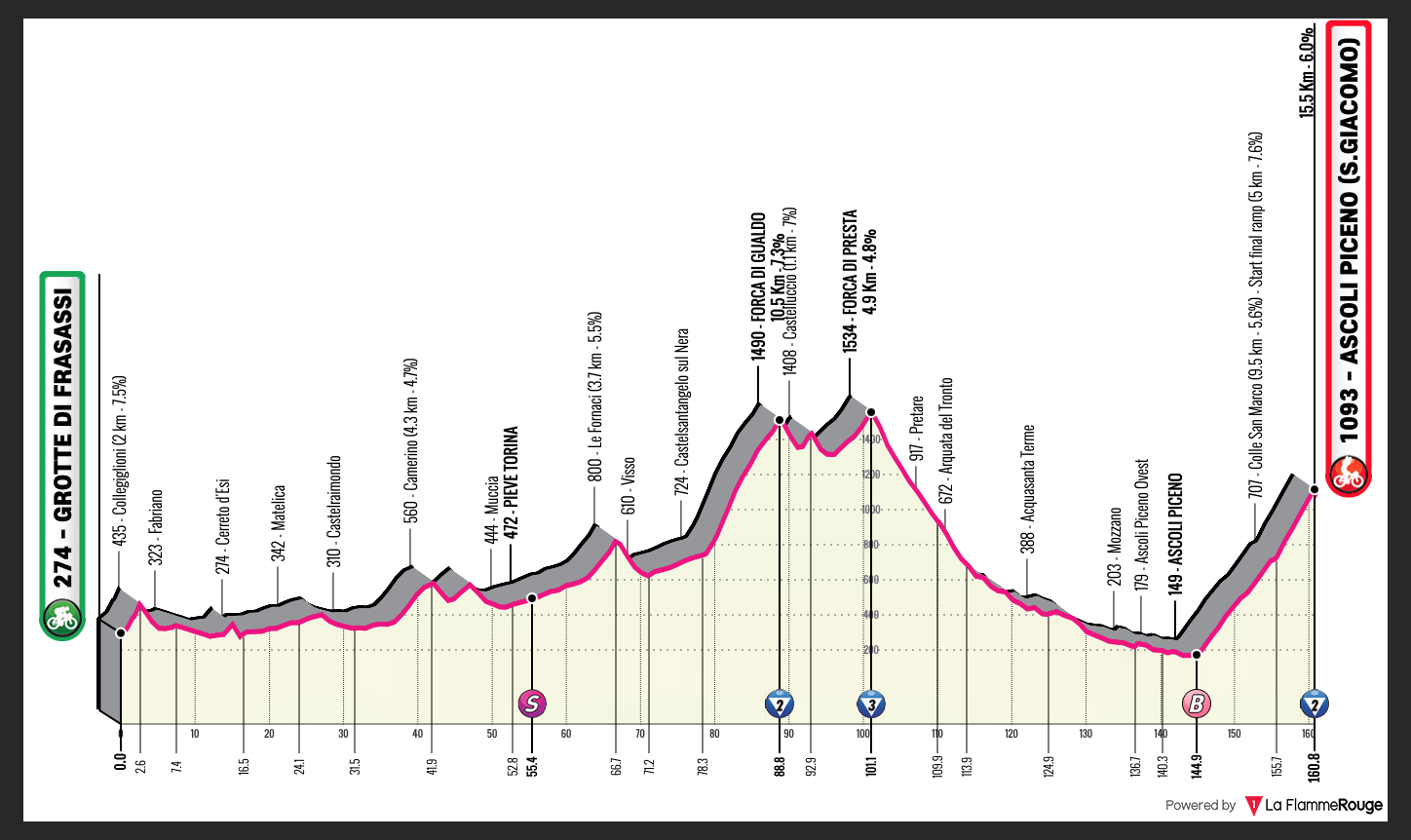 The first mountaintop finish of the Giro. Nothing much should happen until the final climb.
The cat 2 climb is 15.5km at 6.1%, it's not the hardest finish in the world. The final 5km does average 7.5%, but the road surface is good, and the road is relatively wide. I'd be amazed to see gaps between the best climbers, especially with a light headwind too.
Weather
Much nicer than previous stages. It will feel quite warm, and the wind will be light, but a headwind on the final climb isn't great news.
Tactics
Will ISUN ride to defend the jersey? De Marchi has 1:24 lead over Vlasov, he is the first of the proper GC contenders. The Italian would hope to hang tough on this climb and keep the pink jersey, that means his team will ride to defend it. As this is the first mountaintop finish, there will be a few teams interested in helping chase the break and set up a potential stage win. It doesn't look like a great day for the break.
DS Cycling Mole
Lads, round you come. This is a big day for us, The Teacher's Pet has a chance of moving into pink. We don't chase the break, that's not our responsibility, we sit back and wait for the final climb. Once there I want Stilknox, The Eel and Smokin Jo to support our main man. I'm not sure of the order I want you in, it depends on how Jo is feeling. I want a fast pace, let's get rid of De Marchi and see if we can get pink.
Teacher's Pet, the climb isn't that hard. I want you to wait until 3km to go, then go full gas. It's time to test out some legs and see who can follow you. That Russian dude is only 4 seconds ahead of you, you'll smash him.
Now get out there and bring me back the pink jersey. Vamos!
Contenders
Simon Yates – couldn't follow the big moves on Tuesday, but that type of climb has never been his speciality, this stage is much more his style. Considering the way, he was flying in the Tour of the Alps he'll be confident of winning this stage. His teammates will be very important on this type of climb, he'll need someone to last all the way to finish with him, as there will be attacks in the closing kilometres. If it ends in a sprint, he has a big chance of winning.
Egan Bernal – the signs were very positive on Tuesday. He started the race with many questions about his back, and he passed the first test. He'll like the look of this climb and Ineos have the team required to close all the attacks and set up a big finish. I don't think he's as fast as some of his rivals, hopefully he throws in a couple of attacks in the closing stages.
Remco Evenepoel – a strong TT, but didn't follow the best on Tuesday, I'm not reading too much into that. This climb is one that's well within his capabilities, but I'd still be a little surprised if he won it. Evenepoel doesn't normally have the fastest sprint, winning from the group will be very tough as others have a better kick. To win this stage he must attack, but it will be almost impossible to drop some of the best climbers in the world on this type of gradient.
Pello Bilbao – Bahrain will be hurting after what happened to Landa today, the best response is to go out fighting. Bilbao came into the race in wonderful form, he'll now get a chance to chase personal glory. If the stage ends in a sprint, he'll be one of the favourites.
Giulio Ciccone – the Italian is looking frisky. He's been attacking in the previous stages and this climb is a very good one for him. Not only does he climb well, but he packs a fine sprint too. As he isn't really seen as a GC threat, he could also have some freedom in the closing stages.
Aleksandr Vlasov – he followed up a strong TT with a good climb on Tuesday, he's started the Giro in good form. He has an okay sprint, but not as fast as some. Like a few others, he needs to attack to win the stage, but dropping the main favourites will be impossible.
Hugh Carthy – I don't think this climb is hard enough for Hugh. It's likely to end in a sprint between the GC group, not the type of stage he would normally win. However, he won't be afraid to attack from distance and take a gamble.
Davide Formolo – if the big names mark each other, there will be a chance for someone to sneak off the front and win the stage. Formolo is exactly the type of rider who could do this.
Bauke Mollema – breakaway hopeful number 1. The danger man.
Sébastien Reichenbach – breakaway hopeful number 2. The climber.
Gianluca Brambilla – breakaway hopeful number 3. The Italian.
Thomas De Gendt – breakaway hopeful number 4. The Legend.
Prediction Time
It just isn't hard enough for the big GC riders. I think a few teams will still chase the break to set up a potential stage win, but only one man can win and that will be Giulio Ciccone. I really hope De Marchi stays in pink.
David Hunter
Follow us on Twitter and Instagram
Join us on facebook: Ciclismo Internacional
Copyright © 2012-2021 Ciclismo Internacional. All Rights Reserved