Gran Trittico Lombardo 2020 Preview
By David Hunter
Legnano – Varese 202.7km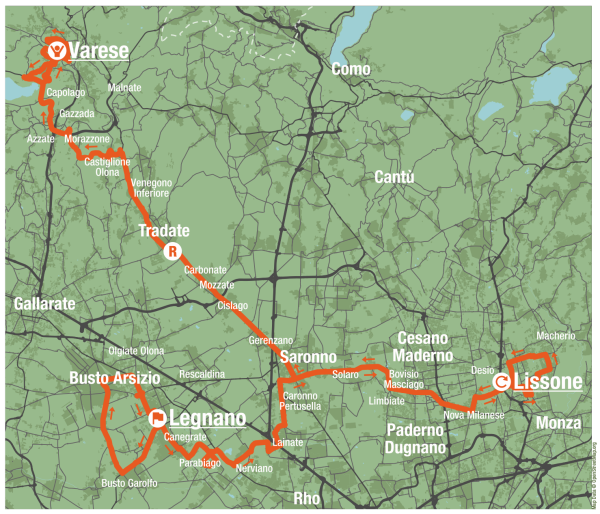 A new race, but a little familiar.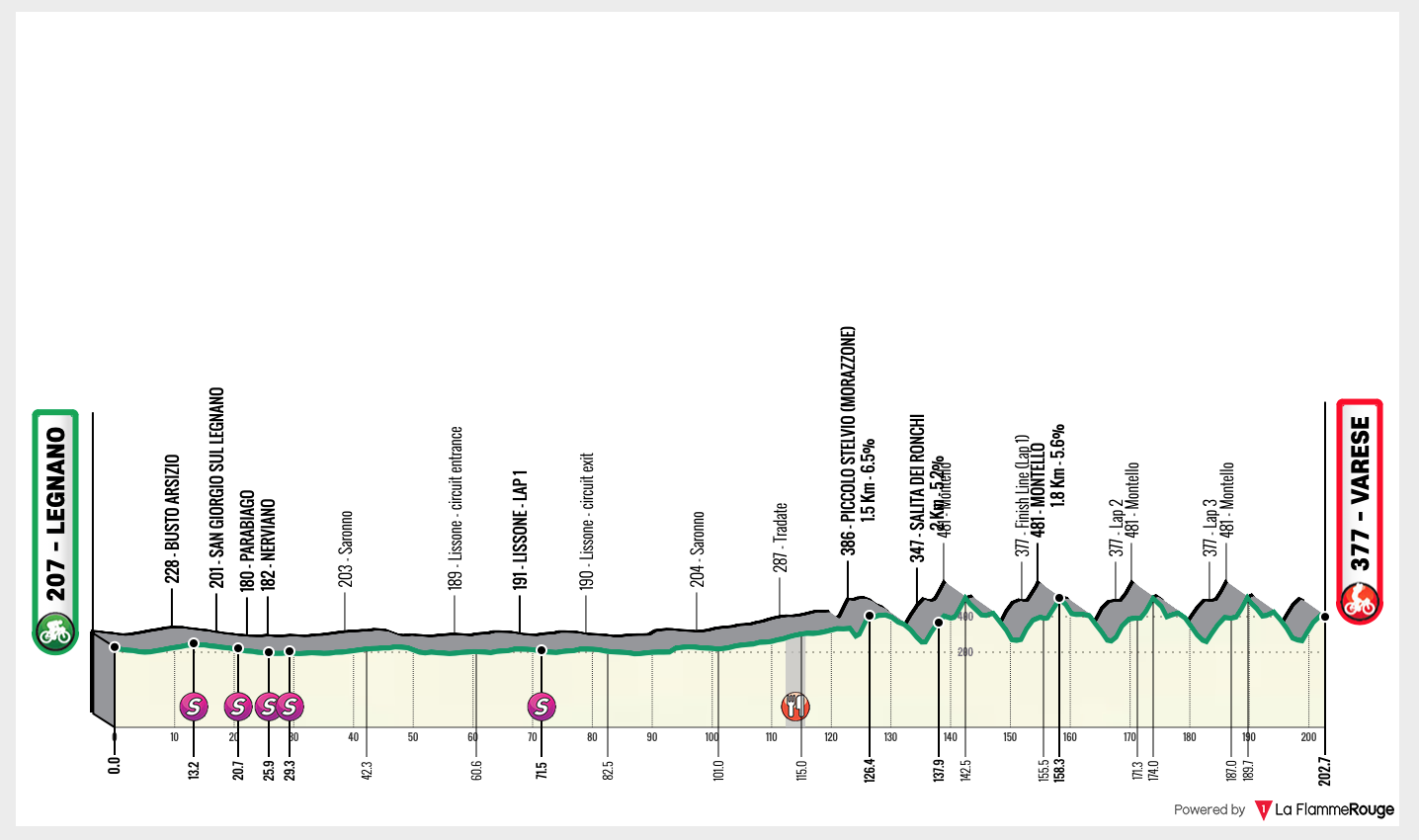 The lap circuit at the end of the race is lifted from Tre Valli Varesine, but instead of doing nine laps we now only do four and a bit. The knock-on effect is we only have around 1700m of climbing throughout the day, which usually means a day for the sprinters, but will it be?
Weather
Looks like we could well get some rain in the afternoon and the wind is fairly strong coming from the north. We don't have many exposed sections so the wind shouldn't split the bunch, but the climbs on the circuit will have a headwind. It will be very different from Strade Bianche.
Tactics
The climbing metres would normally indicate a sprint, but as the race ends with almost 3km at 5%, it will be hard for most sprinters to challenge for the win. This is a perfect finish for the puncheurs, but how will the race pan out?
The first couple of laps will just be about catching the morning break, nothing will really kick off until we get into the final 30km.
The riders will do four full laps of the circuit. The climbs aren't overly difficult, but damage can still be done if teams want to. The first bump is 1.6km at 5.3%, but the final rise to the line is almost 3km at 5%, before a short downhill finish. This is the main problem for the sprinters, hanging tough here won't be easy.
In previous years we've had a start list featuring some of the very best riders in the world, this year is different. With many teams choosing to miss this race, we don't have as many contenders. I would expect to see Ineos and Astana boss the race and decide what happens.
Contenders
Ineos – in my opinion they have four potential options for this race, but one might surprise you. Kwiatkowski, Narváez and Moscon provide strong options and the uphill kick to the line is good for both of them, but I think they should be looking towards Ethan Hayter. The young Englishman rode a few races for the team back in 2018 as a stagiaire, but this is his full debut. Given such an opportunity to someone so young isn't usually the done thing, but I think he deserves it. Hayter is a hugely talented cyclist, not only can he climb pretty well, he also packs a very fast sprint. This type of finish is wonderful for him, but will he get the opportunity to shine?
Astana – with the likes of Lutsenko, Aranburu and Gorka Izagirre they have multiple options, just like Ineos. Both Lutsenko and Izagirre competed in the brutal Strade Bianche, whereas Aranburu has just arrived after racing in Burgos. Travelling on his rest day wouldn't have been great, but we'll have to wait and see how he reacts. He does have the fastest finish of the trio, but they are all strong options for a race like this.
CCC – Van Avermaet could well still be suffering after such a demanding Strade Bianche, but they also have Alessandro De Marchi as an attacking option. The Italian loves to attack, but I wouldn't say this route is ideal for him.
Alexandr Riabushenko – the Belarusian rider is another who'll like this race, he copes well with small climbs and packs a fast sprint. He doesn't get many chances to chase personal glory, but as he gains more experience the team will start to trust him a lot more. He looks like UAE's team leader for the race and I think he should be one that you keep an eye on.
Xandro Meurisse – the fast finishing Belgian should be one of the favourites for this race. He can climb and has a good sprint on him, his team also looks fairly strong. He won in Murcia at the start of the year, this is a good chance for him to chalk up another victory.
Jhonatan Restrepo – the man who was briefly described as the "new Valverde" early in his career. His fall from grace was fairly spectacular, in just a few years he had dropped back down to ride for Manzana Postobon, before Gianni Savio signed him for 2020. He started the year very well, taking wins in smaller races, which would have been crucial in rebuilding up his confidence. This is exactly the type of race he should be challenging for; this is why he was brought to the team.
Dion Smith – like most of the riders I've already mentioned, Smith copes well with short climbs and has a fast sprint. Since joining Mitchelton-Scott he's found opportunities few and far between, so it's important to seize them when they come along. This is a chance to impress his bosses.
Giulio Ciccone – the Italian is exactly the type of punchy climber who should enjoy this race. Okay, he might not pack a sprint like many of the riders already mentioned, but he will hope to put the fast men into difficulty on the climbs. If Trek-Segafredo can make the lap circuit difficult, it might just be possible for Ciccone to take the win.
Prediction Time
Ineos look much stronger than the other squads, but it's not easy picking which of their riders will take the crown. I'll go for a surprise and say Ethan Hayter will win the race.
David Hunter
Follow us on Twitter and Instagram
Join us on facebook: Ciclismo Internacional
Copyright © 2012-2020 Ciclismo Internacional. All Rights Reserved