Hugh Carthy: "I think I have turned a corner in my career"
By David Hunter
Long term readers of this website have been on a journey. We first started following Hugh way back at the end of 2014, when he had just signed for Caja-Rural. We've closely followed his progress through the pro ranks, regularly checking in with him along the way. I think that's what made most of us so happy to see him doing well at the Giro.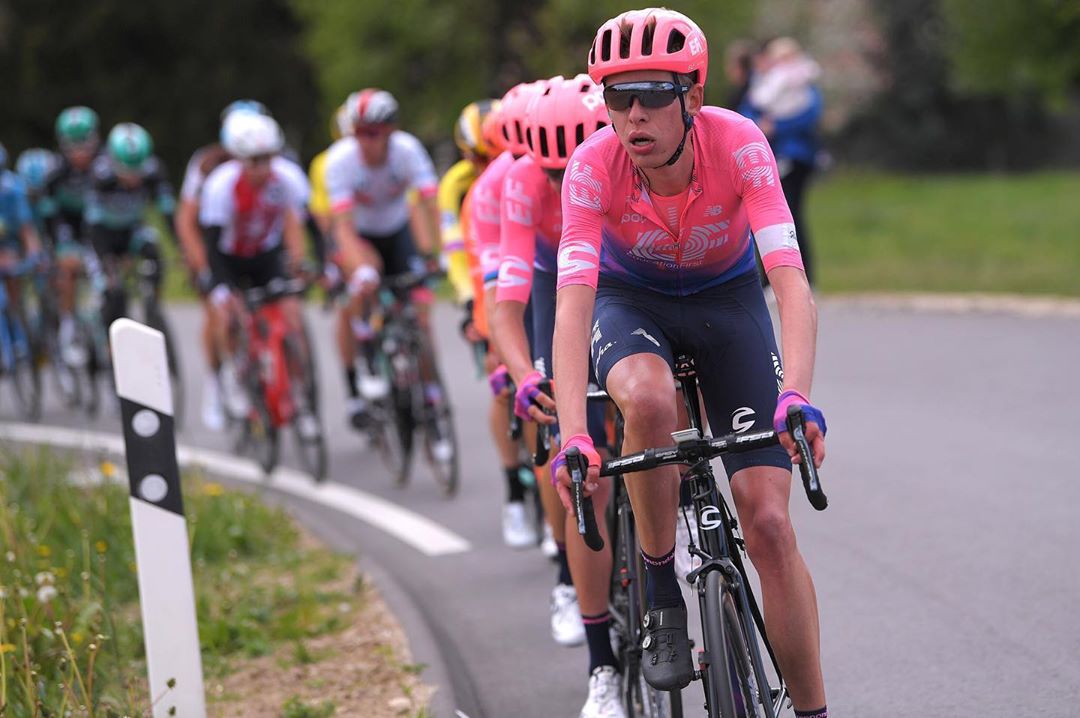 Incremental progress, every single year, that's what we've seen from the Preston boy. His route through the professional ranks hasn't been flashy, much like he is as a person. He's simply been chipping away, year after year, and now he has reached a new level. His route to this point has been unique, particularly for a British cyclist.
"I think nowadays we are spoilt in how many paths there are to take. There are teams from all corners of the world giving opportunities to anybody good enough. The path I took worked for me and other paths work for others. I think that's the beauty of our sport, that you can follow a completely different path to another rider for several years but still arrive at the World tour and compete together.
People who follow the sport and watch most of the races on TV see it when you're working for somebody else or doing another job, others just look at the results. I've been progressing consistently and overcoming setbacks for the past few years."
Fast forward to the start of 2019, Hugh has signed a new contract with EF Education First, a move that saw him commit to the team for a further two years, which will take his total stay to four years.
"When I signed for this team at the end of 2016 it was very different to how it is now. I feel I made a great choice and I am very happy and settled in the team now, with team mates I consider friends. "
2019 saw a settled Hugh kicking off his season in France.
"I was due to start the season in Haut Var, but I got called up to Provence last minute. I suffered a bit and didn't have my best form by a long way, but I knew I would respond well in Haut Var having already raced. To score a podium finish in any race is nice but to do it in February at Haut Var gives you a nice confidence boost and reassurance that the winter training and preparations have gone well."
3rd place in Haut Var was a brilliant start to the year, especially when you consider he was only 2 seconds behind Bardet and 5 behind Pinot. This was a massive confidence boost for him, especially as 2018 had a few tough moments. The decision to stay with EF was a wise one, as there was no settling in period, allowing Hugh to start the season with a bang. Unfortunately, there was a small setback around the corner.
"I got a stomach bug while at an altitude camp 10 days before Catalunya. I had to take 5 days completely off the bike and even when I got back on the bike I felt awful and had to cut most of my training short. A couple of days before the race I started to improve and felt half decent again. The first couple of stages I felt reasonable and was hopeful I could do something later in the race in the mountains. But on the first mountain stage to Vallter 2000, I lacked strength and felt below par. After that I started to get a cold and more or less it was race over.  I battled on until the end of the race to get the miles in my legs. We think my immune system had taken a beating after my stomach bug and left me vulnerable to other illness. These things happen and while it's disappointing, you have to think that it could always be worse."
There was no rest, with Itzulia starting just a week away. Hugh was riding in support of Dani Martinez, but after the Colombian started to fade, he was able to finish 8th on the final stage, 12th on GC. He then went to Romandie, once again to ride in support of others.
"After Tour of The Basque Country, my confidence was back, and I felt good about myself. My role in Romandie was to support Mike Woods late into the stages and reduce groups for him to sprint. My performances and numbers were good, and I knew that if I maintained my health and raced smartly at the Giro I could be up there with the best. That helps to remove any pressure, and is a benefit of racing immediately before the Giro, there is less doubt about your physical condition. I wanted to try and ride a GC race since the winter, mainly to see how far I could go with it. If I did well then cracked on stage 15, at least I would have a reference to be able to improve on in the future."
Despite still being just 24 years old, this was Hugh's fourth grand tour, but his first riding for GC.
"Dealing with the mental and physical stresses is what it's all about. This year I felt great and had been going well from the start, so my head was in a good place all along. I had a couple of bad days mid-way through, but I managed to come back from that and find strength again. In the past the grand tours have felt like a real struggle but this year I never felt out of my depth."
One of my fondest Giro memories was the the opening TT and the climb to San Luca. It was brilliant to watch, what was it like to ride?
"It was fantastic. I couldn't feel my legs through the adrenaline for the majority of the climb. When the road flattened out with 500m to go, the crowds disappeared briefly, and the pain flooded into my legs. It was my first Giro to begin in mainland Italy and probably my favourite grand depart so far."
After an easy start to race, Hugh shot into everyone's thoughts with a brilliant 4th place in Como, the Lombardia stage.
"It was a couple of days after I had suffered a bad day so I was unsure if my form would come back. I realised I was on a good day on the Ghisallo and Sormano. I didn't have pain in my legs, and it felt like I wasn't breathing. On the lake-side road before starting the Civiglio I knew I had a good chance of a great result and decided to race on feeling and come out attacking on the final climb. It was a satisfying result on a long day. It's one of the first times I've been competitive after 6 hours of racing."
And just what is it like to chase Nibali up the Mortirolo?
"After the previous stage into Como I felt like I had lifted a weight from my shoulders. After that I was racing with less pressure on myself and had nothing to lose. When he attacked the lead group reduced significantly and I was still feeling good, so I decided to hop across to him. I hoped we could crest the summit with a small advantage on the Carapaz group and try and stay clear but we re-grouped and all finished the stage together."
After lighting up much of the final week, Hugh ended the Giro in 11th place on GC and netted two top 5 results in stages. Would he have signed for that before the race started?
"I think I would, yes. I think I have turned a corner in my career now and hopefully I can continue in that new direction."
Those who watched British Eurosport would have become accustomed to watching Hugh's interviews, some enjoyed them even more than his performance on his bike!
"It's definitely part of the parcel of the sport. I try not to get too wrapped up in interviews. The team's media staff manage it well, so the riders aren't too overloaded and stressed."
2019 isn't just about the Giro, there are still many races to come and opportunities for Hugh to shine. Those that know him won't be surprised to hear that he doesn't want to dwell on the Giro, but look ahead at what's to come.
"I have got Gippingen then Tour de Suisse next week. I'll then have a break then rebuild for the Vuelta. We haven't decided yet what will be my warm up race beforehand. If my legs are still responding well, I'd like to finish the season with some of the Italian one-day races."
Those riding the Tour de Suisse will be very wary of the young climber, if he can hold his Giro form, he'll be a hard man to beat. It will also be fascinating to see how his body reacts to doing two grand tours in the same season, something he hasn't attempted yet. You cannot underestimate the strain this puts on the body, so don't go expecting him to again challenge for GC, but it will allow him to hit new heights in 2020.
Before we get there, there is the small matter of the World Championships in Yorkshire, not too far from his home town of Preston.
"The course this year is less suited to pure climbers, like in Innsbruck, so it's going to be more difficult to make the selection. I'd love to be on the start line and hope to be in good form, but we'll see."
I think we've been in a lucky position all these years, being able to follow Hugh's path through the professional ranks and his Giro performance brought a huge amount of satisfaction and pride. The exciting thing is that he's only just starting.
Related
*Riders to Watch in 2015 – Hugh Carthy
*A Brit Abroad: A Year in the life of Hugh Carthy
Remember I've now got a podcast too. Go and give it a listen
David Hunter
Follow us on @CiclismoInter
Join us on facebook: Ciclismo Internacional
Copyright © 2012-2019 Ciclismo Internacional. All Rights Reserved