Il Lombardia 2015 – Preview
By David Hunter
Bergamo – Como 245 km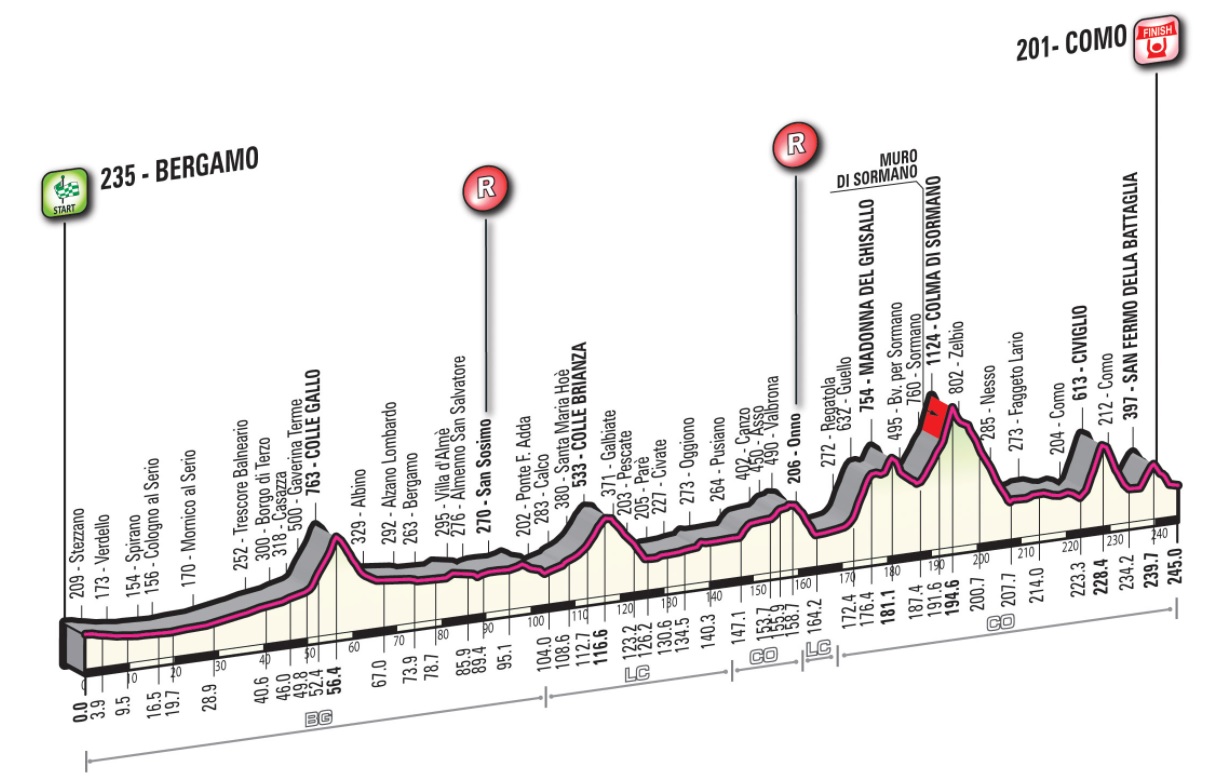 The last of the classics is here, as the peloton heads towards the end of the season. It's been 5 years since the race finished in Como, when Philippe Gilbert completed his Lombardia double. The race also sees the return of Muro di Sormano.
The day starts to hot up on Madonna del Ghisallo. The climb has a lot of history but it's not too hard, 8.3 km at 5.5%. Given the nature of the race, the morning break could actually be caught on this climb. It's still a long way from home, but with the Sormano coming soon after, the peloton won't be taking any risks.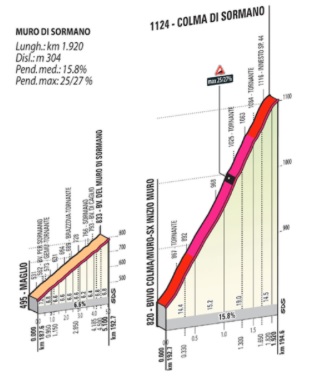 The Sormano comes 6 km after the Ghisallo, not leaving much time to recover. The climb is 7.2 km at 8.6%. It sounds hard but it's even worse! The final 2 km is ridiculous with gradients reaching 27%. We have 830m at 15.2%, 830m at 16.7%, with the final 160m at 11.5%. This is the crucial point of the race, as the climbers have the chance to remove the puncheurs. At 7 km is quite a long climb for riders like Gilbert and co. If Nibali wants to win, he needs to try and remove them here and slim the peloton down. Once crested, we still have 50 km to go.
It's hard enough going up the Sormano, coming down is a nightmare. Currently, the roads have got oil on them and the weather forecast is for rain. This is going to make it very dangerous, expect plenty of crashes.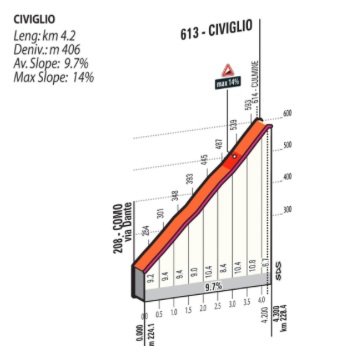 The final 50 km is far from easy, containing two difficult climbs. First up is the Civiglio. 3.6 km at 10.2%. After such a long race, this is a horrible climb to face. The peloton is likely to be small and controlling attacks will be very difficult. Teams will hope of having 3 or 4 helpers left, but most will just have 1.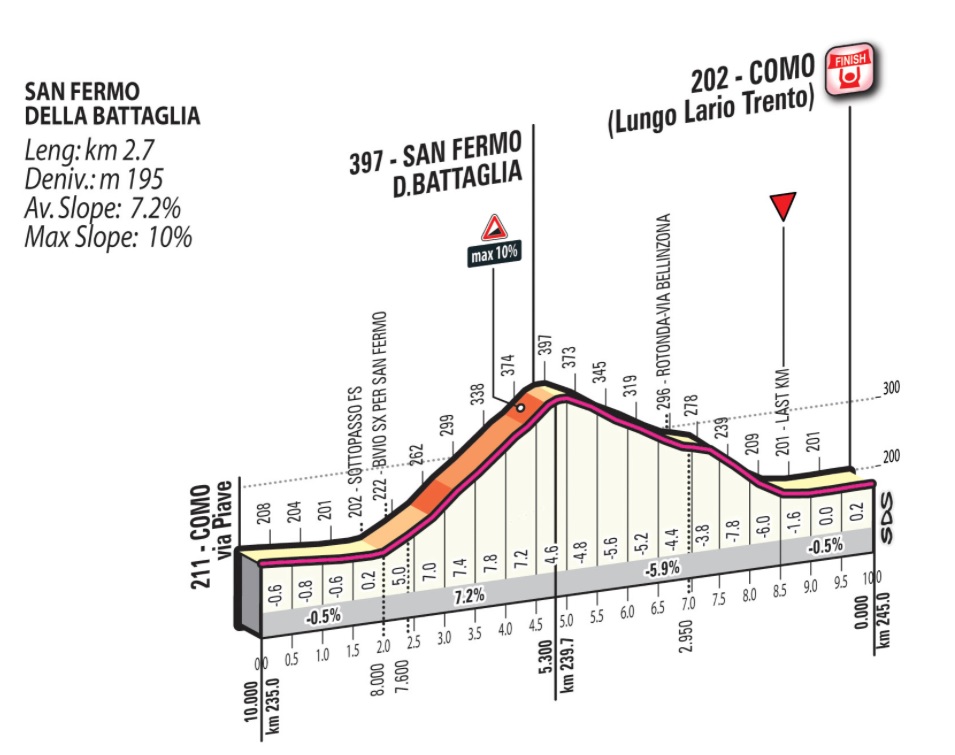 Cresting with just 5 km remaining, San Fermo Della Battaglia, is likely to decide the race. It's 2.7 km at 7.2% and does contain some steep sections of 10%. The descent towards Como just about ensures that first over the climb, will take the victory.
The three demanding climbs narrows the list of riders capable of winning. Add into the mix the distance of 245 km and you start to understand why this is so hard. It ain't called a classic for nothing!
Due to his incredible run of form, Vincenzo Nibali, is the big favourite. Considering his amazing palmaires, his record in 1 day races is really poor. The italian has won the Tour de France, Giro d'Italia and Vuelta Espana. In the process, he has taken 9 stages. His recent wins in Coppa Bernocchi and Tre Valli, were his first in a 1 day race since 2010 and Trofeo Melinda. I have not included his wins in the Italian road race. What is missing, is a classics win. If Nibali could get one, it would set him apart from Froome and Contador. He was close in 2012, finishing 2nd in LBL and 3rd in San Remo. Since then, he's not looked like getting close. His current form is crazy. He seems able to distance anyone when he wants, but the worlds course wasn't great for him. The short climbs were better for others, but he's back home now. Astana will make it a hard race and Nibali will attack from distance. Common sense suggests he'll make a move on Civiglio, but I wouldn't be surprised to see him go on the Sormano. It seems like this is his moment to take another big win.
His main rivals are the Spaniards, Valverde and Rodriguez. That was until disaster struck and Rodriguez crashed in training.
Alejandro Valverde finished 2nd here in 2013 and 2014. As we all know, he is incredibly consistent, in the Classics. When the race reaches the 250km mark, he gets better and better. Look at him finishing 5th in the World Championship, beating many sprinters to the line. It's been another great year for Valverde: 1st in LBL and Flèche, 2nd in Amstel, 3rd in the Tour and 7th in the Vuelta. Another podium spot looks a certainty, but can he make the top step? He arrives with a good team, especially Visconti. The Italian has worked well for Valverde and has been talking about targeting this race. If he gets a little freedom, he could do very well. A wonderful climber, he excels in these conditions and I expect a big result for him. Allowing him to attack would be great for Valverde, giving him a free ride in the bunch.
Rafal Majka finished the Vuelta in fine shape. He looked solid in the World Championship and gave his legs a good test in Milan-Torino. The Tinkoff rider is a serious contender for the race. Going against him is his typical form in one day races. It's not really his speciality, but such a tough parcour, is great news of him.
Another rider in wonderful form is Thibaut Pinot. He seems to have carefully managed his schedule, since finishing the Tour de France. He won Tour du Gévaudan, before looking good in Tre Valli and Milan-Torino. His big focus has been Lombardia, but the weather forecast is not good news for him. A rider that struggles on descents is not going to like parts of this race. He needs to stay with the leaders, as he has a great chance of success. A solid looking team will support him but it's going to be hard to beat the big 3.
It's been 5 years since Philippe Gilbert won in Como. He's achieved a lot since then, but is still hungry for more. If the race is fast, the Sormano and Civiglio look a little too hard for him. The finish is perfect, so the climbers really have to eliminate him before then. If he does get dropped, BMC will turn to Sami Sanchez. He was 2nd here in 2006, 2009 and 2012. If he continues that pattern, another 2nd spot is his!
AG2R will expect to have 3 riders near the end of the race. If they do, that would have a significant opportunity. In Bardet, Pozzovivo and Vuillemoz they have quality. Bardet looks their best bet, but that will be decided on the road. If we have a small peloton, having multiple riders is great. As the others get isolated, it allows you to join a variety of breaks and force the others to chase.
Orica are another team with a few stars. They have Gerrans, Adam Yates, Simon Yates and Esteban Chaves. All is not well in the Aussie camp, with old rivalries exposed in the World Championships. Matthews isn't here, so we can focus on the riders. Gerrans is in the same position as Gilbert. The pace of the race will decide if he survives Sormano and Civiglio. If he does, he stands a great chance of success. After such an unlucky season, this would let him enjoy the winter in good spirits. Chaves hasn't competed since the Vuelta, so his form is unknown. The Yates boys could both challenge, recent form suggests that Adam will go slightly better. Gerrans would be their best hope, but only if the race is slow.
Lotto are here with their young stars and one wise head. Tony Gallopin is currently enjoying some great form. The distance and profile won't bother him and he will certainly be around near the end. Wellens and Benoot will also be there to help him out. Both youngsters have had good seasons, with Wellens retaining the Eneco Tour and Benoot producing results that make a mockery of his age. His 5th place in Flanders is still one of the best results of 2015. Lotto have a big chance of a podium.
Since crashing out of the Vuelta, Dan Martin, has been resting up. He's the defending champion and this race does see champions defend their title. His lack of racing makes it hard for him but he does like this race. If he has recovered well, he's a big threat. Given the season he's had, I think he won't be competitive enough. Cannondale might have to rely upon Tom Slagter. He's never produced the goods here, but his recent form is promising.
Etixx have a lot of captains. With Kwiatkowski, Stybar, Vakoc and Brambilla they should be able to have a say in the race. The Sormano looks too hard for Stybar and Vakoc, so we might see Etixx going in the morning break. Free from the rainbow jersey, Kwiatkowski, will get a little more freedom. It's very hard to surprise the peloton, when wearing the white top. His 8th place, in the Worlds, was a good result and he does look to be getting back to form. His season has been a disappointment, especially after such a strong start. He was great in Paris-Nice and won Amstel Gold. Since that point, it's not been good. We do have some green shoots of recover, let's not forget what a talent he is. The climbs shouldn't been too hard for him, the descents will be fine and he has a fast finish. If on form, he would expect to challenge for the win.
The other riders who will hope to finish in the top 10 are:- Cunego, Rebellin, Mollema, Rui Costa, Poels and Barguil.
Prediction Time
Astana will make this race very difficult. They have to remove riders like Gerrans and Gilbert and they will. Given the season they have had, their strength should not come as a surprise to us. That will leave Nibali with the job of distancing Valverde. If he does, he wins the race, as no one will work with the Spaniard. Nibali knows that he has to win solo, thanks to a poor sprint. The Civiglio is where he will attack, but he might wait till the descent. Given his current form, the Italian, is the obvious pick for the win. The bad weather only increases his chances.
David Hunter
Follow us on @CiclismoInter
Join us on facebook: Ciclismo Internacional
Copyright © 2015 Ciclismo Internacional. All Rights Reserved