Interview: Alessandro Petacchi
By David Hunter
This is what you call a palmares:-
22 stage wins in the Giro, 20 stage wins in the Vuelta, 6 stage wins in the Tour, winner of the points classification in all 3 Grand Tours, winner of Milan-Sanremo, Paris-Tours and Scheldeprijs. Easily, one of the most decorated and successful sprinters ever. Well he's back! At the tender age of 41, AleJet will join Southeast cycling team. The team who were Neri-Sottoli have changed title sponsors and have brought in a legend.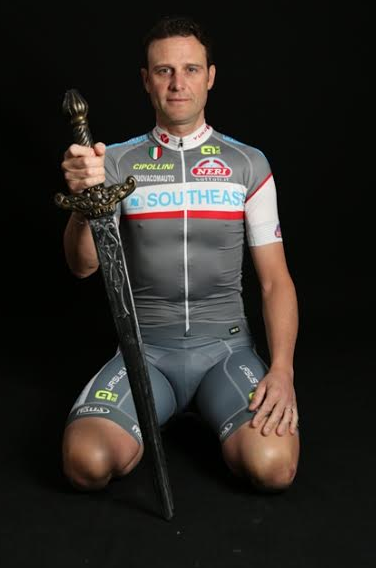 Incredibly this is his 20th year as a professional cyclist. Not many riders have the longevity of Petacchi. What is his secret?
"I have motivation, for sure it's very important. I have a big engine, it's key for training," he said to ciclismointernacional.com
Although he's not finding it as easy as he used to!
"The first 15 years, was easy, now it's more difficult for recovery. I'm so tired after training hard. During the winter it is more difficult, because you train for 3 days and then have to recover. During the races it's better, but just training everyday for months is very difficult."
His future wasn't secured until very recently. His contract had finished at OPQS and without a secured deal, it looked like the end of a beautiful career. That was until he started talking to Angelo Citracca, the director of the team.
"I though I was going to stop after OPQS, but Citracca called me and he told me he had a lot of young guys and he wanted me for my experience. We spoke 5 or 6 times about the project, the season and the races. My teammates are very young and I think I can speak with them and help with training, tactics in the sprint and the Giro.
When I change team, I need a motivation, a stimulus. When I think only train and race, for work, it's not good. I have won so much. I need something else to help me continue. I now have young guys, okay it's not a big team, but that means there is less stress. For me, now, this is good."
The role as mentor is one that certainly appeals to Alessandro. He's right, after winning so many races, he needs another reason to join a team. The chance to race in some big races, but also help to develop the future of cycling is a cause that excites him. When I asked him to identify his best ever win, he did so in 1 second!
"Milan-Sanremo. I love Sanremo. In 2015, it's now back to the same route as when I won in 2005. I want to race in this Sanremo, maybe this is my last one, 10 years after I won and on the same course. For me this race is the best in the world, I like the length of the race. It's an easy race but also a difficult one. If you spend too much energy early in the race, you have no chance. Sprinting after 270km is different, more difficult. In the last couple of years it has been really cold, when that happens it's shit! I don't know why I like it so much, even when I was young I always liked it and thought I wanted to win it. I was 4th in 2004. I decided to change my training and I lost 2 kilos. The next year I won. I was also 2nd in 2006 and 3rd in 2010. I had a few 4th and 5ths, I was always in the front. It's different to all other races because of the length and climax. It's beautiful."
When you talk to a man of this stature you have to ask about former glories. His top 3 moments in his career are:-
"Sanremo, my first Giro win, where I also took the pink jersey and standing on the podium on the Champs Elysees, wearing the Green jersey."
It was in 2010 when he proudly stood on the Champs Elysees. It gave him the grand slam, winning the points jersey in all 3 Grand Tours, the first man to do so since 1999. It was the first time an Italain had won Green, since 1968. He knew the significance of the moment and wanted it to last forever.
"I said to myself, slowly up the stairs as I want to savour this moment. It only lasts 20 seconds."
Enjoying the moment is something that successful cyclists sometimes forget to do. They can be very quick to focus on the next goal and don't enjoy their successes. It's not always that easy, Alessandro explained.
"When you win Sanremo, the next day is a great moment. You read the paper, all the websites, you read everthing! You then have lots of interviews too. For 1 week it's a great moment. In the Tour, after you win, after dinner, it's finished! The day after is another day and it can change everything. Maybe, you lose and nobody remembers your win. It's not the same, you remember winning but then think, shit, today I lost. In the GTs it's different. When you win a one day race, you have time to enjoy it. In a GT you don't have time to enjoy it."
The chat turned to the season just past. At the age of 40, AleJet rolled back the years, to take the win at GP Cerami. Despite all his successes, it's still nice to cross the line first.
"Normally I work for Mark(Cavendish) or sometimes Renshaw. In Cerami, my condition was better, so the team wanted to work for me. A couple of days before, in Scheldeprijs, I did a shit sprint and finished 4th. But I thought it was okay as my condition was good and I could try and win Cerami. I did a really good sprint, because it's a 300/400m rise at 2%. I was really happy as I won at 40 years old. It was important for me and the team. I really enjoyed it, as I signed for the team to work for Mark and some others, so I only had 1 or 2 opportunities but I won. It's good, no?"
Good, it's brilliant! 2014 was his last Tour de France. Things didn't go to plan for OPQS as Cavendish crashed on stage 1 and had to abandon the race. It meant a change of tactic for the squad, as Renshaw was thrust into the sprinting role. With only 1 podium spot to show, it wasn't a great success for the team. The final stage, on the Champs Elysees, was the last time Petacchi would ride down the famous street.
"I tried the sprint on the Champs Elyysees. Renshaw wanted to work for me, as I worked for him all tour. We lost a bit of luck in the last km and I couldn't get past him. I was so tired as the tour started really shit. I don't know why, but my body was really bad in the first two stages. After the first week, I started to feel good, but the last couple of days I was really tired. But the last stage, is only 120km, so I tried. It was difficult, OPQS is a strong team, but in this Tour we lost Mark. The team is just for Mark and I understand the guy who works for me, or Renshaw, does not work 100%. It was my last tour. It was a strange tour."
That was a very honest assessment of his former teammates. I got the impression that he fully understood that they held something back when working for Renshaw or him, but there was some disappointment there too.
It looked like being his last Grand Tour, but all changed when Citracca phoned.
"The team wants me to go to the Giro. I am behind in my training because I spoke with Citracca for 1 month and  although I did train, it wasn't with the same intensity. Now I start and maybe I ride in February, in Etruschi, I don't know. I have time to get in shape for the Giro and Sanremo. Maybe I can do 10/12 races before Sanremo. I need to do a lot of training now. I need to get behind the Vespa. I need just one guy and a Vespa for my training!"
On the same day his signing was announced, Southeast, also signed the talented 20 year old, Jakub Mareczko. 2 sprinters, separated by 21 years and a lot of wins! Mareczko is a very fast, young rider. No doubt, they will hope Petacchi passes on some of his knowledge to his young apprentice. A role Petacchi is very happy with.
"Mareczko, I read about him in the newspaper yesterday. Citracca tells me he's very fast, winning 13 races. Maybe, I will get the chance to help him. I don't know him. I need to go training with him, to see his position, his characteristics and his qualities. For sure, he is fast in the smaller races.
I think when a rider is young and fast, it's much easier to win over a rider who is stronger on the climbs. When you are fast there are more opportunities for you. In a small race, when the team works for you, you can win….easy!"
Talk naturally turned to his future after racing. Everyone expects that AleJet will call it a day at the end of the year. I asked him what he planned to do, when he retired.
"I spoke with Citracca about the future. He says, if I want, I can stay in the team and work with the young guys. In October/November, when I was unsure if I'd race again, I started to work with Michele Bartoli, to help as a trainer. I like working with the guys for training, looking at things like their position on the bike. Once when I went out on my bike, I stopped an amateur guy and I said to him that I didn't like his bike! It was too short.
I train with 3 to 4 amateurs. They are really young guys, around 20 years old. They following me everyday, I like this. They want to study. They want to learn from my experience. This is good. I speak to them a lot, as they are the future of cycling."
Enough talk of retirement! 1 more year of professional cycling, 1 more Sanremo, 1 more Giro. How many wins? Is it just coincidence that 10 years since he won Sanremo, the route returns to it's old self?
"When I see SanRemo is the same I think it's so strange. When I arrive in the front I can do the sprint. Winning is difficult, but if I could finish in the first 5 guys at the age of 41, it would be incredible. When I race, I will try and do a perfect race, but it's not easy. I only hope that we have no rain and no cold because it's much harder when I'm old. When it's cold my legs are shit! Before it was no problem."
As a man at a similar age to Petacchi, we ended our chat by discussing weight problems! As all 40 somethings know, it's much harder to lose weight now, compared to our younger days.
"Now I'm a little fat! At Christmas I ate a little too much as I was nervous about my future. Now I see that my body is a little fat, okay not too much. At my age it's difficult to lose weight. When I was young, my pulse was faster, so it was easier to lose weight. I need to go out on long training rides now. When you are 38, 39, 40, it's tough. Now, when I stop for just 1 week, it's so bad! The body is different. Sometimes when I'm training the first 4 hours is so hard but the last 2 hours are good. Although, I think it's normal!"
Yes, it sadly is!
What did I make of Alessandro Petacchi? The man was a true gentleman. He's a brilliant signing for Southeast, as he will pass on a lot of knowledge to their young riders and also help to publicise their brand. I for one, will be cheering him on for 1 last Milan-Sanremo. Go AleJet!