Interview: Johan Jacobs: "In 2022 people can expect a better, stronger version of myself"
By @EchelonsHub
Having signed his second 2-year contract at Movistar Johan Jacobs is slowly moving up the ranks in the peloton and is consistently solidifying his role in the Spanish team despite the multiple obstacles put in his way in his first experiences at the highest level.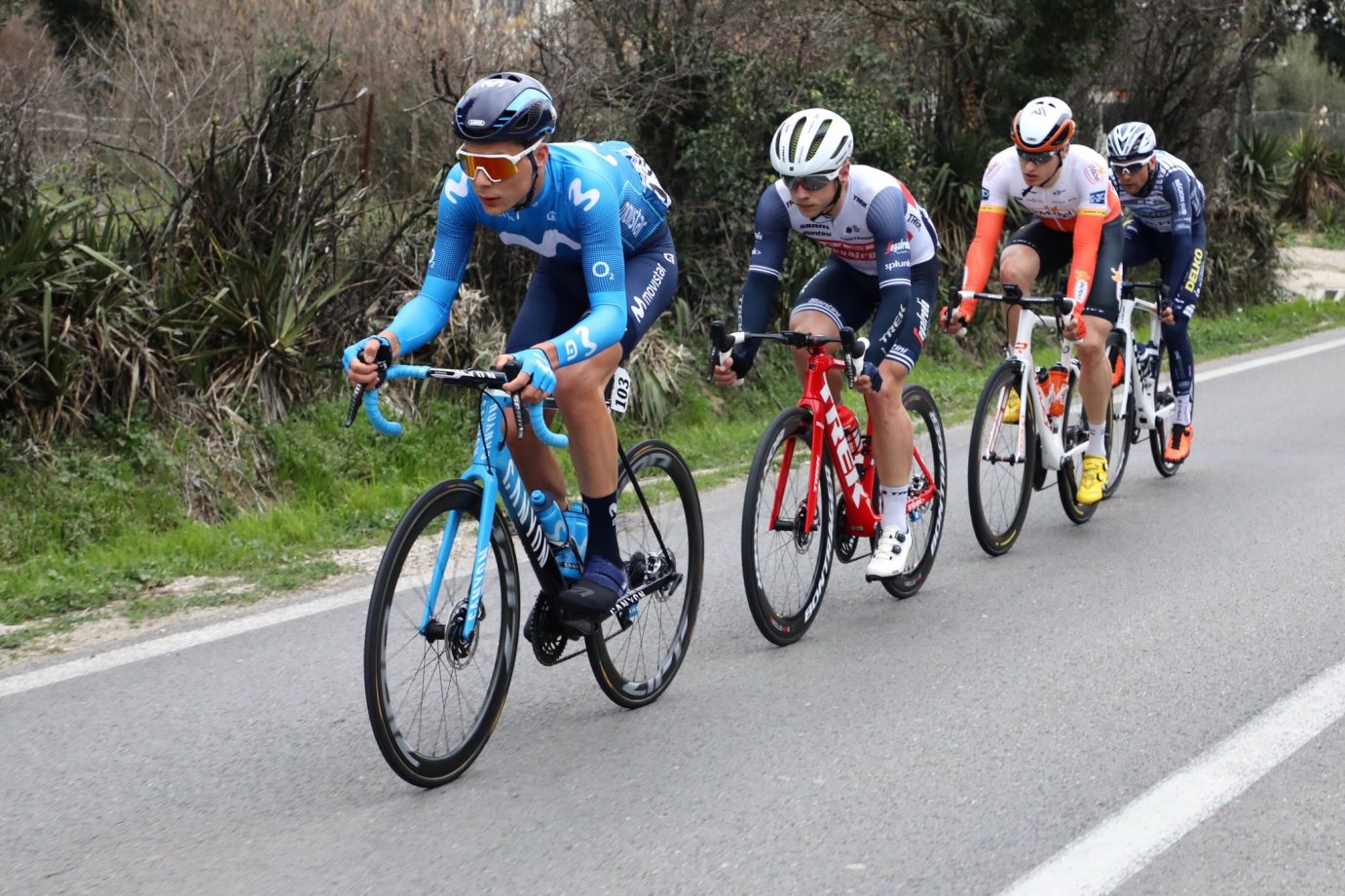 Whilst training in Calpe, like a significant portion of the peloton at this time of year, Johan was generous enough to give up some of his time in order to share his experience at one of the best teams in the world, with a vision that is very different than the one I found in early 2020, one of an eager neo-pro who was about to tackle his first cobbled classic as a pro rider.
"Yeah the weather is really kind to me at the moment, let's hope it stays like that for a while," he quickly mentions, knowing well that back in Belgium, his current residence, the weather doesn't bring many reasons to smile during the winter months. But soon enough he explained what has changed since his debut in Movistar.
"The whole world I think. Corona has happened in the meantime, a lot has changed I think, now being the third year already with the team and I don't think I really had a normal season yet. This year had some influences of the pandemic, some races without spectators, some races cancelled in the early part of the season I think, this felt like my first year actually."
"I did for example the Tour of Flandres two times already but I have not seen a single supporter on the Oude Kwaremont, it's not quite special I think," reflecting on the effects of the pandemic, which has not yet given much of a break on the Swiss rider.
The classics are indeed his speciality, in my eyes at least, Johan is a tall rider with the ideal physique for racing in Flandres and his base is exactly around the holy region, his past as a cyclocross rider has given him the technique necessary to thrive on narrow roads, chunky terrain and explosive climbs, and his debut in the cobbles saw him finish 27th [Omloop Het Nieuwsblad 2020] alongside the likes of Sep Vanmarcke, Anthony Turgis and Tim Wellens. You can say he is a diamond in the rough, and is racing for a team that has historically never had much of a focus in these races.
"Yeah I think it's one of the teams where in the classics there's no real big favourite for us to win so we don't have meaningful roles, or really have to get your whole team behind and work for one person. Ivan is a really good outsider but it's not like we have to carry the race or shape the race, we can go and follow a bit the others and I think that's a great opportunity for a lot of us which is really nice." The debate between being in teams where you can perhaps grow in the shadow of big leaders or others where you can quickly get your freedom to see the results you're capable of achieving is one where the answer differs from person to person, and although that may be, it's safe to say that Johan has found an ideal home to develop in Movistar.
"I think in my position in a lot of teams I would have to pull in the beginning of the race and having a much more domestique kind of role, which I still have with Ivan or another teammate, but I think we don't have the pressure as a team to push in these."
Outside of the classics though, Jacobs has had a better opportunity to focus on the stage-races alongside his peers and see what he was capable of. "It was new for me, I got to know more of these races, I was only used to doing races in the north of Europe and northern classics, I never really did big stage-races also because in my first year there weren't any really big ones which I could do, pretty much only the Grand Tours. Now this year I could get to know a little bit more, like the Tour de Romandie, Tour de Suisse… These races prepared me for a good second half of the year aswell, after altitude camp I did San Sebastian and Burgos which went pretty well and I had quite good form in there, I got a spot in the Vuelta which was really good and a big honour."
After tackling his second classics campaign, in which the most prominent result was a 23rd place in the heavily disputed E3 Saxo Bank Classic, he redirected his focus onto a more supporting role. He was within reach of the Swiss road title but it was his quality in protecting the team leaders that has seemed to spark the most attention from Movistar.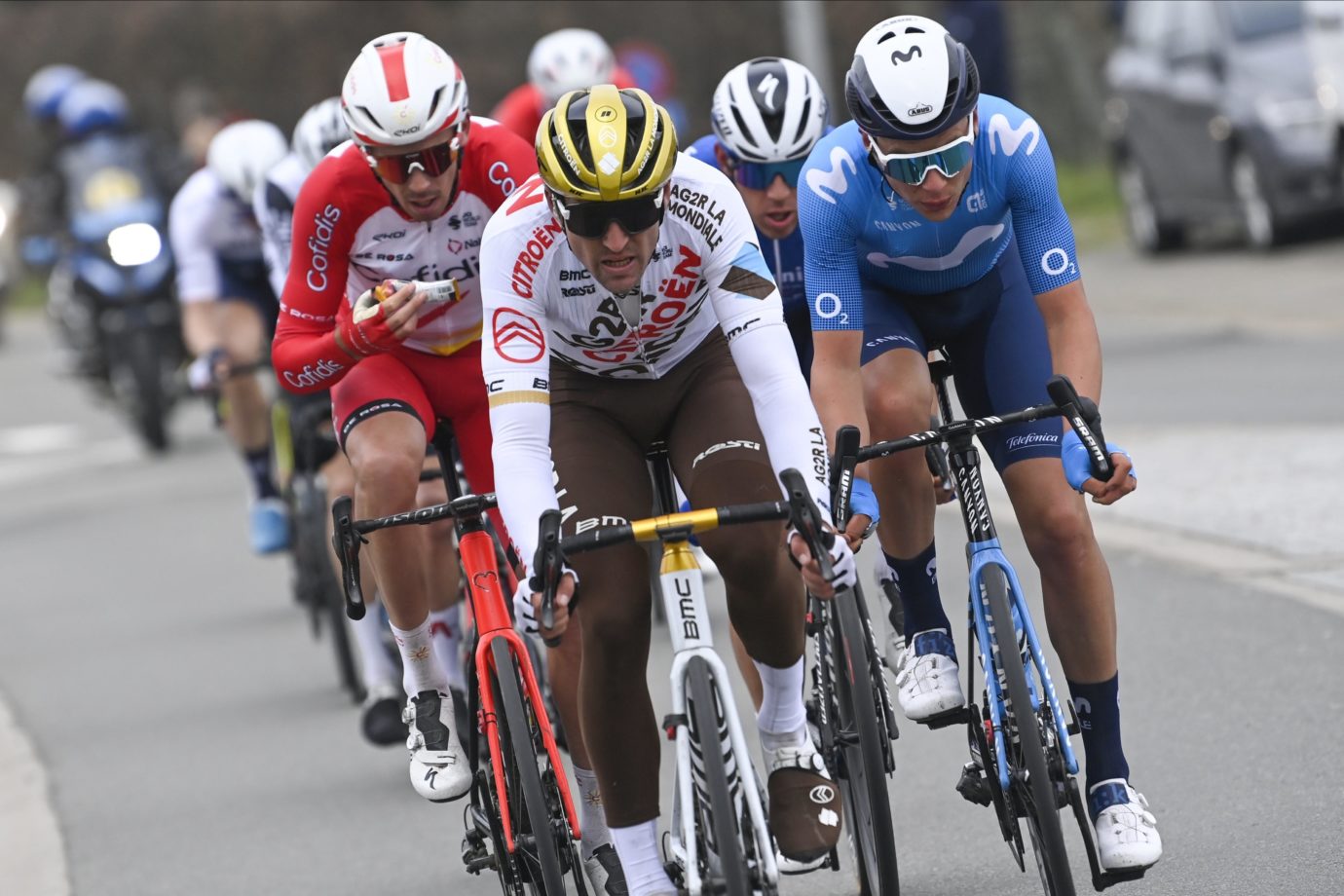 After a good run of form and some promising results he was selected to ride the Vuelta a España, with the ambition to safely guide through the flat and treacherous stages his two leaders, Enric Mas and Miguel Ángel López. "In the first week whilst I was there I had really good form and I think I could show my value to the team and such a way as a domestique for the flatter stages, which I think we mastered really well as a team. Unfortunately the adventure ended bad, in stage 9, still I was feeling really good also in the climbs, I felt like I had my place in the team."
Unfortunately cycling's reality hit on stage 9, as Jacobs suffered from a bad crash which ended up in a broken shoulder blade, a broken a rib and a pneumothorax. However despite the severity of these injuries, that would break a normal person, Jacobs seems to be recovered from them and is looking onward confidently. "I feel quite good actually, fracture in the shoulder blade went away quite quickly, and the ribs weren't a big deal, it hurt like hell but you can't do much about it. The shoulder one was no problem and after like five weeks I was back on my bike, riding normal without much pain or interference, no problem."
"The only thing that I was a bit scared about was the lung – the pneumothorax – it collapsed. And there you actually don't really know how you are unless you're going full-gas, you don't really know how your lungs will work. On X-Rays and such everything looked normal so then I did a fitness test in November and I didn't feel any issues in my breathing at the end of it so I guess it's all good now."
Into his third season it's safe to say that Johan is yet to experience some of the racing that he was set out to do. Covid and injuries have put him off the original schedule, however the team's trust in him means that he will have the chance to make a comeback, and one that I personally expect to be a meaningful one. "In 2022 people can expect (hopefully) a better, stronger version of myself. And I'll continue to explore myself in the different areas/races of this sport," he replies, upon being asked the ever-difficult question regarding what the next season will hold.
Rúben Silva
Follow us on Twitter and Instagram
Join us on facebook: Ciclismo Internacional
Copyright © 2012-2021 Ciclismo Internacional. All Rights Reserved