By David Hunter
He's 26 years old and hails from the Czech Republic. Riding for Net App – Endura, he finished 9th in the 2013 Vuelta and took a brilliant stage win on Alto de Penas Blancas. This performance, almost single handedly, gained the team a wildcard for the 2014 Tour de France. This is a magnificent achievement for the squad and they look forward to mixing it with the best.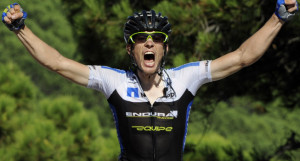 Leo has started off 2014 quietly. He raced in Mallorca before heading over to Oman. Unfortunately he punctured on the Green Mountain and we weren't able to see him compete with the others. He is very focused on producing the goods in the Tour and is aiming for a high placing on GC. I recently caught up with him before Tirreno to ask a few questions.
You have now completed races in Mallorca and Oman, how did your legs feel in the races?
Before Mallorca I got a little bit sick so the feelings were not at their best but in Oman it turned out to be a very nice start to the season with quality racing, except the bad luck on Green Mountain where I punctured, it was a very successful race.
Do you notice an improvement compared to last year?
I never felt so good in February comparing to other years, so I hope I can take advantage of that and be on the top level in coming races.
You now have a little bit of time off before Tirreno. What will you be doing?
I want to do some quality training in the mountains. (Due to a minor knee injury, Leo won't be starting in Tirreno-Adriatico.)
Do you train alone or with other riders?
I prefer to train alone.
How do you keep motivated between races?
Before every race I try to think about it. Im watching the profiles, routes and focus on that.
This was your 1st time in Oman, what did you think about the race?
I think it's a really nice country with perfect conditions for road cycling. Especially in February it's not easy to find a place not so far from Europe for quality racing. The race is organised by ASO, so it is really on the top level of organization and we can see every year high profile riders going there.
You punctured at the bottom of the Green Mountain and had to fight to get back to the group. This left you without energy for the hard part of the climb. Was it frustrating not to be able to see how you would compare with the others?
It was just bad luck. Of course it's a shame because the team worked for me and I wanted to repay them their effort. The day before, I came in the first group, so I was, of course, curious to see how I stand against the others on the Green Mountain.
How were the hotels, the transfers and the organization?
The hotel was unbelievable, which we really enjoyed and the organization was exceptional good.
Cyclists talk about being able to peak 2 or 3 times in a season. How do you make this happen?
You have to have a really high standard through the season and from that you can adjust your training, diet etc. 2 or more times per year to peak your fitness, it is extremely hard not only physically but also mentally.
The last time I interviewed you the wildcards for the tour hadn't been chosen. How pleased were you to get one? Has it always been a dream to ride the tour?
Of course it is the biggest thing what could happen to our team so we are really focused on the Tour with all the preparation and race program. I think it is a dream of every cyclist to take part in the Tour as well as mine.
Are you a rider that looks at stages in advance or do you like to wait until nearer the race?
I rather look at them in advance to prepare mentally.
Will you be riding on pavé to help prepare yourself for stage 5 of the race? What bike are you riding this year? 
We plan some recons on the pavé in April. I´m using the same Fuji bike this year.
What is your favorite bike of all time?
Fuji.
When you travel to a race is there something you have to take with you?
Many books.
Who do you share a room with?
Last time I shared with our new Czech rider Frantisek Padour. It depends who is on the team for a certain race.
What's the best thing about being a cyclist?
Doing the job you love because I don't believe that somebody can do cycling without passion.
And the worst?
Lots of time away from home, sometimes dangerous.
Leo has certainly a rider to keep a close eye on in 2014. He is strong in the TT and good in the mountains, the perfect combination for a Grand Tour rider. Injury has hampered Leo's progress this season, but he is back in full training and due to ride Giro del Trentino.
David Hunter
Follow us in facebook https://www.facebook.com/CiclismoInternacionalLatinoamerica?fref=ts … or Twitter @CiclismoInter