Interview-Michael Matthews: "My main objectives are the spring classics, TDF and Worlds"
Por @pmpalermo
One of those brilliant athletes who came calling from the track is Michael Matthews. He's already stopped being a promising rider and become a reality, with performances like those delivered in 2014 Giro and Vuelta. Not only did he win stages but he also wore the pink and red jerseys.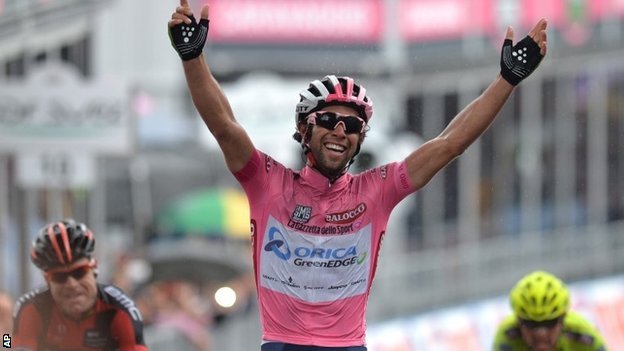 Nevertheless, next season, the Aussie will not head back to Spain, as he confirms to Ciclismo Internacional: "I like both the Giro and the Vuelta. We will see how the season will be going, but at this stage the Vuelta is not on my list. "
And the main reason for the absence is that our guest thinks about riding the Tour de France, the only Grand Tour in which he has never taken part, "One of my main goals for this year was to ride well at TDF. It didn't happened because of my injury so that's why it's one of my main focuses for next year", he said: "I have never raced TDF so don't know what to expect. I have spoken with Oscar Freire about it and he told me it's a totally different race from anything else so I will make sure I am 100% ready for it and let's see."
Matthews does not say, but his presence in the Giro is also likely, especially when the event starts again, with a team time trial, which would allow him to repeat the story of the last edition: "For Orica-GreenEDGE definitely. We have a really strong TTT team and I think it will be great to repeat the team win."
This is no small feat when you consider that the Orica rider was a protagonist of the first week, which was crowned with victory over Cadel Evans on the day of Montecassino. Did Cadel let him win? "Cadel is a true champion and champions never give away a race. His face expression in the finish line said it all. I would never want to be given a win, I want to fight for all my wins."
In addition to the good performance in the Vuelta, Matthews achieved excellent results on Spanish soil with two top 10s in Mallorca, victory in Vuelta a la Rioja and Itzulia stage, which is explained by his affection for the country: "Yes, I love racing in Spain. The climate is my friend :) The fans in Spain are incredible and it's always a great experience to race there. I hope I can do some more racing there again next year."
In the World Championship, many were waiting for Matthews to shine in Spain again, but Bling was clear of his role in the race: "I was going to this race with good shape, knowing that the course was quite suitable for me. Our team leader and captain was Simon Gerrans, who we were riding for, so my main job was to help him."
Gerrans seems his only obstacle to contend for a national title or classic like Amstel Gold Race, but Matthews will not be heading to the local test and unsure of his presence in the Netherlands: "I am not competing at nationals in Australia this time. I live in Europe and for this season I decided to stay here and train here too. Amstel is definitely a race I would like to win one year. It's too early to say who the team will ride for in this particular race next year, there is a lot that could happen between now and then."
Matthews still has room for improvement and we saw him a lot stronger on the climbs in 2014, he explains: "Actually not much of a focus in 2014, it was just a different training program I had. But for the next year, I am definitely going to focus on this."
Obviously, the strongest strength from our star is speed, but we've not seen him defeating the great sprinters of the world: "I am not a flat sprinter, I can't beat sprinters like Kittel. My main focus is on a little bit more complicated races and uphill finishes."
In closing, the Australian quick, talked about his goals for 2015: "My main objectives are the spring classics, TDF and Worlds."
Do not lose sight, Bling has continued to improve since his entry into the World Tour and perhaps, given the opportunity in the Big Bouclé, could threaten in the many climbs arranged by the organization.
Copyright © 2014 Ciclismo Internacional. All Rights Reserved