Interview – Riders to watch in 2021: Quinn Simmons
By David Hunter
Come on without, come on within, you'll not see nothing like the Mighty Quinn.
Manfred Mann knew what he was talking about. You see, there's a kid who's just 19 years old, but he's already had a season at world tour level and he's ready for another. Quinn Simmons destroyed everyone in his age group for many years, which led to his decision to skip the under 23 ranks and sign for Trek-Segafredo for the 2020 season. Now, stepping up from the juniors straight to world tour is an enormous leap, one that very few could cope with, but Quinn felt it was the right call for him.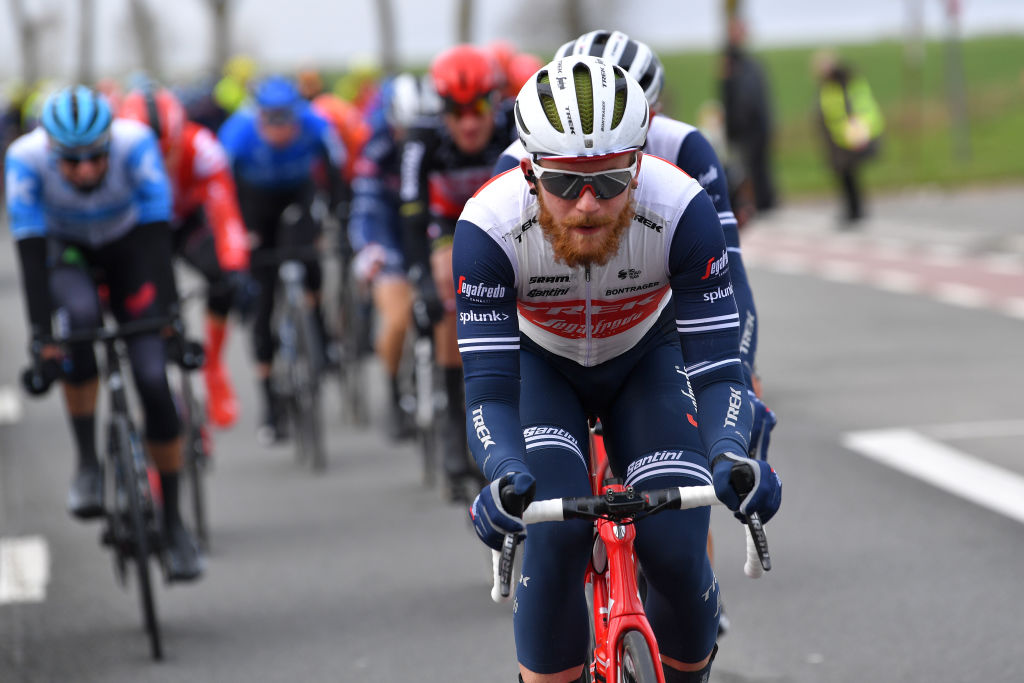 "That's what I wanted(going from being the best to just another rider) and why I chose to skip the u23. I didn't have the best start but after the corona break I knew more what I was getting into and showed up in much better condition. Being able to pull a few small results at the end of the year I can go into next year confident that the first win is close."
Despite his age, Quinn is a very confident individual. To be at the top of any sport, you require a certain amount of self-belief, and I sense that Quinn has it in spades.
"I had signed the contract with Trek-Segafredo before Yorkshire, so I knew I had a future in the sport. I knew I was the best jr that year, and Yorkshire was just the way to prove that."
When any rider moves into the world tour the first few races are normally a massive eye opener. Simple things like moving up the bunch are a reminder that the world tour is very different to what has been experienced before. After a couple of early season races in France, Quinn bounced straight into the opening weekend, at the time he was just 18.
"Opening weekend for me is something I had dreamed of racing for the past few years, to finally get to race those roads in a professional race felt like a big accomplishment for about 15min and then I realised how hard it really was and just had to focus on doing the job that was needed from me. Personally the form was not great and was a bit of a disappointment, but to play a small role in Jasper winning is the best start to the classics I could have hoped for, really a nice experience."
Then came the corona virus and everything stopped. Like many athletes living away from home, Quinn managed to retreat and seek solace in his home country.
"In America things were not so bad, we avoided lock downs and with the exception of having to wear a mask we could continue life pretty normally. This gave me a big block at home to really prepare for the restart."
When Quinn says a big block he really means it. He was smashing out nearly 1000 kilometres every week from his base high up in Durango, Colorado, while his European teammates were locked up in their houses on the home trainer. This meant when he returned to racing he hit the ground running with a very impressive performance in the Tour of Poland. His finishing position of 16th on GC might not raise too many eyebrows, but he was very active in the Queen stage and could well have achieved a big result with a little bit of luck.
"It was great, to first be a part of the lead out for Mads to win his first race as World Champ was really nice. For myself my ride on the Queen stage was a good showing, a bit of a disappointment as some tactical errors cost me what may have been a really nice result but a good step in the right direction."
Next up was the Bretagne Classic, which this year was a relentless lap circuit. This was the first time that Quinn had ridden a race of 250km, but despite this he finished 6th, thanks to being in a great position in the closing kilometres.
"This day for me was very good, the legs almost too good as I was way too excited in the final and cost myself what I feel could have been my first victory. A good learning experience and proved to myself I can ride at the top level of a WT field."
Second place in the Tour of Hungry followed quickly after, that elusive first professional win was getting closer, but Quinn's season came to an abrupt end after he used a black waving hand in a tweet. Trek-Segafredo were quick to suspend Quinn, and he apologised for any offence caused(although not intended) and repeated his stance against all types of racism. Clearly the tweet was misguided, but being young and in the spotlight isn't easy, I'm very happy I wasn't on Twitter when I was 19.
"It's hard for sure, especially being an American at the moment. I'm not here to worry about social media, I'm here to race my bike and that's what I plan on doing."
With the incident behind him, and the suspension lifted, Quinn is currently preparing for the 2021 season over in Durango.
"Already compared to last winter I can feel a big jump, the stress of a WT season + a good off season, I feel will really pay off next year."
Trek-Segafredo have a very strong classics squad, one that has a great amount of stability. They will head to the opening weekend with Stuyven, Pedersen, Theuns, Kirsch and Quinn. That is a hugely talented group of riders and they should be challenging for more wins, especially as they'll have multiple riders left in the front group near the end of most races.
"All the guys on the classics squad do their job so well it's really a great place to learn. With a rider like Jasper in charge it's very easy to want to ride for the team, when we all commit 100% we're a hard team to beat. I look forward to racing my first monuments next year with this group."
2021 promises to be a huge year in the life of Quinn Simmons. Modern cycling is quickly changing, no longer do young riders have to wait in the wings, they are getting opportunities at a much younger age. He might be 19, but just you wait to see him fly this year.
"I ride my bike to win, no one puts more pressure on me then myself. With the right preparation and a bit more experience I can't wait to see how this season goes."
Some riders downplay their expectations at the start of the year, but not Quinn.
"To go without a win last season for me is quite frustrating, that needs to change in 2021."
And finally, what has Quinn learned this year?
"Stay off twitter ;)"
Ladies and gentlemen, I give you my first rider to watch in 2021, Quinn Simmons of Trek-Segafredo.
David Hunter
Follow us on Twitter and Instagram
Join us on facebook: Ciclismo Internacional
Copyright © 2012-2020 Ciclismo Internacional. All Rights Reserved