La Vuelta 2015 – Stage 15 Preview
By David Hunter
Comillas – Sotres. Cabrales 175.8km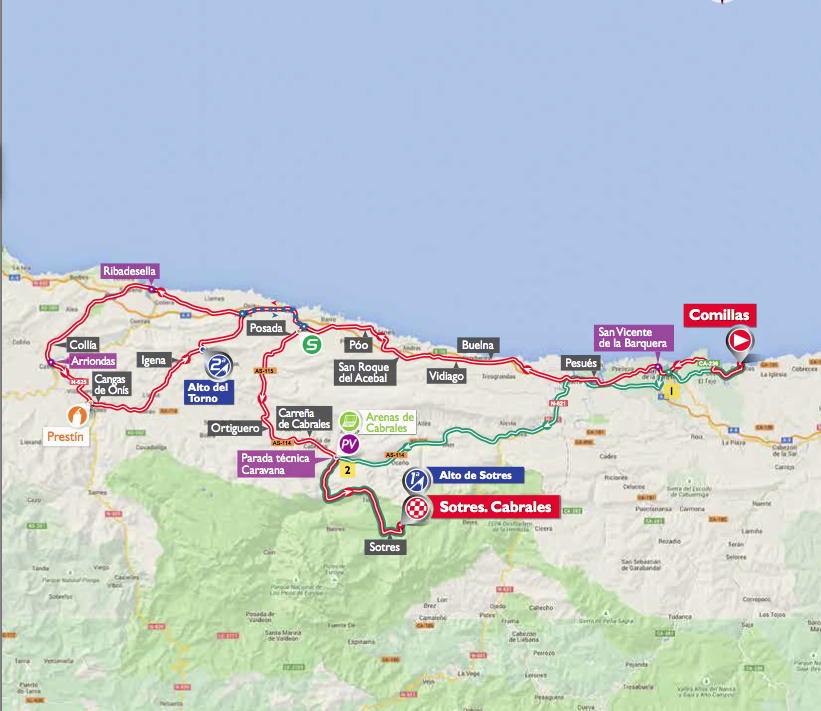 A relatively easy day awaits the riders, but it has a real sting in the tail.
The race ends with the Alto de Sotres. A serious test of everyone's climbing ability.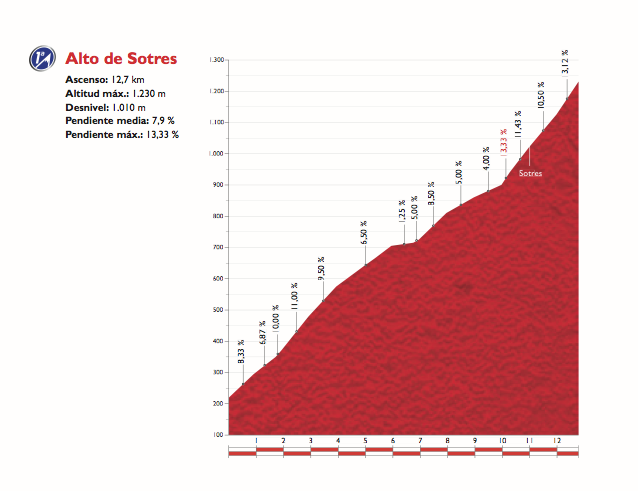 The climb is 12.6km at an average of 7.8%. In anyone's language, that's one hell of a climb. The toughest part of the climb is saved till the very end, 1.16km at 14%. It's really important to pace yourself on this climb, especially with the challenging finish. Riders who go into the red, are sure to blow up, before the top.
Just when I thought things were settling down, the race exploded again. Quintana got his legs back, Aru faltered and Rodriguez remained consistent. Majka tried to follow and exploded and Dumoulin tried to restrict his losses. You really have to admire the Dutchman, as he continues to try and remain in contention.
Aru's move looked perfect. He got rid of everyone, except Quintana. However, he couldn't shake the Colombian, and the main group came back to him. As attacks followed, the Italian started to lose ground. This was not what Astana had planned. It opens the GC up a bit and we're in for a fascinating couple of days. He only lost 1 second to Rodriguez, but the Spaniard landed a psychological blow.
Astana remain in red and Aru leads Rodriguez by 26 seconds, with Dumoulin at 49 seconds. Quintana was great today, but he's 3 minutes back, but cannot be ruled out. Both Aru and Rodriguez cannot time trial, but the Spaniard might just fancy taking time off the Italian. Today showed him that he can beat Aru and I expect a charge by Katusha.
Astana are a strong team but only have 7 riders. As I expected, they were happy to see the break disappear today. With Quintana and Rodriguez looking good, Movistar and Katusha, might consider working in the peloton, but then again they might not. Having only 7 is a big disadvantage, but this stage doesn't get hard until the very end. Even by riding an attacking race, it's going to be hard to pressurise Astana, in this stage. They will wait till stage 16.
That means the break has another good chance of success. The battle to make the break was fierce today, and I would expect to see another big fight. The riders can often sense when is a good day to make the break, they know this is another opportunity. Team Sky have played it clever and lead Movistar by over 10 minutes, in the team classification. They will go for the break again, realistically it could be anyone of their riders, except Nieve. Movistar might look to combat this, by sending their own rider in the break. They have limited options, as they need help for Valverde and Quintana. Rojas was amazing today, I bet you didn't expect him to finish 3rd on a mountaintop finish!
If the break is successful, take a look at yesterday's preview for names! In summary: Duarte, Torres, Henao, Atapuma, Goncalves, Bilbao, Elissonde, Talansky, Bennett and Schleck.
Back in the peloton, I really don't know what we'll get. A fit Quintana, is the best rider here. At 3 minutes down, Aru doesn't have to chase after him, but don't give him too much room! The climb suits Purito the best. The steep finish is right up his street and he will sense an opportunity to take red. Just 26 seconds down, if he can win the stage, he might only need 16 seconds. As I said yesterday, this could be his last chance to win a Grand Tour, and it looks like his best chance. It would be nice to see Katusha go full gas and try to pressure Aru and Astana. It would certainly make the race great for the viewing fans.
The steep climb is also good news for Esteban Chaves. I thought he would struggle today, but he was strong. We know that he likes the steep stuff, and he is very strong just now. Orica don't have a team to support him, but they will ensure he is well placed going into the final climb. After that, it's up to him to follow wheels and try to time his attacks to perfection. He's already displayed a great tactical brain.
Pozzovivo looked much better today. I'm hopeful that his form starts to pick up, as I am big fan of the little Italian. Valverde seems spent, as does Meintjes.
In terms of the break, I think we'll see Kenny Elissonde, give it a go. He lost a bit of time today and now sits in 15th place, at 8:48. He will be given some freedom and this stage marks a great chance for him. After a disappointing season, he needs some big results.
Prediction Time
The break has a 50% chance of success. It really does depend on the attitude of Movistar and Katusha. If it stays away look for a good climber, like Henao or Elissonde. If it comes back together, it should be a battle between Quintana, Aru and Rodriguez. The climb is brilliant for Purito, so I'll go for him. He might just end up in red.
David Hunter
Follow us on @CiclismoInter
Join us on facebook: Ciclismo Internacional
Copyright © 2015 Ciclismo Internacional. All Rights Reserved