La Vuelta 2015 – Stage 17 Preview
By David Hunter
Burgos – Burgos 38.7km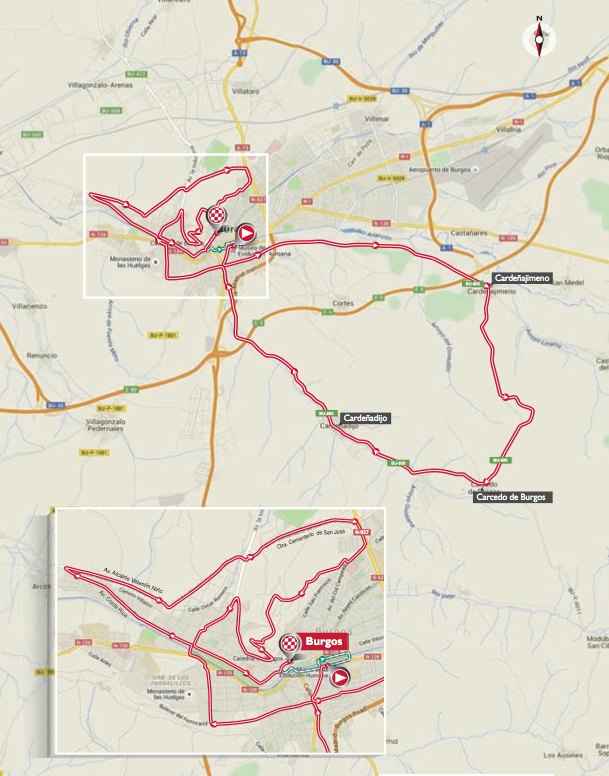 A career defining moment, potentially awaits a rider. That's how important this TT is.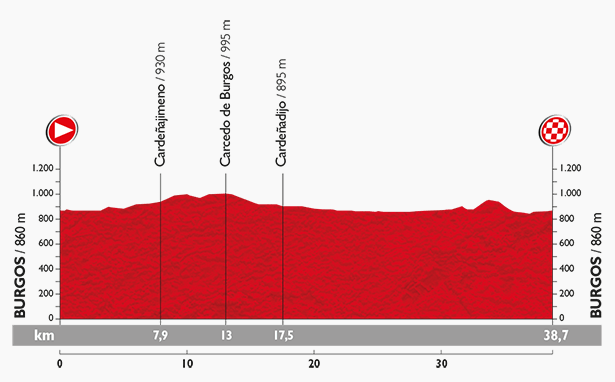 I'll start with the weather. The forecast says it's going to be a nice day but the wind is to strengthen. Coming from the south-west, it favours the early starters, but how much of an advantage is unknown.
The profile is relatively flat, but it does climb a fair bit in the opening 13km. When I say climb, it's more like a false flat, but we do have a couple of short climbs along the way. Then we have a long section of descent/flat roads, before another short climb and the run for home. Make no mistake, this course favours the big powerful riders.
Step forward Tom Dumoulin. After some amazing displays, in the mountains, he's back on better terrain. He went through some dark moments, on the hills of the Basque country, the thought of this stage kept him going. He is the favourite for the stage, although he has bigger ambitions…the red jersey! He's 1:51 down to Rodriguez, 1:50 to Aru and 16 seconds to Majka. He will be confident of moving back into red, but he needs some time for the stage on Saturday.
The Dutchman is one of the best TT riders in the world. This season he's won TTs in Pais Vasco and Tour de Suisse, but they were in 1 week races, this is after 16 gruelling stages. Fatigue is the biggest factor in this TT. After completing the Tour de Suisse, a tired Dumoulin, only finished 4th in the Dutch TT race. This is a worry for me. We just don't know how he'll perform after 16 stages focused on GC. He should still have enough to take a lot of time back, but it certainly won't be his normal showing of power and strength.
Challenging him for stage success are a handful of riders. Vasil Kiryienka is his main rival. Having already won the TT in the Giro, this would make a lovely double. He was helped by a change of wind direction, but his Giro win was very impressive. That wasn't his only big result in 2015. He won gold in the European Games and was robbed in Poland! He loves a hard TT, finishing 4th in the 2013 and 2014 World Championships. Dumoulin beat him by 7 seconds in 2014, it's going to be very close between them.
The only other serious threat is Luis Leon Sanchez. He was 2nd in Kiryienka, in the Giro, and 3rd in the European Games. He's looked in great condition, helping Aru during all mountain stages. The Spaniard is still searching for his first Vuelta victory, he has a chance here.
These riders should fill the top 3 spots. Cummings and Oliviera will hope that someone has a bad day and they should be the next best on the day. Time to talk GC!
This is so difficult to call. As I have already mentioned, it's all to do with fatigue. Rodriguez has been here before, but he's also failed. He's clearly in good form and knows how to manage his efforts in a three week race. I expect a better than normal TT from the Spaniard. He will set himself the target of losing 2 minutes to Dumoulin, he might even be happy to lose 2:15/2:30. Purito will still back himself to claim back 30 seconds in the coming three stages. It might surprise you, but I think Aru is his main rival.
The Italian is also poor on his TT bike. Both men will be confident of making Dumoulin suffer, in the final three stages. They cannot lose time to each other. Both look strong and haven't been separated by much. A gap of 20 seconds means their GC battle is just about over. I think they are similar TT riders, it really is too close to call.
Rafal Majka is much better than Rodriguez and Aru. His problem is his lack of time to Dumoulin. We could end up in a position where he takes 1 minute on 1st and 2nd, but losses 1 minute to Dumoulin. If he achieves such a result, it certainly keeps his hopes alive. It really is a fascinating battle. Remember he was 4th in the demanding Giro TT, to Barolo, in 2014.
Prediction Time
Dumoulin will be fast but not as fast as usual. He's really gone into the red, over the last couple of days. He'll struggle to take 2 minutes on Rodriguez and might not move back into red, it's going to be very close. The same can be said of Aru and Rodriguez, don't expect anymore than 10 seconds between these two. I really hope that four riders have a big chance of winning this race, it would make the final stages incredible. I actually think that Kiryienka will take advantage of Dumoulin's fatigue and take another TT victory. Team Sky need a big performance, if they want to continue in the team classification lead.
David Hunter
Follow us on @CiclismoInter
Join us on facebook: Ciclismo Internacional
Copyright © 2015 Ciclismo Internacional. All Rights Reserved