La Vuelta 2015 – Stage 20 Preview
By David Hunter
San Lorenzo de el Escorial – Cercedilla 175.8km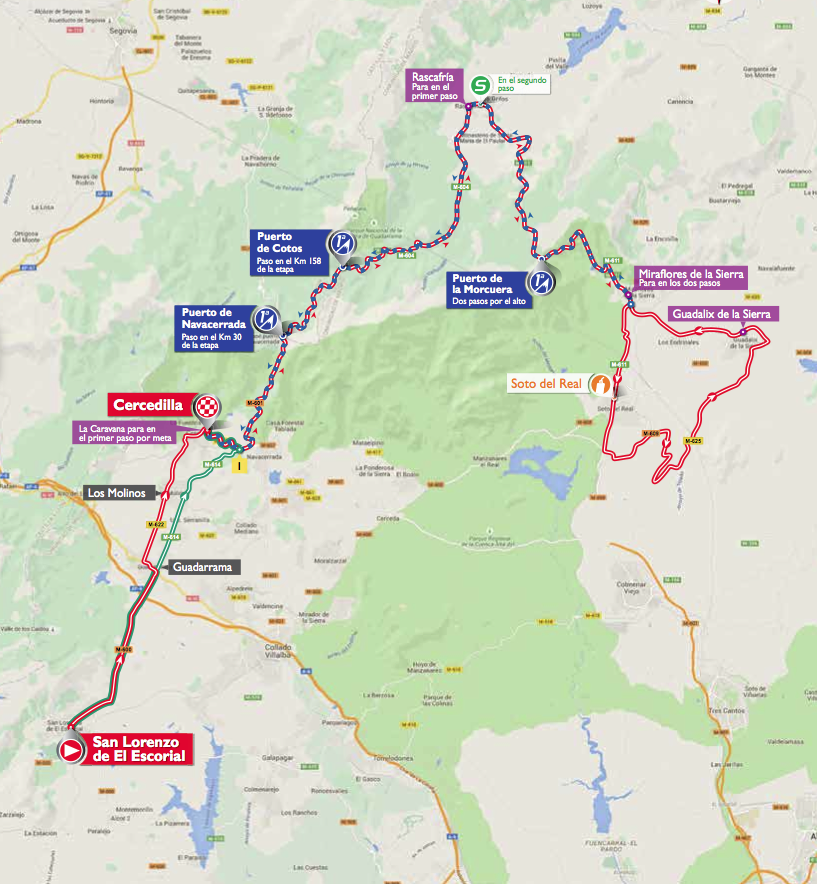 The end is nigh!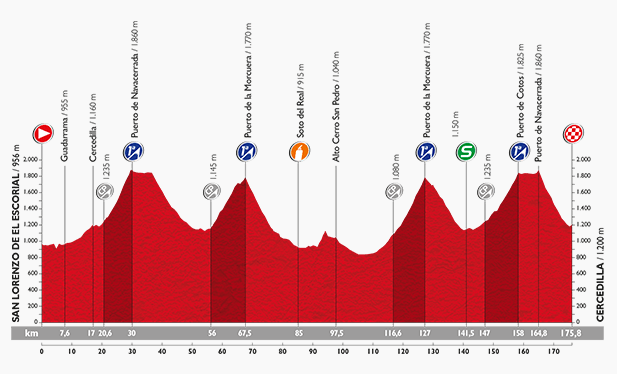 After 19 brilliant stages and nearly 3 weeks of racing, there are only 6 seconds in this race. Quite incredible and certainly a change from the norm. Dumoulin took 3 seconds today, but his lead still looks small. He has been particularly strong, since the second rest day, but this stage is very difficult.
4 cat 1 climbs, with hardly any flat road. This is a day that Astana have been dreaming about, but they would preferred to have 9 men. Only having 7 men is a disadvantage, but it only delays their attack. If they had their full team, I think they would have attacked on the opening climb. With 2 men less, I expect a later attack.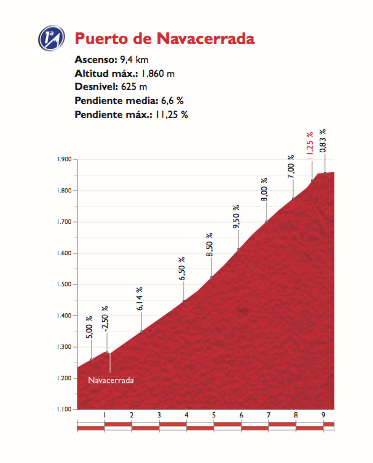 10.6km at 6.3% is not the way most riders want to start the day. This is a long and demanding climb, especially as it starts and finishes with easy slopes. It ensures that the breakaway contenders have to be able to climb well.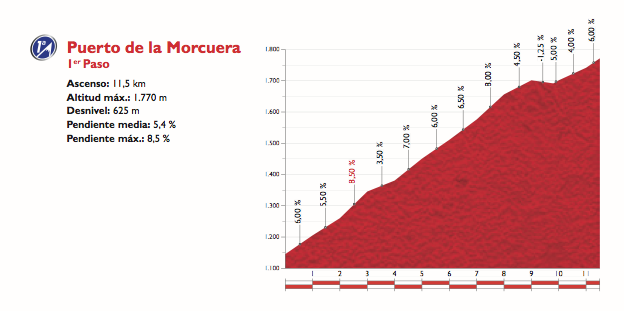 The riders then have to tackle Puerto de la Morcuera from two directions. The first ascent is the easier of the two, 11.4km at 5.4%.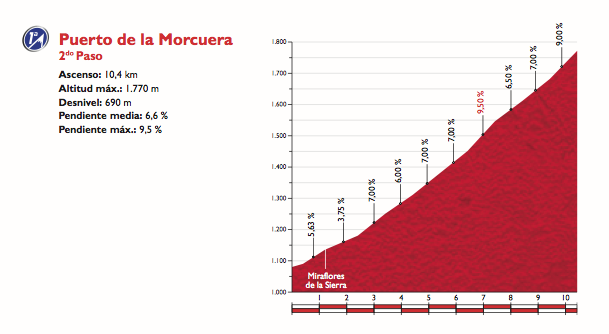 The second ascent is 9.8km at 6.7%. After an easy beginning, the vast majority of the climb is over 7%. This is the climb for Fabio Aru. It might be a long way out, but this is where he can win the race. This type of climb is where we've seen a little weakness from Dumoulin. I would expect some big attacks, all the way up the slopes.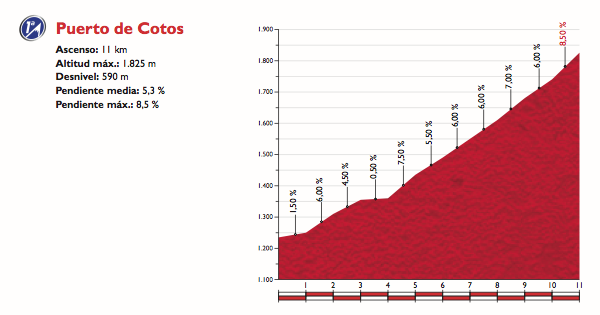 The final climb is 10km at 5.6%, not the most difficult climb of the race. Fatigue will be a major issue, after such a demanding stage. Despite the figures, this climb will be very hard. The steepest section is at the top of the climb, but with a flat road and descent to follow, it's not the best point to attack.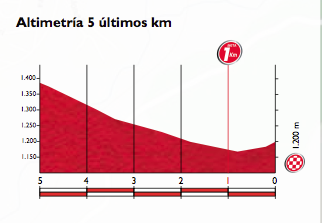 If that wasn't enough, the final kilometre also kicks up, with the closing ramp around 8%. This is a stage where many things could and probably will happen!
Time to put on my DS hat;) 
Despite only having 7 men, I would instruct Astana to set a high tempo, on the opening climb. They need to eliminate as many Giant and Jumbo riders as possible, the earlier the better. Isolating Dumoulin is going to be important, doing that early makes a lot of sense. To make him crack, they need to put him under extreme pressure. They might only have 7 men but they are monsters! I expect a lot from Zeits. He can destroy whole pelotons with just a look, wait and see what he can do tomorrow.
Dumoulin will be able to follow the pace on the early climbs, his big moment is on Puerto de la Morcuera. This is a really hard climb and I expect Aru to attack at this point. If Dumoulin has no teammates, it's going to be very difficult for him to recover any lost ground. Drop him here and the race belongs to Aru!
If he does manage to hang on, Landa and Aru, will continue on the final climb. It might not look hard, but the stage is going to be crazy, making it feel like Alp d'Huez! Every climb is going to be a challenge for Dumoulin and Giant.
If he still hangs on, the final 200m presents a final chance for Aru. However, if he hasn't distanced him yet, he won't do it here. Aru is 6 seconds down and you get 10 for winning the stage. If Dumoulin finishes 2nd, he'll pick up 6 seconds, leaving Aru 2 seconds short. I don't see the race being determined by bonus seconds, this will be sorted earlier in the stage.
Another interesting battle, is the fight for green. Valverde is just 2 points down on Rodriguez. Movistar have to stop a big break getting away and taking all the points at the end of the stage. Today, that happened, and Valverde couldn't get any points. They will ensure that Valverde has a chance of taking the green jersey. Astana and Movistar might just work together!
I think it will be hard for the break. The stage will be raced at a high pace, making it tough to get a big lead. Both Movistar and Astana will be interested in keeping the break, close at hand. That won't stop some from trying. Riders like Coppel, Goncalves, De Marchi, Navarro, Cano, Plaza, Durasek, Dombrowski and Zubeldia would all be good options for the break.
Prediction Time
Let's get straight to the crunch. Aru will win the Vuelta. Sorry folks, but the Italian will drop Dumoulin. This stage is too hard for him and his team is too weak, even if helped by Jumbo. A fast pace will eliminate his teammates and leave him vulnerable. Aru will deliver a killer blow and take his first grand tour title. He might take the stage win too, but that will actually be quite hard. We could see a situation where the other riders go up and the road and Aru waits with Dumoulin. Get him by himself and stick the knife in! The stage winner is a complete lottery, but Quintana and Valverde are looking very strong. I'll say that Nairo gets his stage win and Aru the red jersey.
David Hunter
Follow us on @CiclismoInter
Join us on facebook: Ciclismo Internacional
Copyright © 2015 Ciclismo Internacional. All Rights Reserved