La Vuelta 2015 – Stage 3 Preview
By David Hunter
Mijas – Malaga 158.4km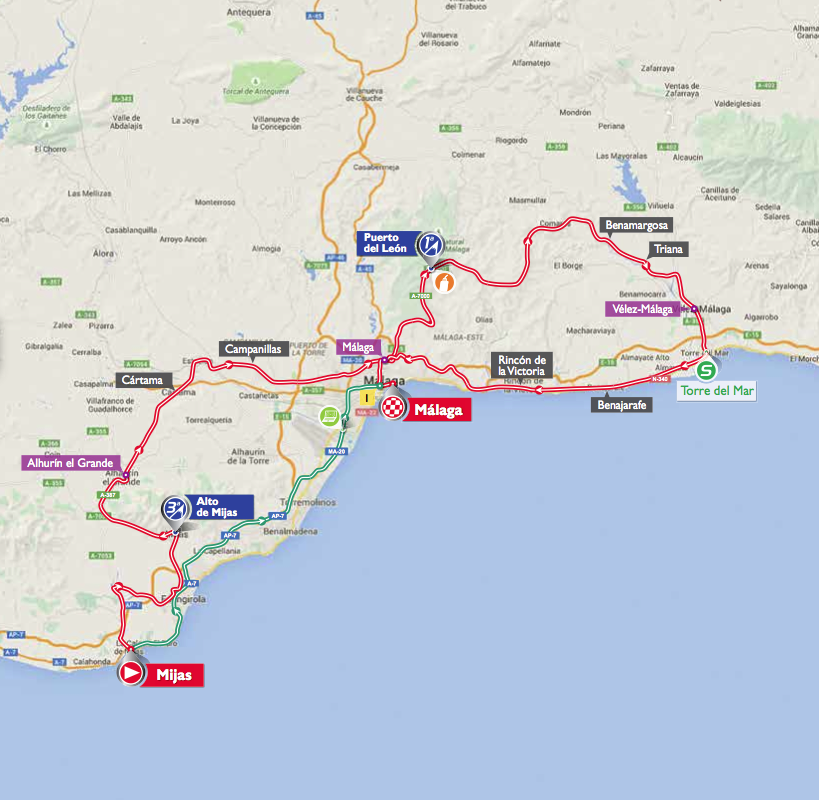 It's only stage 3 and we have our first cat 1 climb of the race. The race starts from Mijas and heads to the north of Malaga. It loops around at Torre del Mar, home of the excellent water park, Aqua Velas! At that point it crosses the A7, the motorway that cuts through the rugged landscape. The riders then follow the coast road, back towards Malaga, before rejoining the A7.
I'm actually surprised at how flat the profile looks. The roads in the this part of Spain are very hilly and you never seem to be going on flat. The race begins with a cat 3 climb, 4.2km at 8.2%. That should see a few climbers join the morning break.  It's an important break to make as first over the cat 1 climb will take the KOM jersey. Caja Rural will be ready!
The cat 1 climb is long!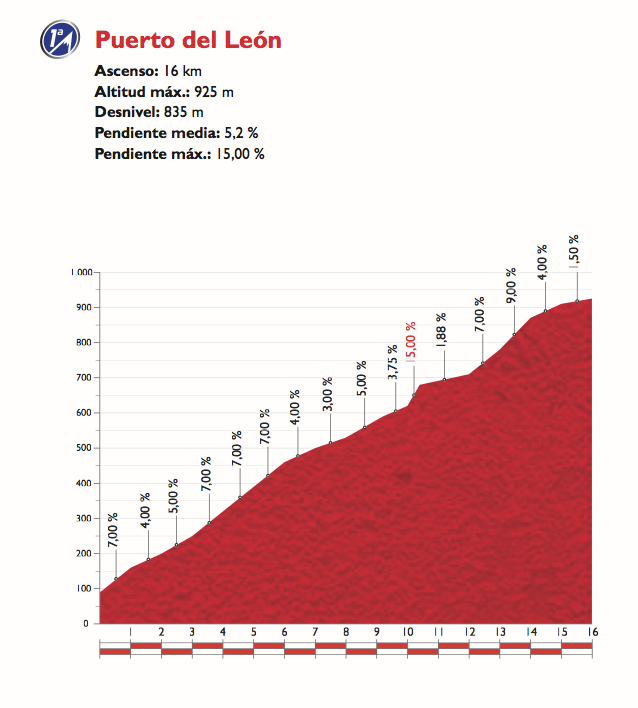 16km at 5.2% is a real test, so early in the race. With quite a few easier sections it shouldn't really be hard enough to drop any GC riders, but you just never know! As the climb crests with 82km remaining, it shouldn't have a significant impact on the race.
In a grand tour, climbs that appear in the opening half of the stage, often have no impact on the race. GC teams know that they can't drop their rivals and let the other teams dictate the pace of the stage. In the past, a team like Cannondale would ride the climb fast, to try and drop the "pure" sprinters. That would allow Sagan a chance of sprinting against slower rides and helping his chances of taking the stage.
For those not up to speed with cycling language, a pure sprinter is a rider who has a fast finish but doesn't climb very well. They look with dread at these stages and prefer a much flatter profile. A rider like Matteo Pelucchi falls into this category. Sadly he crashed out today.
Which team will want to set the pace on this climb?
Both Cofidis and Giant will hope to see Bouhanni and Degenkolb survive the climb. You might see them at the front of the bunch, trying to set a steady tempo. With so much of the stage left to ride, riders will be discouraged from attacking. A team like Tinkoff might just try and set a fast pace, to eliminate these quick riders. They have Sagan, who won't be bothered by the climb. If they remove the competition, he might just get a stage win… at last! Sagan looked good in the TTT but he has had time off the bike, since the Tour. This climb would have been easy for him, in the Tour, but I'm not sure about his current state of form.
What I have just described comes straight from the cycling rule book. At the Giro, Astana ripped up that book and decided to write a new one. They attacked at every opportunity, making every climb and stage, very difficult. Being so early in the race, some riders might not have found their legs yet. This is a perfect opportunity for Astana to test out the other riders. If than can drop just one main rival, it would have been a great move. Riders like Quintana and Froome might just be vulnerable, due to their exertions at the Tour.
If Astana set a high tempo, the sprinters have no chance of remaining with the bunch. They might have to switch to plan B. That would involve keeping most of the team beside the sprinter and trying to make up the lost ground, after the climb. It's a move we've seen Cavendish and Etixx do in the past. It requires a dedicated group of riders and a team devoid of a GC prospect. Both Cofidis and Giant have plenty of riders capable of doing this type of work. If they get dropped on the climb, it isn't all over. Remember there is still 80km to go, so they could make up 3 minutes, or so.
You could say that Astana are now in crisis. Their leader has been sent home, so how will they react? They might just come out fighting.
That day in the Giro, only Michael Matthews was able to stay with the peloton. He's not here, but Sagan is the rider closest to him in terms of climbing ability. Looking at some of the other fast men, riders like Montaguti, Barbero, Simon, Reza and Reynes would all hope to make the finale.
JJ Rojas is a rider that many fans like. He regularly finishes in 4th place and is the butt of many jokes, but he is a quality bike rider. He can climb extremely well and has a very fast finish, compared to non-sprinters. He would certainly expect to get over the climb, with the front group, and if the fast men are missing, Movistar might just work to stop them from rejoining. It would be great to see him taking a stage, his last, in the Vuelta, was in 2012.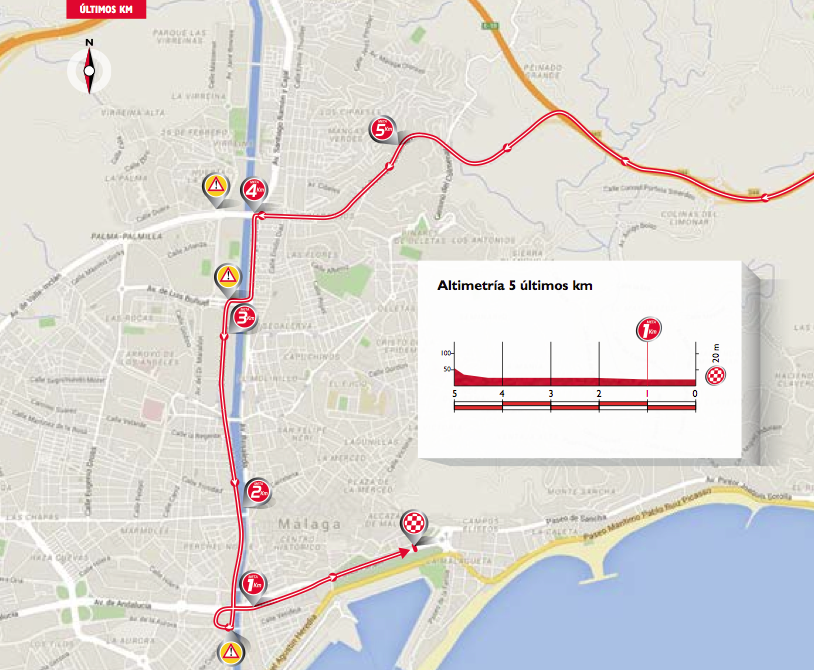 The finish has a nice little loop, just before the flamme rouge. A double corner at 3km, will be the first point the bunch race for. After that, a nice straight road, leads into the technical finish. If we do get a big sprint, lead-out trains will be very important.
Cofidis – Rollin, Simon, Soupe, Bouhanni.
Giant – Dumoulin, Waeytens, Mezgec, De Kort, Degenkolb.
Tinkoff – Brutt, Bodnar, Bennati, Sagan.
Orica – Meyer, Hayman, Howson, Docker, Impey, Ewan.
Lotto – Van Der Sande, De Buyst, Boeckmans.
Trek – Popovych, Stuyven, Boy Van Poppel, Danny Van Poppel.
Orica have the most complete train here. The had it working well in Poland and now are boosted by the return of Impey and Gerrans. I have left Gerro out of the train as I'm not sure if he's ready to be part of it yet. They will deliver Ewan into a great position, it's up to him to hold off the rest.
However, the cat 1 climb is not the only problem. This is the little "lump" with 10km to go.

The riders have to make their way from the coast road, up to the A7. Once on the motorway, it isn't flat! We're talking around 1.5km at around 7%. This is enough to serious disrupt the plans of the sprinters. Most won't see it coming, they'll look at the profile and think it's going to be an easy finish.
Prediction Time
I think we'll get a sprint, but probably around 70 riders. Astana will want to try something but the crash hit them hard today, so they might wait a couple of days. I think it's too much for Ewan, but Bouhanni and Degenkolb should really be at the finish. Both have strong lead outs and this is a very close call. I'm going to go with the German. De Kort will be at the finish, I'm not too sure about Soupe. That should be enough to swing it his way. Hopefully Rojas can make the podium.
David Hunter
Follow us on @CiclismoInter
Join us on facebook: Ciclismo Internacional
Copyright © 2015 Ciclismo Internacional. All Rights Reserved