La Vuelta 2015 – Stage 4 Preview
By David Hunter
Estepona – Vejer de la Frontera 209.6km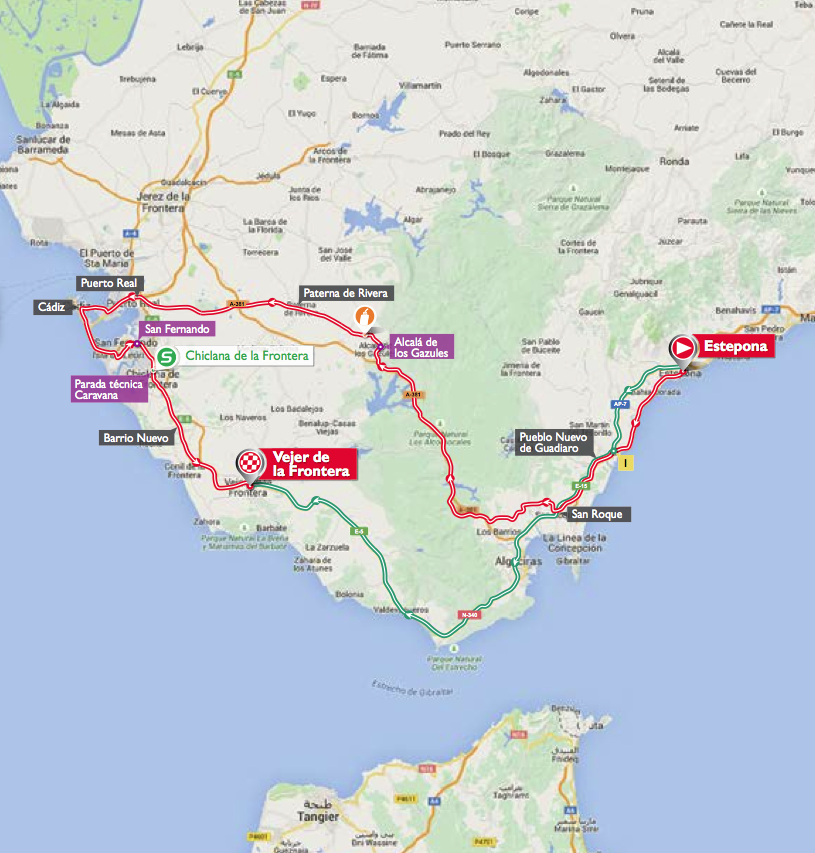 The Vuelta usually likes to keep the stage short, but this one is much longer. At 209.6km, it's the second longest stage of the race, but it should be relatively easy.

In fact, it's going to be a long boring day in the saddle, until the final 20km. The stage ends with an unclassified climb, but what a little beauty it is! The climb is 2.1km at 8.5%, with plent of double digit sections. It's fairly similar to the finish on stage 2, in terms of difficulty, although a little shorter.
The climb can really be split into two. The opening kilometre is way above 10% and this will massively reduce the peloton. We then have an easier section, before kicking up in the last 300metres. The road rises at 14% for around 200metres. The climb crests with 2km to go, before descending towards the finishing line. However, the climbing isn't over yet! The last 300metres kicks up at 10% and includes a 20% section. This finish is very difficult and demanding.
In terms of relevant form, we only have stage 2 to go on. Riders like Chaves, Dumoulin, Roche, Quintana and Rodriguez all looked in good condition. I mentioned Dumoulin in my preview, but had written him off as I didn't think he'd be ready after his big crash. He was more than ready! The shorter climb will suit him even more and he has a fast finish, but he might be on lead out duties.
Joaquim Rodriguez was disappointed with stage 2. He missed a big chance to take a win and I don't think Dani Moreno really helped. When they missed the move of Chaves, it was the responsibility of Moreno to go to the front and pull for his leader. This didn't happen and the late move succeeded. Katusha seemed to miss Caruso, who would have been around at that point. They need to have a think about their tactics and Moreno needs to step up for his old pal.
Valverde disappointed on the stage, unable to follow the attack of Rodriguez. That wasn't a great surprise to me, as he doesn't really like really steep climbs. Before you start shouting, I know he's won Flèche Wallone, but when the climb is a little longer, he prefers a slightly easier gradient. Once it touches 20%, it really suits Rodriguez more than Valverde. Due to the presence of Valverde, Nairo Quintana was allowed some freedom. Such a strange experience for the Colombian, after being marked so heavily at the Tour. He did gain some time but looked on his knees when Dan Martin passed him.
Dan Martin is another who was kicking himself after the stage. He really should have followed Chaves, but took a risk that the other teams would bring him back. When this didn't happen, he attacked, but it was too late. Despite not winning the stage, it was a positive sign for him and a confidence boost. This is another stage that is good for him.
Where To Attack
Riders are faced with a difficult decision. Do you attack on the climb or wait for the uphill sprint? It really depends upon the type of rider you are. If you don't have a sprint, you have to go on the climb. That is certainly the case for Jelle Vanendert. The Belgian is brilliant on steep slopes but can't sprint. If he wants to take the stage, he should go early. A rider like Valverde is much better waiting for the end. He has a very fast finish and the final 300metres is great for him. Movistar should really take control of the climb and shut down any attacks. This stage is perfect for Valverde.
There are two potential problems for riders like Valverde:- Sagan and Degenkolb!
2km at 8% doesn't sound hard enough to drop these two riders. It's all about getting over the opening kilometre. As this is important, expect to see Giant and Tinkoff do a proper lead out, into the base of the climb. If they can position their men at the front of the bunch, they will have some drifting room. It's okay to lose a few positions on the climb, as you have 1.5km to move back up the bunch. Start at the front and move back to around 30th place will be fine for these boys.
The final 300metres is hit at pace, so it won't be a problem. Remember Degenkolb winning in Dubai, sprinting up a dam wall, beating Valverde and co! This finish has a little for everyone. Movistar and Katusha will be well aware of Sagan and Degenkolb and will try to make the climb as hard as possible. Katusha have their usual double attack in Rodriguez and Moreno. We might just see Moreno attacking on the climb, to lift the pace. If he gets brought back, Rodriguez will try in the sprint. Although, they could easily swap roles, as Moreno possesses a faster sprint. The problem with Rodriguez attacking on the climb, is that he will be marked by the GC riders. This finish throws up some fascinating scenarios.
I wonder if any of the other sprinters fancy their chances. Trek have two options in Van Poppel and Stuyven. I think Stuyven has a better chance of surviving to the end. Could Bouhanni surprise a few? I certainly wouldn't write him off as he can climb very well, but the final sprint is not really his speciality. It looks too hard for Caleb Ewan, riding in his first grand tour. The stage comes too soon for Simon Gerrans.
A rider I do expect to challenge is Carlos Barbero. The Spaniard has enjoyed a good season and loves an uphill sprint, the steeper the better. Being a smaller team, the pressure is not on Caja Rural to control the race. If they can get Barbero into the right position, he does have the speed to challenge for the podium.
Prediction Time
Take a look at the finish.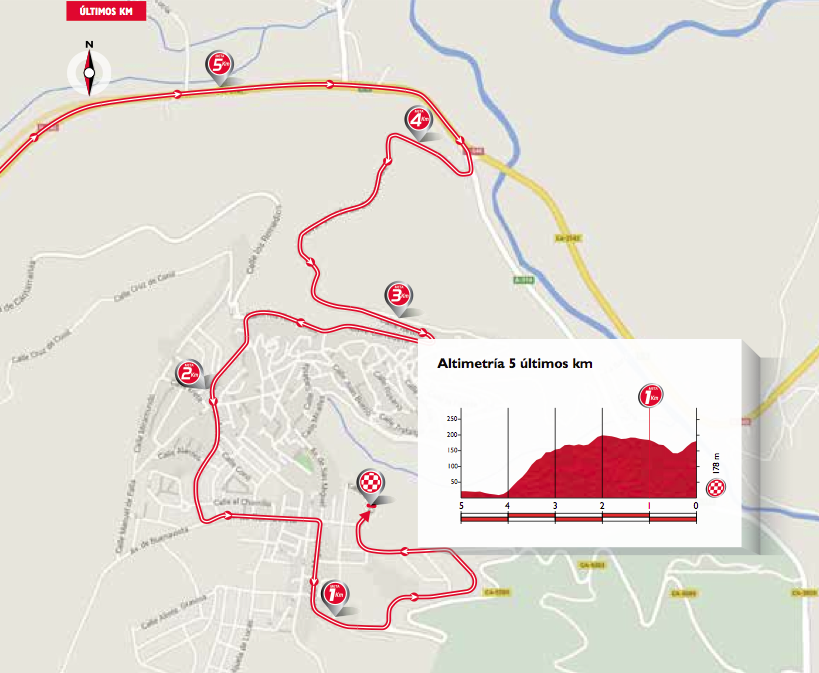 Over the top of the climb, being a good descender is vital. As the finish is a steep 300metre ramp, you must be at the very front of the bunch. That means you really need to be at the front, over the top of the climb. There won't be a huge amount of time to find teammates.
The big moment for Sagan and Degenkolb is the opening kilometre, at around 12%. Despite their ability, I don't think they will survive. There will be a few attacks, but Movistar and Katusha won't want to get it wrong again. They need to set a fierce pace and I would expect a move at the top of the climb, in the last 300metres. At that point the road gets very steep and a clever rider will make the move and get a gap.
Teams won't have lots of riders left, so controlling the top of the climb, and the descent, is going to be very hard. The finish should really suit an attacking rider and Dani Moreno is exactly that. He's not a GC threat, so Sky won't chase. They are the only team who will have lots of riders. If Movistar don't mark this attack, he wins the stage. If they do control it, Valverde takes it!
Time to get off the fence, Dani Moreno wins:)
David Hunter
Follow us on @CiclismoInter
Join us on facebook: Ciclismo Internacional
Copyright © 2015 Ciclismo Internacional. All Rights Reserved