La Vuelta 2015 – Stage 6 Preview
By David Hunter
Cordoba – Sierra de Cazorla 200.3km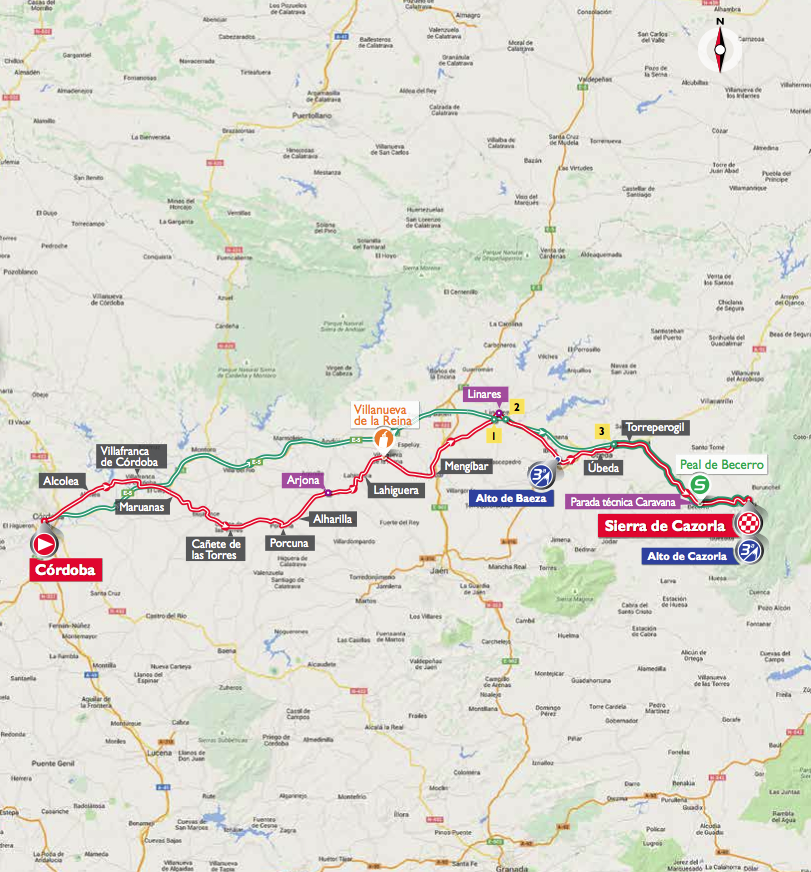 Today was easy for the peloton, they needed a rest after a demanding start to the race. This stage is another hard day in the saddle.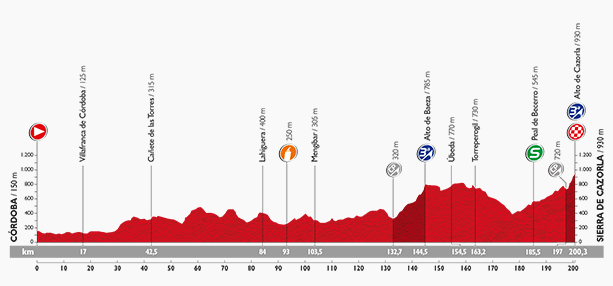 As you can see, this stage features a lot of climbing. There might only be two categorised climbs, and both are cat 3, but the riders have to contend with 2240m of ascending. This is not an easy stage!
The weather has to be taken into consideration. Temperatures have been nice, so far, but this stage is set to be hotter. The temperature will get close to 40 degrees, the type of heat that will make the stage very, very difficult.
The first climb is long. Despite only being cat 3, it's 12.9km at 3.5%. It has a false flat section in the middle, and the second half is always above 5%. After a long descent, the road begins to rise and doesn't stop until the finish. Over 20km of climbing is not what the riders want to hear, especially in the heat. The following stage is the first proper summit finish, the GC riders will not want to waste any energy here.
The final kick-up to the line is 3.7km at 5.3%. As finishes in the Vuelta go, this is fairly easy. This climb can also be split into two. It starts very easy, but then has 1km at 5.4%. After a false flat of 500m, this finale begins: 6.1% for 600m, 7.6% for 450m and 500m at 6.3%.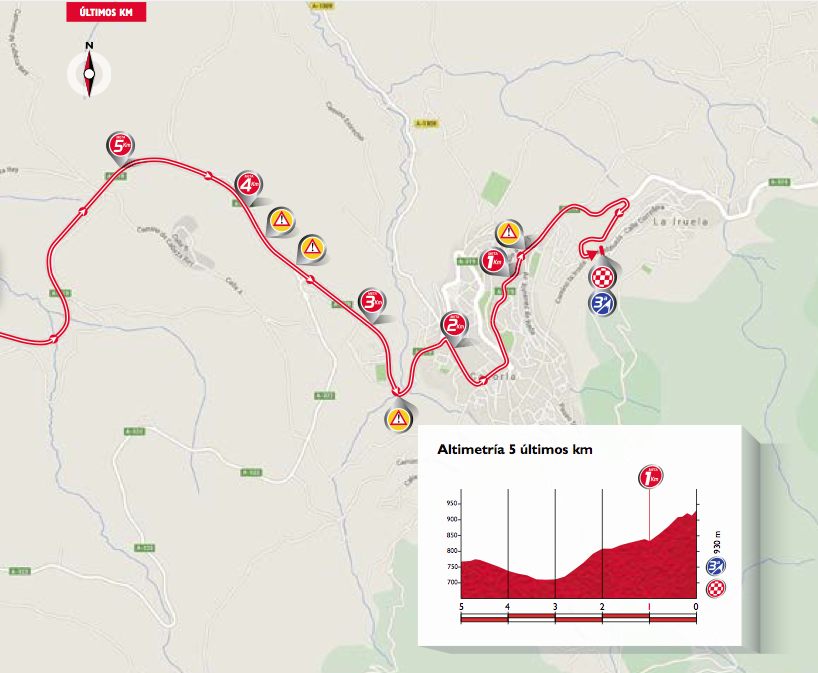 Positioning is also going to be important. The riders loop around to the finishing line, so being on the inside is a must.
To recap, we have extreme heat, a stage full of climbing, a mountaintop finish the next day, a finish too tough for the sprinters and a technical finale. Put all of that together and what do you get? BREAKAWAY!
We might only be on stage 6, but I sense a chance for the opportunists. Thanks to the hard racing, lots of riders are way down on GC. The teams who have sprinters will look at this finish and stage profile and not fancy pulling all day long. Giant now have control of the red jersey and will want to keep it. As long as there is no threat, they will not work to pull it back. Degenkolb will not win this stage, so no point to work. You might think they could work for Dumoulin, but with Valverde guaranteed to be at the finish, there really is no point.
Sagan and Tinkoff are the big obstacle for the breakaway riders. On a normal day, this finish would be fine for Sagan, but he looked a little tired today. He had great position, but just couldn't finish it off. Will they continue to tire out their team for more stage wins? It is possible, but if they work, no other team will help. If Sagan is confident of being at the finish, he should win with ease. There will be a lot of looking in the peloton and I expect the break to gain a huge advantage.
Valverde is the fastest rider, if we remove the sprinters. Movistar aren't always the best team at riding on the front. They often look for help and are prone to going in a huff, if they don't get it! Katusha have Moreno and might help out, but Valverde was much better than him in Vejer de la Frontera. The tactics of the peloton are going to be fascinating.
Free from the red jersey, Orica have more riders to work. Two stage wins free them from any pressure, but a fit Simon Gerrans would really fancy this stage. He was looking better today, in charge of delivering Chaves to the line. It was a promising sign, but he really only had to work for a couple of kilometres, these climbs might be too much for him.
Breakaway Contenders
This type of finish is great for the puncheurs. Already active in the race has been Chavanel, Gougeard, Fraile, Goncalves and Villella. For certain, Caja Rural will be in the break. They have plenty of options and quite a few of them have a fast finish. Goncalves is 5 minutes down on GC, so they might look to someone else, Lluis Mas is a great card to play. Time for a long list of breakaway contenders:-
Poljanski, Dombrowski, Oliveira, Talansky, Teunissen, De la Cruz, Coppel, Montaguti, Moinard, De Marchi, Visconti, Plaza, Bilbao, Meyer, Txurruka, Durasek, Cataldo, Van Zyl, Hansen and De Gendt.
For the first time in the race, getting in the break will be a challenge. Quite a few of these riders will smell the chance of a successful break and will be determined to be in it. Some of the riders are regulars in grand tour breakaways, some are novices.
Johann Van Zyl has been in more breaks than just about any other rider, in 2015. The 24 year old South African is developing into an expert. He might be young, but he's very talented and would love to continue the MTN fairytale.
Adam Hansen will hopefully break the record for consecutive grand tours. Barring injury, this will be the record breaking 13th. Winning a stage would be a fitting way to celebrate. The Aussie can climb well and the finish looks good for him. The problem for Hansen is that he's a marked man. When riders see him going for a break, they follow, as he's an expert. This makes it more difficult for him to succeed.
Sylvain Chavanel is going to be out of contract soon. If any rider deserves a new deal, it would be him. This would be a great way to remind teams of his strengths. He's won 3 stages in the Tour, but never won in the Vuelta. Time to put the record straight?
Prediction Time
I might be wrong, but this is the day for the break. Only Valverde and Sagan can win, if the bunch stays together. Movistar are poor at chasing and Tinkoff will be getting tired. This stage is Caja Rural v the world. They have so many riders capable of winning this stage, it really depends on who makes the break. Bilbao, Txurruka, Fraile and Goncalves could all out climb everyone else, in the finale. If they manage to get two in the break, it spells danger for the others. I'm going to go for them and Amets Txurruka, one of my favourite riders. He's off to Orica, in 2016, what a great way to sign off his spell with Caja Rural.
David Hunter
Follow us on @CiclismoInter
Join us on facebook: Ciclismo Internacional
Copyright © 2015 Ciclismo Internacional. All Rights Reserved