Lawrence Naesen – The Law Man
By David Hunter
"Actually I never wanted to be a cyclist, I was more a bmx type of guy but every weekend I followed my brother and watched his races. At 20 years old Oli gave me his old racing bike and I started riding it, just to have fun. In September 2012 I was on a camping trip with school to come home to Oli saying he arranged me a cycling team for 2013. I couldn't back out anymore! No regrets, I totally love it."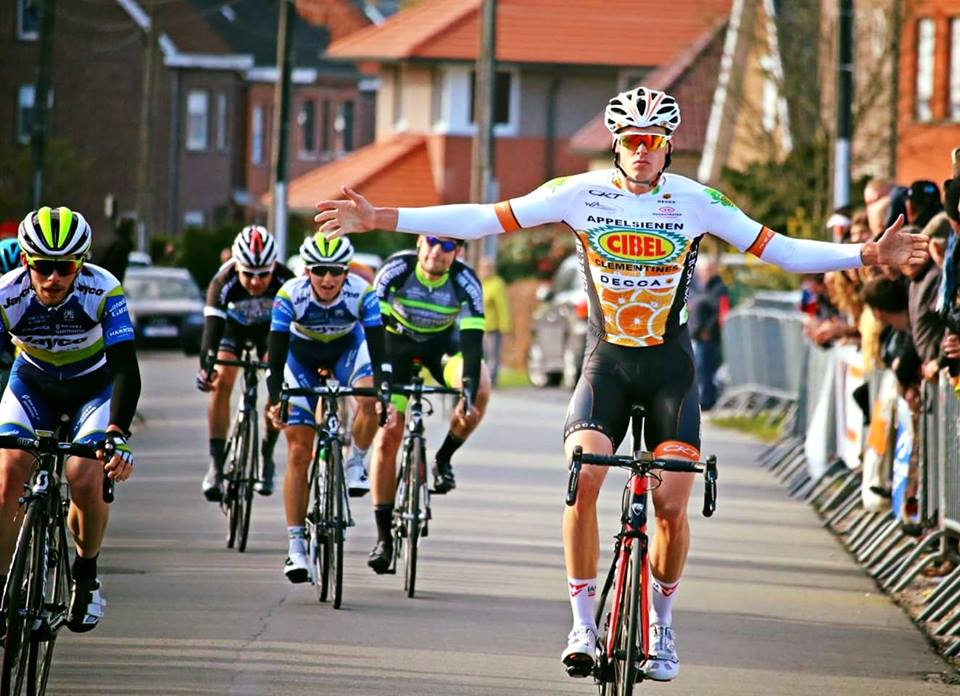 Introducing Lawrence(Law) Naesen. Yes, he is the younger brother of Oli Naesen, but he'll soon be known as a rider in his own right. After a couple of years with the continental squad, Team Cibel, he just signed a pro contract with the new team WB Veranclassic Aqua Protect. He now gets to step up to pro-continental level and potentially race in some huge races. But who is Law Naesen?
"I'm pretty unknown in the professional cycling world. I started cyling in 2013, the year I turned 21. I started my career next to my brother, we were in the same team. The first year everything was new, I didn't know how to train, eat and live as a cyclist, so I didn't have the biggest results (one 2nd place), luckily I could easily follow the bunch and didn't get dropped once! I was just a happy boy because I had fun on the bike. The year after that I started to notice that I had a good sprint, 1st of September I won my first race, where I had Oli doing my leadout😀 (we weren't in the same team anymore). This gave me a lot of morale so the week after that I won a bigger race and my season ended well. I had morale and a contract with Team Cibel to make it through the winter.
In 2015, my first continental season, I had to learn again in the bigger races but I wasn't really in trouble at any point in the UCI races. I started to watch what I ate and drank, started to live as a cyclist and stopped living as a student. Week after week my results got better, had some podium places, won 2 races, had the yellow jersey in Tour de Liege where I beat Mathieu Van Der Poel in the sprint, so my morale kept going up. That's when I started to realise there may be a good cyclist hidden somewhere deep inside.
In the winter of 2015, Oli was constantly pushing me train harder, this was the year for me he said. He turned pro in the year he was 24 so I had to do the same.
I started 2016 with 2 goals: graduate and get a pro contract: I had my best season so far, was on the front from day 1 till the last day of the season, with 5 victories, 14 or 15 podium places and +30 top 10s. I can say that I had a good season which helped me to get my hands on a pro contract with Wallonie Bruxelles, next to that I graduated school so I reached both goals! Best year of my life."
Now a fully qualified sports teacher, Law is looking to practice what he speaks. No offence to teaching, he's hoping he won't be seeing a classroom for a while.
"I had to go to school so most of the time I trained in the evening. Sometimes I had to work late to make papers and prepare stuff for school while I had a race the day after, this made me get my mind out of the race. In the Baloise Belgium Tour I had to write my thesis, every evening after the race I got behind my computer and skipped the massage because I just had no time left. Next to that I also had to do a lot of internships in schools so I know what is to work and be a cyclist at the same time. It was both really important to me, to get my diploma and to become a pro cyclist. While doing all this I realised I wanted to be a professional cyclist instead of being at work every day!"
When did he get the call from his new team?
"The first time I had contact with Wallonie-Bruxelles was in September. I had a good feeling with the team, it's a team that's wants to grow so I am happy to join them."
One thing that certainly helped Lawrence reach new heights was his training group. It's very unusual for an amateur rider to train with some of the best in the business. Riding, on a regular basis, with Oli, Greg Van Avermaet, Preben van Hecke and Gijs Van Hoecke was a huge boost for the young man. However, some people would have advised against this. Going in against much stronger riders could have had a negative impact on Law's progress.
"They give me a lot of tips, we train on the roads of the Flemish races. Its basically always hard training with the boys, but that's what makes us stronger. We have a few points on the road where there is a finish line, the last kms to those lines are like in  a real race!
When I started with cycling I always trained alone, every single day! My trainer told me and Oli not to train together, for me he was too strong and I would have been overtrained, for him I wasn't strong enough and he would've been undertrained. Since 2015 I started training with Oli, Greg and the other guys. At first I was just hanging on the back and surviving but month after month I got stronger, step by step I'm getting closer and closer to their level."
Imagine how many cyclists out there would like to train with Greg Van Avermaet! It certainly was a risk, but it seems to have paid off. As the season continued, Lawrence seemed to get stronger and stronger. The comparisons with his brother are very easy to make, but they are remarkably similar. It's not just their style of riding, but even when they turned pro.
"2017 will be my first professional year, so it feels like I'm starting from zero again. I want to prove that I am a good cyclist and not just Oli's brother(not that I'm bothered with that). 
Cycling is all about winning races, when I started cycling I told myself that I wanted to win at least 1 race every year. Its gonna be difficult but I'll try my hardest to achieve that goal. Next to that I want to become a stronger rider, learn a lot and have a consistent season with a lot of ups but not too many downs."
It's only natural that Lawrence wants to make his mark in the world of cycling and not just be the brother of Oli! Saying that, he is fiercely proud of the achievements his big brother has made, you get a real sense of family when talking to both brothers.
"I'm really proud of Oli! It's incredible what he has achieved in the last 2 years. For me it feels like looking in the future, it makes me think that if I work hard enough and focus on the job, I can achieve the same results as him. It's an extra motivation to give the best of me, every single day."
What about 2017? Any plans/objectives?
"I'm going to focus this winter on gaining strength, going to spend a lot of time in the gym. Next to that I will try to improve my sprinting skills, but in races, I will try to ride a bit more aggressive sometimes, not wait for the sprint but go for it on my own.
As an amateur it was just a hobby next to my studies while as a pro it's the real deal. It will take some getting used to but my 2 last years at continental level already taught me a lot. Next year I don't have to study anymore and can use my full focus on my training and races, which I think will help me improve my performances much faster. "
The importance of switching off from cycling is also very important. What does Law do to unwind?
"I get together with friends(cyclists & non-cyclists), hang out, watch movies and answer questions for the CyclingMole!"
You can feel the sense of excitement when talking to Law. For a kid who got a racing bike at 20, he's made remarkable progress since. As he is about to embark on his pro career, I get the feeling that he is going to have a successful time. Following in the footsteps of a successful brother is never easy to do, but instead of sensing any jealousy, I just feel pride.
Lawrence is determined to make his own way in the world of cycling. Being able to train with the Olympic champion is such a blessing, especially as he's been able to see himself improve over the last couple of years. With that comes confidence and hopefully results.
2017 is going to be a big year in the Naesen house, I look forward to their first two man breakaway!
David Hunter
Follow us on @CiclismoInter
Join us on facebook: Ciclismo Internacional
Copyright © 2012-2016 Ciclismo Internacional. All Rights Reserved