By David Hunter
Quaregnon – Dour 200km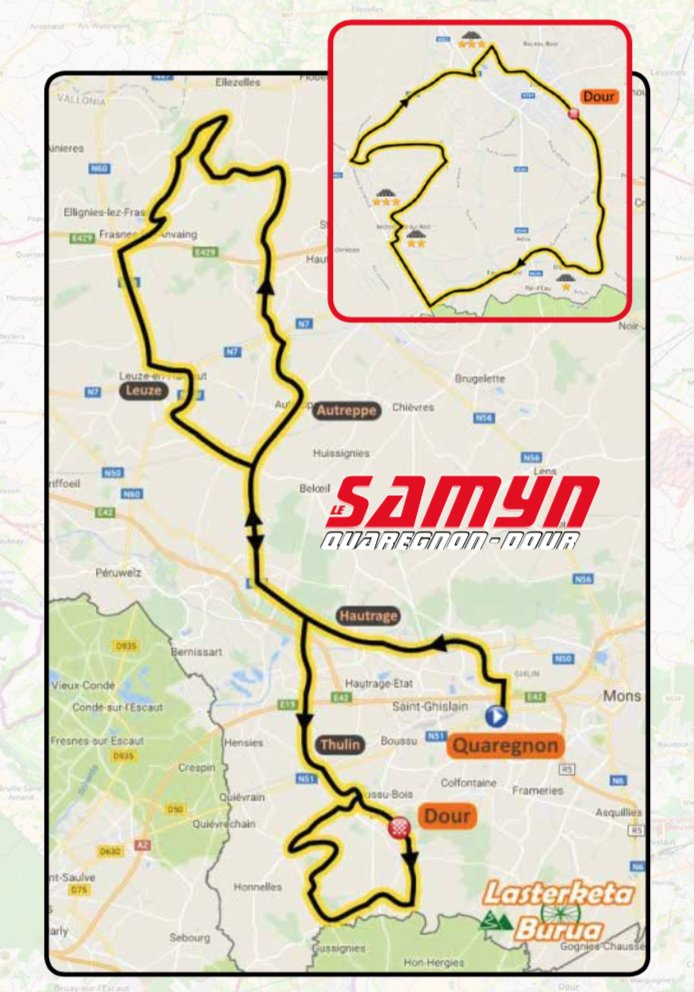 Possibly the coolest cycling race in the calendar.
The route remains similar to the last couple of years, with the incredibly hard final circuit. This circuit features four different cobble sectors and some of them are really tough. Not only that, but the race ends with a gruelling uphill sprint.
Weather
With wind open spaces in the lap circuit, riders are always nervous when checking the weather for this race. The cold spell of weather in northern Europe is to continue, with the temperature not getting above freezing for the whole race. The wind will be around 18km/h, coming from the north-east. There will be plenty of opportunities to split the race.
Cobble Sectors
Rue du Vert Pignon – 1400m *
Côte de la Roquette – 500m **
Chemin de Wihéries – 400m ***
Rue de Belle Vue – 700m ***
Both three star sectors are very challenging. Luckily for the riders, these sectors are under 1km in length, but they are still a real test of ability.
Tactics
This is a race which can be hard to get right. The presence of a strong QuickStep team makes life very difficult for everyone else. The smaller teams can still play a large part in the race, but you would have to think that the right move only goes away when QuickStep are happy. The cold conditions will make the race even harder than usual, I expect to see many DNFs. In terms of tactics, QuickStep will look to dominate the race and force the other teams into chasing, particularly Lotto. Once the elastic snaps, they will see how many they have in the front group and decide if they want to continue. If they're not happy, they press the reset button!
Contenders
QuickStep – the Belgian powerhouse arrive with a hugely talented team for a race of this level. After a poor opening weekend, they'll be keen to register a win. To me, it looks like they have Gilbert, Stybar, Terpstra and Sénéchal as team leaders. That leaves Declercq, Jackobsen and Martinelli as the workers. The difference between the level of rider in their team and everyone else is enormous, putting them into a wonderful position. Anything other than a win will be seen as a huge disappointment, the pressure is on.
Guillame Van Keirsbulck – won here in 2017, after a huge performance. The former QuickStep rider is a hard man and loves difficult conditions. He knows that going up against his old employers will not be easy, but if he has similar legs to last year, he could certainly defend his title. Special K is an enormous talent, but still hasn't fully realised his potential.
Alexis Gougeard – normally seen in long breakaways, the AG2R man comes into this race as one of the protected riders. He seems to have been around for a long time, but he's still just 24 years old. I'm a big fan of the Frenchman and he's one of the riders that QuickStep will be worried about. If AG2R can get their tactics right, he has the ability to take the title.
Nikolas Maes – just like their big rivals, Lotto did not enjoy the opening weekend. Coming into this race, they don't have as strong a team as QuickStep. It looks like Maes will be their captain, another ex-QuickStep rider. He's big, strong and possesses a fast sprint. He ticks a lot of boxes for a one day race.
Dimi Claeys – calling Claeys a hard man doesn't do him justice, this guy is made of concrete! He is an old school racer and will love these conditions. As others suffer, he'll look to put them under pressure and see who cracks in the poor conditions. Claeys is a rider that has a fast finish, I don't think QuickStep will be happy taking him to the line. Oli Naesen once told me that Claeys had a 3rd lung!
Pim Ligthart – 4th place in Kuurne was a very good start to the season for the Roompot rider. 2017 wasn't a great year for the Dutchman, but the signs are good for 2018. He is a talented rider in one day races and another who possesses a fast sprint. Roompot aren't the strongest team in the world, he'll have to use all his experience to follow the right moves.
Alex Kirsch – was a very unlucky 2nd place here in 2017. The Luxembourg rider was outstanding that day, just a shame he was up against Van Keirsbulck. At 25 years of age, he is still looking for his first pro win, but he is a talent. Veranclassic have both him and Vantomme as team leaders, giving them a decent chance of making the podium.
Amaury Capiot – after a season wasted through injury, it's brilliant to see him back to full fitness. Capiot is a tremendous prospect, a rider destined for the World Tour. He's fast in a sprint, but also a rider that loves one day races. No doubt, the Sport Vlaanderen boys will have a rider in the front group, I just hope it's Capiot.
Prediction Time
There is no point beating around the bush, QuickStep will win this race. Given the poor conditions, I'll go with Niki Terpstra. He loves a tough day in the saddle.
David Hunter
Follow us on @CiclismoInter
Join us on facebook: Ciclismo Internacional
Copyright © 2012-2018 Ciclismo Internacional. All Rights Reserved