By David Hunter
Quaregnon – Dour 198km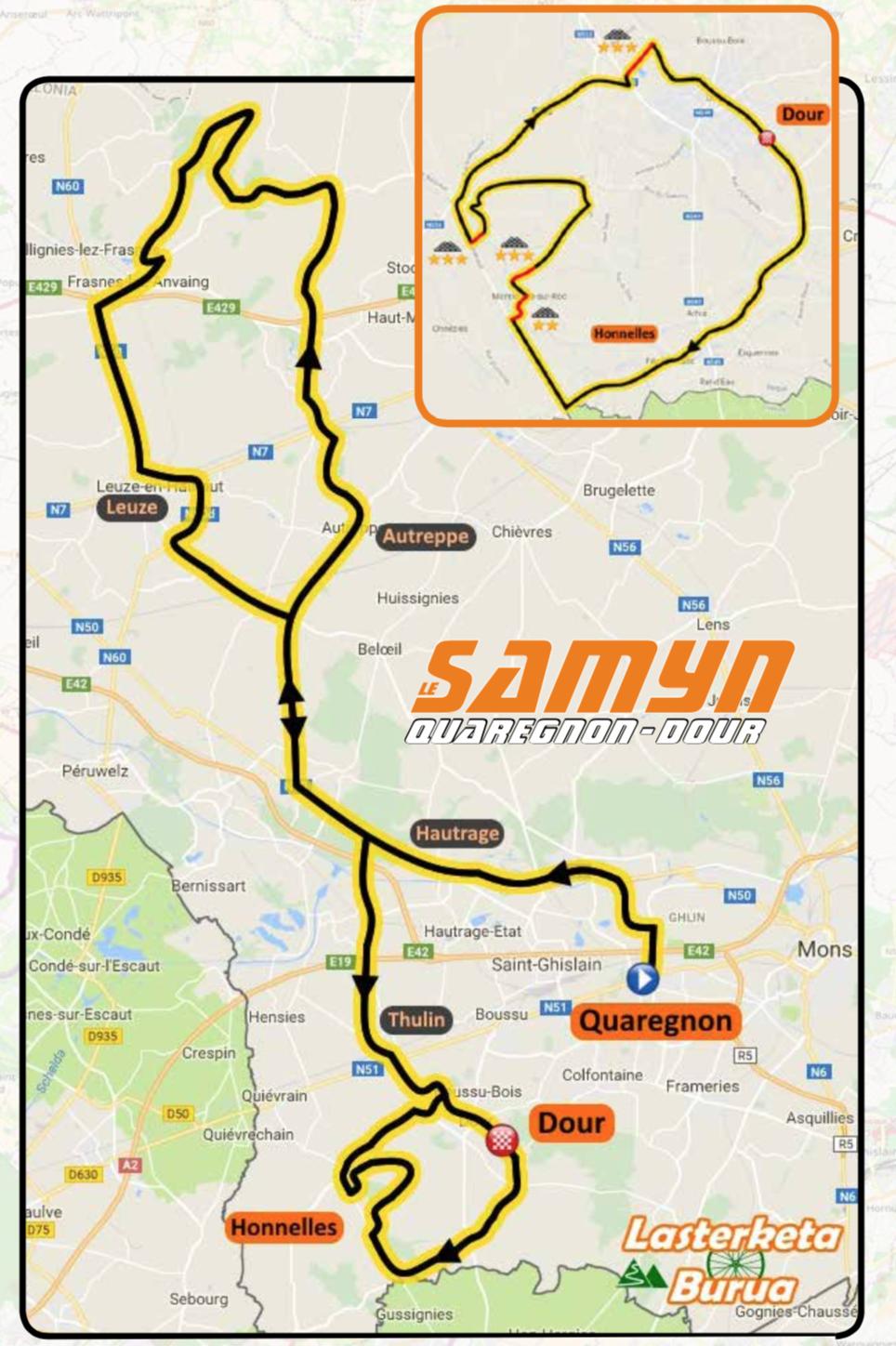 Another race with a familiar route, but with a little change.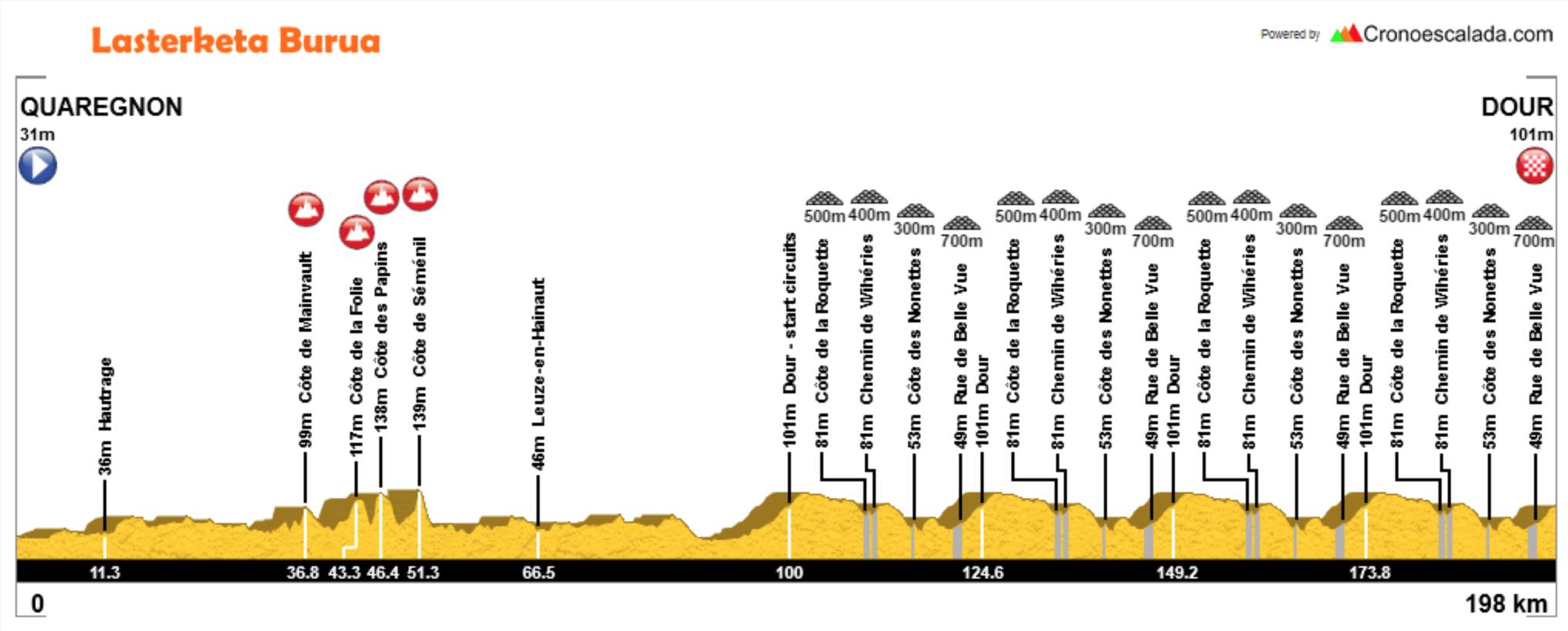 The organisers have continued with a traditional course, there really is no reason to change this too much. We have some climbs as the peloton head North, but this race is all about a brutal lap circuit, which contains four cobble sections.
Sectors
Côte de la Roquette 500m **
Chemin de Wihéries 400m ***
Côte des Nonettes 300m ***
Rue de Belle Vue 700m ***
The organisers have decided to remove Rue du Vert Pignot, which is 1400m long, but only a one-star sector. This has been replaced by Côte des Nonettes, which is just 300m long. This sector is actually very hard, with large cobbles and it goes uphill. Bam!
The circuit also features a grind up to the finishing line, where we witnessed one of the slowest sprint finishes of all time, back in 2017, when Van Keirsbulck beat Kirsch. Not only do the riders have to worry about the cobbles, but we have many sections of exposed roads.
Weather
The area has had a fair bit of rain over the last few days, we should see wet cobbles and maybe a few puddles too. We are expected to get more rain during the race and a strong wind coming from the South-West. It should be enough to see some echelon action, particular in the lap circuit, maybe even before then if QuickStep really want to make it tough.
How to Stop QuickStep?
Almost impossible in a race like this. When the Belgians rock up with a strong team, the others know they need to ride a perfect race to win. Saying that, Direct Energie certainly have some cards to play. With the likes of Terpstra, Gaudin and Petit there is a chance they can have numbers in the finale of the race. These riders possess a huge amount of experience, something that could be crucial up against a relatively inexperienced QuickStep squad.
Contenders
QuickStep – the Belgians might not arrive with their A team, but they are still the envy of all the other squads in the race. Arguably, everyone of their riders can win this race: Asgreen, Cavagna, Martinelli, Richeze, Sénéchal, Serry and Declercq. They'll have to make two ride on the front of the bunch during the early stages of the race, I expect this to be Martinelli and Richeze. The other five will be allowed to take their own chance if it arises. We've seen in this race before, QuickStep make it a tough race and a selection is made. In the front group, they always have more representation than the rest, they take it in turns to attack and eventually win the race. That makes it almost impossible to predict which of their riders will win. Asgreen was very impressive in Kuurne, as was Sénéchal. The Frenchman was touted as one of the riders of his generation, but hasn't quite hit those heights. His countryman, Cavagna, is a hugely impressive rider. The youngster won a tough edition of DDWV in 2018, he can cope with cobbles and bad weather. Then we have Serry, one of the best riders never to have won a race and finally my favourite, Tim Declercq. El Tractor has been in fine form this season, and it would be amazing to see him given some freedom.
Niki Terpstra – the defending champion arrives wondering how to beat his former employers. Terpstra will look forward to the tough conditions, he'll want a hellish day on the bike. Lacking a sprint, he knows which of the QuickStep riders he can beat and who he doesn't want to be left with. Being the strongest rider from the rest of the pack will make life very difficult for Terpstra, he knows that QuickStep will try to work him over.
Stijn Vandenbergh – the big man has fallen from grace in the last couple of seasons. I would be very pleased to see him back to his old self, but it won't be easy.
Dimi Claeys – the Belgian is one of those underrated riders who just plugs away. Last season saw him taking a big win, when he claimed the GC in 4 days of Dunkirk, a result I was delighted to see him achieve. He's a tough guy, he'll love a filthy day in the saddle. The harder the day, the better he is. He packs a fast sprint from a reduced group.
Amaury Capiot – after 2018 was ruined by injury, I hope for better in 2019. Things have started off well with some encouraging performances in Oman, something which should help his confidence. The Sport Vlaanderen boys arrive with a strong team, I would expect Capiot and Edward Planckaert as co-leaders. Capiot is a rider who should really be performing at a higher level, if he can get over his injuries, I expect to see him prove that this season.
Baptiste Planckaert – the ex-Katusha man recently took a step down to ride for Wallonie-Bruxelles, which was an interesting move. He looked good in Nieuwsblad, eventually finishing in 24th place. The Belgium is a strong rider, but has struggled to achieve results in the last couple of seasons. Arguably, he is the fastest finisher of the favourites.
Aimé De Gendt – the new signing for Wanty will be eagerly anticipating this one. After making the move from Topsport, this is exactly the type of race he wanted to challenge in. As part of my riders to watch in 2019 series you already know that I rate this rider highly. He has the attributes required to do well in this race, I look forward to seeing him at the front.
Stijn Devolder – 39 years old and still able to finish 27th in Nieuwsblad. He is an incredible rider and one you can never write off, no matter his age!
Prediction Time
QuickStep will win, they simply have far too much strength in depth compared to the other squads. Picking a winner is very difficult, it depends a lot on luck! I'll go with my heart on this one and pick my #cyclinggame19 rider, Tim Declercq. Let El Tractor become El Ferrari for the day!
Remember I've now got a podcast too. Go and give it a listen
David Hunter
Follow us on @CiclismoInter
Join us on facebook: Ciclismo Internacional
Copyright © 2012-2019 Ciclismo Internacional. All Rights Reserved