By David Hunter
Quaregnon – Dour 199km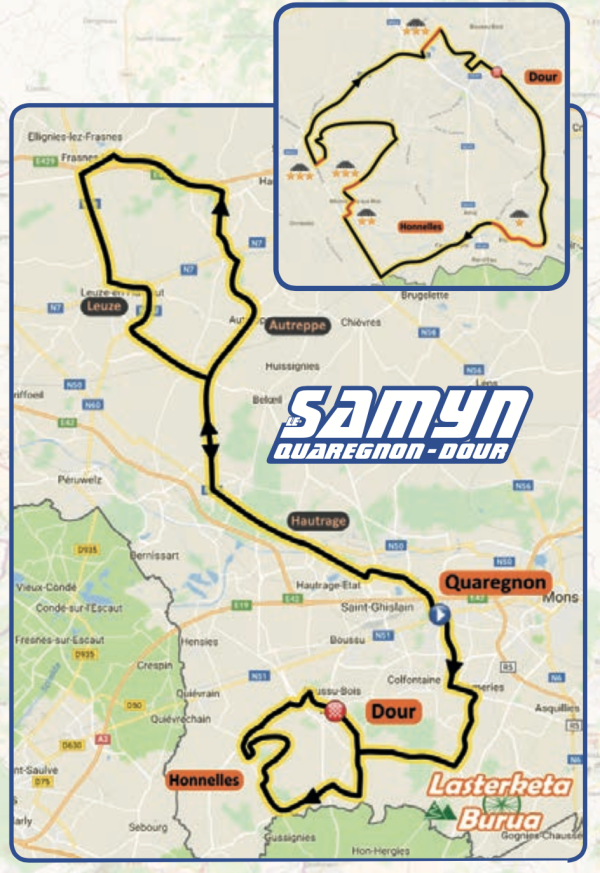 The hipster world championship.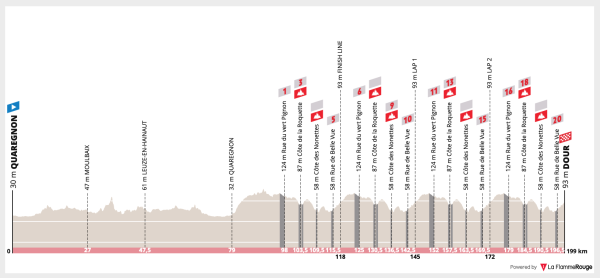 Just like last year, the organisers have tinkered with the lap circuit and the cobble sectors. After missing out last year, Rue du vert Pignon is back in the race, although the road book doesn't seem to mention it! This is the easiest sector, but the longest, at 1.4km.
After this, the bunch have to tackle Côte de la Roquette, which is a two star sector and 500m in length. This is another easy sector and shouldn't put any riders into difficulty. Straight after it comes Chemin de Wihéries, which is 400m and the cobbles are tough.
Next up is Côte des Nonettes which was introduced to the race last year, it might only be 300m but it's uphill and a real lag sapper. The final sector is Rue de Belle Vue, and is the toughest of the race. It is 700m long which means it's long enough for riders to be put under pressure and it also usually features large puddles! Please note this means we have 5 sectors of cobbles this year, one more than we usually get, which will obviously make the race harder.
Finale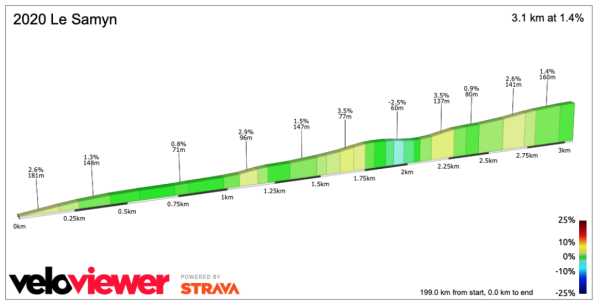 The final 3km is a grind. Coming at the end of a tough race, we usually see the riders crawl up to the finishing line. It's a tricky end to a demanding race.
Weather
Could be a little rain around, but not much. The wind is due to come from the west and will gust up to 33km/h. Given some of the exposed sections, this is enough to split the race.
Professional Insight
As this is such a cool race, I thought why bother with just one rider helping out, let's go with two. First up is Alex Kirsch, second here back in 2017 and a man that Trek-Segafredo have high hopes for.
6th in 2018 and 2nd in 2017, what is it about this race that suits you?
"Probably the cobbles. The amount and frequency as they come in the 2nd half of the race. Add some wind or bad weather conditions and it's always going to be hard."
What are the crucial points on the circuit?
"I'd say the first big crucial point is the first lap. The bunch is going to lose a lot of riders and from there on it's going to get smaller and smaller. Otherwise Côte de la Roquette immediately followed by Wihéries is important too."
The organizers have decided to have more cobbles this year. What impact do you think this will have on the race?
"I heard that too but haven't looked into it in detail yet, it's been a busy opening weekend! In theory it should make it harder and easier for the guys with good legs to make a difference."
How are you so good at riding in the wind?
"Good question! There is a bit of work behind it: checking the wind, maps, analyzing race situations and thinking 2-3 steps ahead. But then you also need a good kick to actually make the front group, technique is also important. I see a lot of riders who are strong enough to be in the first group but have no clue what they are doing. It also helps to be in a team like Trek, with Jasper and Eddy being good in crosswinds too."
What are your hopes for this race?
"Well we had a lot of success already with the team and I want us to continue this way. Personally, I'd like to improve on my 2017 result!"
Next in the interview chair is Tim Declercq of QuickStep. He was agonisingly close to winning this race last year, which would have been his first pro win. Tim is without doubt the best domestique in the world, but we saw in Omloop that when he gets a chance to shine, he can also perform well.
We need to talk about Omloop, that was one hell of a ride. 5th was an incredible result considering how much work you got through. What did you think of your day?
"I have to say I was also a bit surprised that I could ride the final for the first time in my life. Of course, it helped that because of the wind and echelons I didn't have to ride on the front to control the breakaway. Then I did everything to bring Lampie into the best possible position. Only after I was dropped on the Muur I shifted my focus to trying to make a personal result."
Last year you were very close to winning this race. What do you remember about that day?
"Yeah it's one of my favorite races of the season. I still cannot stand to watch the images of last year with my 70 RPM big gear."
What are the crucial points on the circuit?
"The thing that I like most about this race is that it can happen anywhere on the local circuit. Of course, you need to be in front on the cobbled sections but a lot of time the break goes on the parts in between."
You are known as one of the best domestiques in the world. How does it feel to get some freedom in a race like this?
"I know I will always be a domestique because I lack the explosivity to finish off a race. However, it's nice to sometimes do my job a bit more into the final."
Just how good is it to ride for a team like QuickStep?
"It was and will always be the team of my dreams. 10 years ago, I would never have dreamed to be riding for this team, and it's still really great to be part of the family. Everybody appreciates the job I do and we're all happy for anybody if they take a win. That's a bit of the secret of our team I suppose."
Tactics
Each lap will see the bunch get smaller and smaller. The circuit also has some of the windiest places in the whole world! With the wind coming from the west, we have a few sections of exposed crosswinds, which the strong teams will use to their advantage. The tactics will be dictated by QuickStep, when they race here they usually win. They will fire attack after attack until the front group becomes what they want.
Contenders
QuickStep – take your pick who'll be their protected riders. The Belgians arrive with Sénéchal, Ballerini, Declercq, Hodeg and Van Lerberghe as potential winners. Like in most races, this means they are the team to beat and we'll likely see them dictating what happens throughout the race. Sénéchal is the defending champion and a rider perfectly suited to this race. Ballerini is a very exciting prospect, Declercq almost won last year, Hodeg is fast and so is Van Lerberghe. It is very difficult to predict who'll be their protected riders, but Sénéchal is brilliant for a race where it's likely to end in a sprint from a small group. His win in 2019 was his first pro win, which is quite a surprise as he's long been touted as a future star of the sport. He is very strong on cobbles, and looked in good form during Omloop, he'll be a tough man to beat.
Trek – they arrive with a squad which can go toe to toe with QuickStep. They have Stuyven, Mullen, Liepens, Simmons, Kirsch and Theuns. Fresh from his brilliant win on Saturday, it's clear to see that Stuyven is flying. Theuns would be a great option for this race, but as he's still struggling a bit with his thumb it will be tough for him to cope with the cobbles. Simmons is one who excites me, I've heard plenty of good things about him from his teammates. It might still be a bit early in his pro career, but that didn't stop Evenepoel. Kirsch is a great option for this race, he was only just beaten into 2nd here in 2017. He copes well with tough conditions and flies over cobbles, he provides the team with a strong alternative to Stuyven. The Belgian will have used up a lot of energy over the weekend, but that doesn't bother you when your legs are going well. He'll arrive here full of confidence and with the hope of taking another win.
NTT – they have EBH and Nizzolo, two strong options to play. I carefully watched both Omloop and KBK, I don't recall seeing EBH at all, which isn't a great sign. Nizzolo was 2nd in KBK, which was an impressive result, but I'm not sure he'll cope with this circuit.
Niki Terpstra – the former winner of the race would have hoped for stronger wind conditions, he excels in them. He arrives with Petit, Gaudin and Van Gestel to help, that is some serious firepower for a "smaller" team. Terpstra isn't looking as strong as he used to, but this is a race he should do well in. He doesn't have much of a sprint, which makes winning races really tough.
Aimé De Gendt – second here last year, the Wanty rider is one I really like. He finished in the main peloton in Omloop, which was a good way to start off his season. This is a race he likes; it suits his characteristics. It won't be easy to beat the big teams, but he has the power required to do so. Wanty actually have a very strong squad at this race, with Dupont, Pasqualon, Vliegen and Devriendt providing the team with plenty of options.
Hugo Hofstetter – the little sprinter copes well with tough conditions. I'm not such a big fan of Israel Start-Up Nation, their tactics confuse me. He is the type of rider who should be challenging for the podium, but due to his sprinting speed, QuickStep and Trek won't be happy taking him to the line.
Tim Merlier – the Belgian champion looked in good form during KBK, staying with the front group over the top of the Kwaremont. As a cyclo-cross rider you would expect him to cope fine with the cobbles, and he is arguably the fastest sprinter in this race. Alpecin-Fenix don't have an overly strong team, it's going to be hard placing Merlier in the winning move. Being the fastest can often be a disadvantage in this type of race.
Edward Planckaert – the TopSport man has started the season in fine form, netting three top 10 results already. He is one of those punchy riders who can do lots of things quite well, I expect to see him moving up a level in 2021. TopSport don't only have him as an option, they also have Amaury Capiot in what looks a strong team.
Prediction Time
All about QuickStep v Trek, as both outfits have depth and quality. QuickStep will be worried about Stuyven, I think we'll see one of those races where we see options B and C up the road, with the team leaders marking each other. Given his finishing speed I think we'll see a slight surprise with Bert Van Lerberghe taking the win for QuickStep.
David Hunter
Follow us on Twitter and Instagram
Join us on facebook: Ciclismo Internacional
Copyright © 2012-2020 Ciclismo Internacional. All Rights Reserved