Liège-Bastogne-Liège 2021 – Preview
By David Hunter
Liège > Liège 259km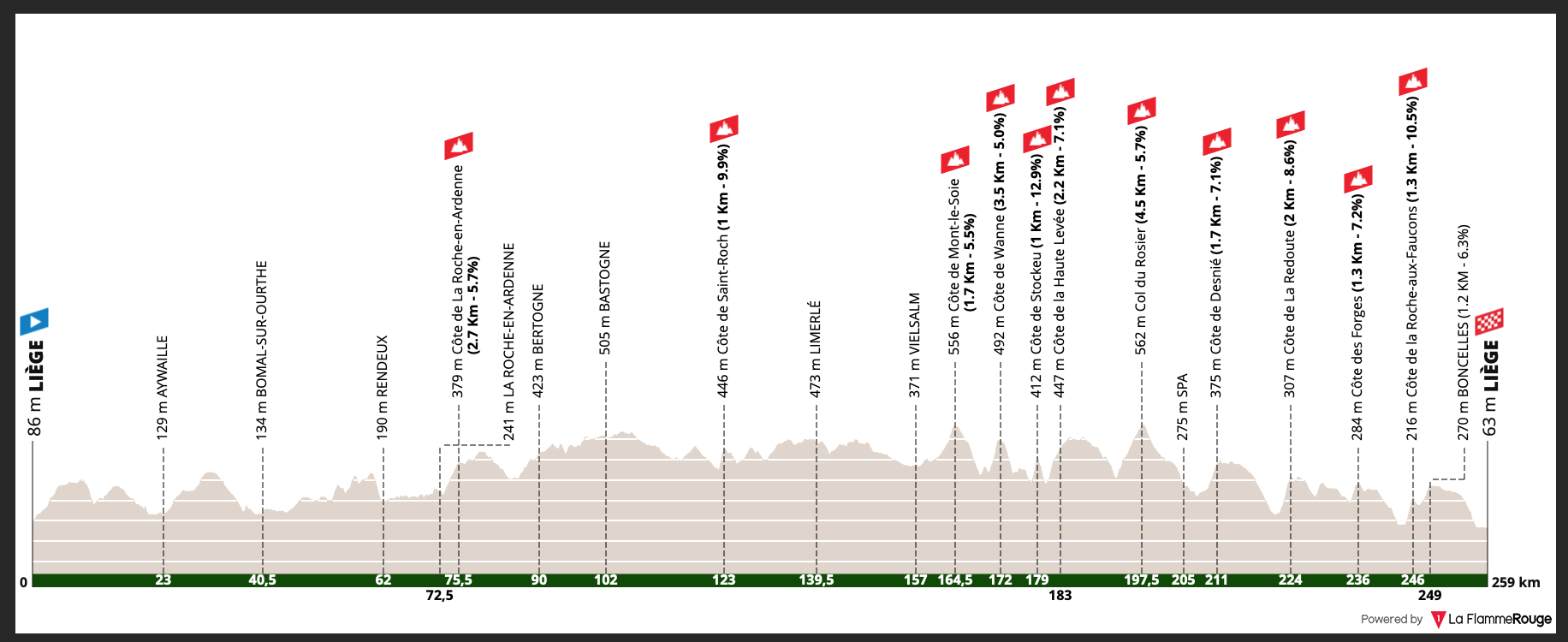 The last monument for a while.
The organisers have made a slight change to the route, but it does make the race a little higher. The rest is the usual route that's been used for the last few years.
Weather
Nice and sunny, but temperatures won't get above 14 degrees. It's good racing conditions. The wind isn't too strong, but once over Faucons, it's a headwind of around 18km/h for the final 8km.
Key Points
This is the new climb that comes before La Redoute. It is 2km at 6.5% and is quite tough, it replaces a climb that was 3km at 5%. Will anyone dare open the race up this early?
La Redoute is one of the most iconic climbs in Belgium. Unfortunately, we rarely see attacks here as there's still 35km to go.
Roche-Aux-Faucons, the big moment in the race. 1.3km at 10.9% and coming after 244km of racing means it's even harder than the numbers suggest. We then have a short descent before the road kicks up again, this little kicker should not be underestimated.
Tactics
The last few years have seen the same pattern, with the race being held together until the Faucons. I hope we see something different this year, I'm getting a little bored. Who wants to open the race up early? Ineos seem the likely contender, but UAE might get in on the action. Of the favourites, Roglič has the weakest team. Now, Jumbo-Visma aren't weak, but Ineos, UAE and QuickStep are just stronger. There is no way Roglič gets dropped on Faucons, it's up to the other teams to see if they can force him into doing some work earlier in the day.
The big 4 in this race seem evenly matched. We have Roglič, Pogačar, Alaphilippe and Valverde. All have shown very good form in recent weeks, and there really isn't much between them. Just below them are be Schachmann, Woods and Carapaz. There is every chance we get a bigger group than usual after the Faucons, that would make life very interesting indeed.
The tactics for this race will likely follow a similar pattern to previous years. Despite my hopes, it will happen on the Faucons and the rest of the race will depend on the size of the group over the top.
DS Cycling Mole
For the final spring classic, I've been drafted in by UAE.
Right boys round you come. First of all, who bought that shitty COVID vaccine? I'd have been better off injecting myself with bleach.
This is the big one, and we've had a nice wee rest, so no excuses. We need to be on our guard for Ineos opening the race up early. Tom (De La) Cruz, you need to patrol these moves. On La Redoute it's time for Formozo to take over, nice and steady, nothing silly. Rui, you do your usual. Get in breaks, refuse to work and piss everyone off. It would be great if someone gets over Faucons with Poggy, I don't care if it's Brando or the Hirschi Bar Kid.
Brando, you owe Poggy after the Basque Country. I want a big ride from you. The Hirschi Bar Kid, it would be nice if you started earning that big salary of yours.
Poggy my boy, this is your time. You are the best cyclist in the world, go out there and show them. I want to be celebrating come Sunday night. The bleach is on me.
Contenders
Tadej Pogačar – he's been brilliant so far this season. UAE couldn't race in Flèche, so we haven't seen how his body has reacted to a very demanding Basque Country. He's been able to have a little rest, which could help him in this race. UAE arrive with a very strong team to support him, the likes of McNulty, Hirschi, Formolo, Rui Costa and De La Cruz should be able to last very deep into the race. The Faucons climb won't scare Pogačar, he's one of the best on those types of hills. Last year he couldn't quite follow the attack by Hirschi and Alaphilippe, but he was very tired after a demanding period of racing. This year he'll be fresher, I just don't see him getting dropped. Having a very fast kick gives him a big advantage, but will he back himself to beat Alaphilippe in a sprint? He already has a yellow jersey, is it time for him to win his first monument?
Primož Roglič – form is great, despite not winning on Wednesday. Jumbo-Visma will hope for a conventional race, but this is when they'll really miss Tom Dumoulin. In the finale of the race, Roglič is unlikely to have any support, which will make life a little harder for him. The other issue is most of the big contenders have a faster sprint, defending his title is going to be hard. I think he needs to arrive solo, that will be tough to do.
Julian Alaphilippe – has he timed his peak to perfection? It certainly looks it. It's funny thing to say, but his win on Wednesday will have given him a massive confidence boost. He's struggled at times this season, but he'll approach this race much more like his usual self. QuickStep have a strong team to support him, he'll get lots of support deep into the race. If we get a small sprint, it'll be close between him and Pogačar, I'm not sure who'd be the fastest after a tough race.
Alejandro Valverde – the birthday boy, the old man is going to turn 41. Speaking as a 42-year-old, I have no idea how he still manages to perform at this level. This year we've seen something of a renaissance for the Spaniard, he really has reached his old level. Despite that, winning will be very hard, he's definitely lost some of his sprinting speed.
Ineos – no Pidcock is a big blow, it changes how they need to approach the race. They still have three good options in Carapaz, Kwiatkowski and Yates, but Pidcock was their ace in the hole. Yates has lost some of his edge compared to the early part of the season, but he cannot be written off. For me it's got to be Carapaz, he seems to be riding into good form. He was 9th in Flèche, which was a good result considering he was policing moves on the penultimate climb. He's not one of the big favourites, but it wouldn't surprise me to see him taking the win.
Michael Woods – he's a funny one in this type of race. We've seen him get very close to the front group in the closing kilometres and then go pop. This has happened in the last two editions of this race and in previous Amstel Golds too. The one time he did go the distance was the 2018 World Championships, but he's not shown that form for a while. If he wins it would be a big surprise.
Max Schachmann – the German is lurking in the background, exactly where he wants to be. He was brilliant in Amstel Gold, and this is a race that suits him well. The problem is the Faucons, it is right on his limit. He will hope the pace isn't crazy and he can stay in contention, then go on the attack in the closing stages. He's exactly the type of rider who can surprise the big names.
BikeExchange – they are flying under the radar but look strong to me. Chaves has seriously impressed in the last week, he could win this race. Matthews is the only fast man who has any chance of making the front group, but it will be hard. He will be gapped on the Faucons but will hope the pace goes out of the front group and he can get back on. I've been banging on about him winning big for ages now, this could be his time.
Prediction Time
I'm thinking that Tadej Pogačar will take the win, the first of many monuments.
David Hunter
Follow us on Twitter and Instagram
Join us on facebook: Ciclismo Internacional
Copyright © 2012-2021 Ciclismo Internacional. All Rights Reserved