Mauro Finetto: "I will be at Trentino in preparation for the Giro d'Italia"
By David Hunter
Time for my latest catch-up with the brilliant Italian. It's my 3rd interview with Mauro, since December, as we get to know him and the type of rider he is. He continues to have a great season, following up a strong start to the season with 7th in De Panne and he was very close to a breakaway success in De Brabantse.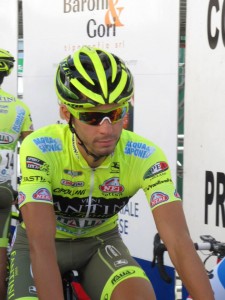 Congratulations on a great season so far. You were brilliant in De Panne. On stage 1 you powered across to the break, did you feel that you had to make the move?
Thank you, I am progressing very well. I moved when there were 20km and three "bergs" to go, the time was right to move and to try and to make group as select as possible.
You seemed to start the sprint a little bit too early, were you worried about Sagan?
Yes, I saw that Sagan was the fastest and the fact that the final featured the arrival curve at 350m I thought I'd get in first and try to anticipate and surprise … but Sagan immediately took the wheel and the arrival going downhill did not favour me. Staying on the wheel I would probably have been on the podium of the stage but I wanted to try my way. Too bad, as I was on a great day.
You managed to do a good TT and finished 7th overall. You must have been pleased with this?
We are satisfied, even if I was aiming at something more in De Panne. I love Belgium and I wanted to leave a mark higher, especially in the first stage. I am also satisfied with my performance in the time trial, but if I had more speciality resources I could have gotten more, since I was only 12 seconds behind 4th.
You them moved to Limburg and did another great ride and finished 3rd. You made the right move and got across to the break, but Belkin brought it back. You still managed a strong sprint and finished 3rd. What did you think of the race?
This was another race that I really wanted to win (to get rid of the disappointment of not being at the start of the Tour of Flanders), I was in great shape and I think I ran very well, freeing the last climb of those who could bother me in the sprint and joining the breakaway with 25km to go, but soon after Ten Dam (Belkin) stopped cooperating and we were caught with 8km to go. At that point I wanted to do the sprint in support of my teammate Colli and at the start of the pave, -800m, I was already at the head, it was unfortunate that Hofland was able to take the wheel of myself, rather than Colli, ahead of the curve at -250m.
What do you think you can achieve in De Brabantse Pijl?
At Brabantse, I want to do very well! I think that it is one of the main goals, early in the season for me.
I have just looked at the road book for Trentino. It is brutal! 3 mountaintop finishes with extremely high gradients. Stage 2 ends with San Giacomo di Brentonico, stage 3 ends in Roncone with 2.4km at 14% and then stage 4 ends with Monte Bondone, 21.5km at 6.3% with 38 hairpin turns. What do you think of this?
I will be at the Giro de Trentino in preparation for the Giro d'Italia, so I'm not particularly worried about the difficulty of the course, and I'm not going to make great results, although I believe that in at least one of the three I aim to do a good performance. I'm not a pure climber but I get along even on steep climbs and I can have my say.
So after a very busy early season Mauro heads to Trentino to try and fine tune his form before the Giro. Keep an eye out for him challenging in one of the stages.
David Hunter
Follow us in facebook https://www.facebook.com/CiclismoInternacionalLatinoamerica?fref=ts … or Twitter @CiclismoInter