Milano – SanRemo 2015 Preview
By David Hunter
Milano – Sanremo Totale 293km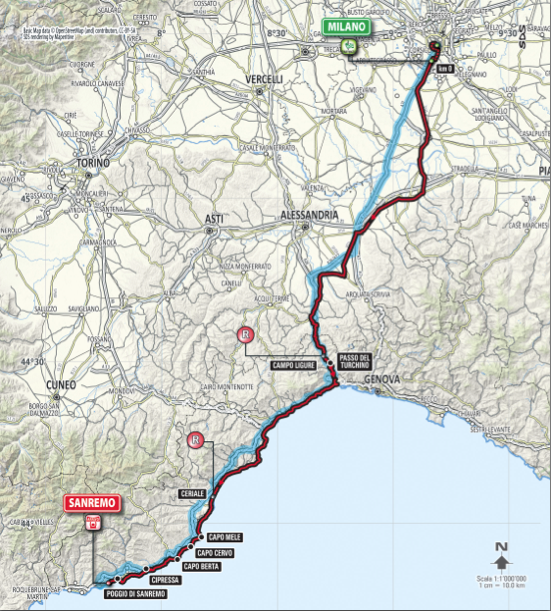 After last year's horrible but engrossing race, we return to a very familiar finish, Via Roma. Used from 1994-2007, the popular finish is back.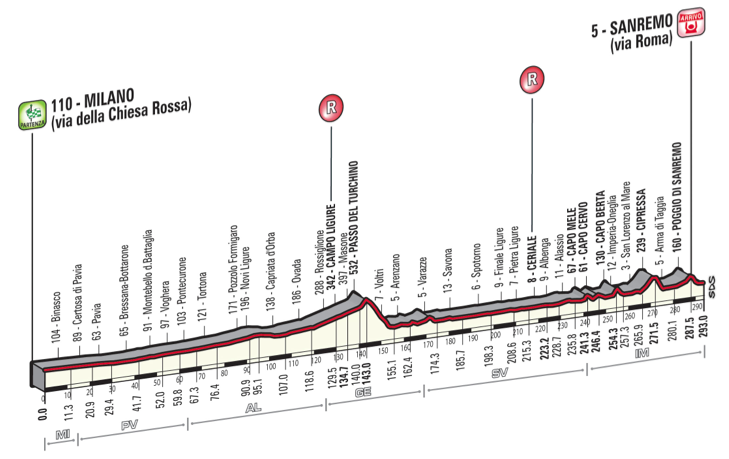 It means that the distance from the top of the Poggio, to the finish, is reduced to 5.5km. The descent takes care of 3.5km, so there is only 2km of flat road, at the end of the race.
As most fans know, we usually start to get attacks on the final two climbs, the Cipressa and the Poggio. Neither are particularly difficult but after 270km of racing, even the smallest of climb is hard.
The maximum gradient on both slopes is the launching pad for the attacks. The Poggio is the critical point in the race as a late attack stands a good chance of staying away, especially with only 5.5km remaining in the race. Riders well certainly attack, something the sprinters will try to deter.
The teams of the sprinters will try and set a fast pace on the climb and stop any attacks. When they go, they will pray the riders are from small teams and not particularly strong. If we get a group of 6 riders escaping, with the big teams represented, it's very hard to pull them back.
The descent is very fast and hard to organise any chase on. Just a 5 second gap, at the top of the Poggio, is all that's needed to win the race. Last year's sprint was the first since 2010. This race usually favours a late attacker. However, sometimes a gap of 10 seconds isn't enough. That's the beauty of the race.
Most of the fastest men in the world are here, except Kittel. We have Cavendish, Kristoff, Sagan, Degenkolb, Lobato, Greipel, Matthews, Bouhanni, Ciolek, Gallopin, Demare, Swift, Nizzolo, Coquard, Cimolai, Modolo, Pelucchi, Bennett, Colbrelli, Bonifazio and Rojas.
Throw in the normal classics riders: Cancellara, GVA, Gilbert, Stybar, Pozzato, Kwiatkowski, Haussler, Breschel, Valverde, Nibali, EBH, Chavanel and Stannard.
What sets this race apart from most others, is the distance. It's an absolute monster of a race and it really has a huge impact on the legs of the riders. Sprinting after 290km is not the same as spiriting after 200km. But will we get a sprint?
The return to Via Roma makes me lean slightly towards a late break. A team like Etixx would like to cover all bases and despite having Cavendish, expect to see them attack. This gives Cav and co a free ride, keeping him fresh for the sprint. But who will they let attack on the Poggio? My guess would be Stybar. Clearly in top form, his uphill sprint is good enough to get a gap. He also possess a good sprint, important if we get a group of 10 riders. They also have the option of Kwiatkowski, but I think he's better served riding in the lead-out train.
BMC have two strong cards to play in Gilbert and GVA. Both seem to be in good form, Gilbert was clocking up breakaway kilometres in PN, whilst GVA was 2nd in Strade Bianche and won in Arezzo, in Tirreno Adriatico. They need to eliminate the sprinters, so expect BMC to ride an attacking race. It's hard to imagine a situation where one of these riders doesn't make the late break. The last time we had this route, in 2007, Gilbert attacked on the Poggio and got a 10 second gap. He and Ricco were caught with 1km to go and Freire took the sprint.
John Degenkolb was going well last year until a puncture just before the Poggio. It was a real shame as he could have challenged for the overall victory. Giant have handed him the leadership, with Kittel not being selected but he's missing Simon Geschke, who broke his collarbone. This is a massive loss for Degs and one he'll struggle to overcome.
A late addition to the Movistar squad is Alejandro Valverde. This is a good decision by the team as they now have an option on the Poggio. If we get attacks from big riders like Cancellara, Valverde will be allowed to follow. He can act as an anchor and if the move works, he has a fast sprint. Valverde is a dark horse for the win.
Having a good lead-out man is important. Paolini did a great job, in 2014, for Kristoff. Looking at the sprinters, most have riders who will be able to last the distance and help, if we get a sprint.
Lotto have Greipel, who was just distanced on the Poggio, in 2014. He won a stage in PN and is very motivated for this race. He should have Roelandts to help at the end and a massive plus for the Gorilla. He can cope with the distance and is nice and fresh compared to some of the other riders. Lotto have stripped back his 2015 calendar, in the hope of him being well rested for the big events. Time to see if that policy works!
Mark Cavendish and Alexander Kristoff have been the top two sprinters in 2015. We've already seen them go 1 to 1 in KBK, with Cavendish taking an impressive win. One thing is for certain, Cavendish will be confident of winning. He picked up a bug before Tirreno and a mechanical fault stop him from sprinting, on stage 2. He then withdrew from stage 6, to not take any risks ahead of this big date. He's a previous winner here and has to be the favourite for the race. It helps that he rides for Etixx too. You've seen enough of my previews to release that Etixx are a huge threat in 1 day races.
If we get a sprint, it should be Cav v Kristoff v Degenkolb v Greipel. The likes of Swift, Demare, Bouhanni, Lobato and Matthews could surprise but I doubt it.
A lot has been talked about Lobato and Matthews. Both are brilliant climbers but don't have the same speed, as the top sprinters. They can take their chance and attack but will hope their teams can set a pace that the sprinters can't cope with.
What about Cancellara? He's in better form than 2014 and loves this race. He took the brave decision to sprint in 2014 and took 2nd place. I doubt he'll take the same chance this year, expect a Fabian attack! We all love one of those. He's finished on the podium here in the last 4 years but it's been a long time since he won it, in 2008.
In the last 4 years, we've had 2 surprise winners. Both Goss and Ciolek were rewarded with a big win and you can never write off a "lesser" rider. The Italians are always desperate to win here but haven't done so since Pozzato in 2006. Pippo is looking back to his old self and Lampre are enjoying an excellent season. The Italians would go crazy if he could roll back the clock. He's another rider that will look to attack on the Poggio and knows what it takes to win on Via Roma. Don't forget about Modolo or even Cimolai in the sprint.
And what about Peter Sagan? After a frustrating start to the season, he eventually took his first win, on Monday. A timely confidence boost, not that he ever seems short on confidence. Sagan has been close here on a few occasions, he should really have beaten Ciolek in 2013. Distance isn't a problem and the climbs aren't a problem but the speed of the other sprinters is. I think Sagan should look to attack on the Poggio. It's a risky tactic as he has a good chance of making the podium in the sprint but fortune favours the brave. He would only need a few seconds of a gap, thanks to his brilliant descending skills.
The weather forecast is changing all the time. It currently looks like rain but it could change. A rainy day suits Kristoff.
Prediction Time
If we get a sprint I'm favouring Greipel. This might surprise you but I think he looks fresh and motivated. When he won in the Algarve, he achieved 1950 watts, that's some serious power. He got his win in PN and then took it easy, so expect a hungry Gorilla come race day. However, I don't think we'll get a sprint. A small group will escape on the Poggio and I expect to see a battle between Stybar, Valverde, Gilbert, Cancellara and Van Avermaet, with Stybar coming up on top.
¿Quién será el Rey de las Clásicas de Primavera?
Fabián Cancellara (21%, 98 Votos)
Alexander Kristoff (19%, 89 Votos)
Peter Sagan (14%, 64 Votos)
Otro (12%, 58 Votos)
Zdenek Stybar (12%, 57 Votos)
Geraint Thomas (6%, 30 Votos)
Sep Vanmarcke (6%, 28 Votos)
Niki Terpstra (5%, 25 Votos)
Greg Van Avermaet (5%, 24 Votos)
Votantes: 473
Loading ...

David Hunter
Follow us in facebook https://www.facebook.com/CiclismoInternacionalLatinoamerica?fref=ts … or Twitter @CiclismoInter
Copyright © 2015 Ciclismo Internacional. All Rights Reserved