Milano-Sanremo 2020 Preview
By David Hunter
Milan – Sanremo 306.4km
Change of route alert.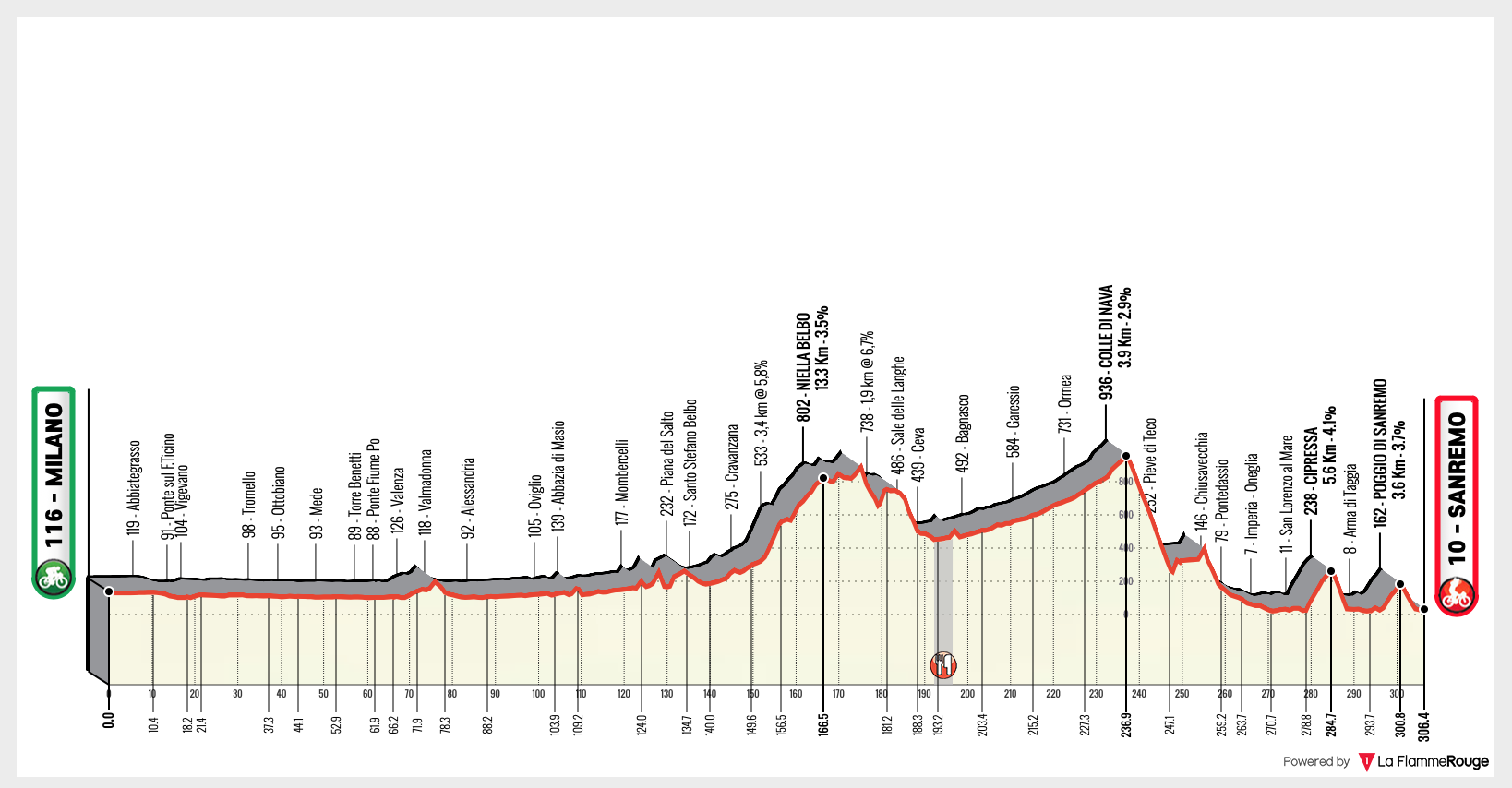 Thanks to mayors of towns not wanting to shut roads during summer season the route has been tinkered with. Out go the capi and in comes a long drag. Time for a quick Q&A with me!
Will the change of route have an impact? No.
Will the heat have an impact? Yes.
Will we get a sprint? No.
Will the winning move go on the Cipressa? No.
Will it be the same as usual? Yes.
Good, I think that's covered plenty!
Weather
Touching 30 degrees, which is nice if you're down the beach, but not if you're doing 300km on the bike.
Professional Insight
Second last year, I think Oli Naesen is plenty qualified for this.
How will only having 6 riders on each team change the race?
"Not that much I'd say. In the super long prelude, you do not need 6 guys in support. The final is so hectic that it's nearly impossible to stay together anyways. It's just BS that the organisation decides such a thing the day before most teams traveled to Italy for the Italian week."
Second last year was an incredible result. Just how hard is it to go with the climbers on the Poggio? 
"A pure 100% all-out effort. Felt super strong but nobody was really on the wheel. Everyone went at 100%."
What is your current shape like?
"My preparation was near perfect, not much I could've done better. I would have liked to have a nice Strade result under the belt, but the heat killed me. This annoys me."
Will the route change have any impact?
"There's 600m more 'climbing' to do. But those meters are far away from the finish and I don't expect the pace to be high so probably not. The temperature on the other hand will be pretty brutal again."
Did you enjoy Strade Bianche?
"No. Hahaha."
The Climbs
The poor old Cipressa, nobody every wants to really attack it. Such a shame really, as it is tough enough to cause a selection.
The Poggio, the moment of truth. You need a good position at the foot of the climb, and ideally two riders to really string things out before making your move.
Finale
The fast descent follows before the riders hit Via Roma and a flat finish.
Contenders
Wout Van Aert – the man in form. Took a brilliant win at Strade Bianche, and then finished 3rd in a bunch sprint on Wednesday. He can do it all! Jumbo-Visma have this as a big goal for the team, this is a brilliant chance for them to win their first monument. Van Aert will be able to go with the attacks on the Poggio, but controlling that front group will not be easy. All eyes will be on him after his sensational win last week, can he deliver the big one?
Mathieu Van Der Poel – Strade Bianche didn't go according to plan, thanks to a puncture at a critical point in the race. I also wonder about how he copes with the heat; he didn't look particularly comfortable under the hot sun. Given the way he attacks climbs, everyone will expect him to be flying up the Poggio, but will he have good position at the foot? His team are still weak compared to the others; this will always hurt his chances in the big races.
Peter Sagan – has spoken about trying to manage his fitness as he's doing both the Tour and Giro. As soon as a rider starts talking like this I think they lose their edge. Sagan has never won here; I don't think 2020 will be his year.
Julian Alaphilippe – same as Sagan, he's been talking down his current level. I fear the same fate for him.
Philippe Gilbert – the strive for five. Can Gilbert take home his missing monument? This is his major goal for the whole season, but everybody knows he wants this one. With all eyes on him, it will be very difficult to escape and take the win. However, it would be beautiful if he won.
Michal Kwiatkowski – the former winner is always up there in Sanremo. He has the punch required for the Poggio, descends well and has a fast sprint, which is everything you need for this race. He was in fairly good condition at Strade Bianche, but couldn't cope with the front group when the pace went up. He is a good pick for this race.
Oli Naesen – so close last year, I hope he can go one better this season. The Belgian likes long races, so 300km will suit him fine. The heat will be a worry, but I'm hoping he copes better with it this week. Oli has been close to a monument on a couple of occasions,  if he keeps knocking the door will eventually open.
Alberto Bettiol – I was very impressed by him last week. The Italian is one I often underestimate, but I won't be ignoring his good form. Last year he attacked on the Poggio, but couldn't keep up with the main players, this year he'll be hoping for better.
Vincenzo Nibali – he must always be included as a contender for this race! Seems to love the Poggio, and he's a very crafty rider.
Tiesj Benoot – I really like the look of the Sunweb squad for this race. They have Matthews as the sprint option, with both Benoot and Kragh Andersen as attacking options. One of the reasons Tiesj joined Sunweb was the presence of Matthews, which allows him to attack in the closing kilometres. Just like Naesen, the longer the race the better it is for Benoot, he'll be looking forward to 300km. Bad luck stopped him last week, will anything stop him this week?
Caleb Ewan – if it does end in a sprint, the Aussie wins.
Prediction Time
I'll go with the man in form, another win for Wout Van Aert.
If betting is your thing, here is my Milano-Sanremo podcast.
David Hunter
Follow us on Twitter and Instagram
Join us on facebook: Ciclismo Internacional
Copyright © 2012-2020 Ciclismo Internacional. All Rights Reserved