Mount Ventoux Dénivelé Challenge 2020 Preview
By David Hunter
Vaison La Romaine – Mont Ventoux 179km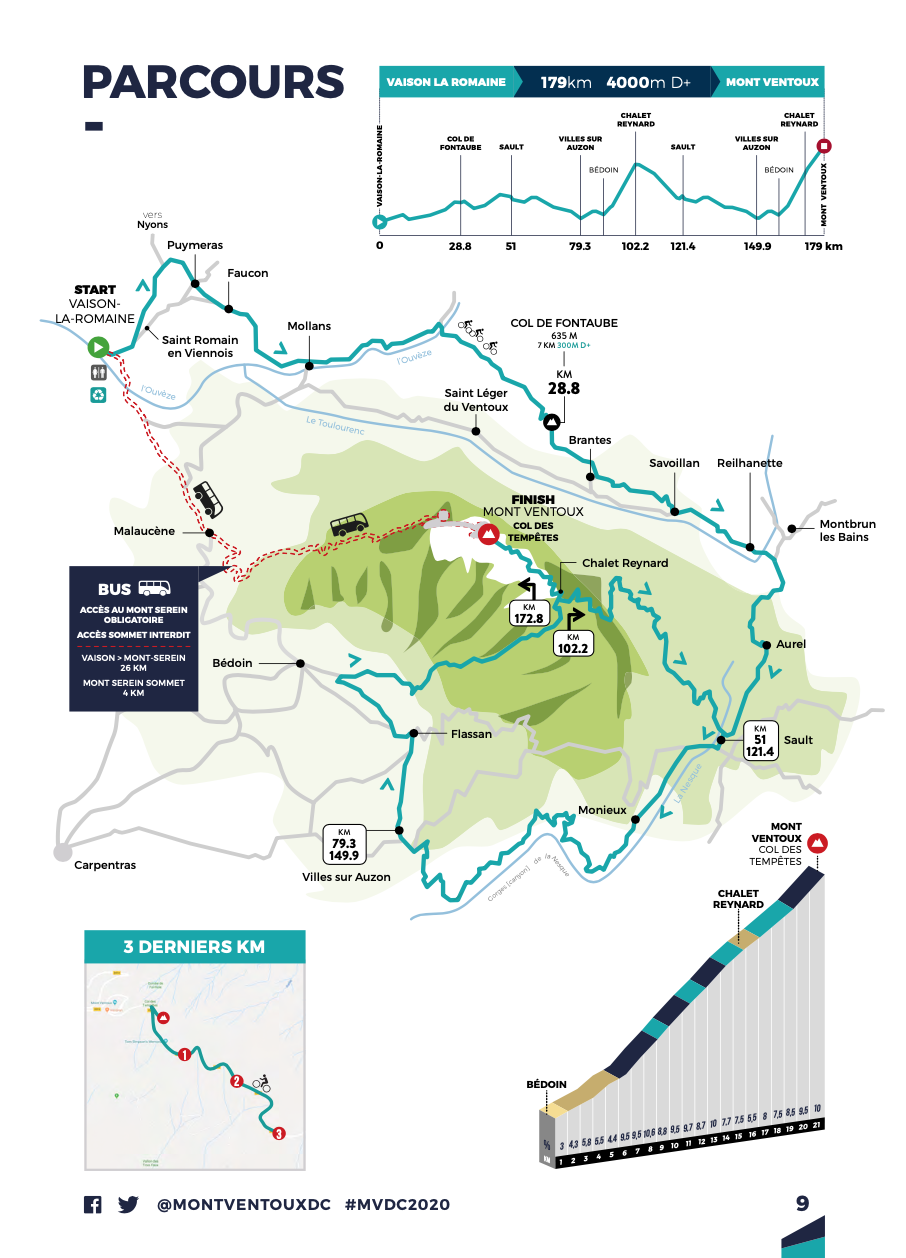 Is there a better way to spend a Thursday afternoon?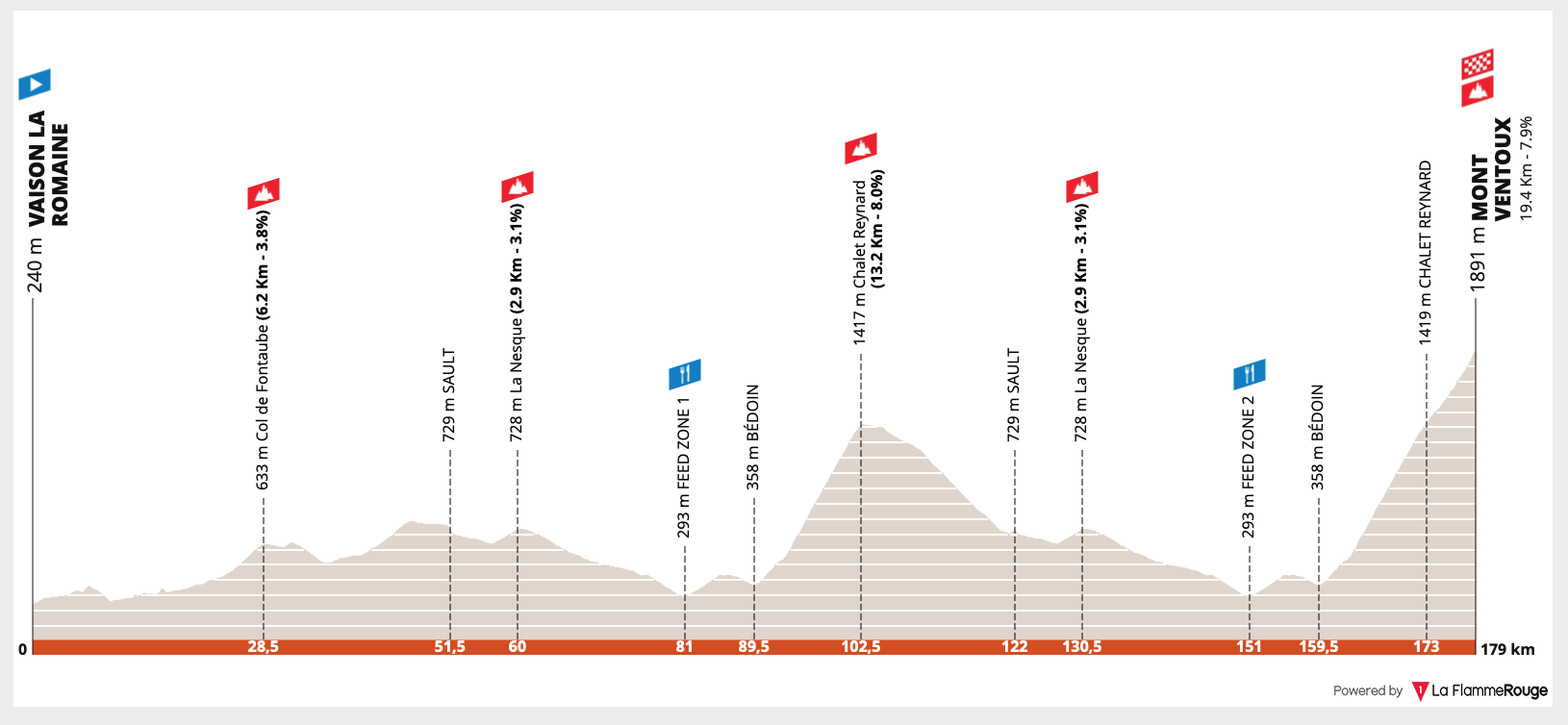 The organisers have changed the route from last year, we now have two times up Ventoux, one to Chalet Reynard and the other all the way to the top.
What a beauty!
Weather
Hot as hell, with a headwind on the climb. The wind isn't overly strong, but such an exposed road always seems to be windy.
Professional Insight
Okay, time for something a little different. Instead of going for one of the big climbers I wanted to find out what it's like for a rider from a smaller team heading into this race. Max Stedman of Canyon dhb p/b Soreen is an up and coming cyclist from the UK. This year started well for him, he won the Tour of Antalya, but this race is a different level.
How frustrating has the enforced break been?
"Yeah it was fairly frustrating to begin with, I had built some really good form and confidence with a win. The team was on a massive roll from the word go, so there was a lot of what ifs for a few weeks but then I just cracked on and used it as a 4-month camp."
Have you ridden all the way to the top of Ventoux before?
"Never have, but will be there in a couple of hours! Having a look at it today(Tuesday)."
Are you nervous or excited about lining up against some of the best climbers in the world?
"Yeah nervous, definitely. But I guess there's no better way to test yourself than against the world's best to see where you truly stand and what level you are. But I'm not deluded, unlikely to see me man marking Quintana haha."
How have you prepared for the race?
"Just long efforts, a lot of stuff 20 minutes plus. A few rides with a 40-minute effort followed by an hour effort, it's a pretty simple race to train for. Also done a few turbos with the oil heater on in the garage and been in Tuscany for a week, to try and get used to the heat. I think Strada on the weekend showed it'll have big effect on the outcome, it showed the biggest names going into the red not being able to get back out of it."
What would a successful race look like for you?
"I think someone in the break for the day from the team and a top 20 would be awesome and a top 10 pretty incredible in that company to be honest."
Tactics
I don't see any fancy tactics happening in this race. Smashing the race to pieces the first time up Ventoux seems unlikely, there is still a long way until the final ascent. I think the race will follow a standard pattern with the early break not getting caught until the final climb.
Once on the final climb, we should start to see the strong teams set a fast pace to distance as many domestiques as possible. Last year it turned into a fight between the team leaders, I think we'll see something similar this year. The rider who is strongest will win the race.
Contenders
Astana – they arrive with two clear options: López and Vlasov. The Colombian would have been disappointed with his performance in Occitanie, it was the surprise of the recent races. However, they will have been delighted with Aleksandr Vlasov. The Russian champion started the season in good form, finishing 2nd in Provence, but to get so close to the Ineos boys in Occitanie was a brilliant result. Having two options for this race will help Astana, but they'll want López to be much more competitive. Can they stop Nairo?
Trek Segafredo – Porte looked okay in Occitanie, but he would have wanted a little more. Finishing 6th on GC was positive, but in reality he was a long way behind the podium. This race should be good for him, but Trek also have another candidate for the win in Giulio Ciccone. The Italian had a sensational 2019, and he's now trying to develop into a proper winner, not just a breakaway rider. After competing in Strade Bianche and Lombardo he should be picking up some form and he should be targeting the top 5.
Nairo Quintana – such a shame the enforced absence stop him in his tracks. The 2020 version of Quintana is the best vintage we've seen for a number of years, and I for one am delighted to see him back to his best. The climb is ideal for him, but there are a couple of questions surrounding his current fitness level. Nairo was knocked off his bike while training in Colombia and was unable to train for around one week. It's hard to tell how much of an impact this will have on him, but if he's anywhere near his level at the start of the year he'll be the man to beat.
Fabio Aru – there were some encouraging signs in Burgos, something that Aru fans have been waiting a long time for. 9th on GC is his best stage result since the 2018 edition of the Tour of the Alps. He won't win this race, but the top 5 would send positive vibes.
Jesús Herrada – the defending champion is back, but with so many top climbers it's very hard seeing him defend his crown. Cofidis also have Guillaume Martin as another candidate, but I don't see him winning either.
Rubén Fernández – solid top 10 candidate.
Max Stedman – you've heard from him already, it's only polite that I include him in this section. I'll be cheering on the little climber; in the hope he can get into the top 10. That would hopefully attract the attention of a few teams.
Prediction Time
Even if he's only at 80% Nairo Quintana will still win this race.
David Hunter
Follow us on Twitter and Instagram
Join us on facebook: Ciclismo Internacional
Copyright © 2012-2020 Ciclismo Internacional. All Rights Reserved