Omloop Het Nieuwsblad 2020 – Preview
By David Hunter
Gent – Ninove 200km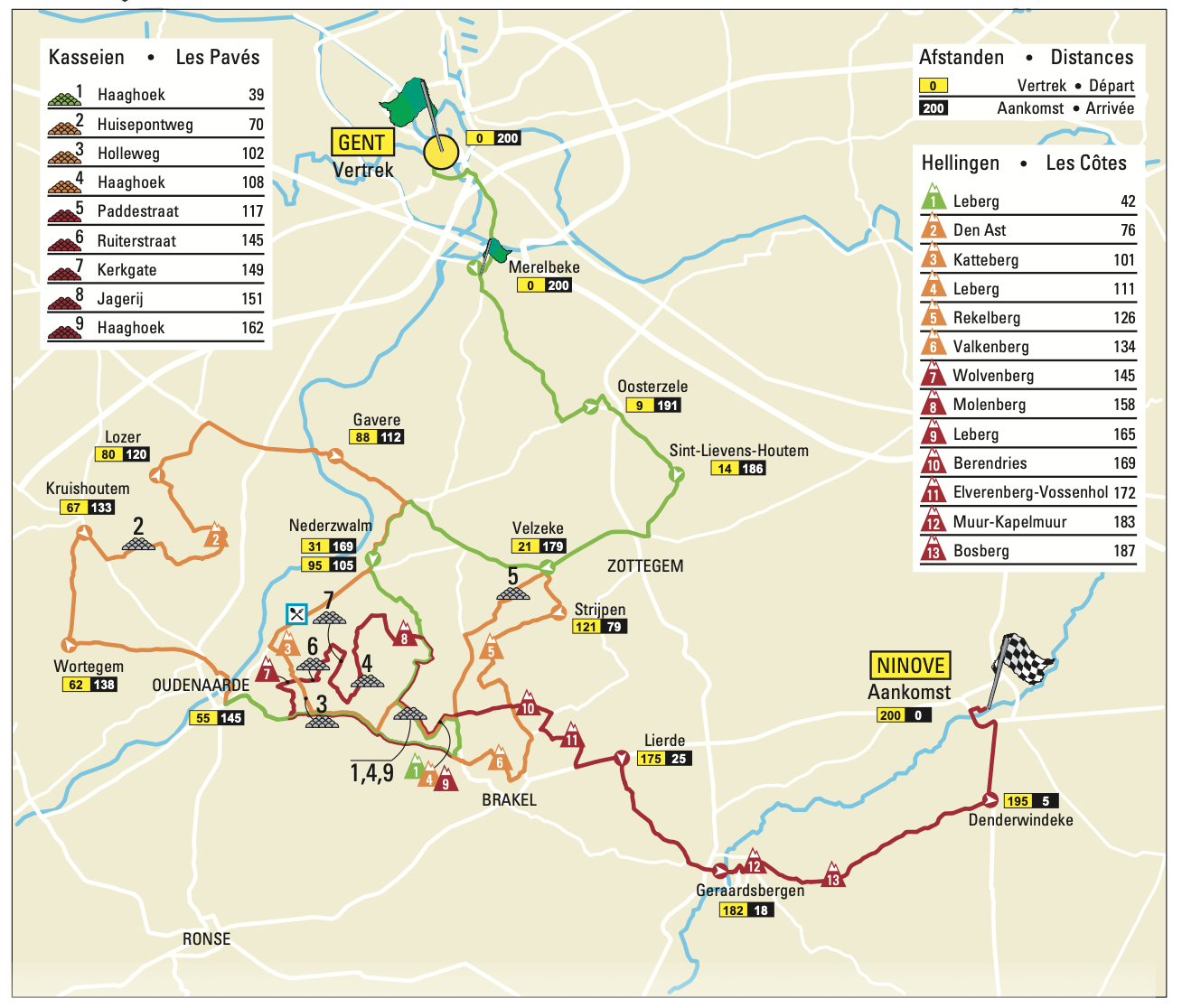 And so it begins.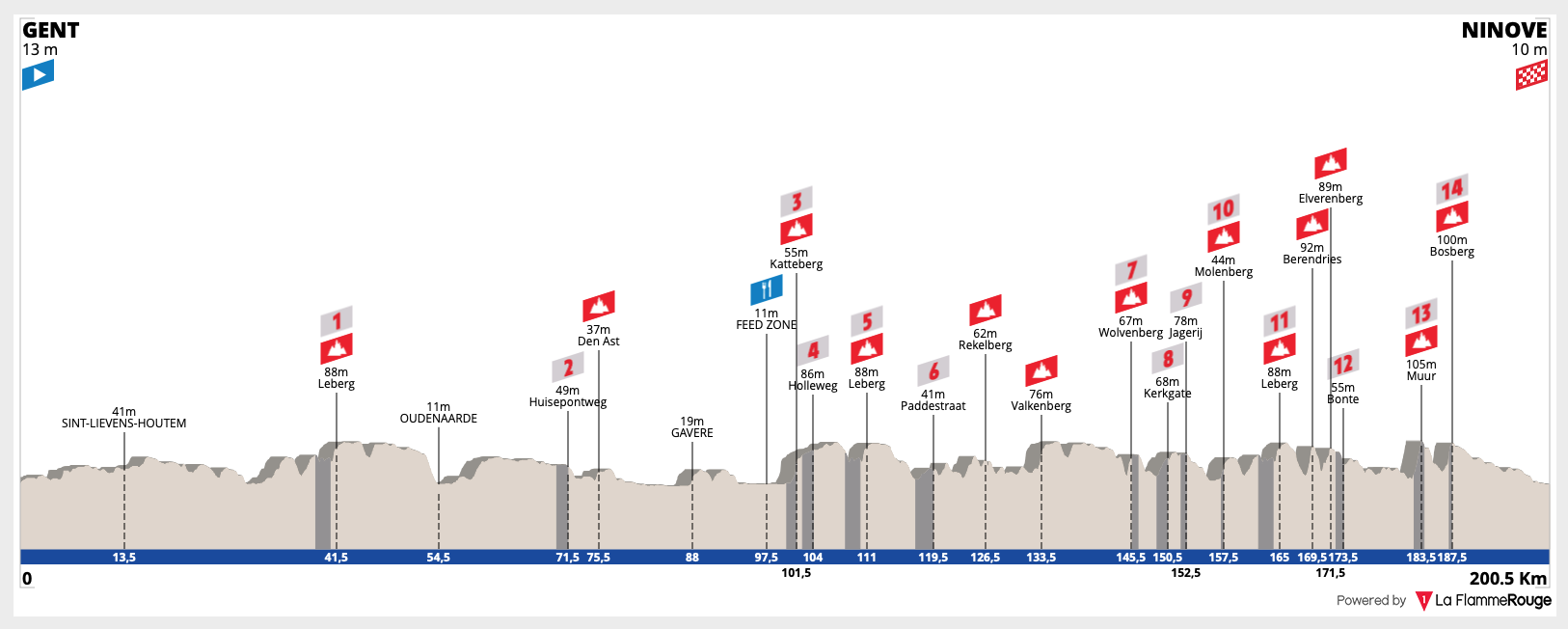 Two years ago, the organisers decided to bring the Muur/Bosberg double back, something that totally changed the race. Last year was a particularly aggressive edition, with a large group going away on the Wolvenberg, never to be seen again. Back in 2018, the headwind meant that a large group was together at the foot of the Muur, and split on that wonderful climb. You just never know what type of race you're going to get, it's Belgium!
The Climbs
The Wolvenberg is a nasty little climb, 700m at 5.3%, with a maximum of 13.5%. The race split at this point in 2019.
The Berendries is 900m at 6.6%, it's quite a challenge! The long straight road kicks up as the riders approach, but to make a difference you need to attack fairly early.
No words are needed.
The climbing finishes with the Bosberg. At this point legs are seriously sore and only those with raw power can make a selection. This is a hill Van Avermaet and Naesen love!
Team Strength
QuickStep – Štybar, Asgreen, Jungels, Lampaert, Sénéchal.
Trek – Pedersen, Stuyven, Theuns.
Lotto – Gilbert, Wellens.
CCC – Van Avermaet, Trentin.
AG2R – Dillier, Oli Naesen.
EF – Vanmarcke, Keukeleire.
Ineos – Stannard, Doull, Moscon.
Jumbo – Teunissen, Jansen, Van Aert.
Sunweb – Benoot, Kragh Andersen.
NTT – Valgren, EBH.
It's clear to see that QuickStep have the most options when it comes to potential winners, it might be a new season, but some things never change! In order to take advantage of their superiority, they need to make the race aggressive from early on. This will force teams to burn through their domestiques and when the race really starts to kick off, team leaders are left isolated and have to chase themselves. Cycling isn't rocket science!
Weather
Rain will be around, but that won't be the main issue. We are all set for a very windy day, with gusts up to 70km/h. This wind will largely be coming from the west, it will have a large say in the outcome of the race.
Professional Insight
For this race, we're joined by one of the big hitters, Tiesj Benoot of Team Sunweb. This is a race Tiesj knows well, finishing 3rd in 2016. Last year he was part of the front group, but unfortunately crashed out of the race. He switched from Lotto-Soudal to Sunweb in the winter, I'm excited to see how he performs with his new team.
This is the first time you've started the season at the opening weekend. Does this make you feel more nervous as you haven't raced yet?
"Not really, personally it's not a big difference to race San Juan with 4/5 weeks after without race than now."
How has your recent training gone?
"Really good."
Last year we had a very aggressive race and it split quite early. How do you see the race going this year?
"I hope again for a long final and a hard race. The harder the better for us. I think with a lot of favourites there is a big chance it will turn out like this."
You crashed out of the lead group last year, what do you think you could have achieved?
"The climb before I was feeling really good on the Berendries, so a lot was possible, but I am only looking forward now. What the result could have been last year is not important anymore."
After so many years at Lotto, what does it feel like to be at Sunweb?
"Feels like a good refreshment. I look back really positively on my period with Lotto, but till now my change still feels like the right decision!"
What are your expectations for the race?
"I hope to play an important role in the final again and feel ready for what's following. A result is also welcome but normally the shape should still improve so short after altitude."
Split It
When will we see echelons? Given the direction of the wind, it looks like things will get exciting around the Wolvenberg. Once over this the riders start to the approach to the Molenberg, on small roads that are exposed to the wind. Once over the Molenberg, the riders soon turn right and head south, just look what awaits them.

I expect the winning move to now have established, there will be no coming back for those left behind, especially as the final 40km is mainly tailwind.
Contenders
QuickStep – so many options! In reality, they have four riders who can win this race: Štybar, Lampaert, Jungels and Asgreen. Last year they got Štybar and Lampaert in the front group, although Lampaert was dropped after the Benoot crash. With so many potential winners, expect to see the team ride a very aggressive race, from relatively far out. They have a squad built for poor weather conditions, they'll relish the chance to put others into difficulty and if the race splits in the wind, expect to see plenty of them in the front group. It's hard to predict which of their riders will actually fight for the win, but expect to see at least two of their number up there.
Jasper Stuyven – crashed hard in the Algarve, but should be fine for this race. The Belgian wasn't quite at the races last year, but he's started the season well and Trek are a team full of confidence. They are another squad who'll like the weather forecast, most of their squad are very good in crosswinds. If they can get multiple riders in the front group, they have a great chance of winning.
Tim Wellens – has been saying that he hasn't been feeling that great, but I don't know if that's just a bluff. As long as he's feeling better, he'll love the rainy conditions. He made the front group last year, but has taken a different route into this race compared to last year. Instead of testing his legs in Mallorca and Andalucía, he was off down to Algarve, where he finished 5th overall. If he recovers from his cold, he'll have a big say in the outcome of the race.
Greg Van Avermaet – finished 15th in both climbing stages in the Algarve, it's the best I've ever seen him climb. It's been a very strong start to the year for the Olympic champion, and now he has a teammate who'll also expect to make the front selection. If CCC get both GVA and Trentin in the winning move, they'll be very hard to beat. Both riders climb well and sprint fast, perfect for a race like this. Can GVA win his 3rd title?
Matteo Trentin – I really do like him and GVA being on the same team. As modern-day cycling evolves, having multiple options is the way teams seem to be moving. No matter what type of race we get, I just can't see a situation where both don't make the front group. Once into the final 30km, they'll be very hard to beat. Trentin isn't quite as strong on the hills, but has a better sprint. It would make sense for GVA to be the attacker, with Trentin saving his legs for a potential sprint from a small group.
Oli Naesen – we've not really seen him yet this season, a crash in Valencia didn't help. This isn't a race Oli usually does well in, his best result was 7th back in 2017. However, he did win the final stage in the Binck Bank Tour which featured the Muur and Bosberg. Like most of the Belgians, he'll be happy with the weather forecast as it will turn the race into a bar room brawl, and believe me, you'd want him on your side!
Michael Valgren – in what's been a massive change to his normal race schedule, the Dane has been preparing for this race by racing in France. 2019 wasn't a season to write home about, but with good signs towards the end of the year, he can be confident about the battle that lies ahead. Winner of this race in 2018, riders always like coming back to races they've tasted success in. NTT have enjoyed a much better start to the season, and with Bjarne Riis, they have a coach who can get the best out of his troops.
Tiesj Benoot – he's just completed a big block of altitude training at Teide, only returning on Wednesday. You've read his comments, you know he's enjoyed a very good training camp and approaches this race with good legs. He'll be itching to get started, especially as this is his debut for Team Sunweb. Last year he made the front group, had great legs, but crashed and his chance was gone. He's been close here before; it is a race that suits his characteristics. Given his love of filthy weather conditions, he'll be looking forward to a day in the trenches.
Dylan Teuns – approaches this race with a totally different schedule compared to Benoot. Teuns has already raced a lot this year, finishing 5th in both Valencia and Andalucía. He made the front selection last year, but was found lacking in the sprint department. He should be up challenging for the win, but his sprint makes it tough for him.
Wout Van Aert – a late addition to the start list after a worry that the upcoming Italian races will be cancelled. He's been training on Teide with some his teammates, after competing in a number of cyclo-cross events throughout the winter. This was a really good idea, as it helped to get some racing in his legs after missing the second half of last year after crashing in the Tour de France. He's not had any specific training for this race, which makes winning difficult, but not impossible.
Prediction Time
The weather looks bad, really bad, which is good, really good! No doubt we'll see a race of attrition, with teams trying to make life very hard for each other. Given his recent form, this is a race for Greg Van Avermaet. He looks the standout rider in this field, especially as he's climbing better than ever before.
David Hunter
Follow us on Twitter and Instagram
Join us on facebook: Ciclismo Internacional
Copyright © 2012-2020 Ciclismo Internacional. All Rights Reserved