Paris Nice 2015 – Prologue Preview
By David Hunter
Maurepas – Maurepas 6.7km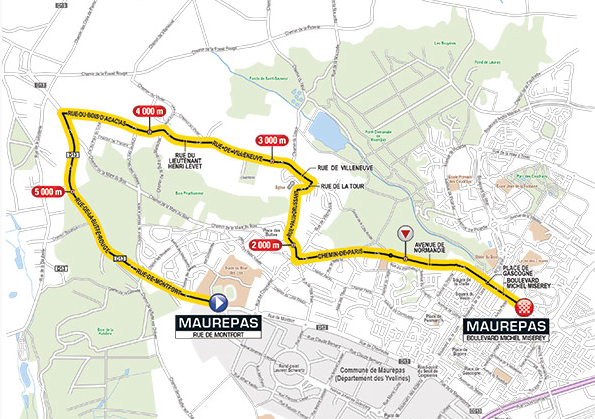 A prologue with only 4 corners. This is for the big engines!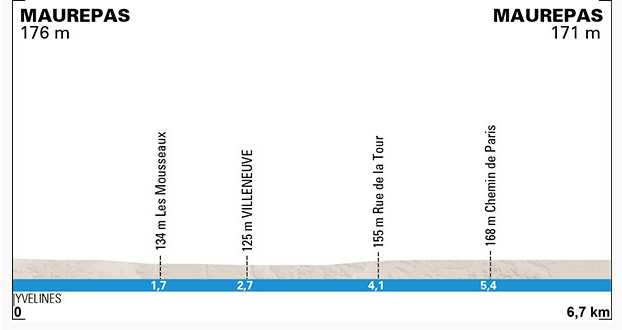 This is all about the riders who can shift the biggest gear. The main contenders are: Kelderman, Dennis, Boom, Tony Martin, Kwiatkowski, Jungels, Vandewalle, De Gendt, Van Garderen, Chavanel, Talansky, Nizzolo, Tom Dumoulin, Wiggins, Thomas and Porte.
What a list of talented riders. Separating them over such a small distance is going to be hard.
Looking back at 2014, Michal Kwiatkowski won the Romadie prologue. That day, Rohan Dennis was 2nd, Giacomo Nizzolo was 4th and Tony Martin 5th. In the Criterium International prologue, Tom Dumoulin won from Dennis and Jungels.
We've had a couple of longer TTs this season already. Tony Martin won in the Algarve, with Thomas in 3rd and Kwiatkowski 4th. In San Luis, the Pole just missed out to Malori. In the Andalucia prologue, Wilco Kelderman was a flying 2nd.
Tom Dumoulin would be a big contender here but he's been ill and I don't think he'll be up to his normal level yet. So, I'll discount him.
Sprinters normally fancy their chances in a prologue. Nizzolo was close in Romandie, last year, and he looks to be the best of the quick men. The lack of corners doesn't help their cause and does suit the powerhouses more than the sprinters.
Off the back of his hour record, Rohan Dennis, certainly has form but has he recovered from his efforts? If he has, then he'll certainly make the top 5.
The lack of corners really brings Wiggins, Martin and Kwiatkowski into play. Wiggins and Martin are the best in the world, but don't usually excel in this discipline. On a similar course, in the Tour of Britain, Wiggins won with a speed of 53.695km/h over 8.8km. He's in the process of bulking up for Roubaix, this will help him here. He will be able to maintain higher watts than before.
Tony Martin is amazing! Already this season he won the TT in Algarve to back up his 7 TT wins from 2014. My only concern is his relative lack of form in prologues. In 2014, Tour de Romandie, he was 5th and lost 5 seconds to Kwiatkowski. I do remember that he seemed to finish into a stronger headwind. Tony Martin should be the favourite for this stage.
His biggest challenger might just be his teammate, Michal Kwiatkowski. He is as fast as many sprinters, extremely aero and can push a huge gear. The Pole will be licking his lips in anticipation of this one. He knows that if he's to win the GC, he needs as many seconds as possible on his rivals. This starts here! Even just 10 seconds would be massive for him and terrible for the likes of Van Garderen, Majka and Porte.
Richie Porte could surprise here. He won the Criterium International prologue, back in 2013. He had a tough 2014, but is back to his best and probably even better than he's ever been before. He beat Rohan Dennis to win the Aussie TT title but turned in a terrible TT in Algarve. That was because he went the wrong way, so don't read too much into that.
Geraint Thomas is another who loves a prologue, remember he's a Gold medal winner in the 4km pursuit. Thomas pushed Tony Martin and Adriano Malori very close in the Algarve, finishing just 3 seconds behind them. He'll be eyeing up another big results here.
Prediction Time
The nature of the course makes me think the winner will come from Wiggins, Martin and Kwiatkowski. Due to the distance I'm going to go for the Pole. Put 10 seconds into his GC rivals and they should start to panic!
David Hunter
Follow us in facebook https://www.facebook.com/CiclismoInternacionalLatinoamerica?fref=ts … or Twitter @CiclismoInter
Copyright © 2015 Ciclismo Internacional. All Rights Reserved