Paris – Nice 2016 Preview
By David Hunter
It's time for the 2nd world tour race of 2016. The organisers have once again tinkered with the route, omitting a testing TT, and bringing Mount Ventoux into the mix. We don't climb all the way to the top, or finish there, something I'm not best pleased about. I really do question the point of racing up the most iconic mountain in cycling, before the TV cameras are even turned on!
Prologue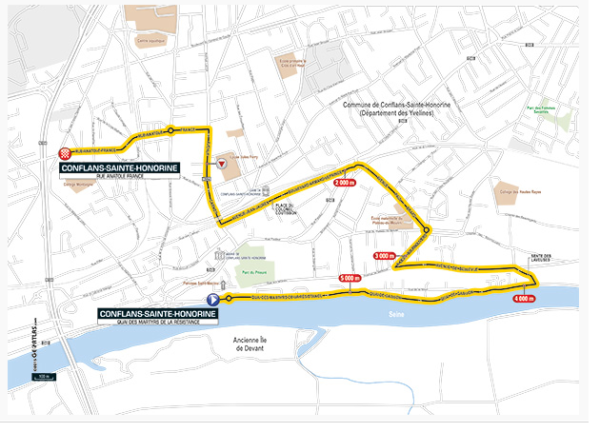 The opening prologue is 6.1km in length. It's not overly technical, with only one corner where the riders will have to seriously slow down. This is certainly a day for the short TT specialists.
Stage 1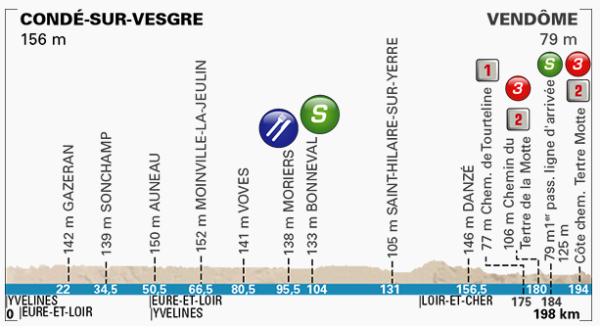 Stage 1 opens with a sprinter stage, but it does have a few surprises in store. There are three sections of dirt road, all near the end of the stage. The final section is just 4km from home, making it perfect for a late attack. It should be a sprint, but there is enough to interest other riders. The road is often quite exposed too, wind could destroy the GC hopes of a few.
Stage 2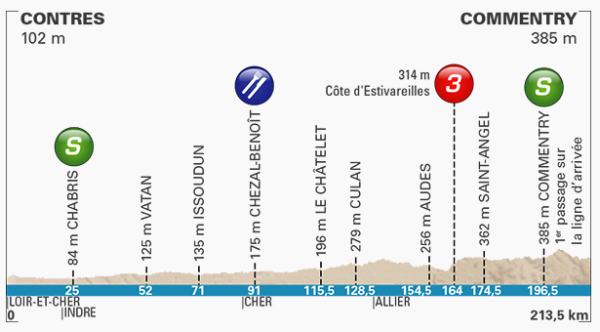 If they don't get a sprint on stage 1, the sprinters get a chance the very next day. A nice long stage, at 213.5km, perfect at this time of the year. Plenty of sprinters will be eyeing up this stage, but it should be Kittel v Greipel v Kristoff.
Stage 3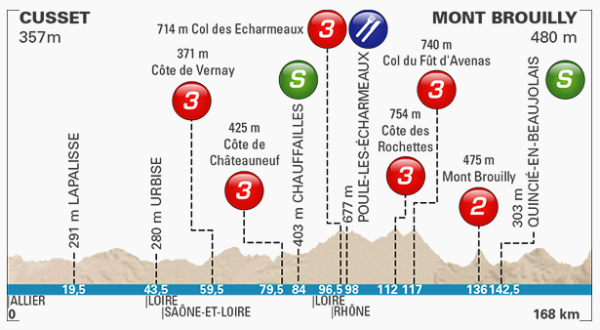 The GC shake up begins. We end with Mont Brouilly, 3km at 7.7%. This is a proper test, some will remember it from the 2014 edition. That day, Slagter and Thomas, made it over the top and descended together to the finish. This time, we finish at the top of the climb. Climbers and puncheurs will both fancy their chances of winning this stage.
Stage 4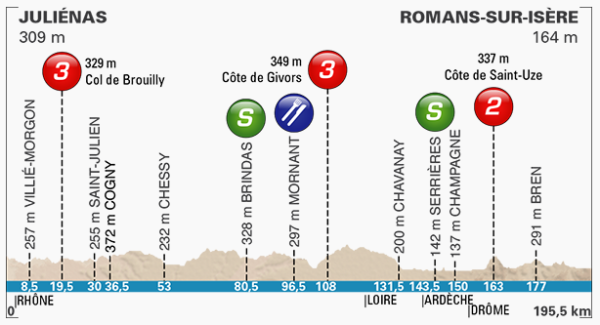 Should be a sprint, could be a breakaway. The cat 2 climb with 32km remaining, does offer the chance of dropping a few sprinters, but 2.8km at 6.5%, isn't a Spanish cat 2!
Stage 5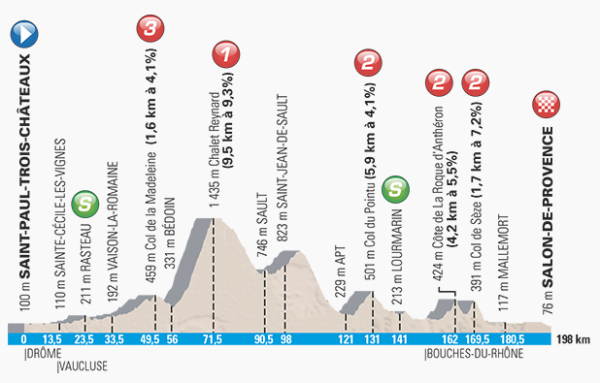 Mount Ventoux features, but very early in the stage. It's brutal slopes will slim the peloton down, even though there is still a long way to go in the stage. This stage is going to be very hard for any team to control, not being in yellow will certainly be a bonus heading into this day. Should be a fascinating tactical battle and a great day to be in the break.
Stage 6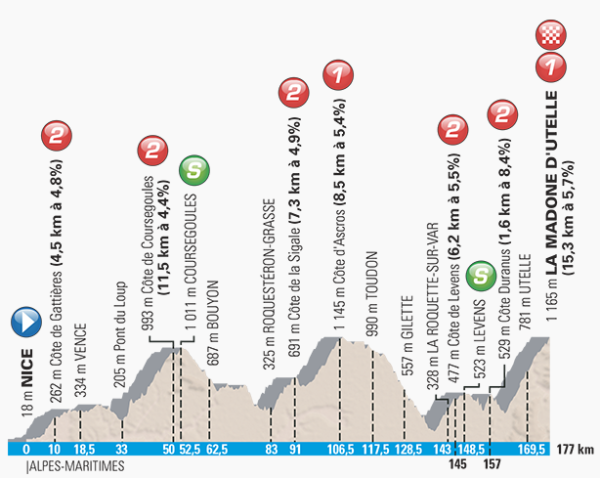 This is D-Day for the GC, thanks to the finish on the Madone. It is 15.3km at 5,7%, so a long challenge for the riders. It's not that hard a climb, compared to some in other races, but it will still be selective. The steady gradient does suit some more than others.
Stage 7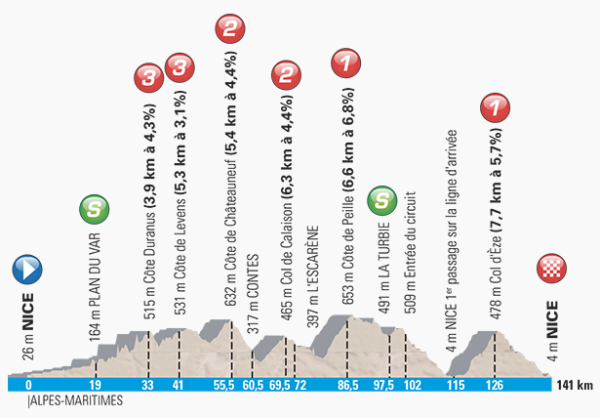 We don't have the normal TT on the Col d'Eze, but we do climb it. This is a great way to finish the race, a stage that many riders will think they can win. It's not hard enough to change the GC, that should be all over.
Contenders
You must be a good climber, but having a sprint to take bonus seconds is a boost.
Richie Porte – the defending champion, but with quite a few questions to answer. He was awful in Oman, although he claimed to be suffering from an injury. Yes, he won on Willunga Hill, but he wasn't great in the TDU. The start of the season was meant to be Richie proving to his new bosses that they can trust him. He certainly hasn't convinced me. Now we hit a big race, he must deliver. The length and gradient of Mont Brouilly is perfect for him.
Romain Bardet – A great 2nd place in Oman was a wonderful start to his season. He followed this up with 5th in Sud Ardeche and 8th in the Drome Classic. The lack of a long TT is great news for Bardet and he starts the race with a real chance of winning it. It's not often you hear that! We haven't had a French winner since Laurent Jalabert in 1997.
Rui Costa – also started the season well in Oman. He often struggles with the hardest of climbs, they are not present in this race. That gives the former world champion a strong chance of finishing on the podium. Has a good sprint, important for collecting bonus seconds.
Tony Gallopin – another French hope. Was 6th in 2015, mainly due to a terrible TT. Certainly has a great chance of winning a few stages, considering his sprinting speed. His climbing continues to improve, something that he will hope to continue this year. If he leads going into stage 6, it will be hard to get the jersey off his shoulders.
Ion Izagirre – turning into the nearly man! Was 4th in Valenciana, thanks to a crash, and 2nd in Algarve. Such a consistent performer, but will miss the TT. Should be targeting a top 5 finish, but that will be hard.
Simon Spilak – just loves racing at this time of the year. He eats cold weather for breakfast! Mr Consistent will be his usual self. yet he still gets underestimated. Will be challenging for the overall win.
Wilco Kelderman – he will be looking forward to the prologue. Was unlucky in Andalucia, but just didn't seem to have the legs on Penas Blancas. With that race in his legs, he looks like a serious contender for this title. His fast finish should put him in the frame for a stage win.
Tom Dumoulin – "we're taking it day by day." You'll hear that a lot from Giant and Dumoulin. Who are they trying to kid? The big man could have a huge say in the outcome of this race. Very good on the steep slopes, has a fast sprint and should be able to cope on the Madone. This has to be a race he has his sights on. Should certainly finish top 5, maybe top 3, maybe number 1!
Geraint Thomas – already took a good win in the Algarve. The Welshman heads up an extremely strong Sky team, it contains quite a few of their TDF squad. This is a huge moment in the career of the man they call G, he needs a big performance to convince everyone of his TDF aspirations. Expect Sky to come here full guns blazing.
Alberto Contador – started the season with a win in the Algarve, but also had a few poor days. His stage win was an impressive piece of power and he'll be heading here with confidence. The lack of another GT contender, really does set him above the other riders. He will start the race as the favourite, quite rightly so.
Analysis
This is a very close call. The prologue will give Thomas, Dumoulin and Porte a chance to take some time, but not much. Stage 1 is all about the wind and staying well positioned, that plays to the strengths of Tinkoff and Contador. If it is windy, don't expect Tinkoff to wait until the mountain stages. Stage 3 shouldn't split the main contenders, but the bonus seconds will be crucial, the same with stage 5.
In theory, riders like Dumoulin and Thomas, could have a few stages before we reach the Madone. That would put them in a strong position, but who will cope with the Contador charge on the mountain? That is the stage for Alberto, but he'll hope that he's within 20 seconds of the other contenders.
The final stage does offer the faster riders one final chance of gaining bonus seconds, that is a worry for Contador. He will expect to win on the Madone, but he also needs to do something on Mont Brouilly. That could be the pivotal stage, with bonus seconds being of great importance.
Saying that, I understand why Orica are going with Michael Matthews for GC. Some might think this is crazy but he could cope with the Madone. His climbing continues to improve, he must have hit some big numbers in training, for Orica to publicly back him. If he is still around with a couple of kilometres to go, the others will start to get very worried indeed!
Prediction Time
For me, the Madone just isn't hard enough. It would be a big surprise to see Contador winning by a big gap, so that brings into play the climbers who have a fast finish. Both Dumoulin and Thomas will be looking towards stage wins, something that could bring Tony Gallopin close to the podium. For me, this is the moment for Geraint Thomas. I have watched on as he continues to grow as a rider and I like what I see. Last year it was E3, this year it will be Paris-Nice!
David Hunter
Follow us on @CiclismoInter
Join us on facebook: Ciclismo Internacional
Copyright © 2016 Ciclismo Internacional. All Rights Reserved