Paris-Nice 2018 – Stage 8 Preview
By David Hunter
Nice – Nice 110km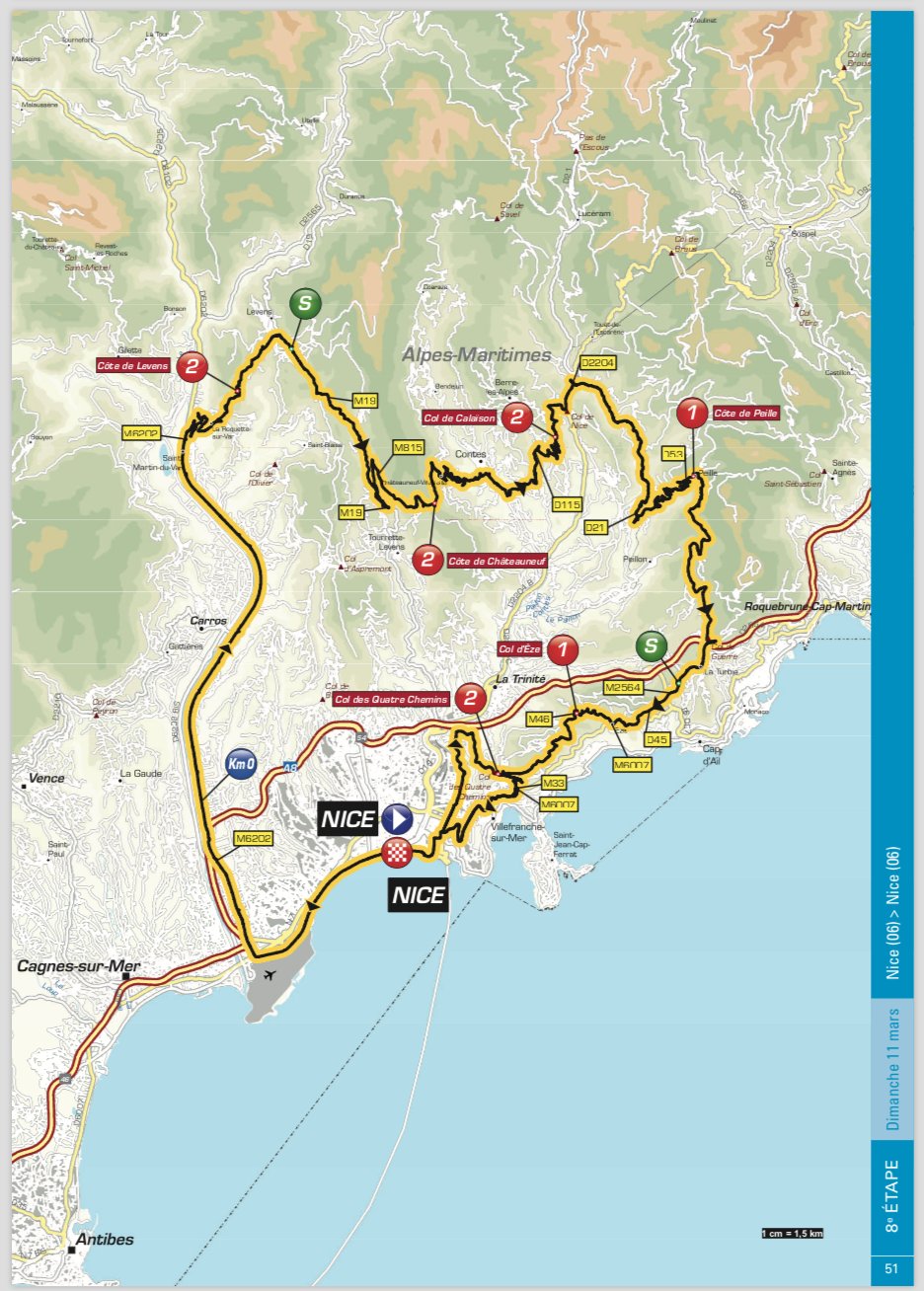 The race ends with a brilliant stage around the hills of Nice.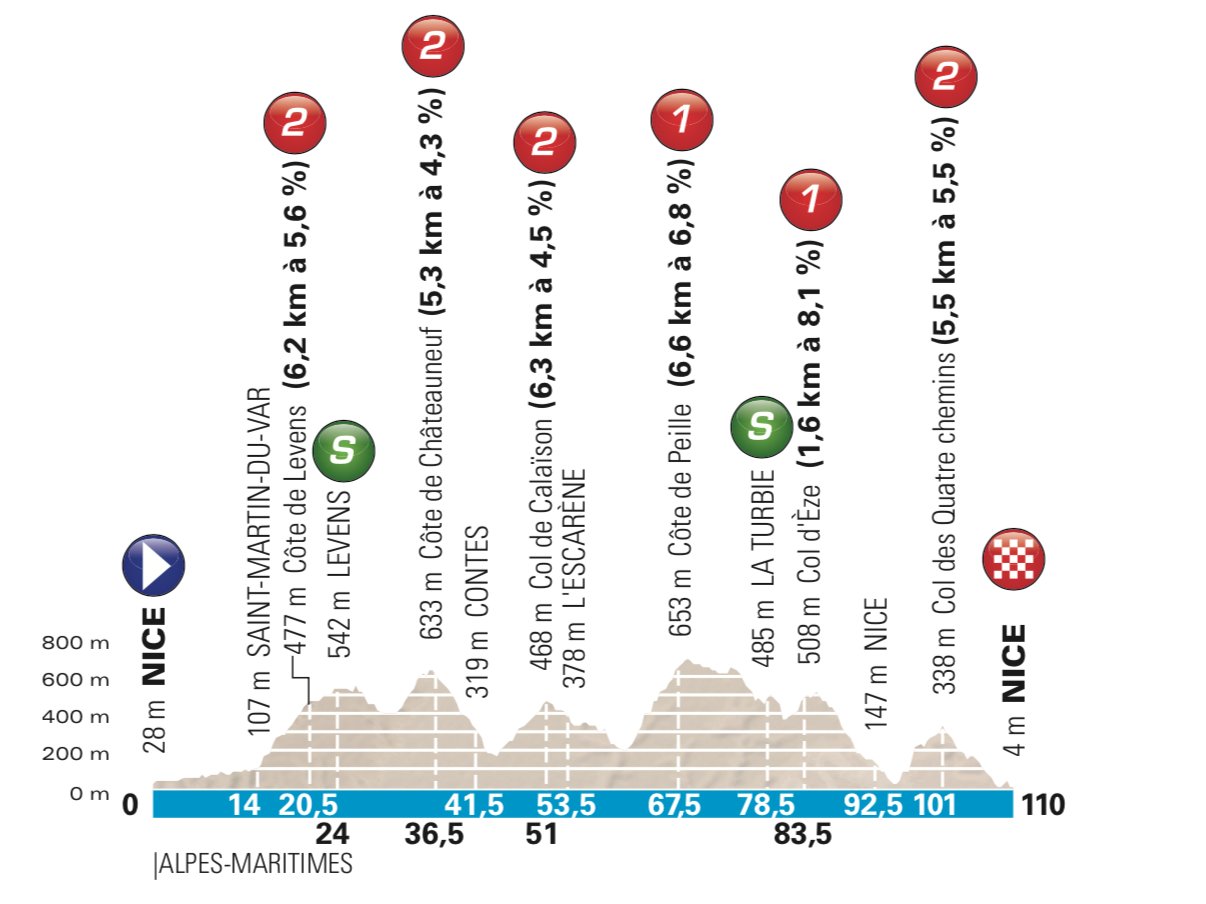 The organisers have decided to tinker with this great stage. They were fed up of the long descent from the Col d'Èze to Nice, where the bunch were given a great chance of catching the attackers.
Now, the bunch still climb Col d'Èze, but this way up is only 1.6km at 8.1%. This climb sums up the stage, it is rammed full of medium mountains. It is only 110km in length and still manages to contain 2132m of climbing. The longest section of the race without climbing is the opening 14km. That sounds brilliant!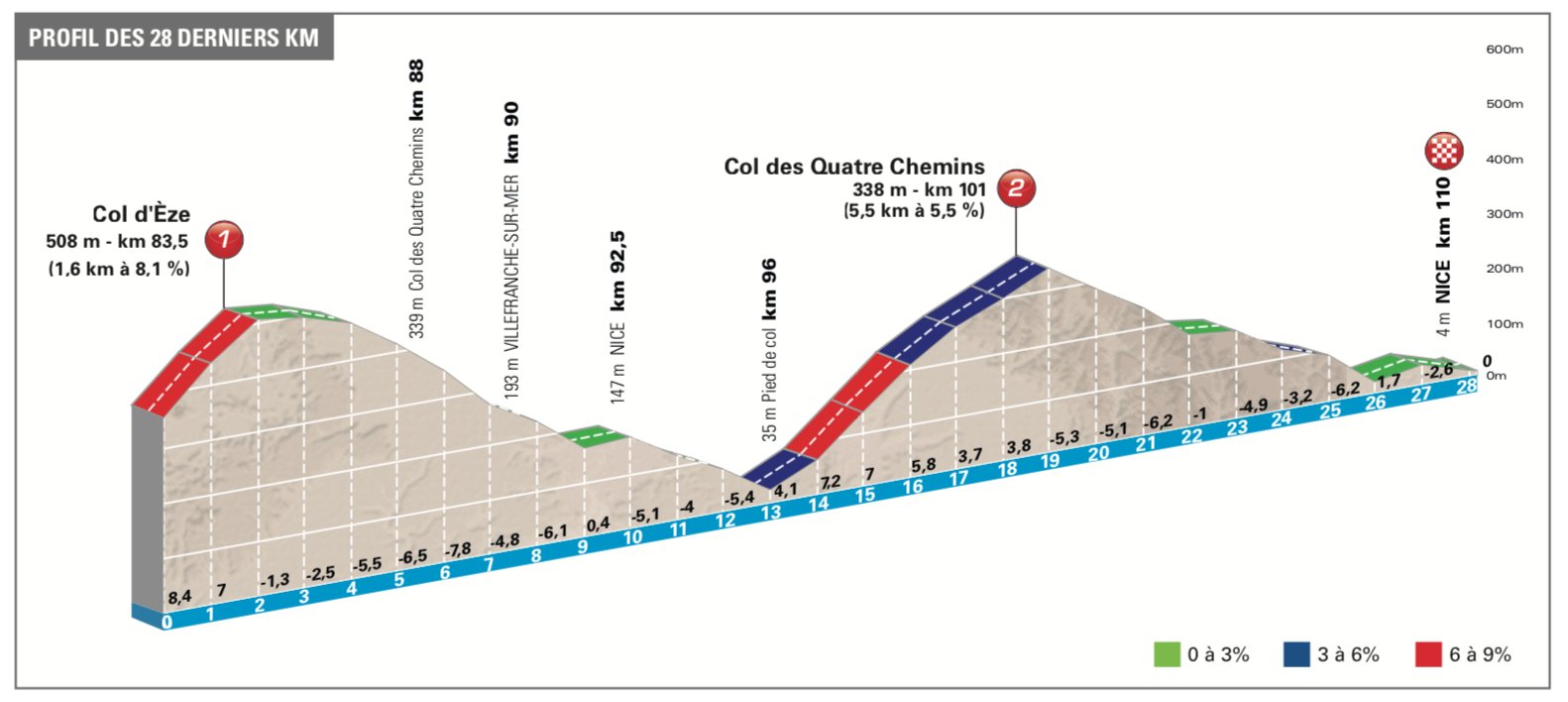 After descending Col d'Èze, the riders now have to tackle Col des Quatre chemins, which is 5.5km at 5.5%. From the top of this climb, we only have 9km left to ride.
Finale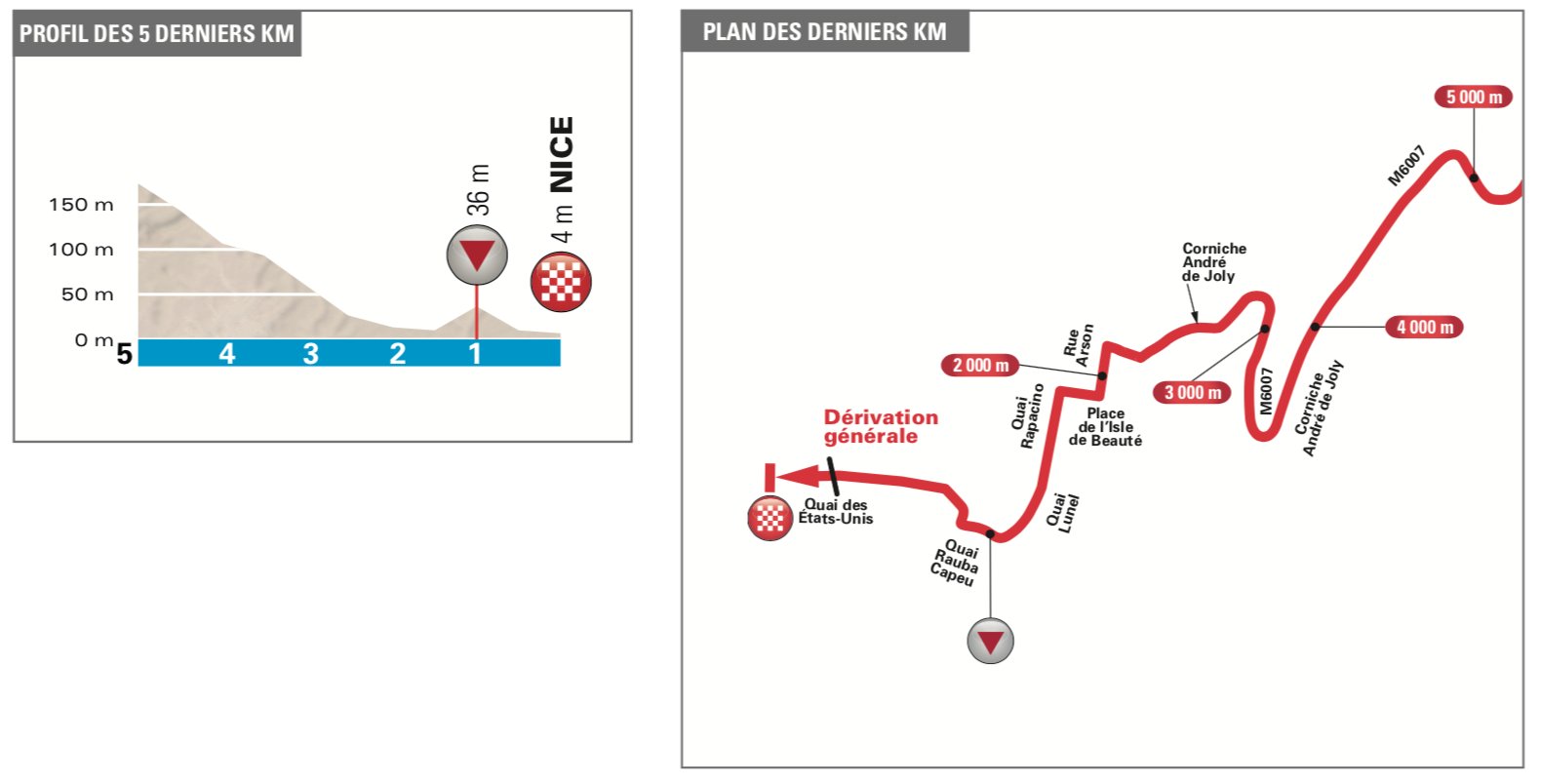 As we head for home, there is one final chance for an attack to succeed. There is a small ramp of around 400m at 6%. This makes a sprint unlikely to happen.
Weather
Lots and lots of rain. This is going to make the 2157m of descending very difficult. The wind is around 12mph and comes from the north-east. Once they climb Côte de Peille, the wind should help push the riders back to Nice.
Tactics
We have 5 riders separated by just 27 seconds. Yates, Ion Izagirre, Gorka Izagirre, Tim Wellens and Dylan Teuns can all win this race.
As Bahrain have two riders, it gives them a big advantage. Both of them are brilliant descenders and this is where the difference can be made.
If a climber wants to put others into difficulty, they must do it on Côte de Peille, it is the hardest climb of the day. I expect Mitchelton-Scott to put the pain on at this point, but they need to make sure they have riders left to help Yates in the rest of the stage. A lot of that burden will fall on the shoulders of Roman Kreuziger, he can deal with this pressure. At the foot of the climb comes the 2nd intermediate sprint. Yates isn't the fastest sprinter, expect to see his rivals go for the 3 seconds.
If Yates is left exposed, I worry about his chances of taking the yellow jersey. The Izagirre boys can play the old 1-2, and Tim Wellens can just attack like a mad man! Yates will need Kreuziger for the final 20km of the race.
Contenders
Tim Wellens – sits 13 seconds behind Adam Yates, those 10 seconds for the win would be very nice. All season long, he has been at a consistently high level. He will love a short, demanding stage and the weather forecast is brilliant for him. Everyone knows that he is one of the best in poor weather conditions. I think this will be his best ever chance of winning Paris-Nice.
Julian Alaphilippe – blew up today, but he'll be keen to end the week with a stage win. Possibly the best descender in this race, he will relish the downhill sections. We've already seen in the race, he is going well in the medium mountains. Alaphilippe has so much power, the 5km climbs are brilliant for him. He'd be favourite to win a reduced sprint.
Simon Yates – was hugely impressive today, taking a well earned win. Yates is now in the yellow jersey and on the verge of winning his first stage race. Mitchelton-Scott do have a strong team, a lot will be expected of their riders in. As he doesn't have a great sprint, Yates will be keen on moving solo on the final climb. Today's final climb was tough enough for him to distance the puncheurs, but the climbs in this stage aren't as hard. Yates will need to ride a perfect race to hold onto yellow.
Dylan Teuns – the surprise of the race. He did perform well in the high mountains at under 23 level, but this is the first time at professional level. I was waiting for him to get dropped today, but he hung with the climbers and even managed to finish in 2nd place. His level of performance this week really does deserve a stage win, but I am a little worried about his descending, compared to some of his rivals.
An Izagirre brother – Ion is the better descender, he seems to get even stronger in the wet. Neither of them are as strong as Wellens or Yates, they'll need to ride a clever race, if they want to win. Both have a fast sprint, but not as quick as some of their rivals. They will have the numerical advantage, but can they make it count?
Jakob Fuglsang – the most frustrated rider today. He was looking in good form, but was asked to wait for Luis Leon Sanchez, despite Omar Fraile also being there. Then Astana decided to let him go and he managed to work his way back to 9th place. He'll now be given free license to attack and the former mountain biker won't mind the poor conditions.
Lilian Calmejane – breakaway hopeful number 1.
Tony Gallopin – breakaway hopeful number 2.
Prediction Time
This will be chaos! The GC is very close, the weather will be horrible and the stage is full of climbs. It's going to be a hard day for Mitchelton-Scott.
Given the conditions, I think we'll see Tim Wellens get away from the bunch on the final climb and fly down the descent to the line. He'll get the win and take the yellow jersey.
David Hunter
Follow us on @CiclismoInter
Join us on facebook: Ciclismo Internacional
Copyright © 2012-2018 Ciclismo Internacional. All Rights Reserved